By Courtney Pittman
With lots of great photographs that highlight smart features, open layouts, and gorgeous exteriors, these exciting house designs help you visualize what your dream home will look like in real life. Many of these home plans sport large island kitchens, indoor-outdoor living, major curb appeal, and much more. We've rounded up some our bestselling house plans with photos below. Note that photos may reflect modifications that owners have made, so call 1-800-913-2350 to talk it over with our plan experts.
Click here to browse our collection of house plans with photos.
Have you built a home from a house plan that you purchased from Houseplans.com? Show it off! Follow these simple steps below. If your pics are good, we'll feature your home here on our blog!
Take pictures of the exterior of your home from many different angles

Take pictures of the interior of your home – shoot from different angles in each room

Send your photos to us! Just email them to sales@houseplans.com

Tips: use a wide angle lens (if possible), clean the interior of your home before the photoshoot, choose a time of day when the lighting isn't super harsh, and shoot horizontally
Impressive Curb Appeal
This grand house plan works well into the future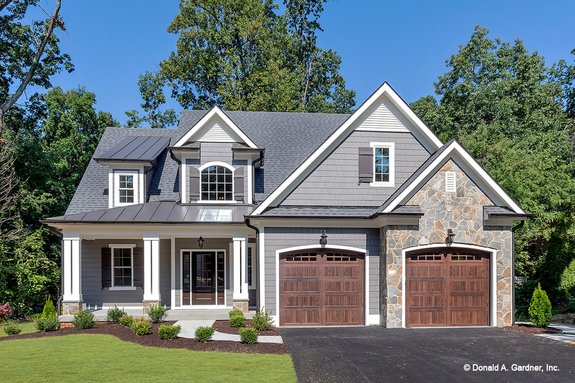 Plan 929-1066 shows off incredible curb appeal.
With a large master suite on the main level, plan 929-1066 (pictured above) is designed to work well into the future. The living area flows over to the island kitchen, open dining room, and out to the spacious back porch. Upstairs, two additional bedrooms, a bonus space, and a bathroom reside. Don't miss the cozy fireplace in the great room and the spa-like master bathroom.
Bestseller for a Reason (Many Reasons, Actually)
Open gathering zones make this plan feel spacious and bright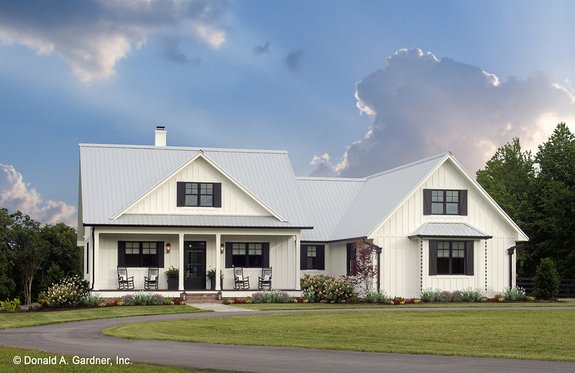 Plan 929-8 presents a relaxing screened porch.
Why is this modern farmhouse (plan 929-8, above) so popular? First of all, just look at it! The sleek farmhouse exterior feels modern and classic at the same time, and not at all overdone. Then inside, the 1,905-square-foot layout provides private bedrooms (including the deluxe master suite) and fun, open gathering zones.
The vaulted great room enjoys easy access to the screened porch and patio for sweet indoor-outdoor living. Need to keep things organized? The generous walk-in pantry provides plenty of space for groceries, while the laundry room keeps things tidy (and clean). A bonus room above the two-car garage can be used in a myriad of ways.
Stylish and Functional
This country plan presents you with major curb appeal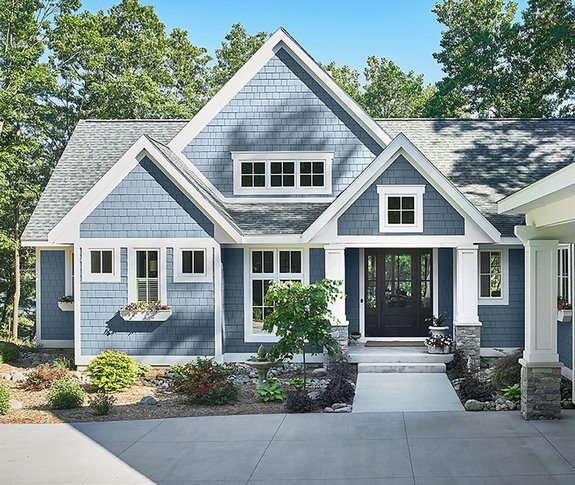 Plan 928-333 provides year-round outdoor living.
This three bedroom country house plan (plan 928-333, above) greets you with tons of curb appeal and a welcoming vibe (take a look at these curb appeal tips from HGTV). Inside, the great room flows seamlessly into the kitchen and dining area. Homeowners can host relaxed parties at the kitchen's large island (check out this article from Country Living for more kitchen island ideas).
The master suite boasts a spacious walk-in closet, modern shower, soaking tub, and dual sinks. Year-round outdoor living is made easy with a screened porch just off the dining room.
Large Kitchen Island
This plan is suitable for growing families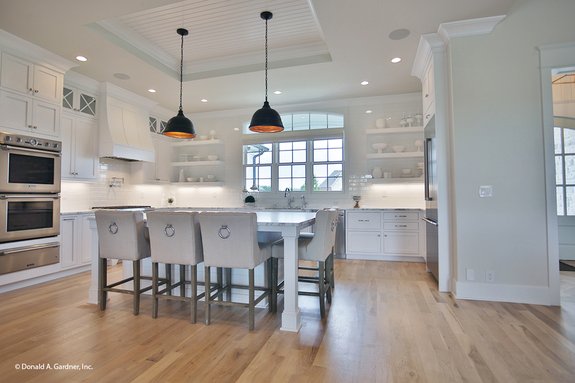 Plan 929-1009 features an extra-wide island in the kitchen.
This luxurious layout (plan 929-1009, above) places five bedrooms on one easy-to-get-around level, making it suitable for growing families. One of the bedrooms sits near the front and can easily convert to a study when needed. In the deluxe master suite, a sitting room opens to the porch, while a large shower adds a contemporary touch to the bathroom.
Three more bedrooms (each with a walk-in closet) occupy the opposite side of the home. Everyone can meet in the middle at the kitchen's extra-wide island or in the spacious great room. A fireplace warms the screened porch for multi-season outdoor relaxation. For extra storage or perhaps a home office, the bonus spaces upstairs can be finished to hold over 1,000 square feet.
Elegant Ranch House Plan
A bonus room can be used now or later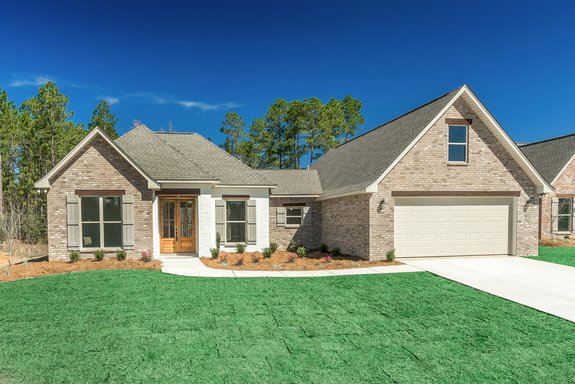 Plan 430-110 is all about modern luxury.
Plan 430-110 (above) offers French country details, an open floor plan, and lots of style. The generous great room boasts a fireplace with built-in cabinets on each side, large windows for lots of natural light, and a French door that leads to the outdoor entertaining area. You'll find an island with a raised bar for sitting, lots of counter space and cabinet storage, and a walk-in pantry in the kitchen.
The luxurious master suite sports dual sinks, a custom shower, soaking tub, and a large walk-in closet that doubles as a safe room. An unfinished bonus room could be used as a playroom or fourth bedroom for a growing family.
Luxury on One Level
This new plan boasts a spacious open layout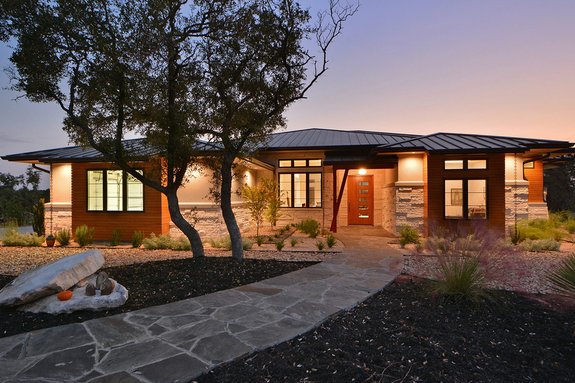 Plan 935-18 features an easygoing vibe throughout.
This chic ranch style home design (plan 935-18, above) features stone accents that add loads of curb appeal. Inside, an open layout between the kitchen and great room creates a relaxed, easygoing vibe, while the dining area is great for formal occasions. Check out the fun outdoor living space at the rear of the home.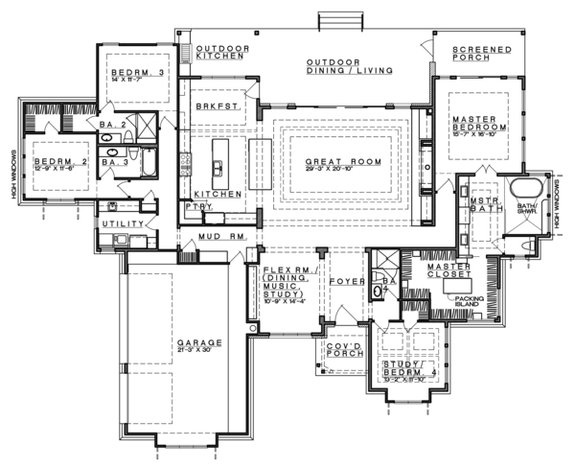 Convenient Snack Counter
Porches connect to every bedroom in this house plan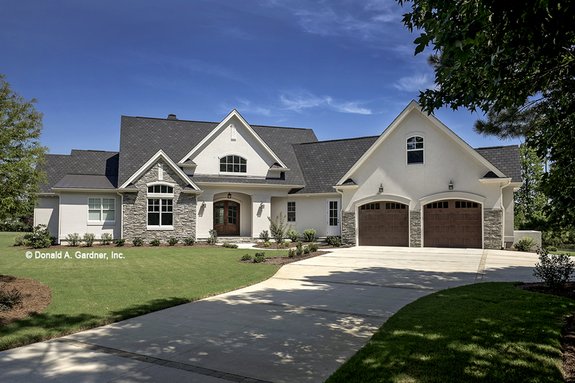 Plan 929-903 features a handy mudroom.
Our favorite parts of this design (plan 929-903, above) make everyday life feel special, from the kitchen's impressive snack counter to the big screened porch with a fireplace - much like these screened porches from HGTV. A unique round sitting room in the master suite gives you a bright spot for reading. Porches connect to every bedroom for easy outdoor enjoyment.
Keep things clean and tidy with the handy mudroom just off the two-car garage. Next to the foyer, a study could be used in a myriad of ways.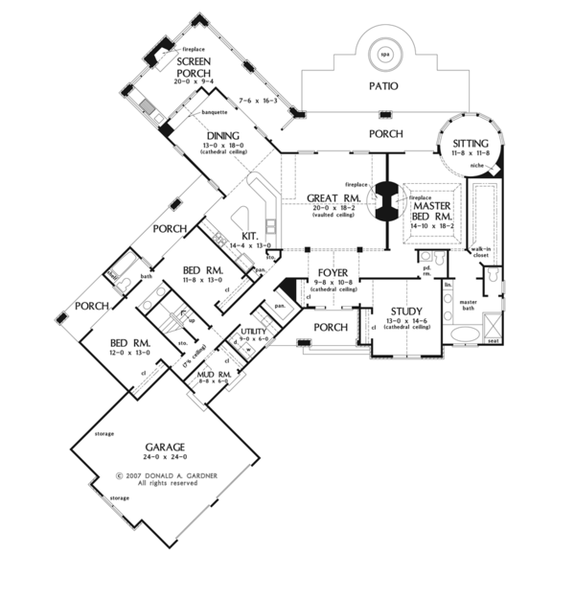 Beautiful Craftsman Design
Enjoy a relaxing main-level master suite in this home plan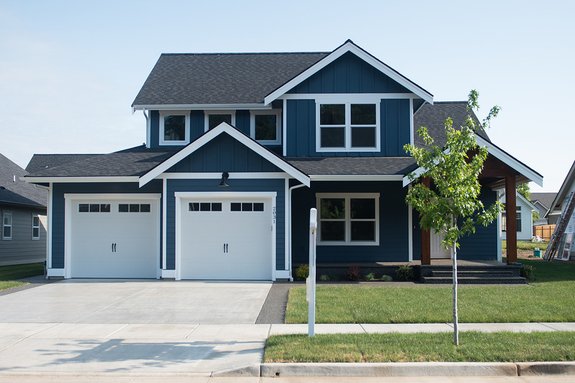 Plan 1070-48 features excellent flow from room to room.
This beautiful Craftsman house plan (plan 1070-48, above) features excellent flow and thoughtful details. A den gives you a place to work from home, while an open concept floor plan flows from the great room into the island kitchen/dining space and out to the covered patio for indoor-outdoor living. The main-level master suite invites you to relax and offers plenty of privacy.
Upstairs, two additional bedrooms and a bathroom reside. Don't miss the bonus room on this level.
Eye-Catching Exterior
A welcoming front porch greets guests and creates a cheerful vibe
Plan 928-299 makes it easy to get around with an open floor plan.
Plan 928-299 (the Sunnyside by Visbeen Architects) is an eye-catching home that boasts a covered entrance that welcomes guests with a modest and cheerful veranda. Square columns, a bay window, a farm-style porch light, and plenty of seating all come together to make this porch tranquil and dreamy.
Exclusive Farmhouse Design
This home plan features a big island kitchen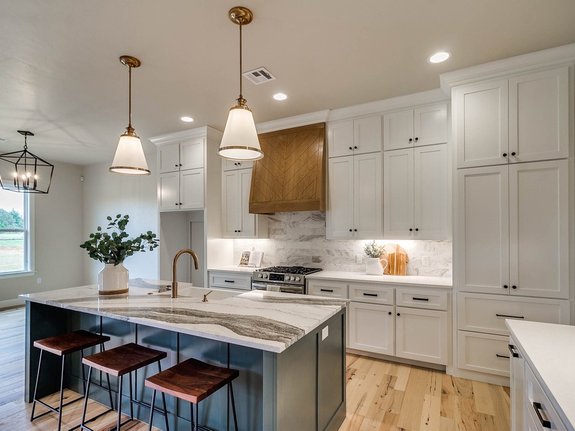 Plan 1067-1 keeps things organized with a handy mudroom.
Here's an exclusive farmhouse design (plan 1067-1, above) that we just can't get enough of. Take a look at the big island kitchen (perfect for whipping up feasts), the relaxing master bath, the well-organized mudroom...well, just look at all of it. It's a beauty!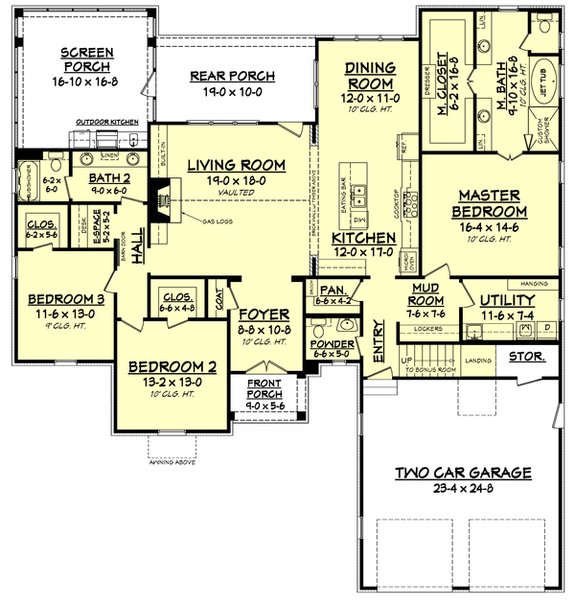 Click here to explore more exciting house plans with photos.