5 Ways to Make a Small House Plan Feel Luxurious
Brought to you by ProVia
1) Pick an open floor plan

An open-concept kitchen, dining room, and family room area tends to make a home feel more spacious than it actually is.
2) Consider vaulted or cathedral ceilings

If you want your home to feel open, airy, and grand, a vaulted ceiling might be your best bet. Vaulted ceilings are often found above open-concept living areas and primary suites.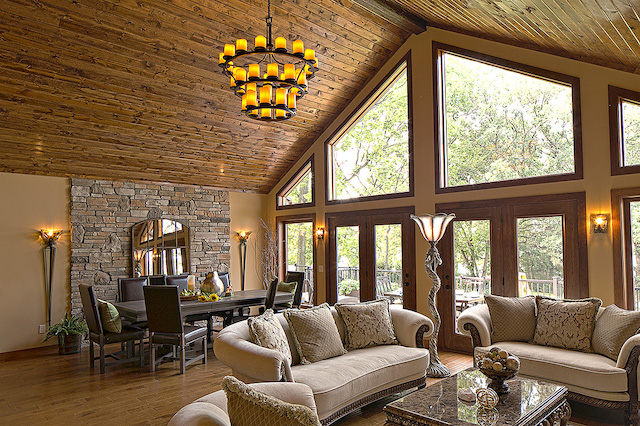 Aeris Shaped Windows
3) Prioritize outdoor living

Outdoor living areas, such as porches, patios, and decks, are a great way to expand living space without augmenting square footage. For ultimate airiness, consider an open floor plan with vaulted ceilings and a view of/access to a rear deck or porch. Separating an open floor plan and an outdoor living area with a large sliding wall of windows can be an especially dramatic and impressive choice.
4) Build unique curb appeal

A small house plan doesn't have to be plain. Wood or stone accents can make a small modern style home extra captivating. Likewise, a wrap-around porch can add warmth and beauty to an otherwise simple country design. What's more, don't forget about the little things. Painting a white beach-style house's front door bright blue might be all you need to make your exterior design pop.
5) Spend where it counts!

If you're working with a tight budget (as most people are), you can't have everything, so consider what's important to you. If you love to cook, spend a little extra in the kitchen – add a cooktop kitchen island or a walk-in pantry. If entertaining is your thing, an outdoor kitchen, bar, or grill area might be fun to explore. If serenity at the end of a long day is all you want, spend a little extra in the primary suite – deck it out with decorative ceilings, a walk-in shower, a clawfoot tub, or a giant walk-in closet.