No one wants to live in a cookie cutter house plan, which is why when you build your house with one of our thousands of layouts, you know you're getting something that's going to fit your style and budget. You may already know which house style you're leaning towards (check out these most popular home styles from Freshome), but you might be having a little trouble deciding on which house layout to go with. Since you can always customize elements from our plans to match any style, we thought it might be helpful to provide a list of the most beautiful house plans available on our site. Consider incorporating some (or all) of these layout ideas into your dream home.
Click here to browse our collection of exciting new home designs.
Craftsman
There are some very beautiful home designs available for this popular artsy style
If you've always wanted to have a Craftsman house, you're not alone. This architectural style consistently proves to be the most popular with home builders - from California all the way to Florida. But that's where the similarities stop, as this house plan (plan 120-174, above) is full of some very beautiful elements. First, you have the stunning doorway and porch, which look like they're out of a forest cottage, and elegantly flow into the dining room. Then you're met with large open spaces, including large windows to let in a lot of light.
The master bedroom is connected to the lanai, which is also accessible via French doors from the main living room. The second-floor space would make a perfect small working area for an office or a studio. This interesting combination of function and beauty is what makes Craftsman houses some of the most beautiful. See the floor plan below.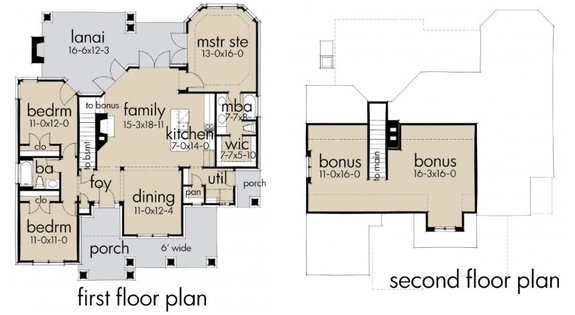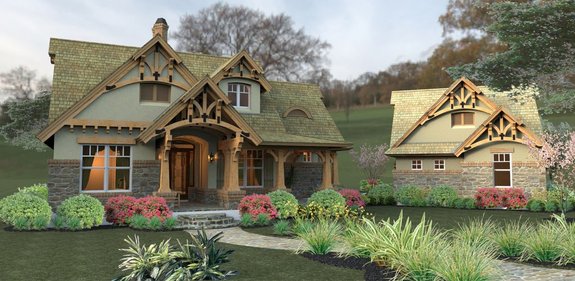 European
Classic continental style right in your neighborhood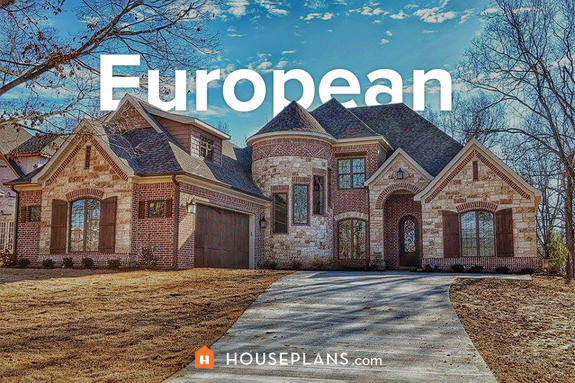 Plan 17-2499
European style houses have some of the most interesting looking house plans. Many can include exposed timber, turret rooms, as well as steep, angular roofs. This particular style includes a lot of those elements, and does so with an imposing 3,083 sq. ft. of space. You're going to fall in love with the look of plan 17-2499 (pictured above) as you walk up the driveway and see the two-car garage, the assortment of large windows, and the intriguing turret. Once you step inside the floor plan is wide open, and your eye will wander to the timber beams and high cathedral ceilings.
The master suite is off to the right and has access to the immense patio out back that is just perfect for lounging. There is a spiral staircase that leads you up to the 2nd floor, where two more bedrooms as well as a Jack and Jill bathroom await. This house plan will definitely make you feel like you're living your own fairytale. Check out the floor plan below.
Ranch
Easy living in just one story makes planning a home a breeze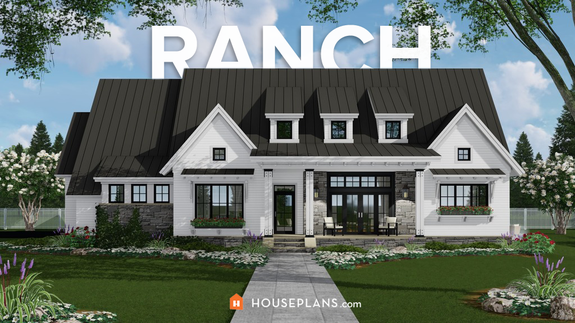 Plan 51-1137
Although ranch style homes can look different regionally, they still all have one thing in common - one-story living (generally). This means you can use your one-story and turn it into a lovely, open floor plan that just flows from one room into the next. One of the best parts about this particular house plan (plan 51-1137, above) are the visually stunning triple dormers, that give this ranch home some extra curb appeal. These windows let even more natural light into the large dining room and great room, creating a very welcoming environment.
The rear porch opens up into the patio (for patio design, check out these ideas from HGTV), creating even more living space for you to enjoy. The walk-through nature of ranch designs allows them to seem a lot larger than they actually are, and are easily customized. See the floor plan below.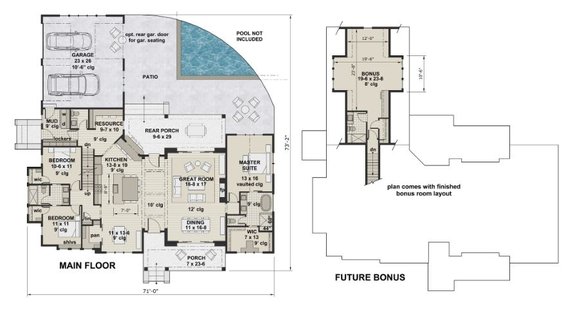 Colonial
Classic style is always stylish when it comes to designing your home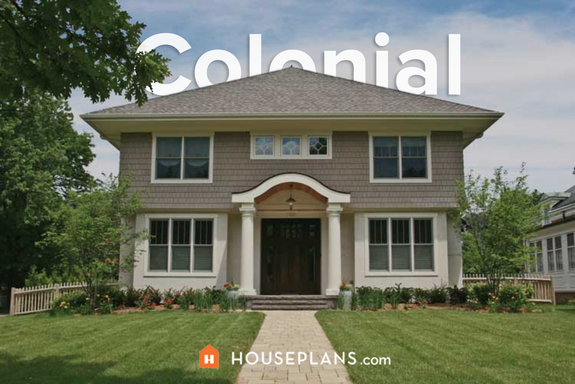 Plan 928-220
Colonial homes have classic appeal, and typically are made of brick or wood and modeled after the homes of early settlers to the American colonies. They typically keep a lot of those Colonial-era elements as well, including shuttered windows and columned porticos. Plan 928-220 (pictured above) is not only beautiful, but it offers a wonderful view from the street - as well as a welcoming interior.
The large living area and kitchen are all wonderfully open, which creates a lovely flowing atmosphere throughout the house. You'll appreciate the generous space offered on the lower level for family room entertainment, as well as the ample bedrooms (five) all located on the second story. See the floor plan below.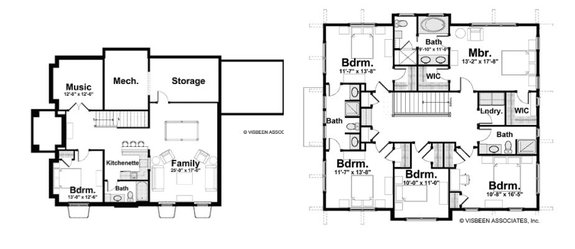 Log Homes and Cabins
Bring a little of the frontier into your home layout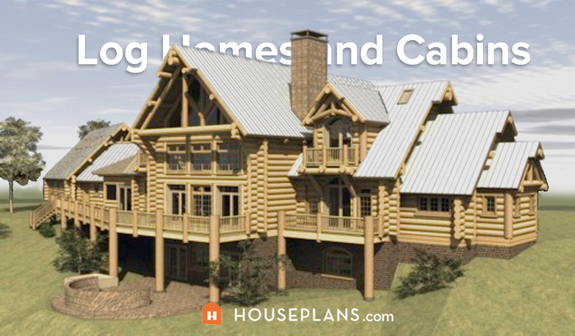 Plan 451-3
Log cabins and houses are a great choice if you're seeking ways to add more natural touches to your dream home - much like these cabin ideas from Country Living. What's not to love about a rustic house that incorporates wooden logs and gabled roofs? This fantastic lodge-like house (plan 451-3, above) has three levels of living space, just waiting for you to call home. There's plenty of room to spread out too, with 7,819 sq. ft. available. The massive fireplace dominates the open living area, while the second floor is accessed via an impressive spiral staircase.
The lower level is ideal for a family room or a wet bar, and there are plenty of extra spaces that could easily be converted to bedrooms on both the lower and second floors. Outside the patio would be picture perfect with a fire pit and other seasonal accessories. Check out the floor plan below.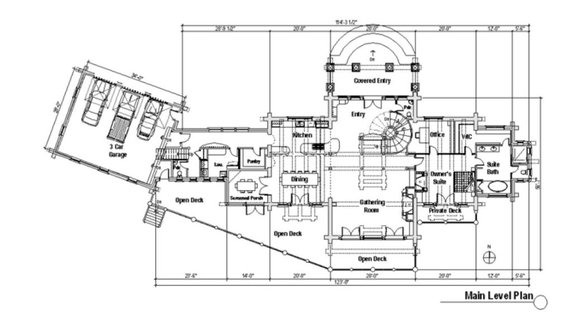 Modern
Minimalist designs make for some very fresh house plans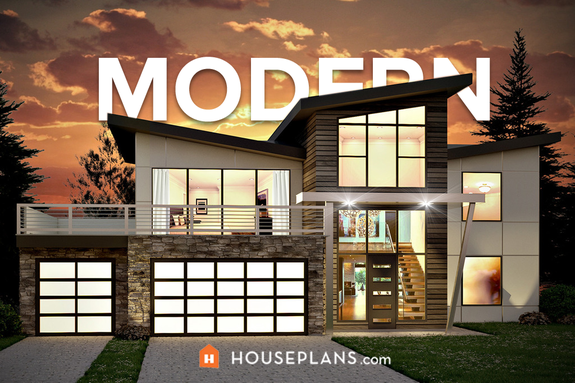 Plan 1073-4
Modern homes are very interesting, as they tend to feature flat roof lines, large amounts of glass, and monochromatic color schemes. If your tastes swing to the modern variety, then plan 1073-4 (above) would be a great option. You can't go wrong with all the beautiful windows, which will help ensure your house has all the natural light you want. The eye is drawn to the contrast between the straight lines of the deck and the slightly tilted ones of the roof.
Once you're inside, you'll love how easy it is to seamlessly move between the great room and the kitchen - which makes for effortless entertaining. The master bedroom is on the first floor and the other bedrooms are on the 2nd floor, along with an ample family room and wet bar. Access to the rooftop patio is also available from the patio. See the floor plan below.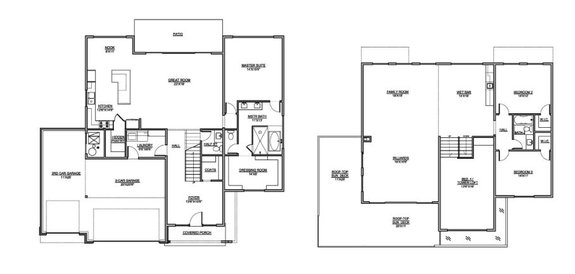 Farmhouse
Spacious house plans update an American staple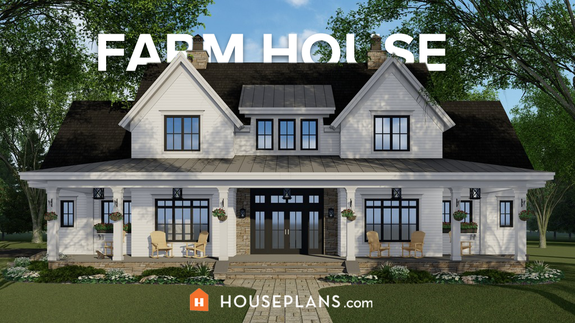 Plan 51-1149
The farmhouse style is based around the practicality of the houses that once oversaw large working farms across the country. Today, this style is often characterized by the emphasis on wood elements as well as an air of informality via gabled roofs and sprawling wraparound porches. Plan 51-1149 (above) is a great example of how much you can do with a farmhouse. The large porch welcomes you through the doorway and into the foyer and spacious main room. The kitchen and dining areas are off to the side and never far from the main action.
The second floor has space for two more bedrooms, which are adjoined by a loft that lets in plenty of natural light. Step through the rear porch and you're greeted with a patio that is just perfect for a pool and lounge area. Check out the floor plan below.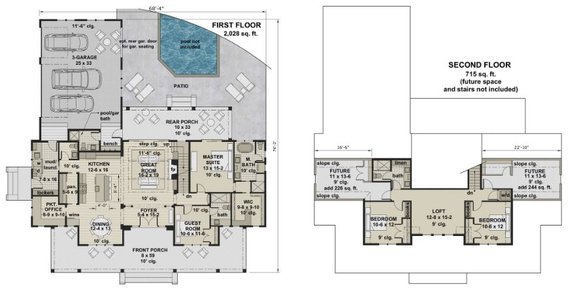 Prairie
Wide open floor plan characterize this sleek style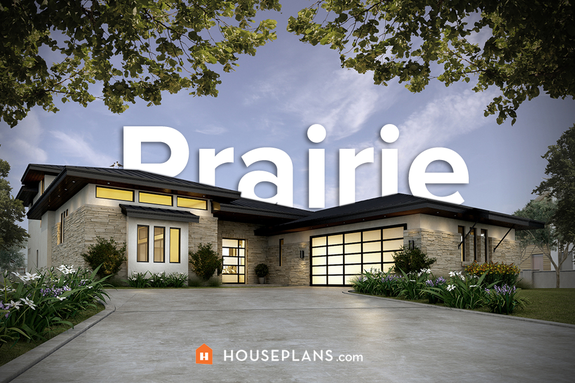 Plan 935-14
Prairie homes are an interesting style that was first utilized by master architects such as Frank Lloyd Wright to complement the landscape of homes built on the flat prairie. They tend to be low hung and have overhanging hipped or gabled roofs. This home (plan 935-14, above) has an interesting plan that starts as soon as you walk through the foyer. Here you're greeted with a view of the central courtyard, which the house itself wraps around. You then see how open the interior actually is, as the kitchen and dining room open into the spacious great room.
The view of the courtyard is impressive, and you can choose to view it through the large glass windows while you're relaxing and entertaining, or admire it from the patio. See the floor plan below.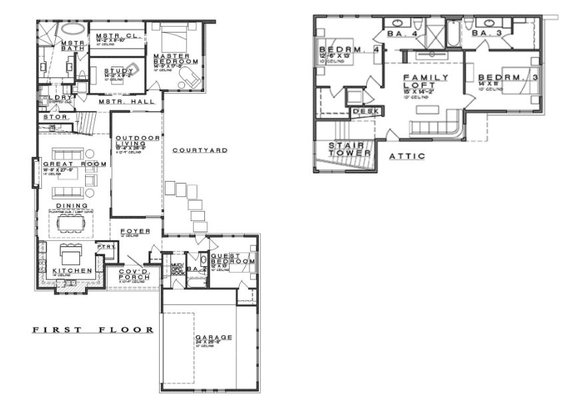 Southwestern
Spacious floor plans with lots of interesting hidden alcoves
Plan 930-480
If your idea of a beautiful house includes tile, mosaic, built-in seating, and stucco walls, then southwestern is definitely the style for you. This house (plan 930-480 is reflective of a lot of those qualities, and offers the convenience of one story living. The floor plan flows elegantly from the foyer and into the connected great room, kitchen, and dining area, and the large amount of windows seem to always be drawing the eye upward to admire the amazing amount of natural light let in.
You'll love the way this layout incorporates both a patio and solana and offers the opportunity to have outdoor dining and entertaining as well.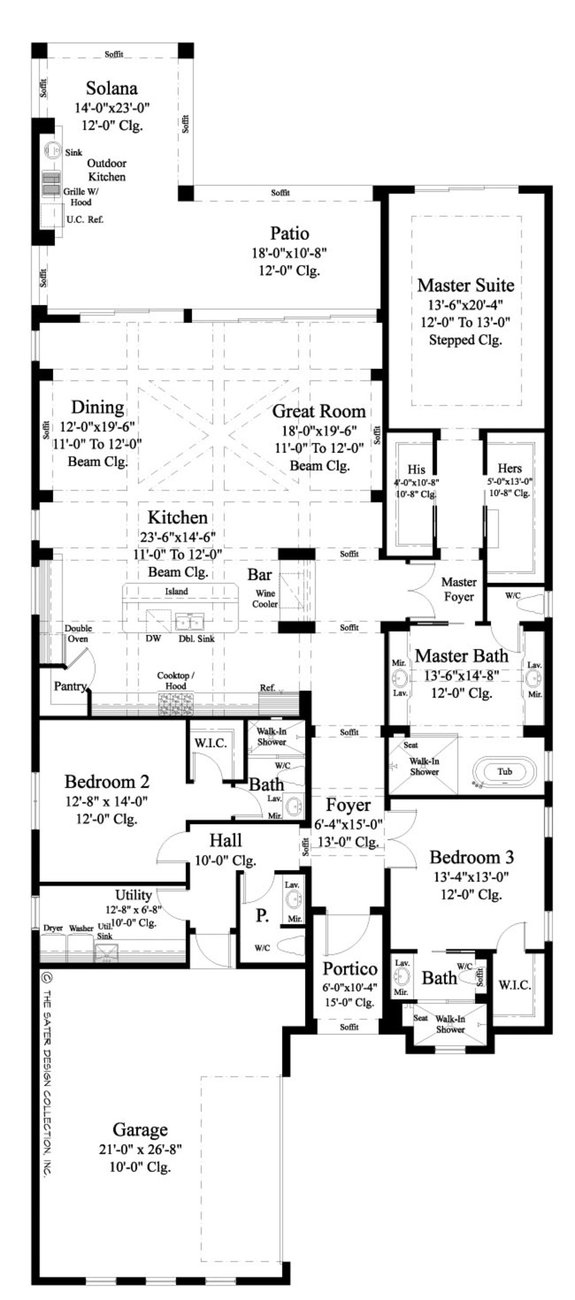 Tudor
Create your own small house in Tudor Revival style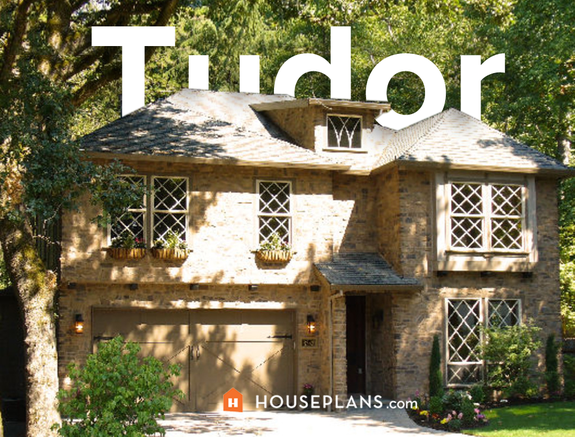 Plan 487-5
Tudor house plans offer the chance for home builders to draw on the half-timbered homes and manors typical of the medieval and early modern English countryside. Plan 487-5 (pictured above) offers 3,267 sq ft of flowing space to create your dream house! The crosstitch windows give this house some serious curb appeal, and welcome you into the sturdy stone structure.
Once you're inside you'll appreciate all the additional details that give this type of house plan some style such as the extra nook for in-kitchen dining, as well as the ease in which you can entertain in the great room and the kitchen. The 2nd floor offers spacious bedrooms as well as an area for an office or a studio.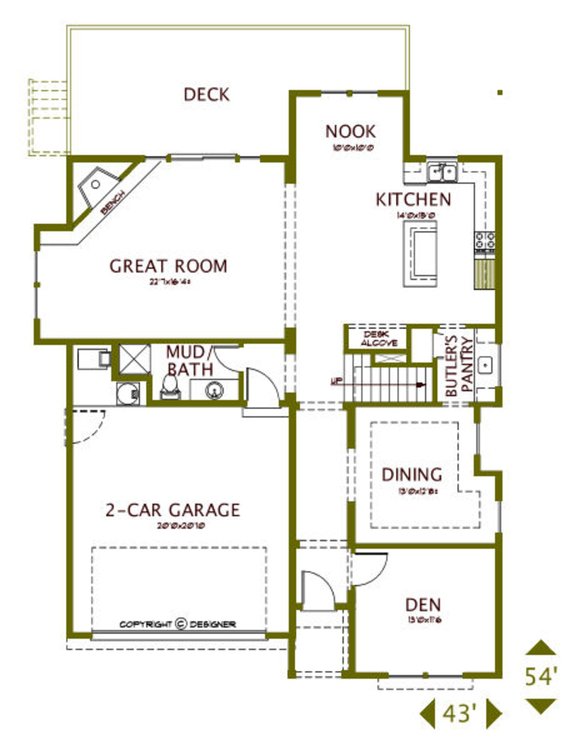 These are some of the most beautiful and interesting house plans that we have to offer. If you see something that you like, make sure to see if your home plan can be customized to include it. Did we choose your favorite style?
Browse our newest house plans