If you're looking for a home plan that combines space and style, then a modern mansion might be right for you. These sleek designs boast clean lines, open concept floor plans, large windows, seamless indoor-outdoor living, and much more. With modern features and extra space, luxury modern mansions work well for all kinds of homeowners.
If you can't get enough of the eye-catching appeal of modern style on a luxe level, then we have some plans for you. To get more information about these or any other modern mansion home plan, contact a Houseplans representative at 1-800-913-2350.
Two-Story Luxurious Modern Prairie Design
You'll love all the appealing amenities of this modern mansion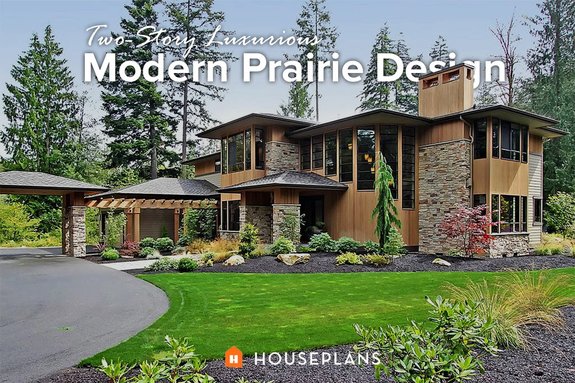 Plan 132-221 boasts an impressive open layout.
Full of sleek curb appeal, this modern mansion is just right for everyday living as it is for entertaining. As soon as you cross the threshold, you'll be impressed with the open layout that features large windows for natural light and a spiral staircase. Next you'll move into the dining area and great room that flow easily into the spacious kitchen and nook. There is an outdoor living area (with a fireplace) and a terrace that are perfect for warm weather entertaining (get outdoor patio ideas from House Beautiful). The guest suite is located on the lower level and includes a bathroom and an outdoor terrace of its own.
The second floor boasts a luxurious master suite, with a private covered deck, generous bathroom, and walk-in closet. Also on the second floor are two additional bedrooms, two bathrooms, and a bonus room perfect for a rec room or workout area.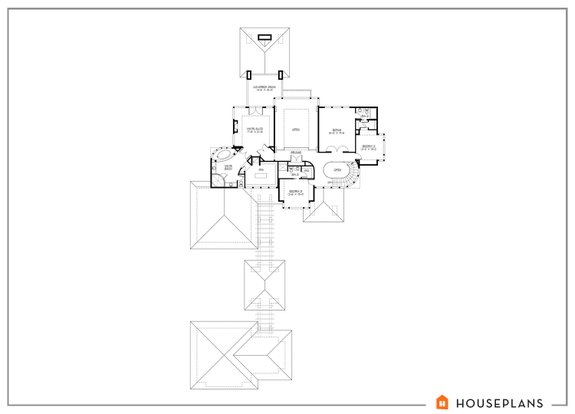 Luxury Mansion Floor Plan Big on Style
This interesting home plan reverses typical living arrangements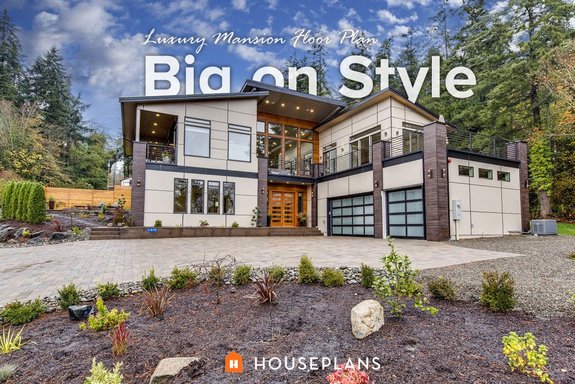 Plan 1066-24 features a home gym.
Go ahead and try something a little different with this modern mansion. The first level of this house plan includes a spacious entry that gives way to space for relaxing in the parlor, or getting in a workout with your home gym. A bedroom suite with a bath and walk-in closet are also on this level, as is a room for a media center/den/office space.
As you make your way up the stairs, you'll be greeted by the living room, dining area, and kitchen. There's room for a den/office on this level, and a bedroom and bath. The master suite is on the opposite side of the second-story, and includes a private balcony for outdoor relaxing.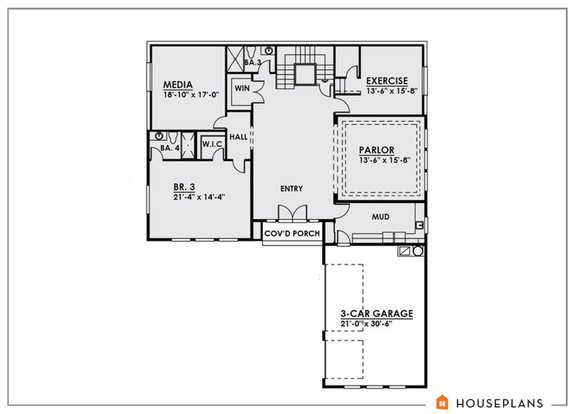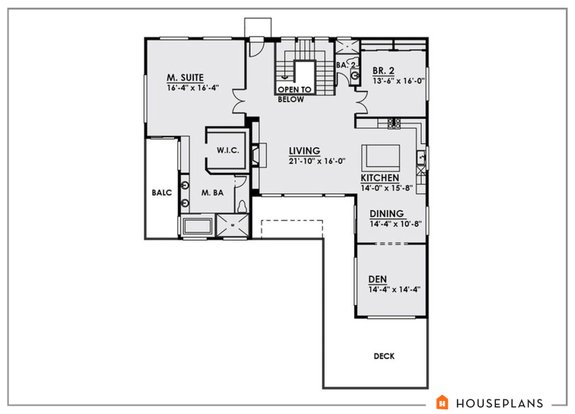 There are Windows Galore in this Luxurious Mansion Plan
Take in the view of your lot with this modern mansion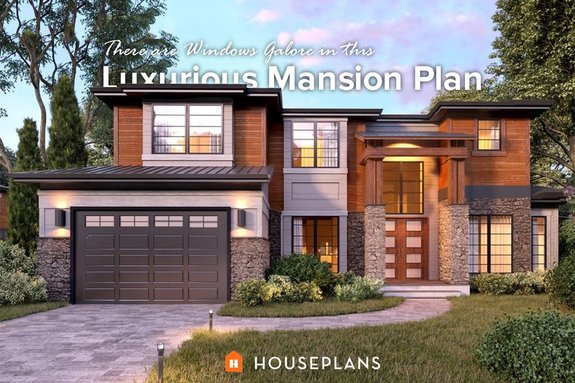 Plan 1066-45 has plenty of natural light.
This welcoming modern home plan is ideal if you've got a lot with a view, or want to take advantage of natural light. The two-story foyer is flanked by the dining room and living area, and moves seamlessly into the family room, which is open to the second level. Large windows and open spaces contribute to the bright ambiance of this level. The expansive kitchen includes a walk-in pantry, island, and nook for casual dining. The first level contains a guest suite perfect for extended family or friends.
On the second story you'll find the private master suite with a spacious bath and walk-in closet. There are three secondary bedrooms on this level, two bathrooms, and a convenient laundry room.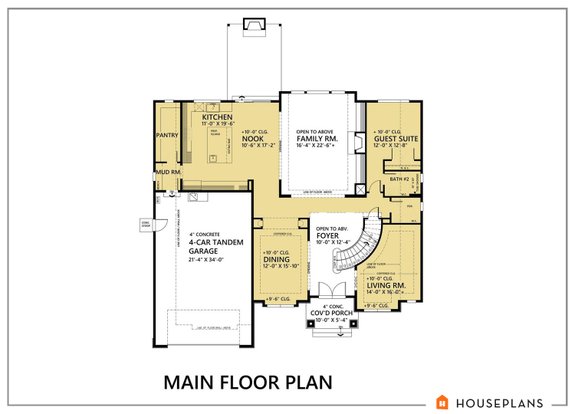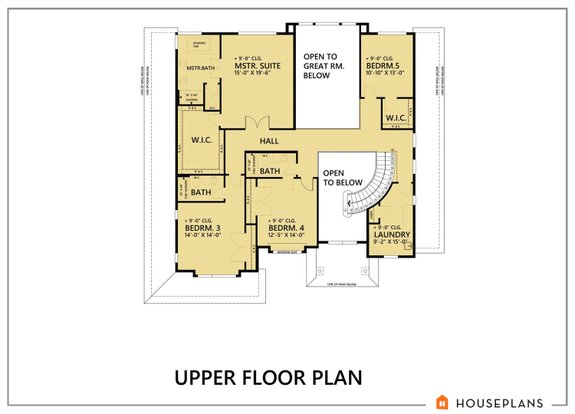 Spacious Modern Mansion Floor Plan
Enjoy easy indoor/outdoor living with this luxe design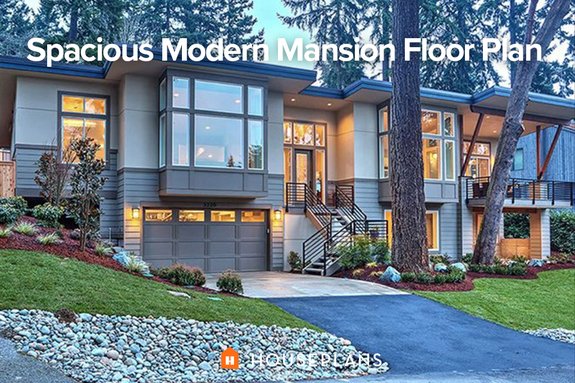 Plan 132-226 includes indoor-outdoor living options.
This eye-catching house plan is perfect if you like your space to include indoor and outdoor options. The lower level sports plenty of room next to the four-car tandem garage, including room for storage, laundry, gym, two bedrooms, a bathroom, and an outdoor patio. On the main level, one wing of the house holds open space for a great room, dining area, kitchen (with a view of the patio), and nook. The rear patio can be accessed through the dining room or kitchen, and makes for easy meal prep when entertaining outdoors. There is also a covered deck for additional outdoor space that's accessed through the nook's sliding doors.
The other wing of this plan includes the master suite (with convenient access to the laundry room) a guest suite, and room for an office or den (get inspired with these home office ideas from Country Living).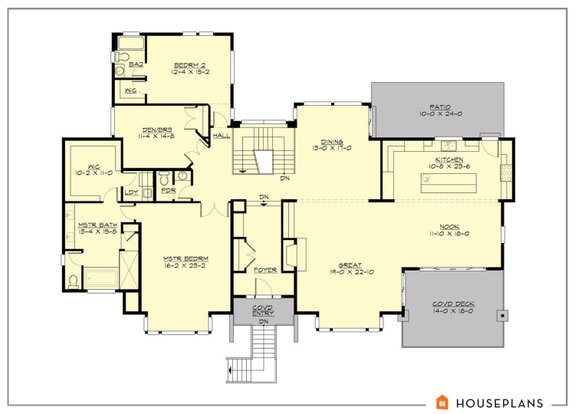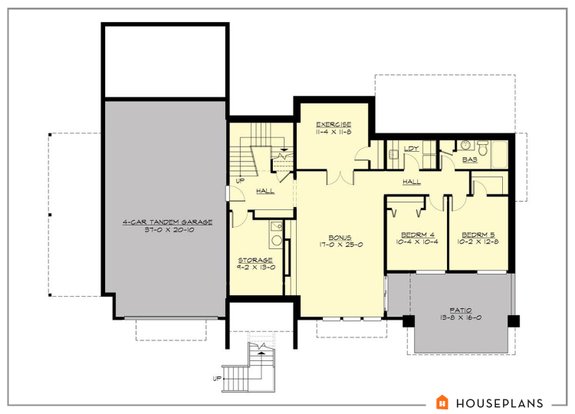 A Modern Mansion Floor Plan with Space to Grow
Lots of space awaits you in this luxurious modern design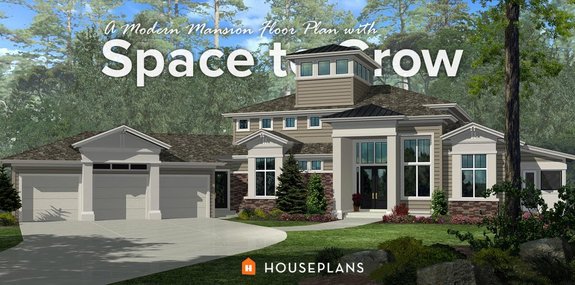 Plan 930-506 features a wraparound porch.
If lots of space is something you need, then this luxury home is right for you. The main floor is expansive and open, consisting of a great room (that's open to above) and dining area, which flow easily into the expansive kitchen. The large, wraparound island is perfect for having meals or entertaining, and food prep is a cinch with both a walk-in pantry and a butler's pantry available to you. The kitchen gives you access to the sunroom (with vaulted ceiling) perfect for spending some quality time with friends and family.
This level also houses two guest suites (including one with a sleeping porch), as well as space for an office or a study/den. The second story is where you'll find the private master suite with views from the balcony to the space below. The suite includes its own foyer, enormous walk-in closet, spacious bathroom, and private master deck.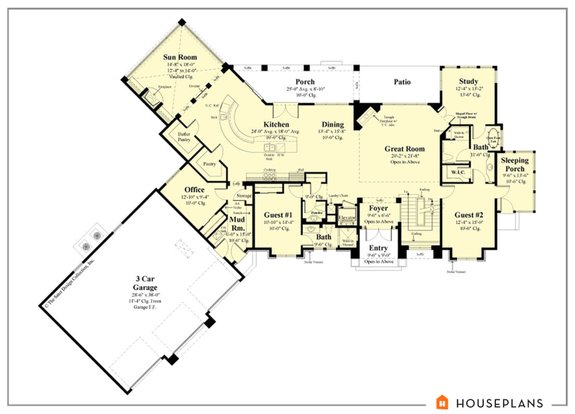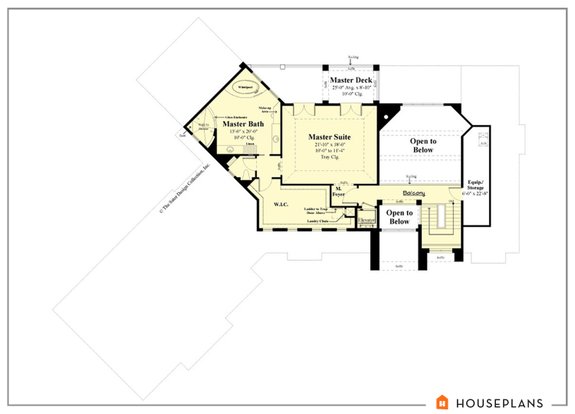 Contemporary Luxury Mansion Plan
Where interesting design meets spacious living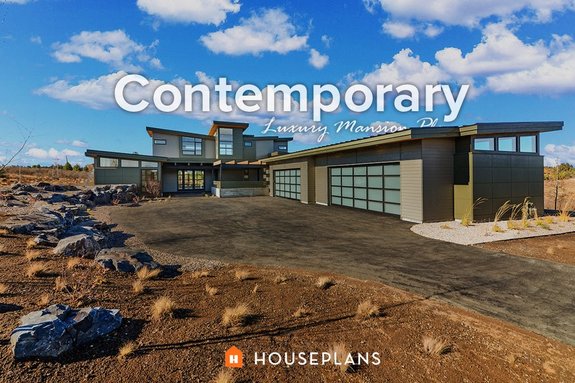 Plan 892-30 enjoys seamless indoor-outdoor living.
Clean lines bring an extra layer of luxury to this modern mansion design. As you step past the outdoor terrace you'll walk into an open and spacious great room and dining area with space for a bar. The rear outdoor patio is accessed through the sliding doors of either room, making for seamless indoor/outdoor living. The generous kitchen has a walk-in pantry and wine station for easy entertaining or meal prep. This wing of the home plan contains one master suite with a bathroom and a large walk-in closet.
The other side of the house holds another master suite that includes a spacious bathroom and leads directly into a walk-in closet. On the second story there are two more bedrooms, two bathrooms, and a bonus room that could be used as a family room or rec room.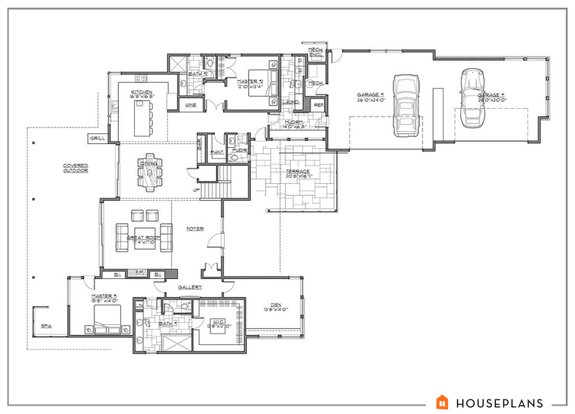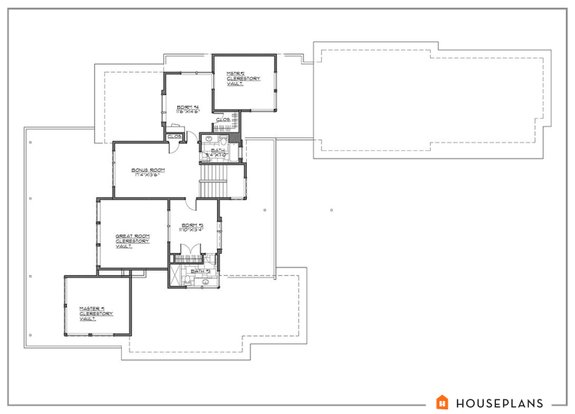 Modern Luxury with Contemporary Flare
A luxury home that is big on style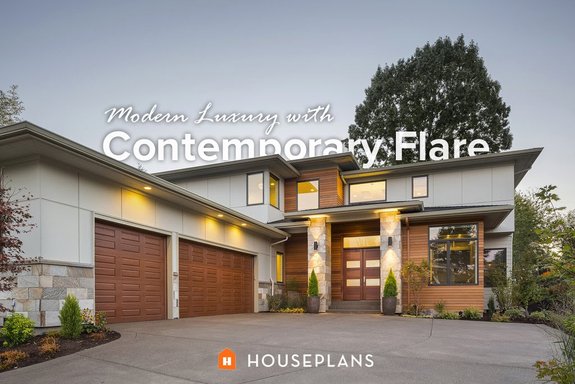 Plan 48-651 offers space for an outdoor kitchen.
If it's an open and contemporary layout you're after, look no further than this modern mansion. As you walk through the entry you'll immediately be greeted by the flowing two-story great room and dining area. You can seamlessly move into the kitchen to grab a bite or prepare an entire meal for guests. Don't feel like cooking indoors? Not to worry, this home plan also comes with space for an outdoor kitchen. On the other wing of this level, you'll find rooms suitable for a gym (including space for a sauna), a den, and a guest bedroom and bathroom.
The second level is where you'll find the luxurious master suite, which includes a spa and separate shower. Stroll past the open great room below to encounter two secondary bedrooms, one bathroom, a game/bar room, and an outdoor terrace.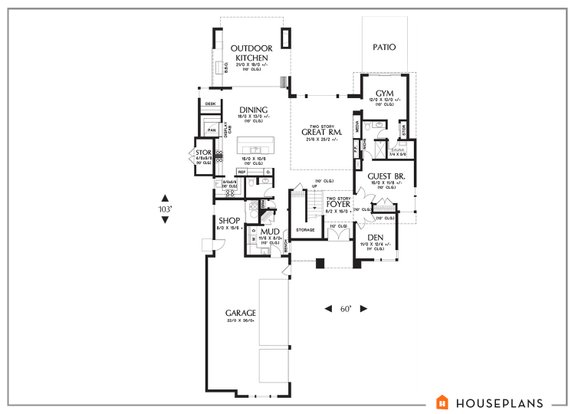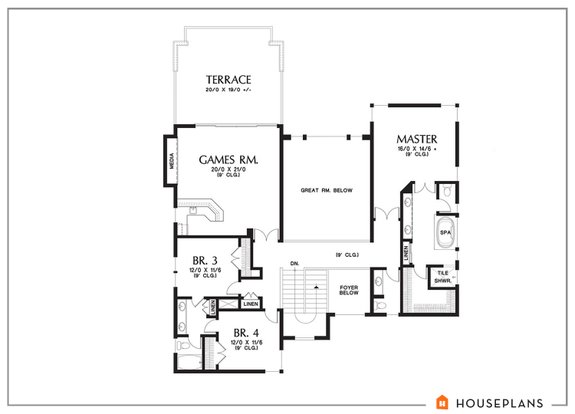 Luxurious Living Awaits in Modern Fashion
Style and space are in abundance with this floor plan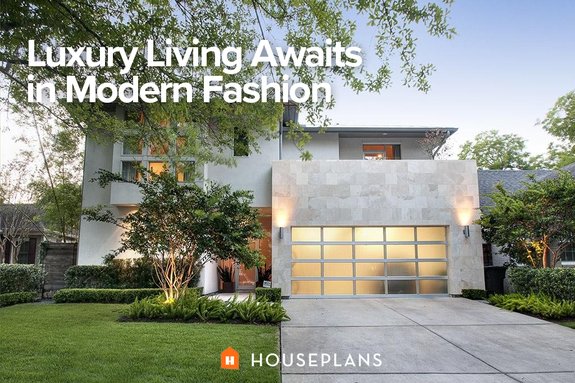 Plan 449-13 features a cozy fireplace.
Get bold curb appeal with this luxury home design. The open layout of the living area and dining room easily transitions to the rear covered porch (with sloped ceiling) for easy indoor-outdoor living. Preparing meals is a breeze in the spacious kitchen that includes a convenient serving pass-through to the dining area. Beyond the kitchen is the perfect place for a family room or entertainment center that comes with a fireplace and offers access to the outside.
On the second floor, you're sure to be impressed by the master suite with a vaulted ceiling, spacious bathroom, and large walk-in closet. There are three secondary bedrooms and two bathrooms on this level that also includes space for a game room.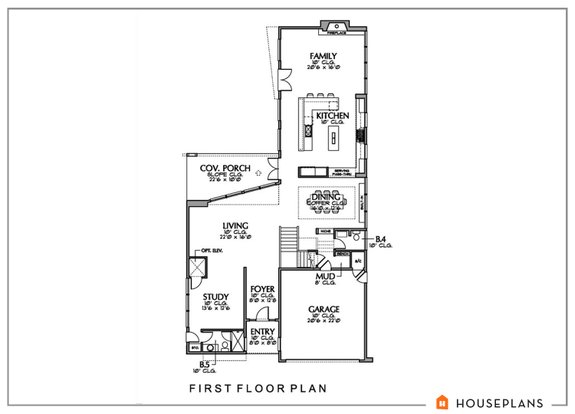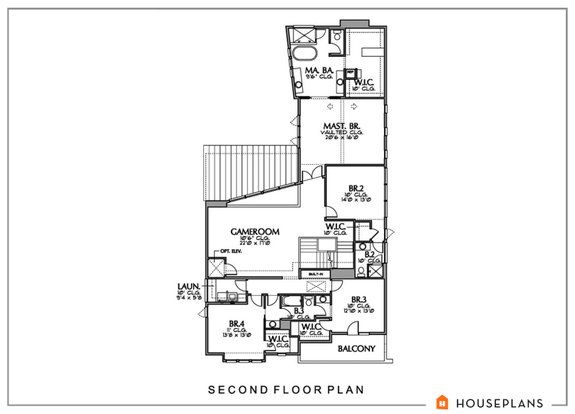 Enjoy Craftsman Style and Luxury Curb Appeal
This two-story design feels fresh and contemporary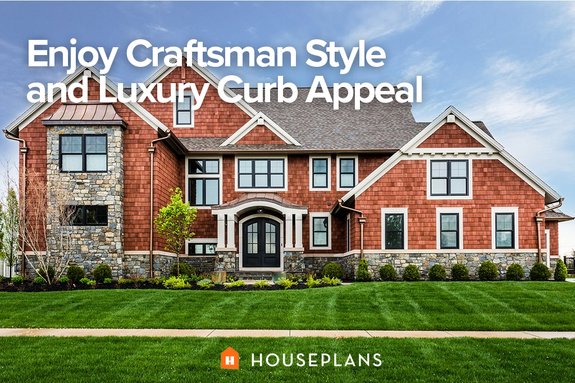 Plan 928-321 features not one, but two kitchen islands.
There's no denying the eye-catching appeal of this luxurious modern mansion. As you walk through the foyer, you enter into the open and spacious living and dining area. The generous kitchen--with two islands, one for meal prep and one for hanging out--has easy access to a walk-in pantry and wine cabinet nearby. The rear of the house features a spacious screened porch, ideal for outdoor dining and relaxing when the weather is nice (check out these screened in porch ideas from Elle Decor). The master suite is located in the other wing of the first floor, and offers dual baths, as well as two walk-in closets.
On the second level there are three secondary bedrooms, each with a bathroom nearby. Additionally, there is space for a loft and an office/den. This house plan can provide you with a lower level plan if it suits your needs, which can include a refreshment/games area, a lounge, and even a home theater/media center.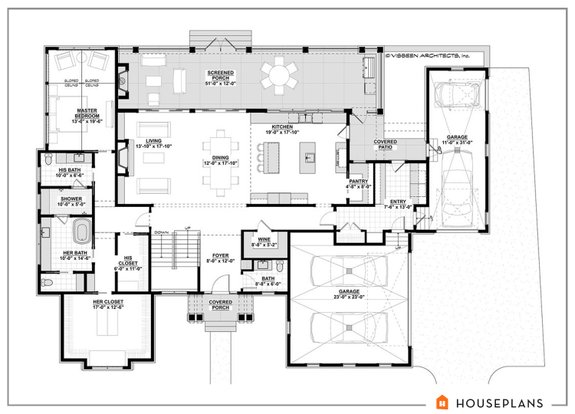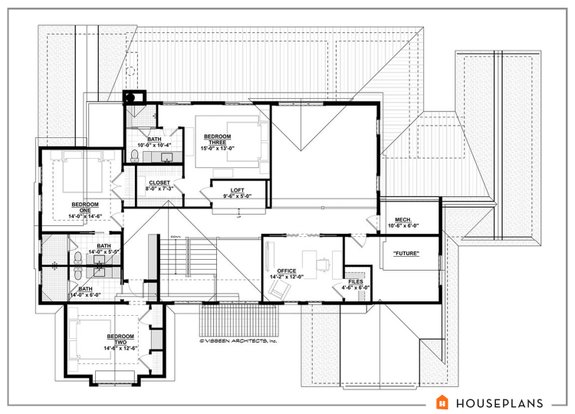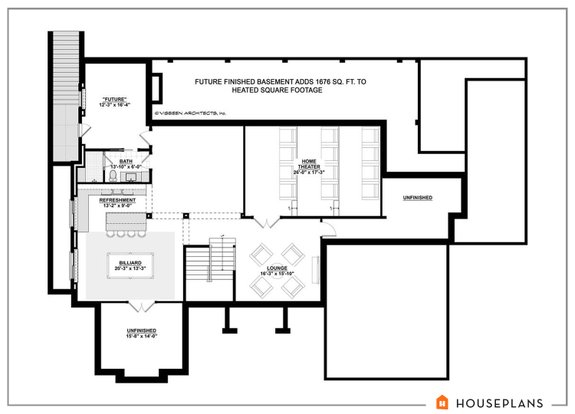 Modern mansion home plans are the perfect way to combine all the style of a modern design with the luxury of having extra space and convenient amenities. If any of these floor plans look right for you, contact Houseplans at 1-800-913-2350.