Key Specs

863 sq/ft

1 Bedroom

2 Baths

2 Stories

1 Garage
Plan Description
This home was originally designed as a ski cabin for a resort town in the central Rocky Mountains. The livable space is perched above the garage to provide ample views of surrounding lakes and mountain ranges. It situates the occupants high above multiple feet of soft fluffy snow at ground level during the winter months. This home is a cost effective contemporary approach to minimalist living. A single bedroom is perfect for those looking for a quick get-away to the mountains and people that would rather play in the mountains than maintain a home with larger square footage. The indoor/outdoor combination of a front deck incorporated into the living spaces provides a connection with nature and the surrounding views. The large garage is a perfect place to store outdoor recreational equipment that make a visit to the mountains that much more enjoyable. This home is designed to be low maintenance and energy efficient. Materials are industrial in nature and include corrugated metal and weather resistant siding along with natural wood. The home is ideal for that special weekend getaway.
Modify This Plan
This plan can be customized!
Tell us about your desired changes so we can prepare an estimate for the design service. Click the button to submit your request for pricing, or call 1-800-913-2350 for assistance.
Full Specs & Features
Area
Decks : 208 sq/ft
Garage : 769 sq/ft
Lower Floor : 47 sq/ft
Main Floor : 816 sq/ft
*Total Square Footage only includes conditioned space and does not include garages, porches, bonus rooms, or decks.
Ceiling
Garage Ceiling : 9' 7"
Lower Ceiling : 9' 7"
Roof
Primary Pitch : 5:12
Roof Framing : Truss
Roof Load : 150
Secondary Pitch : 3:12
Bedroom Features
Upstairs Master Bedrooms
Walk In Closet
Kitchen Features
Kitchen Island
Walk In Pantry Cabinet Pantry
Garage Features
Carport Porte Cochere
Front Entry Garage
Energy Efficient Features
What's included in this plan set
See a sample plan set
All plans are drawn at ¼" scale or larger and include :
Cover Sheet with 3D Rendering or Photo, Project Information &
Table of Contents
Foundation Plan
Framing Plans
Floor Plans
Door & Window Schedules
Exterior Elevations
Building Details and Wall Section
Schematic Electrical Plans
*See important information before purchasing
Pricing
Plan Options
| | | |
| --- | --- | --- |
| PDF Set Best Value! | $1250.00 | PDF plan sets are best for fast electronic delivery and inexpensive local printing. |
| Reproducible Set | $1350.00 | For inexpensive local printing / making minor adjustments by hand. 1 printed set, typically on Bond paper. |
| 5 Copy Set | $1450.00 | 5 printed plan sets mailed to you. |
| 8 Copy Set | $1500.00 | 8 printed plan sets mailed to you. |
| CAD Set | $1950.00 | For use by design professionals to make substantial changes to your house plan and inexpensive local printing. |
| Single Set | $1050.00 | One printed set for bidding purposes only. Not a legal building set for construction. |
| Study Set | $1050.00 | One electronic set for bidding purposes only. Not a legal building set for construction. |
Foundation Options
| | | |
| --- | --- | --- |
| Slab | $0.00 | Ideal for level lot, single layer concrete poured directly on grade. |
*Options with a fee may take time to prepare. Please call to confirm.
Unless you buy an "unlimited" plan set or a multi-use license you may only build one home from a set of plans. Please call to verify if you intend to build more than once. Plan licenses are non-transferable and cannot be resold.
We offer a 90% credit when you upgrade from a set, that is not for construction, to a 5-Copy set (or greater).

"Creating thoughtful design through Art and Architecture that makes our communities and our environment a better place to live."
Tad Jones is a licensed Architect based in Boise, Idaho. He graduated from the College of Art & Architecture at the University of Idaho with a degree in Architecture and a minor in Art. Before starting his architectural career, Tad worked as a carpenter in the resort town of McCall, Idaho. Working with a master carpenter he built resort homes on the shores of Payette Lake and the surrounding resort area. This practical hands-on building experience shows through in the detail and buildability of his plans.

Tad has a varied portfolio of architectural styles ranging from contemporary and modern designs to traditional and historic homes. His work has incredible depth and artistry. His ideas are creative and he provides finishing touches both inside and out that are unique and instantly recognizable as a signature style.

Tad is a very talented architect with strong design skills and a wide range of experience. He has a solid background in commercial architecture and has spent years working within the demanding confines of the high-end residential market. Throughout his career Tad has demonstrated an ability to work with many types of clients to produce successful design solutions and take projects from the drawing board to completion. Tad's creativity, combined with his attention to detail, consistently result in finely tuned designs.
How much will this cost to build?
This report will provide you cost estimates based on location and building materials.
Get Cost-to-Build Report
Questions?
Other plans by this designer
Signature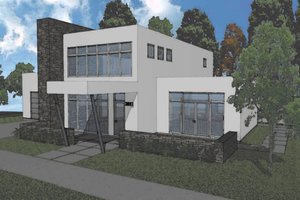 Plan 910-1 from $950.00
| | | |
| --- | --- | --- |
| 2402 sq ft | 3 bed | 2.5 bath |
| 2 story | 66' wide | 66' deep |
Signature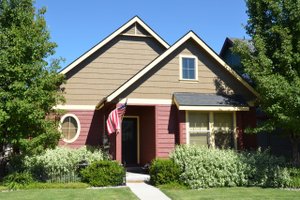 Plan 910-2 from $950.00
| | | |
| --- | --- | --- |
| 1745 sq ft | 3 bed | 2 bath |
| 1 story | 30' wide | 87' deep |
Your recently viewed plans
Need help? Let our friendly experts help you find the perfect plan!
Contact us now for a free consultation.
Call: 1-800-913-2350
Email: sales@houseplans.com
Important Information
All sales on house plans and customization/modifications are final. No refunds or exchanges can be given once your order has started the fulfillment process.
All house plans from Houseplans are designed to conform to the local codes when and where the original house was constructed.
In addition to the house plans you order, you may also need a site plan that shows where the house is going to be located on the property. You might also need beams sized to accommodate roof loads specific to your region. Your home builder can usually help you with this. You may also need a septic design unless your lot is served by a sanitary sewer system. Many areas now have area-specific energy codes that also have to be followed. This normally involves filling out a simple form providing documentation that your house plans are in compliance.
In some regions, there is a second step you will need to take to insure your house plans are in compliance with local codes. Some areas of North America have very strict engineering requirements. Examples of this would be, but not limited to, earthquake-prone areas of California and the Pacific Coast, hurricane risk areas of the Florida, Gulf & Carolina Coasts. New York, New Jersey, Nevada, and parts of Illinois require review by a local professional as well. If you are building in these areas, it is most likely you will need to hire a state licensed structural engineer to analyze the design and provide additional drawings and calculations required by your building department. If you aren't sure, building departments typically have a handout they will give you listing all of the items they require to submit for and obtain a building permit.
Additionally, stock plans do not have a professional stamp attached. If your building department requires one, they will only accept a stamp from a professional licensed in the state where you plan to build. In this case, you will need to take your house plans to a local engineer or architect for review and stamping. In addition, plans which are used to construct homes in Nevada are required to be drawn by a licensed Nevada architect.
Best Price Policy
Some of our plans are also available on other websites and in printed catalogs. We are committed to selling these plans at or below the lowest price available elsewhere. If you find a regularly priced plan (not "on-sale") for a lower price, we'll beat the advertised price by 5%. We will match the price for any on-sale plans.
Once our staff is able to verify that the same plan is offered at a lower published price, Houseplans will offer the plan for sale at the lower published price less 5%. Our discount is available for immediate plan purchase only. Please call us at 1-800-913-2350.
The advertised item must be the same plan as the product being purchased, including set type (5-copy, 8-copy, Reproducible, or CAD Set), foundation options, and any miscellaneous details. Advertised prices must be in the same currency that the original product was purchased in. Our Price Guarantee does not apply to advertising errors or misprints, special prices, restricted offers, mail order offers, rebates, coupons, premiums, free or bonus offers, OEM products, limited or minimum quantity or limited time offers, close-outs, liquidations, clearances, and special financing offers.
Full sets of plans only, such as PDF, 5-copy, 8-copy, Reproducible, or CAD, are eligible for this offer. 1-copy Sets, Study Sets, Additional Sets, Materials Lists are not eligible for this offer.