Key Specs

2736 sq/ft

3 Bedrooms

2.5 Baths

2 Stories

1 Garage
Plan Description
Modern farmhouse design is a combination of traditional American farmhouse design and minimalistic contemporary style architecture. This house design reflects the needs of contemporary living by giving diverse inside spaces. Ground floor plan is divided in few different zones. Left wing accommodates main living area of open plan kitchen, living room and double story dining area. On the right wing, in the private zone there is master bedroom with large bathroom and open closet. It is situated parallel to the living room to catch the best views of open lot. Between two house wings on the ground floor there is a room suitable for home office or den. All main ground floor spaces are connected to the open outside porch to influence broader outside activities. On the second floor there are two large bedrooms and a bathroom. Open studio space could be used as a home library/hobby room or by adding partition walls there could be fourth bedroom of the house. Second floor also has a balcony which allows to enjoy open lot views from above.
Modify This Plan
This plan can be customized!
Tell us about your desired changes so we can prepare an estimate for the design service. Click the button to submit your request for pricing, or call 1-800-913-2350 for assistance.
Full Specs & Features
Area
Garage : 448 sq/ft
Main Floor : 1976 sq/ft
*Total Square Footage only includes conditioned space and does not include garages, porches, bonus rooms, or decks.
Ceiling
Lower Ceiling : 9'
Upper Ceiling Ft : 17'
Bedroom Features
Main Floor Master Bedroom
Split Bedrooms
Upstairs Bedrooms
Walk In Closet
Additional Room Features
Den Office Study Computer
Great Room Living Room
Hobby Rec Room Game Room
Loft
Main Floor Laundry
Mud Room
Outdoor Spaces
Balcony
Covered Front Porch
Covered Rear Porch
Grill Deck Sundeck
More
Empty Nester
Wheelchair Adaptable
Pricing
Plan Options
| | | |
| --- | --- | --- |
| PDF Set Best Value! | $2250.00 | PDF plan sets are best for fast electronic delivery and inexpensive local printing. |
| 5 Copy Set | $2430.00 | 5 printed plan sets mailed to you. |
| 8 Copy Set | $2520.00 | 8 printed plan sets mailed to you. |
| CAD Set | $3150.00 | For use by design professionals to make substantial changes to your house plan and inexpensive local printing. |
Foundation Options
| | | |
| --- | --- | --- |
| Crawlspace | $0.00 | Ideal for semi-sloped or level lot, home can be built off of grade, typically 18" - 48". |
| Slab | $0.00 | Ideal for level lot, single layer concrete poured directly on grade. |
*Options with a fee may take time to prepare. Please call to confirm.
Additional Options
| | | |
| --- | --- | --- |
| Right-Reading Reverse | $180.00 | Choose this option to reverse your plans and to have the text and dimensions readable. Click here for more information. |
*Options with a fee may take time to prepare. Please call to confirm.
Unless you buy an "unlimited" plan set or a multi-use license you may only build one home from a set of plans. Please call to verify if you intend to build more than once. Plan licenses are non-transferable and cannot be resold.
Meet the Designer - Truoba
"Our ambition is to design homes that fit people's needs and improve their quality of life. We seek to make your dream home a reality.''
Our passion is designing comfortable living environments. We believe that well-designed homes can improve the quality of life and we are always looking for innovative ways to reflect contemporary lifestyle needs. We also believe that the best modern architecture results from the deft combination of function and artfulness.
Every home that we design expresses exterior elegance and interior comfort, and it is important to establish a dialogue between interior and exterior spaces. For example, well-positioned porches should work as outdoor rooms.
Interior design plays a significant role in a good house project and can make smaller volumes function more efficiently and feel larger, and we trust that the owners of our homes will personalize the interior according to their own taste. For more interior design inspiration please visit our Pinterest board: www.pinterest.com/truoba/.
Good houses involve not only esthetics and functionality but also sustainability and energy efficiency. At the beginning of every project we work to ensure that the building will perform efficiently, run economically, and be sustainably built and environmentally sensitive. We apply Passive House principles to make every home energy efficient. We also strive to simplify construction in order to lower overall building cost.
We design houses for people who seek esthetic quality and comfort in their living environment. Good design adds value to your life and setting. Our ambition is to provide well designed houses that enhance daily life while making a positive impact on our urban environment.
Truoba is based in Lithuania. Owner Ignas Stancikas, is an architecture graduate of the University of Strathclyde, Glasgow.
How much will this cost to build?
This report will provide you cost estimates based on location and building materials.
Get Cost-to-Build Report
Questions?
Other plans by this designer
Signature
ON SALE!
Plan 924-4 on sale for $1440.00
| | | |
| --- | --- | --- |
| 2116 sq ft | 3 bed | 2.5 bath |
| 1 story | 84' wide | 68' deep |
Signature
ON SALE!
Plan 924-1 on sale for $1350.00
| | | |
| --- | --- | --- |
| 2180 sq ft | 3 bed | 2.5 bath |
| 1 story | 76' wide | 71' deep |
Signature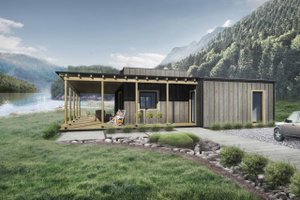 ON SALE!
Plan 924-2 on sale for $1170.00
| | | |
| --- | --- | --- |
| 1230 sq ft | 2 bed | 2 bath |
| 1 story | 53' wide | 44' deep |
Signature
ON SALE!
Plan 924-3 on sale for $900.00
| | | |
| --- | --- | --- |
| 850 sq ft | 2 bed | 1 bath |
| 1 story | 36' wide | 35' deep |
Signature
ON SALE!
Plan 924-7 on sale for $765.00
| | | |
| --- | --- | --- |
| 440 sq ft | 1 bed | 1 bath |
| 1 story | 40' 9" wide | 29' 5" deep |
Signature
ON SALE!
Plan 924-6 on sale for $1530.00
| | | |
| --- | --- | --- |
| 2754 sq ft | 3 bed | 2.5 bath |
| 2 story | 94' wide | 69' deep |
Signature
ON SALE!
Plan 924-8 on sale for $360.00
| | | |
| --- | --- | --- |
| 724 sq ft | 0 bed | 0 bath |
| 1 story | 40' 11" wide | 25' deep |
Signature
ON SALE!
Plan 924-10 on sale for $1080.00
| | | |
| --- | --- | --- |
| 1000 sq ft | 2 bed | 1 bath |
| 1 story | 41' 3" wide | 36' 7" deep |
Signature
ON SALE!
Plan 924-9 on sale for $810.00
| | | |
| --- | --- | --- |
| 780 sq ft | 2 bed | 1 bath |
| 1 story | 39' 5" wide | 29' 10" deep |
Your recently viewed plans
Need help? Let our friendly experts help you find the perfect plan!
Contact us now for a free consultation.
Call: 1-800-913-2350
Email: sales@houseplans.com
Important Information
All sales on house plans and customization/modifications are final. No refunds or exchanges can be given once your order has started the fulfillment process.
All house plans from Houseplans are designed to conform to the local codes when and where the original house was constructed.
In addition to the house plans you order, you may also need a site plan that shows where the house is going to be located on the property. You might also need beams sized to accommodate roof loads specific to your region. Your home builder can usually help you with this. You may also need a septic design unless your lot is served by a sanitary sewer system. Many areas now have area-specific energy codes that also have to be followed. This normally involves filling out a simple form providing documentation that your house plans are in compliance.
In some regions, there is a second step you will need to take to insure your house plans are in compliance with local codes. Some areas of North America have very strict engineering requirements. Examples of this would be, but not limited to, earthquake-prone areas of California and the Pacific Coast, hurricane risk areas of the Florida, Gulf & Carolina Coasts. New York, New Jersey, Nevada, and parts of Illinois require review by a local professional as well. If you are building in these areas, it is most likely you will need to hire a state licensed structural engineer to analyze the design and provide additional drawings and calculations required by your building department. If you aren't sure, building departments typically have a handout they will give you listing all of the items they require to submit for and obtain a building permit.
Additionally, stock plans do not have a professional stamp attached. If your building department requires one, they will only accept a stamp from a professional licensed in the state where you plan to build. In this case, you will need to take your house plans to a local engineer or architect for review and stamping. In addition, plans which are used to construct homes in Nevada are required to be drawn by a licensed Nevada architect.
Best Price Policy
Some of our plans are also available on other websites and in printed catalogs. We are committed to selling these plans at or below the lowest price available elsewhere. If you find a regularly priced plan (not "on-sale") for a lower price, we'll beat the advertised price by 5%. We will match the price for any on-sale plans.
Once our staff is able to verify that the same plan is offered at a lower published price, Houseplans will offer the plan for sale at the lower published price less 5%. Our discount is available for immediate plan purchase only. Please call us at 1-800-913-2350.
The advertised item must be the same plan as the product being purchased, including set type (5-copy, 8-copy, Reproducible, or CAD Set), foundation options, and any miscellaneous details. Advertised prices must be in the same currency that the original product was purchased in. Our Price Guarantee does not apply to advertising errors or misprints, special prices, restricted offers, mail order offers, rebates, coupons, premiums, free or bonus offers, OEM products, limited or minimum quantity or limited time offers, close-outs, liquidations, clearances, and special financing offers.
Full sets of plans only, such as PDF, 5-copy, 8-copy, Reproducible, or CAD, are eligible for this offer. 1-copy Sets, Study Sets, Additional Sets, Materials Lists are not eligible for this offer.