If you like the look of traditional Craftsman houses – with features like wood details, wide porches, and gabled roofs – then you'll love the modern Craftsman design style. These house plans pay homage to the timeless appeal of Craftsman design but add a modern touch to both the exteriors and the layouts inside. These designs also come in both one and two stories and vary in size – which means there's a modern Craftsman home plan for everyone. The blending of these styles produces some very unique and interesting home plans, some of which we've featured for you here!
So take a moment to browse our modern Craftsman picks, and contact a Houseplans representative at 1-800-913-2350 with any questions or if one happens to catch your eye.
Two-Story Modern Craftsman Home Plan
There's lots of space, and lots of style, with this design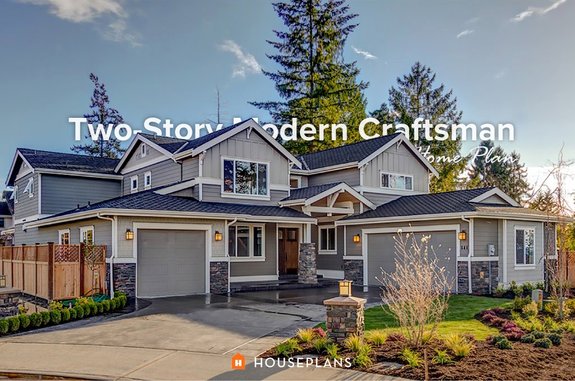 Plan 569-41
If you're looking for a stylish and open layout with lots of room, this modern Craftsman is for you. As soon as you walk in, you'll find yourself immersed in space and natural light. The great room and dining room offer spacious areas to kick back and relax. The large kitchen is located near the pantry and offers easy access to the covered porch outside. There is one guest room/flex room on this level that sports easy access to a separate outdoor space (check out these guest room ideas from Country Living).
On the second floor you'll find two bedrooms that share a Jack-and-Jill bathroom, with an additional bedroom across the hall, which is open to the first floor below. The master suite has a generous bedroom with a walk-in closet and a luxurious bath with a soaking tub and separate shower.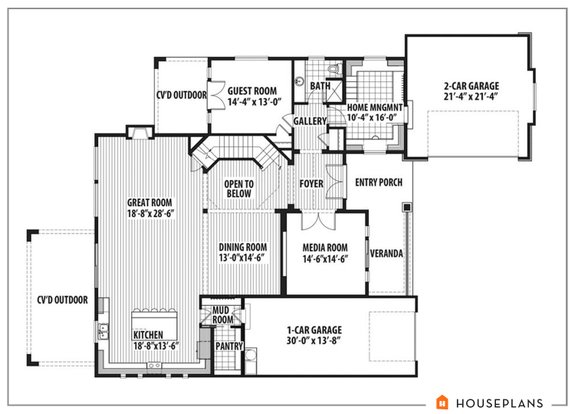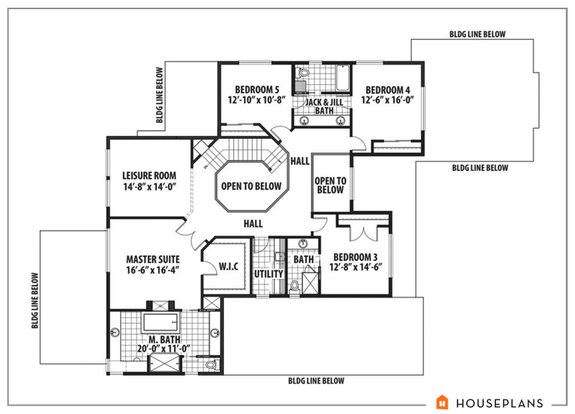 Cottage Craftsman House Plan with a Modern Layout
This charming home plan is an attractive blend of styles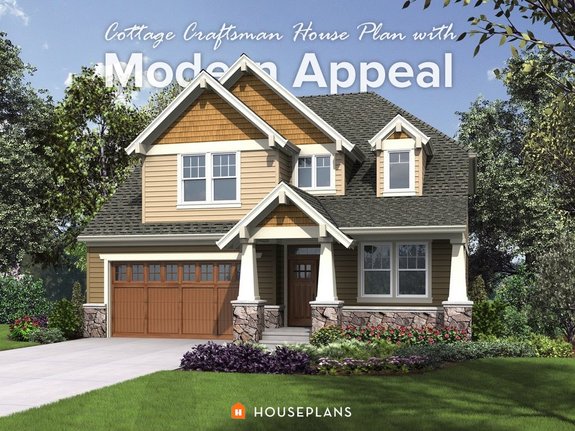 Plan 48-1018
You'll be impressed with the modern layout of this design as soon as you walk through the two-story foyer. From there it's on to the open great room, which comes complete with built-in shelving for items or books you'd like to display. The dining area and kitchen flow seamlessly into each other, making for easy meal prep and service. The convenient walk-in pantry and laundry room are just a step away (Martha Stewart delivers 12 essential laundry room tips).
The second level has space for one bathroom, three bedrooms, or two bedrooms and a bonus/flex room ideal for a workout area or office. If you use it for a den/office, there are built-in shelves available nearby for your books. The master suite is on the other side of the hall and has a generous walk-in closet, a bathroom with a tiled shower, and separate toilet compartment. The lower level of this design can also be built out to include an additional bedroom and a rec room.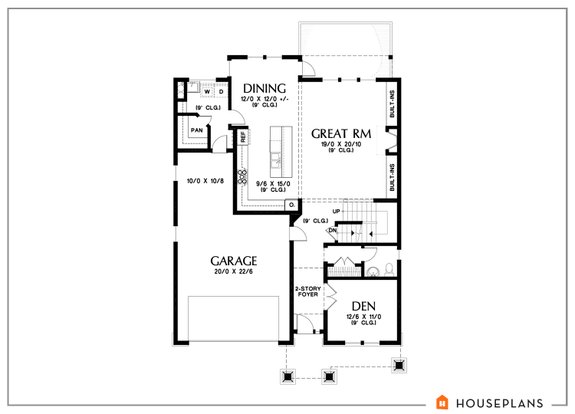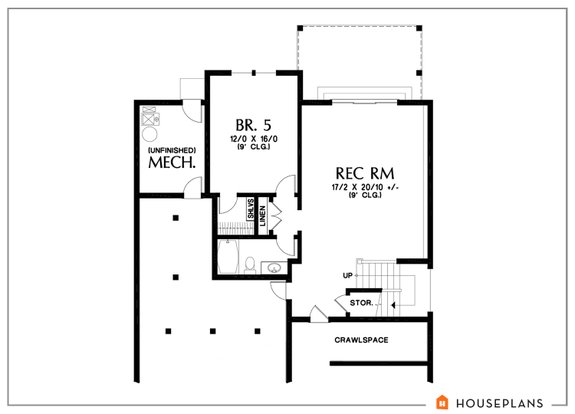 Traditional Craftsman Appeal with Modern Features
The exterior Craftsman features blend easily with modern design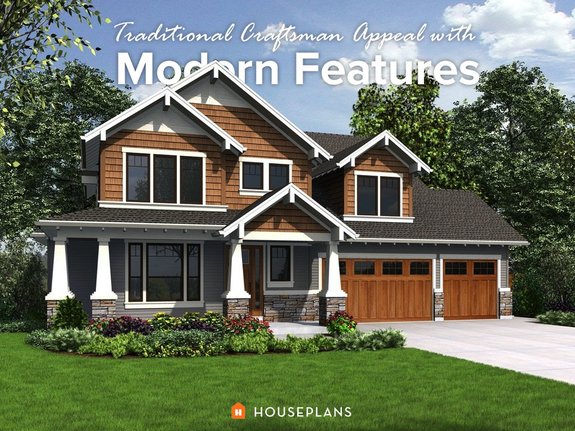 Plan 48-1002
The welcoming porch of this modern plan gives off very appealing Craftsman style vibes. As you stroll through the foyer and into the great room, you'll love the open flow of this layout. The dining space easily transitions into the kitchen – that includes a large kitchen island. At the front of the house you'll find space for a den/study with a view onto the covered front porch.
There are two bedrooms and a bathroom on the second floor, as well as an additional room that would be perfect as a game room since it features an area for a wet bar. Across the hall is the master suite, with a luxe bathroom that includes a soaking tub, separate shower, two sinks, and a toilet compartment. The spacious walk-in closet is sure to have all the space to meet your needs.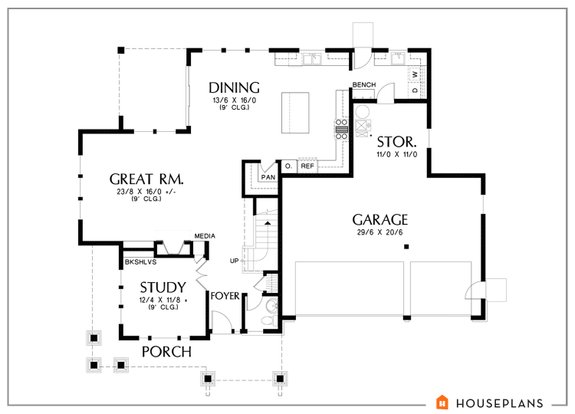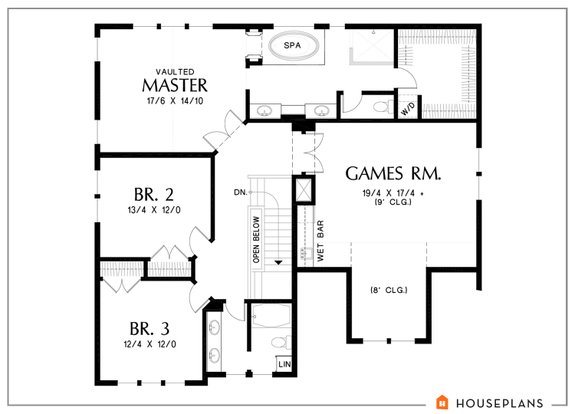 Traditional Craftsman Blended with Modern Elegance
The modern features in this smaller home plan take center stage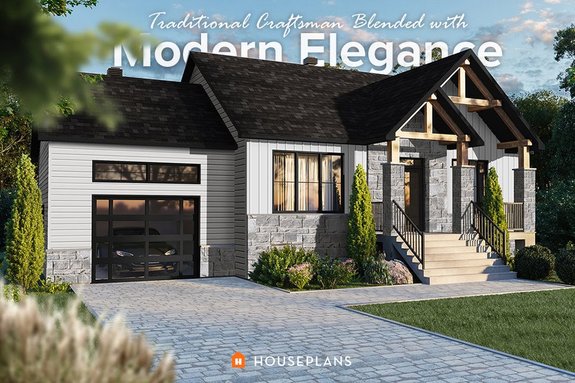 Plan 23-2728
Want the modern Craftsman design but don't need a lot of space? Then this is the perfect design for you. It's easy to see the blend of both modern and Craftsman styles from the exterior, and the amenities inside are no different. As you walk through the entrance you're immediately greeted by a spacious kitchen – that includes an eat-in island – in addition to the living area and dining space. The back deck is just steps away from the main room. The convenient pantry is right next to the kitchen to assist with convenient food storage.
Both the master bedroom and a secondary bedroom are located on the other side of the layout. This home plan also comes with the option for a lower level, which could include space for a laundry room and additional bedrooms.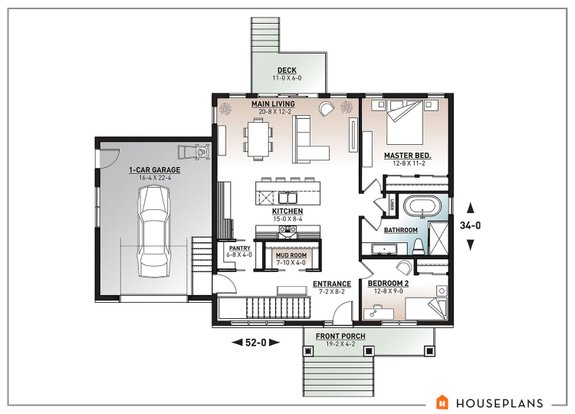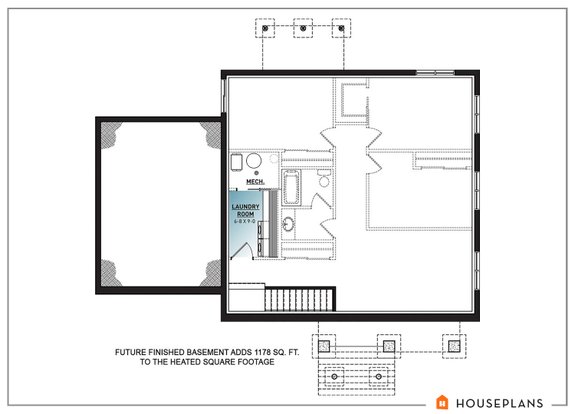 Modern Craftsman Home Plan with Outdoor Options
Enjoy open layout living with this modern Craftsman plan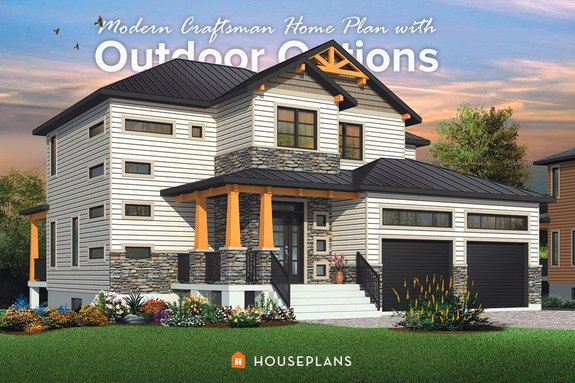 Plan 23-2704
If you're one of the many homeowners who enjoy relaxing outdoors, this modern Craftsman design offers the perfect space for you. When you pass through the double-door entryway you'll encounter the open and spacious layout of this modern Craftsman. The living, dining, and kitchen area all seamlessly flow into each other, and provide access to the covered rear porch (ideal for relaxing outdoors).
The second-story consists of space for three bedrooms, or two bedrooms and a den/office/study, and one full bathroom. The master suite is also on this level, and includes a generous bedroom, bathroom, and walk-in closet.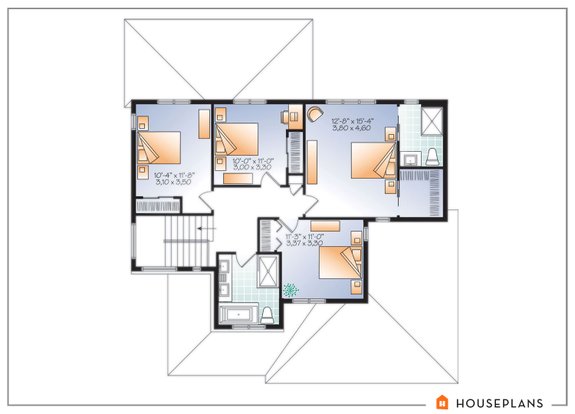 Rustic Wood Enhances the Style of this Duplex House Plan
Eye-catching gables make this modern Craftsman duplex stand out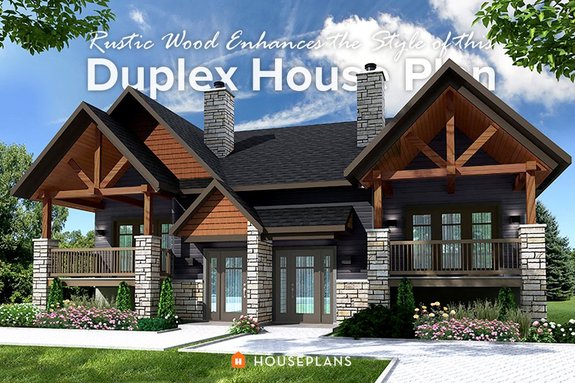 Plan 23-2694
Looking for a smaller space that still has all the appeal of modern Craftsman style? This duplex offers you the choice to utilize both spaces for yourself and a family member, or to rent out the extra half. Both sides of this house plan are perfect mirrors of each other, with a main floor and a lower level. As you cross through the entryway you'll find an open layout that includes space for a living room, dining area, and a kitchen with an eat-in island. The spacious living room also allows access to a covered outdoor balcony perfect for relaxing (take a look at these balcony decor ideas from Apartment Therapy).
The lower level contains space for a master bedroom, two secondary bedrooms, a full bathroom, and an area for a washer/dryer.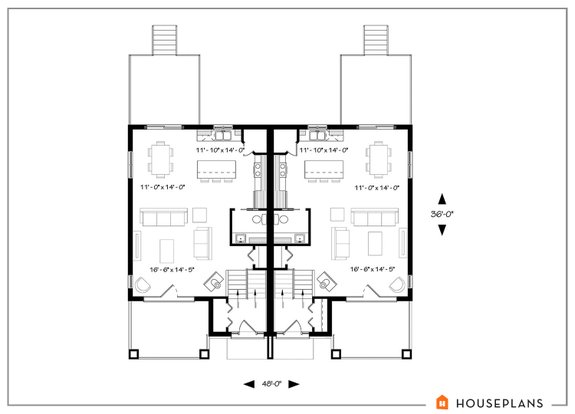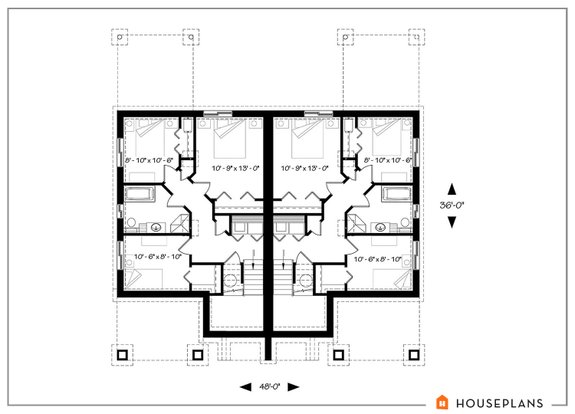 Single-Gabled Modern Craftsman House Plan
Enjoy rustic wooden features in classic Craftsman design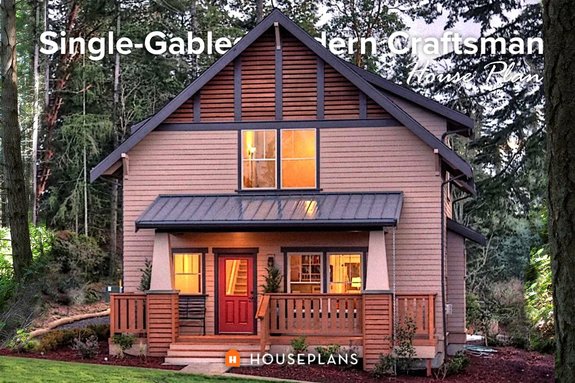 Plan 461-69
This charming modern Craftsman plan has a lot of rustic appeal. The wooden porch railings add a sense of woodsy elegance to the exterior of this Craftsman design. The spacious living room flows easily into the dining (that includes views of the outdoors), and into the modern kitchen. The master suite is also on the first floor and includes a walk-in closet and private bathroom.
The second floor houses two more bedrooms and an additional room that would be perfect as a den or an office/study. There is a bathroom on this level and extra space for storage.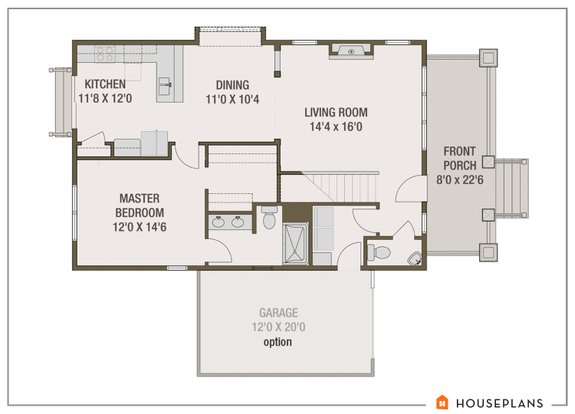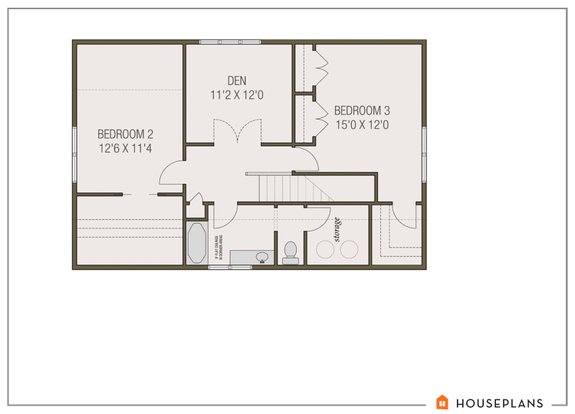 Modern Craftsman Plan with Cottage Features
You'll love this modern Craftsman design, perfect for smaller lots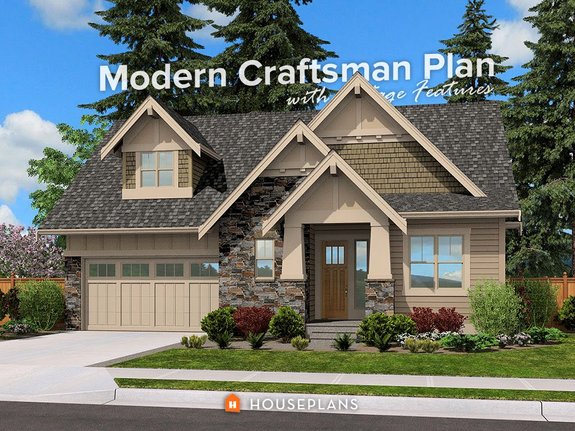 Plan 132-567
As you stroll through this home plan you'll notice plenty of flexible storage spaces (including a workshop in the garage). The central kitchen offers a convenient island for meal prep, storage, or sit down meals. Step outside and you're on the BBQ patio and ready to fire up the grill. There is also space for a bedroom or office on this level.
On the second floor you'll find two more bedrooms that could easily be swapped for an office, study, or exercise room. The master suite is on the other side of the hall and includes a very generous walk-in closet, spacious bathroom, and bedroom with a view.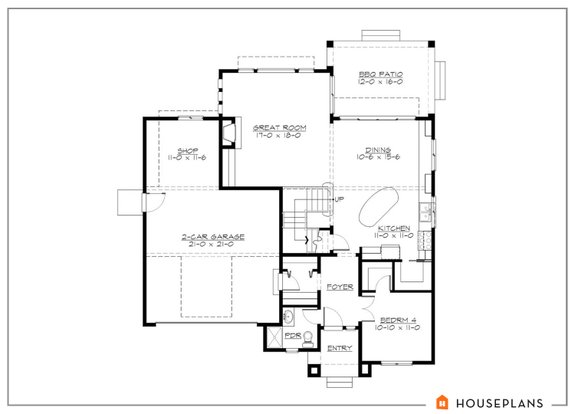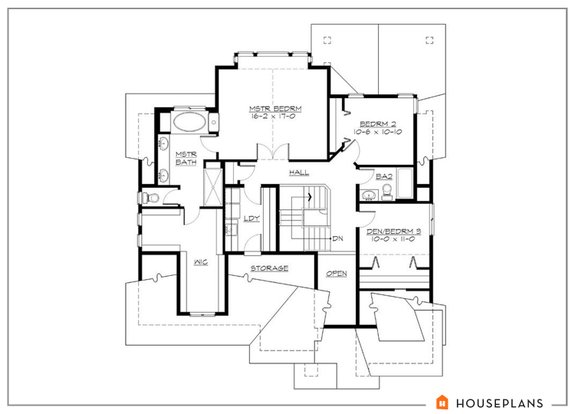 Spacious Modern Craftsman House Design
Enjoy the appeal of this sweet Craftsman design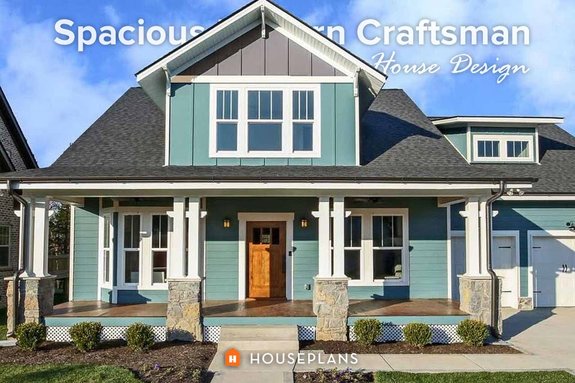 *Plan 461-70
As soon as you walk through the door of this modern Craftsman you'll know that this plan is special. A wide porch and built-in breakfast nook are just the start of this plan's appeal. The spacious and open living room flows effortlessly into the dining space and kitchen, with a large island for storage and quick meals. The dining space allows access to the covered rear porch, perfect for grilling. The master suite is located towards the back of the house and includes generous space for a walk-in closet and a bathroom.
On the second floor you'll find ample space for three bedrooms and two bathrooms, with the option for an additional bonus room.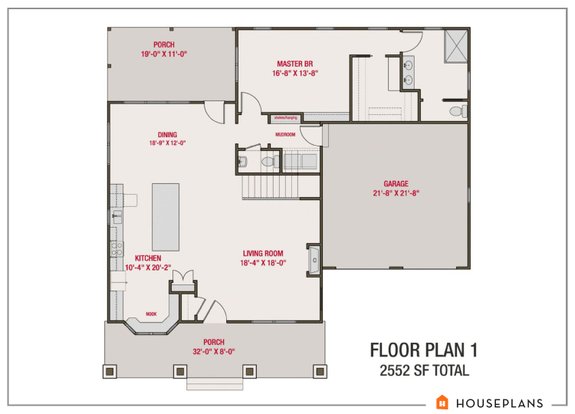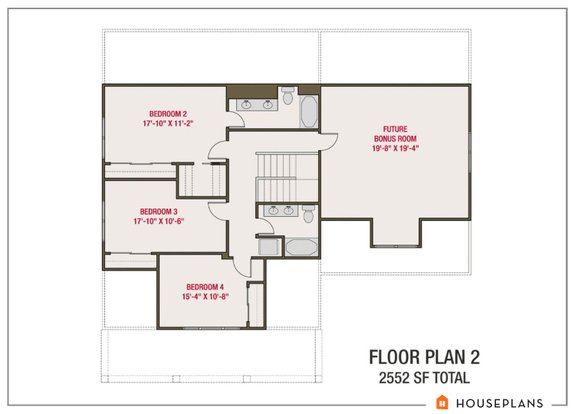 Modern Craftsman homes come in many shapes and sizes, and offer homeowners unique Craftsman appeal with modern style. If any of these house plans look interesting, contact a Houseplans representative at 1-800-913-2350.