Since land can be pretty expensive, building up instead of out presents a more affordable way to build (especially near big cities where land is scarce). 2 story house plans can be a convenient (and cost efficient) option for many homeowners.
Click here to explore our collection of two-story house plans with basements.
Many 2 story house plans feature the master suite on the main level, while the rest of the bedrooms (or most of them) reside on the second floor. This layout is ideal for parents of teenagers who desire more privacy or empty nesters who don't wish to climb stairs every day. Families with small children may wish for all the bedrooms to be located on the second level and the main living areas on the first floor for extra convenience.
You'll also find 2 story house plans that feature versatile basements that can be finished now or later. These sweet spaces could serve as a guest suite, home office, another living space, and much more. Check out some of our favorites below.
Stunning Two Story Farmhouse Style House Plan
A spacious yet cozy house perfect for families
Plan 1069-17
This modern farmhouse style home plan features an expansive kitchen with an island, breakfast nook, and outdoor deck. The home's key specs include four bedrooms, two and a half bathrooms, two floors, and a two-car garage. As you step into the home, you are greeted with an expansive open space lit with natural light from the large windows that line the house's walls. Located on the first floor are the kitchen, dining room, covered deck, and master suite.
In the basement, you will find a rec room that can be used in a variety of ways (check out these rec room ideas from HGTV). There are also two bedrooms and a storage room located inside the basement. On the second floor, you will find a bonus room and bathroom with some attic space.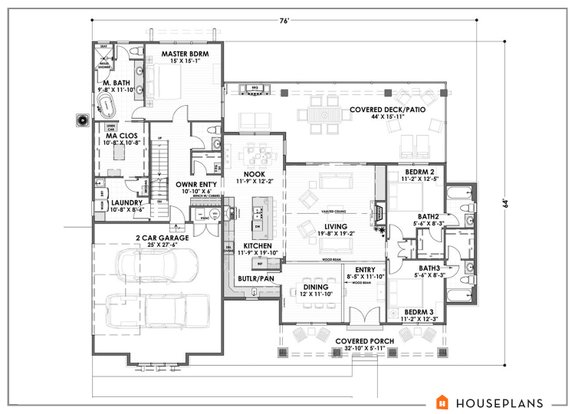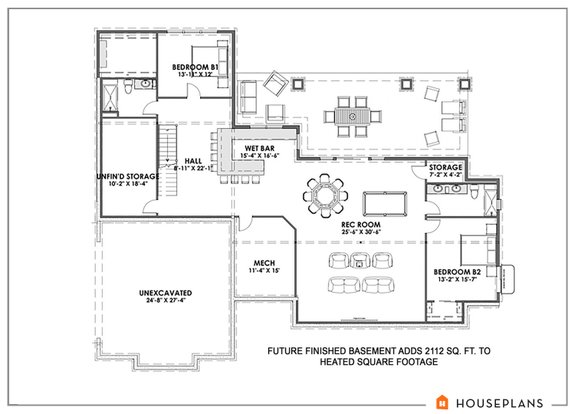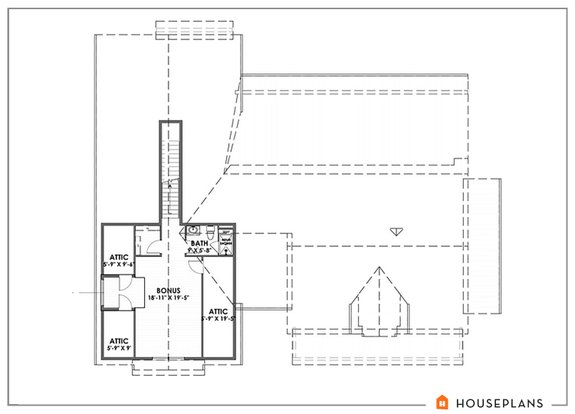 Contemporary Two-Story Farmhouse Featuring a Spacious Porch
Stunning family home with a welcoming look and style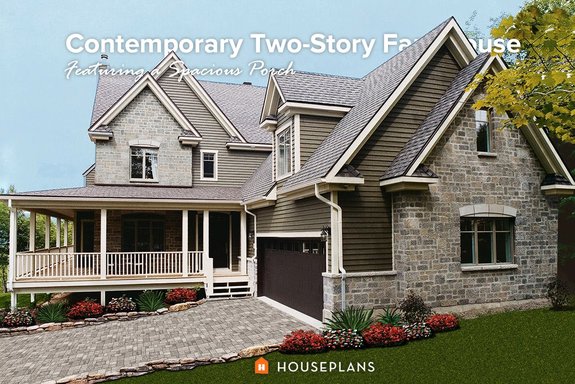 Plan 23-587
This elegant farmhouse effortlessly combines classic housing styles with contemporary tastes. Featuring four bedrooms, two and a half bathrooms, and a three-car garage, this charming house is suitable for households of varying sizes. Located on the house's expansive first floor are the living room, kitchen, and dining room. Families can watch TV together inside their spacious living room.
When you head up to the second floor, you will find four bedrooms and two bathrooms. Each bedroom offers abundant closet space (explore these closet organization tips from The Spruce). The master bedroom features a walk-in closet and a private bathroom. The second bathroom on the upper floor is shared among the three other bedrooms.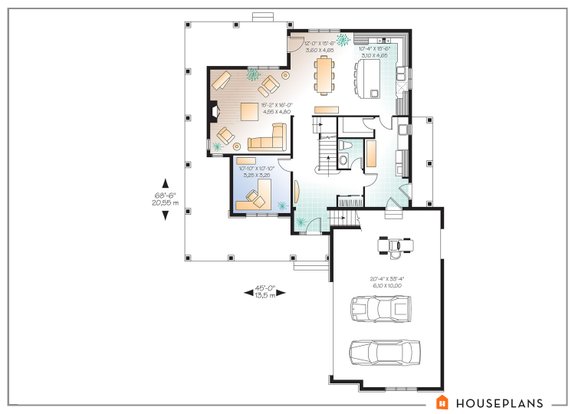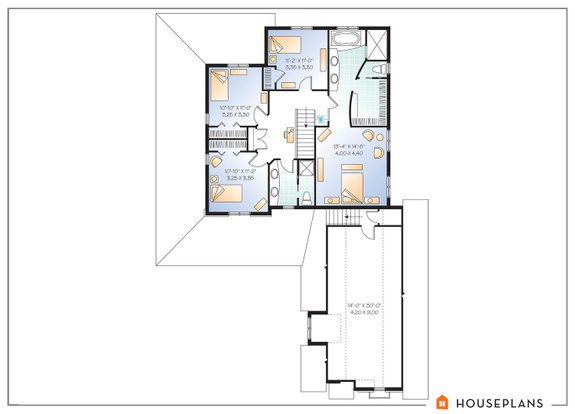 Spacious Two-Story, Country-Style House
Contemporary and open house built for growing families
Plan 1066-42
If you are looking to build a house with spacious bedrooms and a nice view of the neighborhood, this country-style house plan might be just for you. Not only does the house feature a contemporary and eye-catching design, but it also offers the perfect amount of enticing and practical features for new homeowners like yourself.
As you walk through the first floor, you will find the dining room, office, guest suite, family room, and kitchen. The family room is perfect for watching TV or simply relaxing after a long day. Attached to the first floor is a two-car garage and a covered patio.
Upstairs, you will find the master suite, three bedrooms, a bonus room, and the laundry room. The master suite features a large walk-in closet and full bathroom.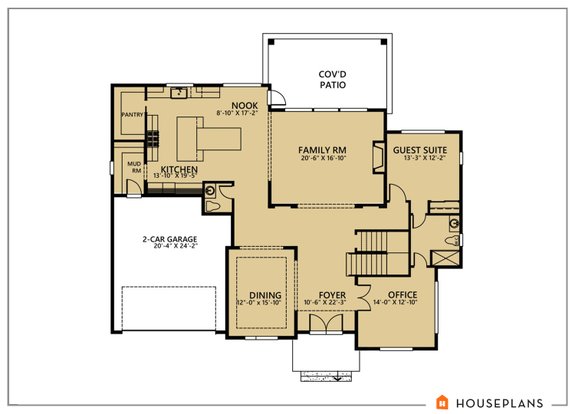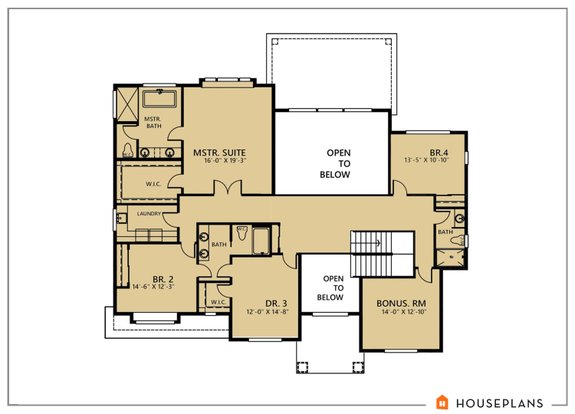 Traditional Two-Story House Plan
Elegant House Plan with a Touch of Contemporary Style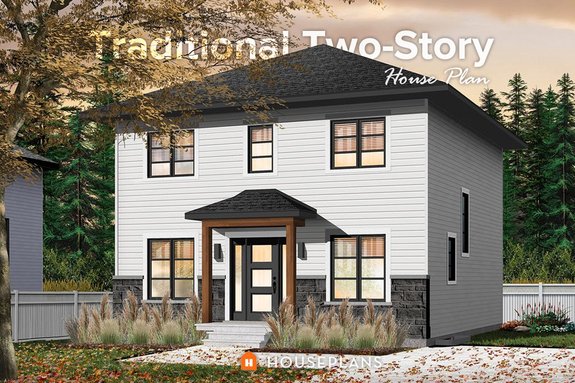 Plan 23-2703
Featuring four bedrooms and one-and-a-half bathrooms, this traditional two-story home is suitable for families and couples looking for their dream home. When you step onto the covered porch and walk through the first floor, you will find an extra bedroom that can be used as an office or den, laundry room, kitchen, dining area, and living room.
Upstairs, you will find three spacious bedrooms along with a full bathroom. Each upstairs bedroom features a spacious walk-in closet for storing all of your clothing and extra supplies. The roomy bathroom offering ample space for a separate bathtub and shower stall is shared among the three rooms.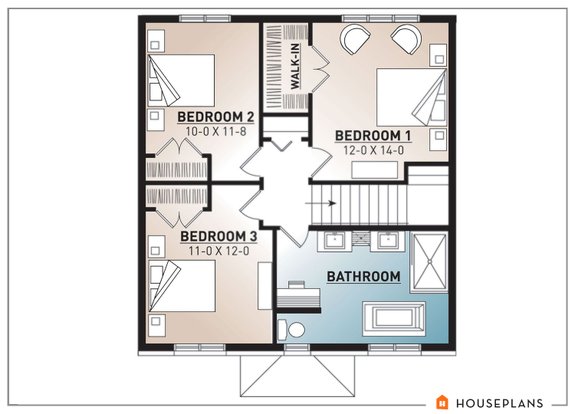 Eye-Catching Contemporary Style House
Unique house that features a spacious balcony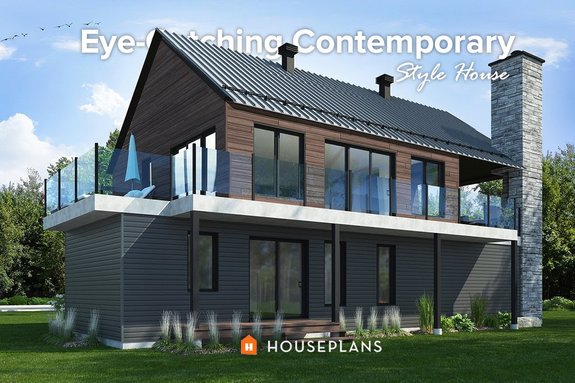 Plan 23-2648
This spacious, contemporary-style house features expansive windows and a porch perfect for homes surrounded by breathtaking landscapes. To allow you to make the most of the beautiful views this house affords, the main living floor is actually located on the upper floor rather than the ground floor. This allows homeowners to enjoy the gorgeous views that surround their home from the comfort of their sofa.
The entry floor features the house's three bedrooms while the upstairs offers an open space living area, kitchen, and dining room. A full bathroom is also located on the entry level of the house. However, it is directly connected to the main suite. The lower floor plan offers an optional bathroom.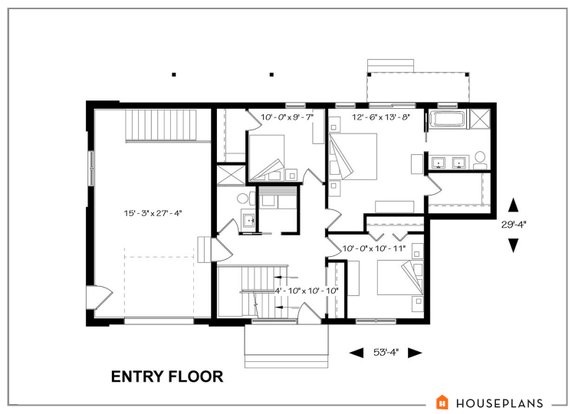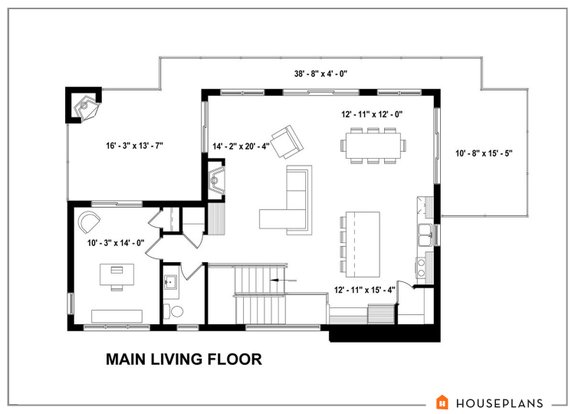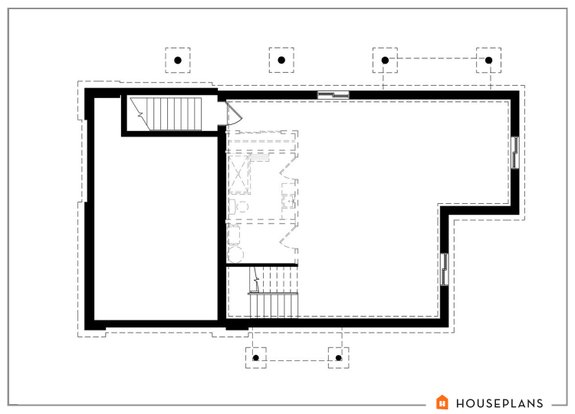 Gorgeous Modern Style House Plan
Contemporary plan for homeowners who want to veer away from traditional home design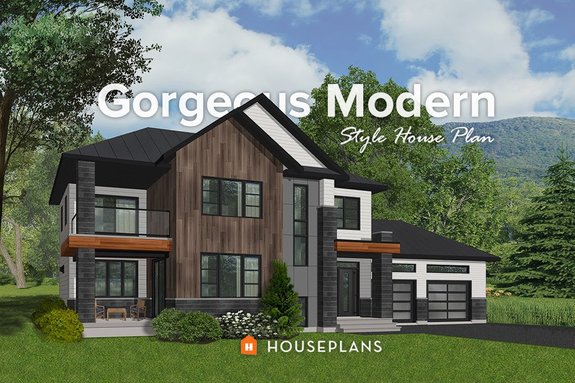 Plan 23-2309
This house combines simple architectural lines with a functional open living concept to create a modern and eye-catching design. For homeowners who want to stand out from the rest of the neighborhood instead of blend in, this house is a great fit.
Featuring three bedrooms, three bathrooms, and a two-car garage, this house is also perfect for couples and small families. On the first floor, you will find a spacious living room, kitchen, and dining area. Three bedrooms and two bathrooms are located upstairs.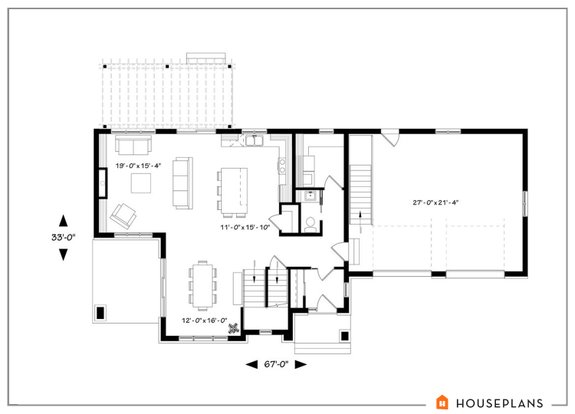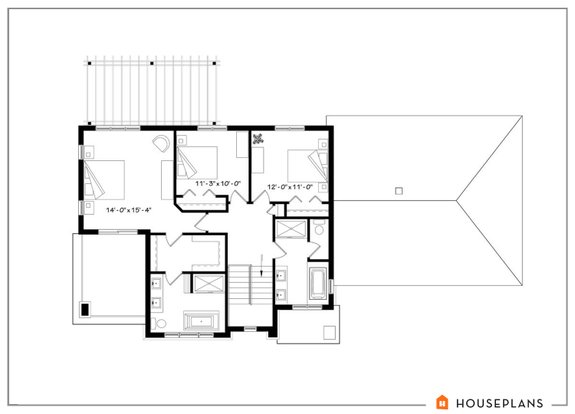 Vibrant and Appealing Craftsman Style House Plan
Two-Story Craftsman home offering plenty of space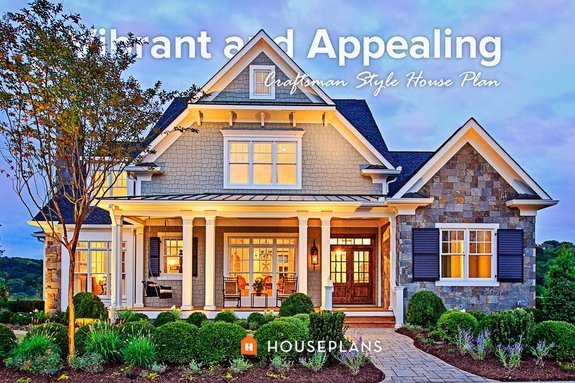 Plan 927-5
This spacious Craftsman style house features four bedrooms, five-and-a-half bathrooms, and a three-car garage. The generous wraparound porch immediately welcomes you into this charming family home, which features a family room, vaulted keeping room, dining room, kitchen, and breakfast room on the first floor. The family room features a high-coffered ceiling, built-in cabinets, and transom windows that look out into the house's backyard deck.
The master suite is also found on the first floor. It contains dual walk-in closets, a powder room, bathroom, and sitting room. The remainder of the bedrooms and bathrooms are upstairs. Thanks to the numerous bedrooms and bathrooms featured in the house, this plan is perfect for large families and households.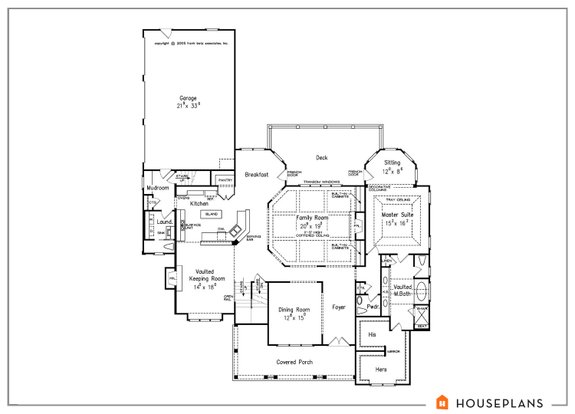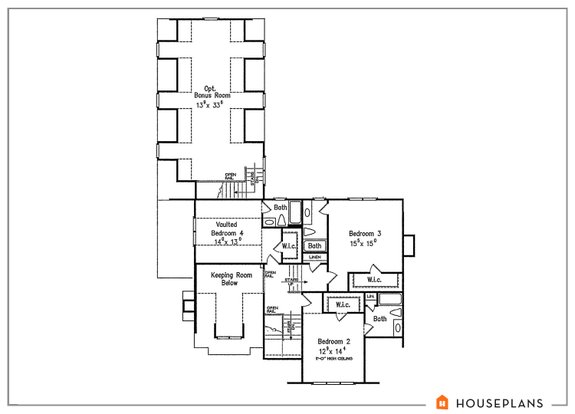 Craftsman, modern, and contemporary homes can be built with different levels and styles. Many of these two-story homes with basements can also be tailored to your unique visions and preferences. If any of these house plans appeal to you, contact a Houseplans representative at 1-800-913-2350.
Explore more 2 story house plans with basements here.