If you're looking for an elegant way to add seamless indoor/outdoor appeal to your space, then getting a house plan with a screened in porch is a must. Screened in porches offer the convenience of all-weather entertaining, and it always seems to be the right season to enjoy them. Whether you choose to have a simple space where you can enjoy the great outdoors, or would prefer to have extra amenities included (like a fireplace), there's an option for every style. We've collected some of our favorite house plans with screened in porches, so if one catches your eye, make sure to contact a Houseplans representative at 1-800-913-2350.
Farmhouse with a Screened In Porch
Enjoy farmhouse style with this screened porch option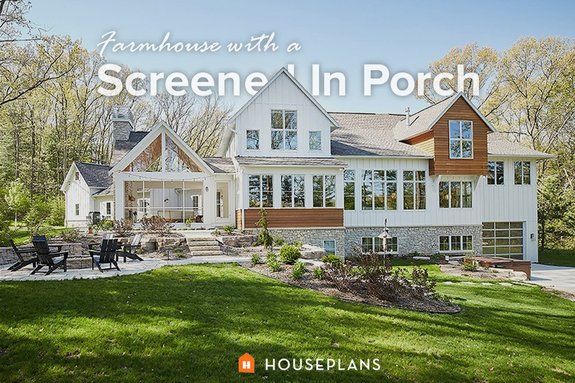 Plan 928-308
You'll enjoy the timeless appeal of farmhouse style, and appreciate all the open space that this house plan provides (explore these farmhouse decor ideas from Good Housekeeping). This two-story plan offers all kinds of areas that are perfect for relaxing or entertaining. As you enter through the generous front porch you'll be impressed with the open living room and den/office space. The kitchen and dining room are conveniently located near the walk-in pantry and provide access to the screened in porch. Here you can enjoy spending time with family or guests in appealing style.
The second level contains the master suite (with a spacious bathroom and walk-in closet) and three additional bedrooms and two bathrooms. Additionally, there's the option to have the lower level built out into a family room, workout room, and refreshment area, with space for a guest bedroom and bath.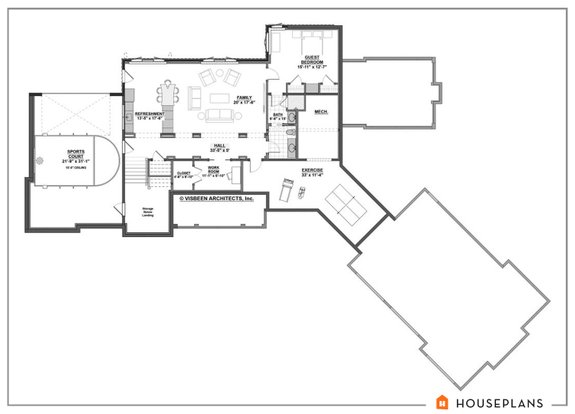 Craftsman House Plan with Screened In Porch
A unique design with lots of curb appeal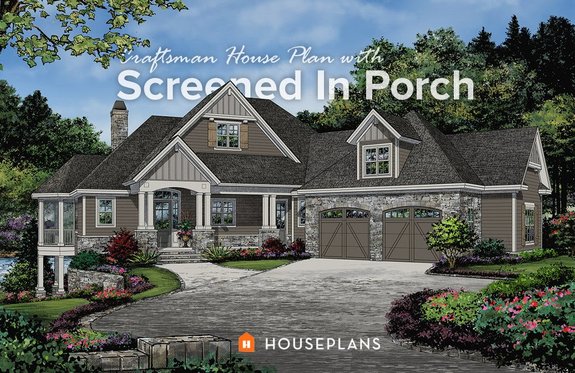 Plan 929-1103
If it's effortless style you're after, look no further than this Craftsman house plan. With plenty of indoor and outdoor space to offer, you won't have a hard time enjoying this plan's features. The large foyer gives way to an open great room (with a vaulted ceiling) and dining space, which flows into the large island kitchen. The unique screened in porch is accessible through the great room, making it easy to enjoy outdoor living (check out these screened in porch ideas from Bob Vila). There is also a separate rear porch that includes an elegant cathedral ceiling.
The master suite is on the opposite side of the house plan and comes with a large walk-in closet and spacious master bath. The lower level contains two additional bedrooms and a space perfect for a rec room or a family room.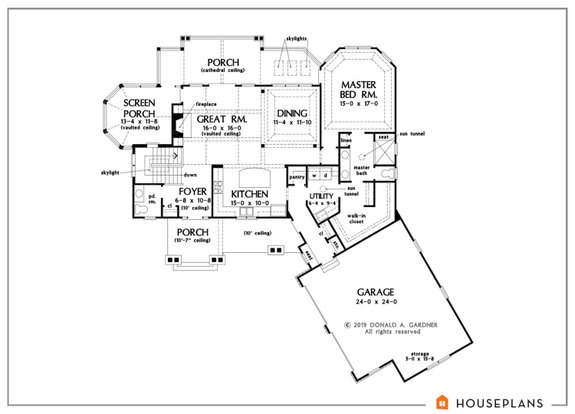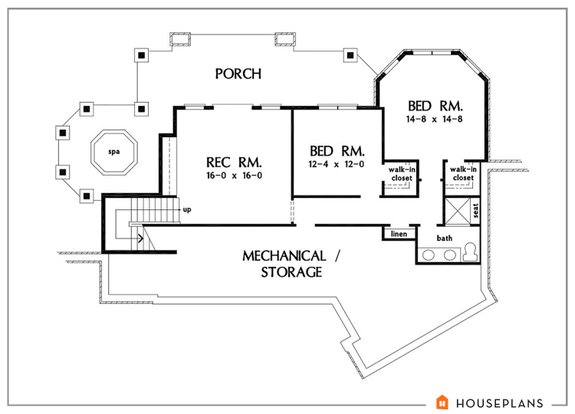 Cottage Style House Plan that Includes a Screened Porch
This single-story home is an attractive option
Plan 929-1102
This one-story house plan features an open layout that is big on space. As you enter through the welcoming front porch, you'll find yourself in a generous great room that includes a cathedral ceiling and a fireplace. The dining area flows directly into the kitchen for easy meal prep, and offers a breakfast room with views of the front of the house. The screened porch can be accessed through the great room, and has a cathedral ceiling and skylights that let in generous amounts of natural light. Further back is the patio, which makes for easy indoor/outdoor entertaining.
The master suite is located in one wing of the house plan and includes a master bath, walk-in closet, and skylights. There are two other bedrooms, a powder room, and a bathroom on the other end.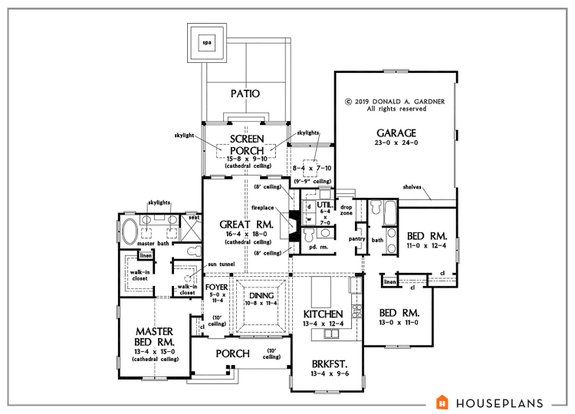 Craftsman Design with Spacious Screened Porch
Stylish details abound with this house plan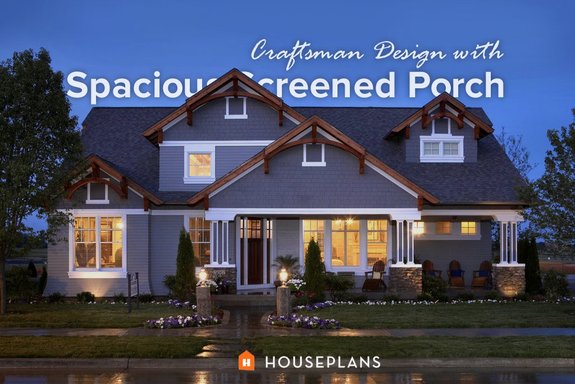 Plan 70-1040
Rustic details such as exposed wood beams and a stone fireplace lend classic appeal to this house plan. This one-story plan has all the space you need to relax and enjoy the company of friends and family. The spacious great room allows access to a comfortable and inviting screened in porch that includes a fireplace and a vaulted ceiling.
The open kitchen and dining area offer plenty of space for meals, and include a hidden pantry (get inspired with these open kitchen ideas from The Spruce). The luxurious master suite features a modern bathroom, large walk-in closet, and has convenient access to the laundry area. On the other side of the house there is an additional bedroom, powder room, and a bathroom.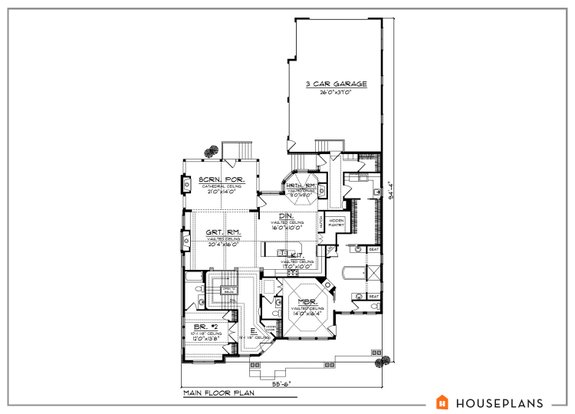 Spacious Country Style House Plan
You'll love the screened porch included in this design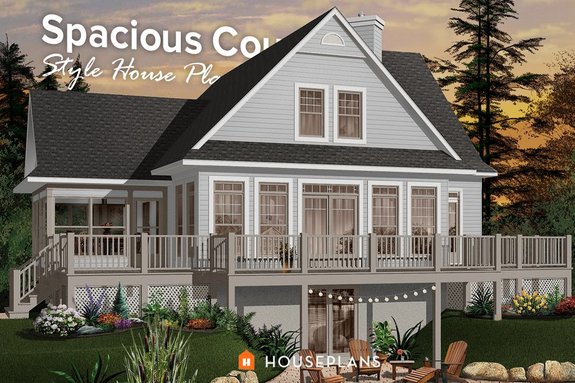 Plan 23-849
The stunning wraparound porch is sure to grab your attention with this house plan, but there's even more to like about this design. The open layout of the living room, dining area, and kitchen promote a sense of space. The screened in porch can be accessed from the wraparound deck or from the living area, and would be the perfect place to relax on a warm evening. One bedroom (with a walk-in closet) and bathroom are located on the opposite side of the house. On the second floor, there is space for two bedrooms with generous closets and a full bathroom.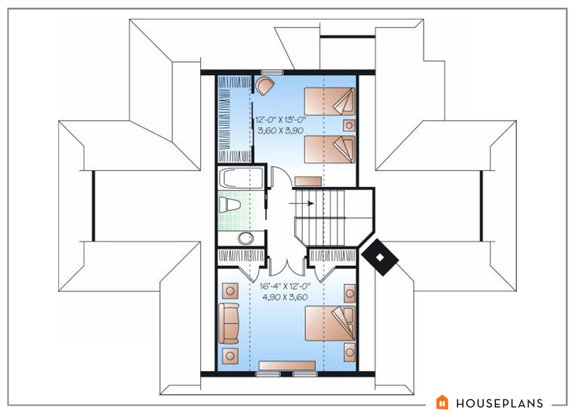 Farmhouse Design with Lots of Extra Space
Enjoy lots of outdoor space with this plan, including a screened in porch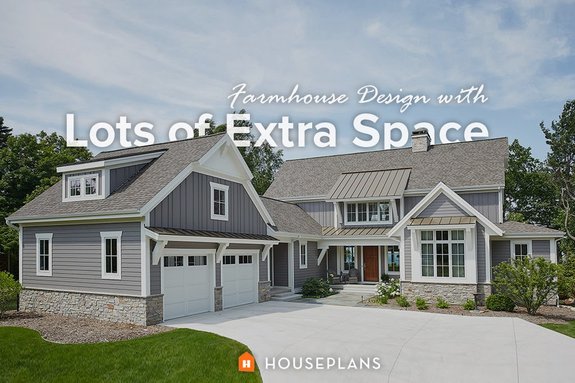 Plan 928-14
A spacious design that takes advantage of lots of windows and outdoor areas, this plan definitely has many attractive details. Upon walking through the entryway, you'll be greeted by a large, open living area that transitions seamlessly into a kitchen--with a large eat-in island--and a dining room. The screened in porch is accessed through sliding doors and has the perfect amount of space for a table and chairs. Beyond the porch is a patio as well, and the perfect spot for entertaining al fresco.
On one side of the lower level is space for a den or office, as well as the luxurious master suite. This plan includes a spacious bedroom, bathroom, walk-in closet, and sitting room. On the second level, you'll find two bedrooms, two bathrooms, a loft space, and an open area to the living room below. This plan can include a lower level, with more space for a hearth room, exercise room, family room, and refreshments/game area.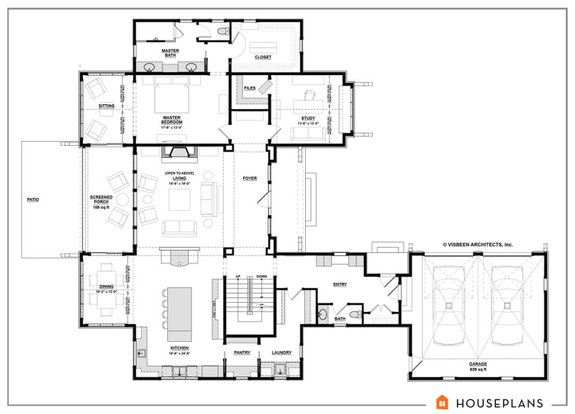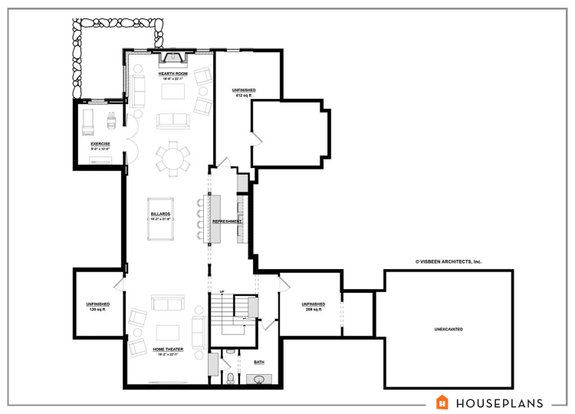 There's Lots to Like with this Country Style House Plan
Relax in style with this appealing design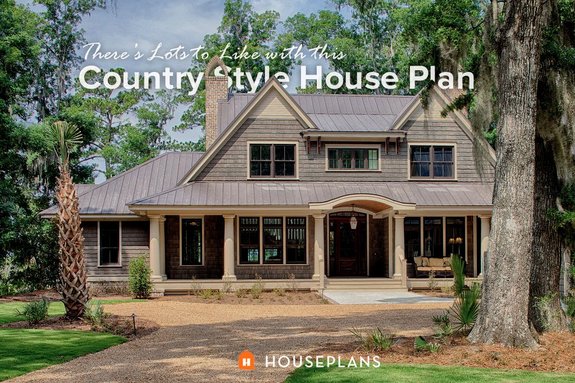 Plan 928-12
You'll love all the stylish options that accompany this house plan. If it's space you need, this country style plan can deliver. The open living room and dining room are enhanced by three sets of French doors that open out to the covered patio. The kitchen and breakfast area also include a refreshment station, making for easy outdoor dining on the screened in porch. The luxe master suite is on the opposite end of the house, and includes a spacious dressing room/walk-in closet, a modern bathroom (with two vanities), a sitting area, and a bedroom.
On the second floor you'll find three bedroom suites, and if you decide to include the lower level option, this would be the perfect place for a guest suite and a games/entertainment center. Space above the three-car garage would be ideal for an in-law or additional guest suite.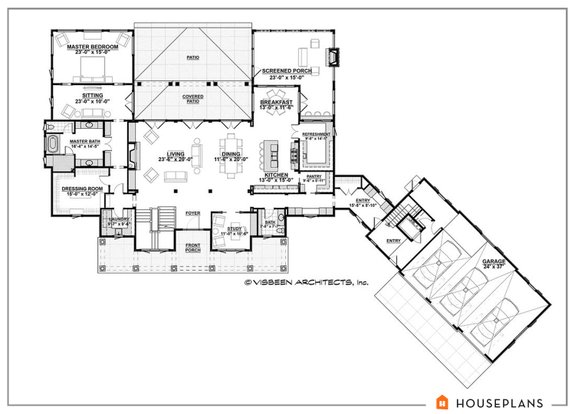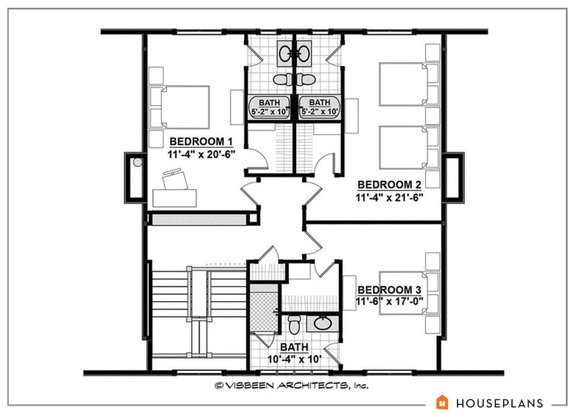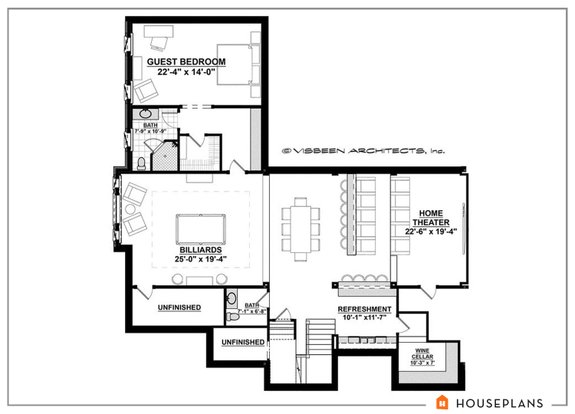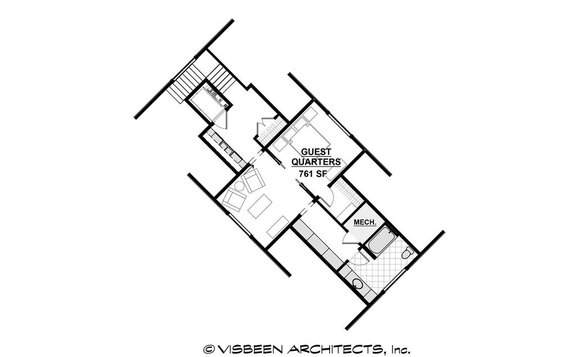 Country Style House Plan Big on Comfort
There's lots of opportunities to get outdoors with this design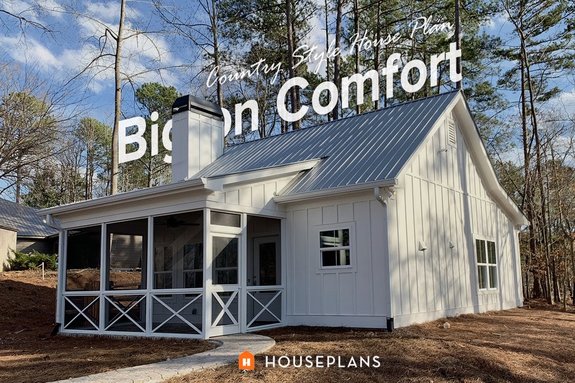 Plan 437-98
A roomy screened in porch (with brick floor) is the first thing that will catch your eye with this house plan. This design truly makes use of all its space, and in addition to the welcoming porch, you'll appreciate the open layout indoors. The vaulted ceiling in the living room creates a sense of space as you move between it and the dining room and kitchen. The primary bedroom also has a vaulted ceiling, and comes with a walk-in closet and easily accessible bathroom. An additional room could serve as another bedroom, or be used for an office or a study. The charm of this plan is enhanced by the addition of a cozy fireplace in the main room.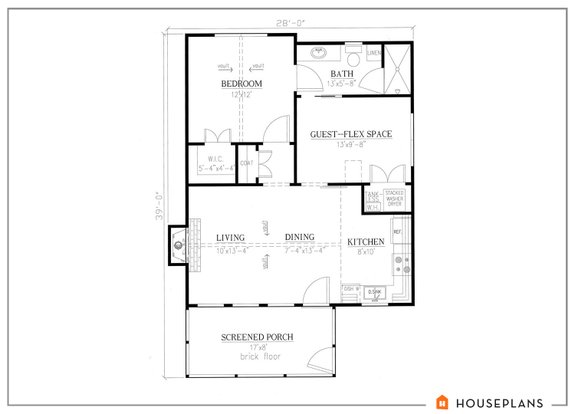 One-Story Craftsman with Screened In Porch
Take advantage of indoor/outdoor entertaining with this plan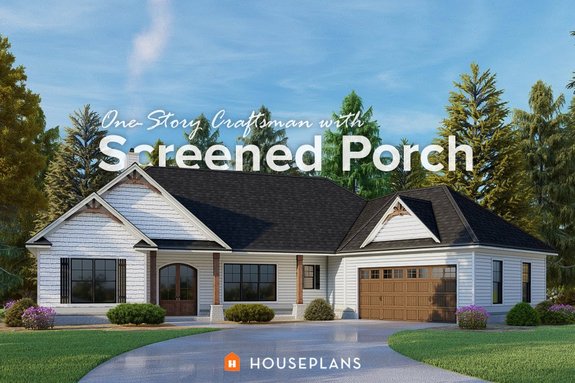 Plan 437-101
If you can't get enough of the idea of easy indoor/outdoor living, then this one-level Craftsman style is a great option. Step through the entryway and you're greeted with an open and bright dining area and great room. The screened porch (with stone floor) can be accessed through French doors, and opens out further into a stone patio. This porch is ideal for relaxing by the fire on the porch when the weather is nice. The kitchen features a large island and a convenient walk-in pantry nearby.
The master suite contains an ample walk-in closet--that opens to the laundry room--and luxurious bathroom, complete with a soaking tub and separate shower. There are two other bedrooms in the opposite wing of the house, as well as another bathroom.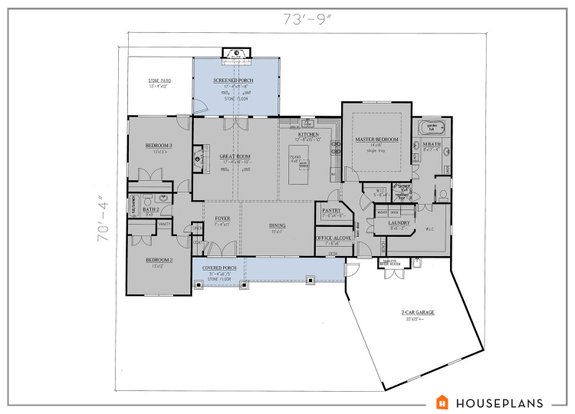 Screened in porches are a great idea if you're interested in adding some outdoor ambiance to your everyday living. They make great areas for enjoying the warmer weather, but are also fun to use in the spring and autumn when the weather cools. If any of these plans look right for you, contact a Houseplans representative at 1-800-913-2350.