Are you kitchen-obsessed? Do you keep Food Network on in the background, plan holiday menus before you finalize the guest list, or subscribe to more than one cooking magazine? Perhaps you look at the kitchen on a floor plan before anything else. If so, this post is for you! These large kitchen floor plans have it all (check out these kitchen decorating ideas from Freshome).
Click here to explore some of our favorite house plans with large kitchens.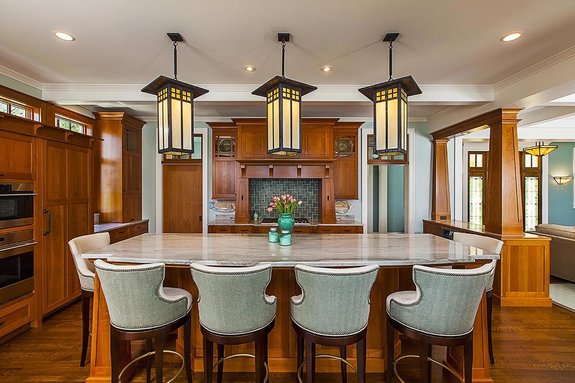 Plan 928-305
This Craftsman house design (the Oxbridge from Visbeen Architects, above) nicely fulfills all of those must-haves. Just look at all of that storage and counter space! Windows let in natural light. Nearby, a walk-in pantry and home management center gives you room to stash your laptop and organize cookbooks, while a kitchen island makes it easy to hang out.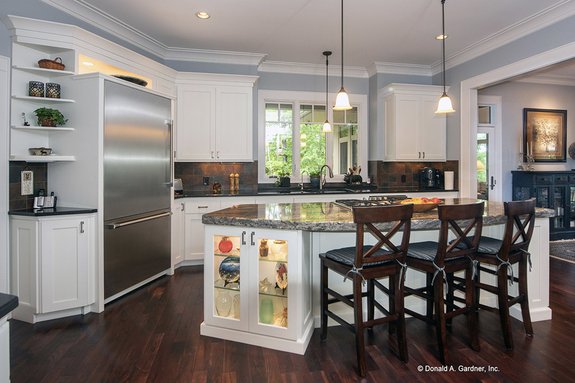 Plan 929-340
Here's another one with an impressive amount of bar space. This large kitchen floor plan features plenty of counter space, while a central island gives you a defined space to chop ingredients for sautéing on the stove – much like these kitchen island designs from Apartment Therapy.
Also of note in this plan: a double-sided fireplace sheds warmth to both the great room (which opens up to the dining area) and the flexible study/sitting area.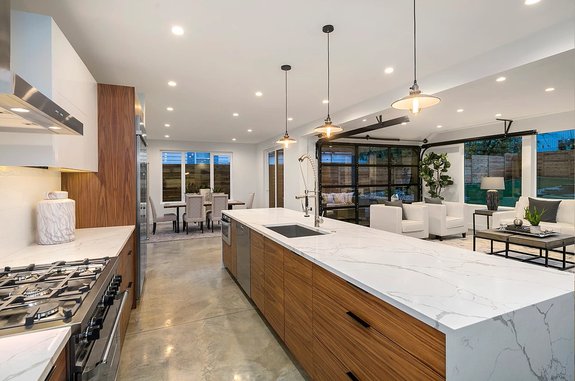 Plan 1066-3
Craving something that feels modern and simple? Plan 1066-3 displays an island that seems like it goes on forever, but keeps it sleek with just one level. The kitchen opens to the great room on one side and the dining room on the other, with the latter opening out to a patio. Another contemporary touch: a full bath makes the office useful as quarters for impromptu overnight guests.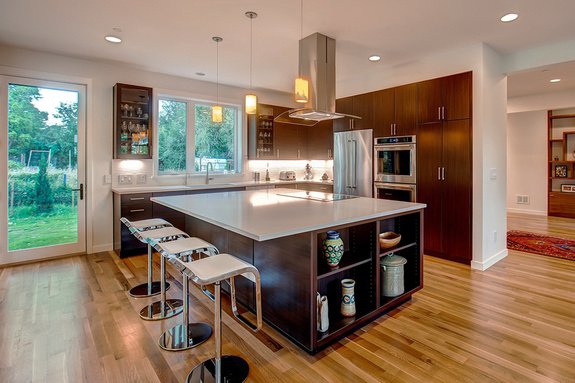 Plan 1042-19
If you'd rather not turn your back on your guests while cooking and entertaining, consider an island with the cooktop on it, like in plan 1042-19. This way, you can maintain eye contact (well, as much as one can while cooking) while stirring your sauce or scrambling eggs. Just steps away, the open dining room feels fresh and contemporary.
Love a tavern-like vibe? Give your home the casual, relaxed feeling of a gastropub with an elevated bar like the one shown in this illustration of plan 888-15. You can fit a whole lot of people in this kitchen, with the dining table so close and extra seating at the island. The informal atmosphere feels perfectly at home in this modern farmhouse (for farmhouse decorating ideas, check out these tips from Country Living). Another contemporary feature is the extra master suite located on this level, easy to reach for an elderly in-law or guests.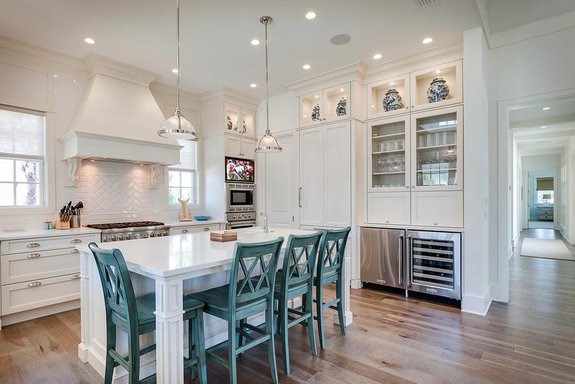 Plan 938-82
Here's another farmhouse kitchen from plan 938-82. With close proximity to the porch on one side and the lanai on the other, you'll get plenty of natural light streaming into this space. (We also love the pop of blue that the chairs provide against the otherwise white tones.)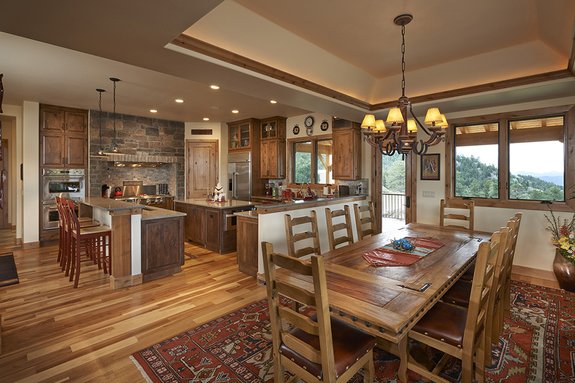 Plan 942-43
If you crave warmer tones and more wood, check out plan 942-43. This rugged beauty shows off tons of texture and color with wood and stone. Not only do you get a central island, but also a peninsula and another island with a snack counter. During Thanksgiving, just seat kids here while the adults enjoy sitting down to the meal at the dining table just steps away.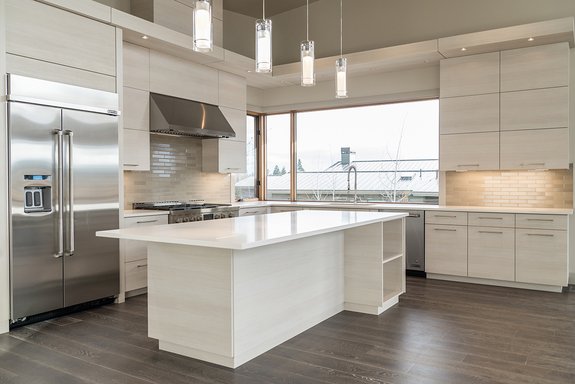 Plan 892-23
Now back to modern. Plan 892-23 takes simplicity to an almost austere level, which suits the ultra-modern style of this home. If your sensibility rejects clutter and color in favor of cool, calming tones, then this chrome-and-white palette will feel just right. Note how much light comes in through the large window over the sink.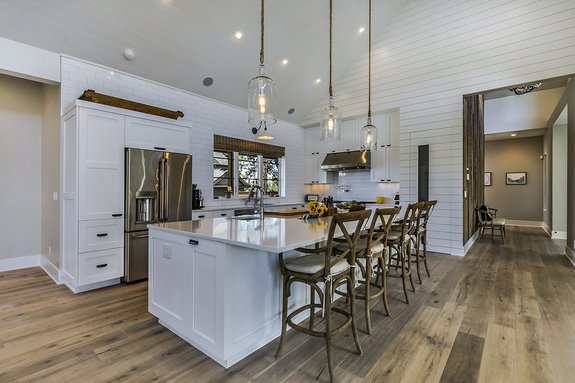 Plan 892-21
Or if you'd like something more in the middle (not too modern, not too traditional), check out this beautiful kitchen in plan 892-21. It nicely matches the modern farmhouse vibe of the home, with a vaulted ceiling that creates an airy feeling and eye-catching pendant lamps. An auxiliary sink on the island gives you a handy place to rinse vegetables or prepare drinks.
Plan 892-22
Lucky enough to be building in a scenic location? Plan 892-22 shows off the view with a variety of high windows that let light flood inside for natural illumination. This ranch home also brings plenty of light into the master bathroom. The large kitchen boasts an island and plenty of counter space for cooking up something good.
Explore large kitchen floor plans