By Courtney Pittman
Looking to build a house plan that is both popular AND builder-friendly? We've got you covered. With open floor plans (less walls equal less labor and materials), simple footprints (no bump-outs), designs fit for narrow lots, and smart material choices, our house floor plans can help you cut back on building costs.
Click here to browse our collection of builder-friendly house plans and affordable house floor plans.
Questions? Call 1-800-913-2350 or contact us here.
Whether you're in the market for a builder-friendly farmhouse, Craftsman, bungalow, contemporary/modern, or ranch design, you're sure to find what you're looking for here. We've gathered our most popular and new house plan designs that are builder-friendly, affordable, and full of style!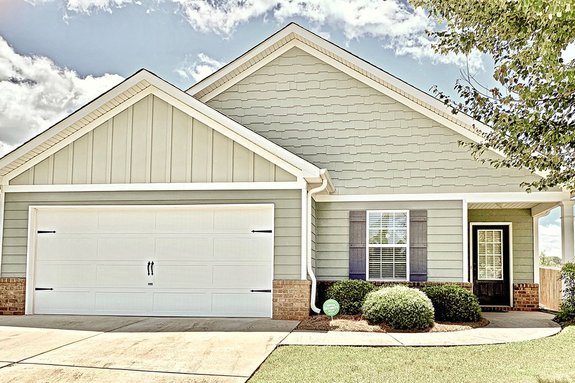 Plan 437-99
Simple yet special, this builder-friendly (and narrow) house plan feels fresh and modern. On the exterior, a harmonious blend of materials creates charming curb appeal. Step inside to get a clear view all the way through the great room into the dining area and open kitchen. A large island invites friends and family to hang out.
Tucked away to the left of the floor plan, the master suite enjoys a spacious private bathroom (including a large shower, dual sinks, and a walk-in closet) and exceptionally easy access to the laundry room.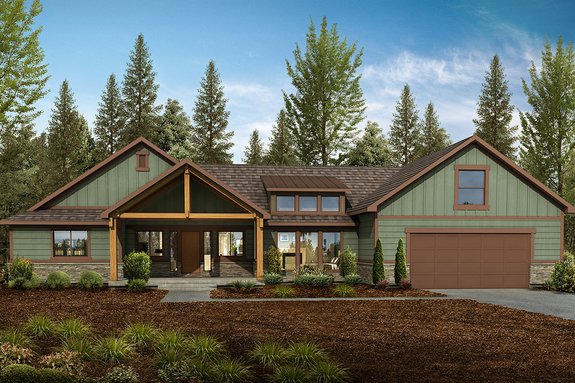 Plan 1073-3
This elegant (and builder-friendly) house plan design puts most of the living spaces on one level, including three bedrooms, but also gives you room to expand upstairs with a fourth bedroom and office. The layout is about as open as you can possibly get. Don't miss the double-sided fireplace between the covered patio and great room!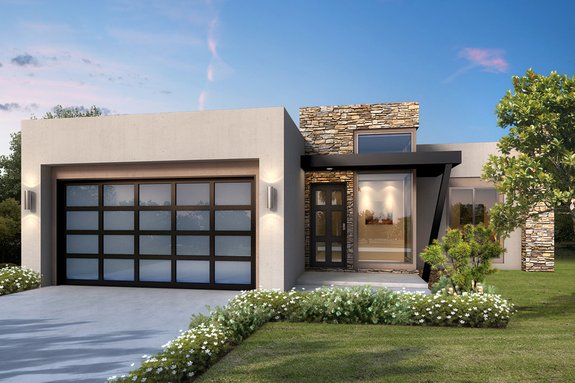 Plan 1073-5
Big style on a realistic budget: this chic home has 1,417 square feet, making it a striking choice for downsizing, starting out, or simply keeping things manageable. The open layout includes two beds and baths. A covered patio at the back of the floor plan opens to the great room for easy indoor-outdoor living.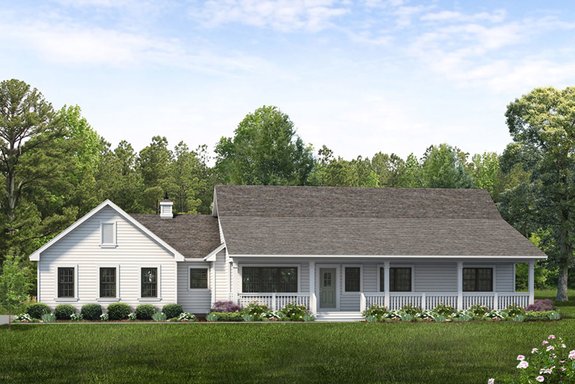 Plan 47-1023
This graceful ranch home offers relaxed, outdoor-focused living and plenty of thoughtful touches. Vaulted ceilings in the great room, country kitchen, and master bedroom add a dimension of extra space. Relax in the master suite's tub, where a bayed window gives a lovely view of the backyard.
You'll also find two sinks, a separate shower, a walk-in closet, and French doors to the rear (screened) porch here. Don't miss the spacious laundry/mudroom, the kitchen's desk, and space for a freezer in the two-car garage.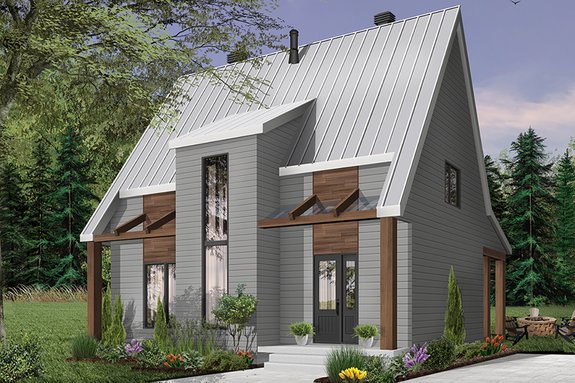 Plan 23-2682
It doesn't get much more open than this layout, which gives you a free-flowing entertaining space on the main level and three bedrooms (including the private master suite) upstairs. Need more space? The basement can be finished for an additional 938 square feet.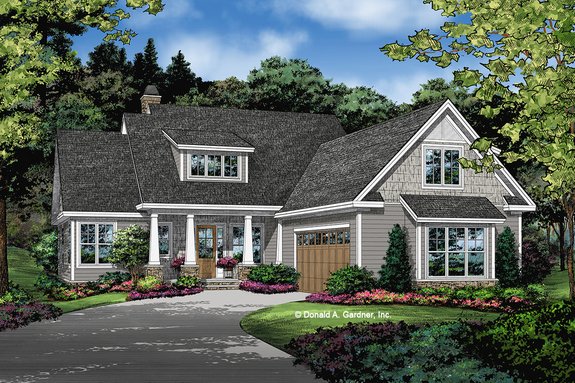 Plan 929-1084
Modern and elegant, this 1,948-square-foot design displays an open layout with many thoughtful details. For example, the third bedroom sits near the front and includes two points of entry (one to the foyer and the other to the hallway), meaning that it functions equally well as a home office or sleeping zone.
On the left side of the home, the master suite features skylights in the bedroom and a private bathroom with a huge walk-in closet. The center of the home feels open and kitchen-focused, perfect for relaxed gatherings. A bonus room upstairs adds the possibility of future expansion.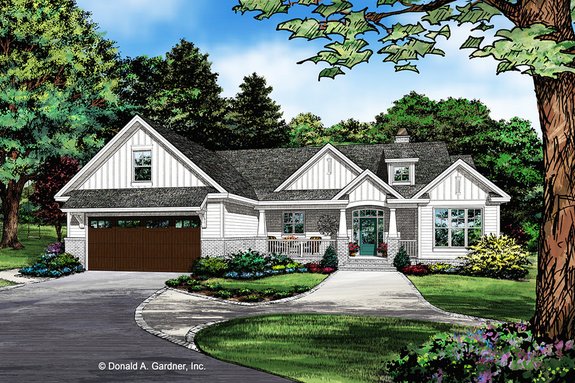 Plan 929-1078
This builder-friendly house plan design shows off Craftsman-inspired styling with graceful tapered columns on the porch and eye-catching gables.
Inside, it's party time in the open dining room and at the kitchen's snack bar. Check out the large screened porch (with a fireplace!) out back.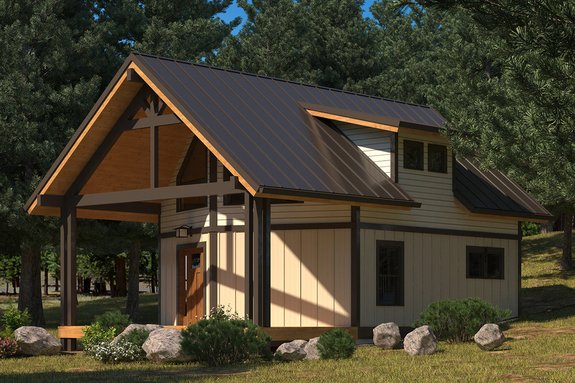 Plan 895-115
Imagine kicking back on the porch of this sleek builder-friendly cabin house plan on a beautiful fall weekend, watching the foliage...sounds relaxing, right? The simple open layout inside makes great use of every square foot. The bedroom opens outside, making it easy to step out and enjoy a morning cup of coffee.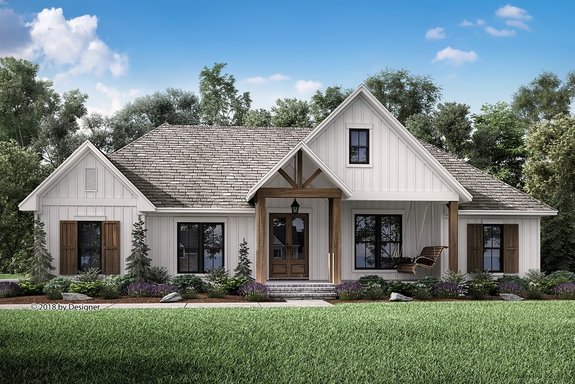 Plan 430-187
This 2,201-square-foot design sports chic modern farmhouse styling and a family-friendly layout. The master suite dazzles with a large bathroom (check out the double sinks and big shower) and direct access to the laundry room through the walk-in closet. Lockers keep the entrance from the garage tidy.
In the middle of the home, the island overlooks the open dining area and great room. A bonus room upstairs adds flexibility.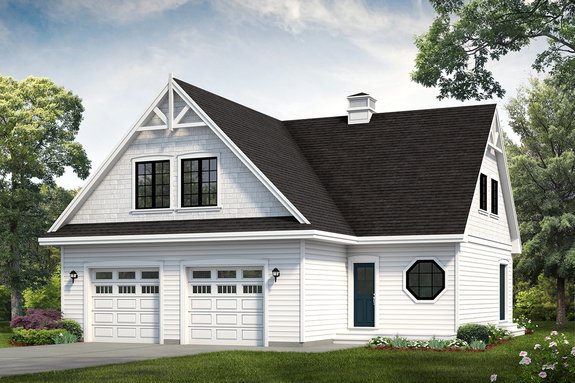 Plan 47-1090
Builder-friendly and narrow, this design sports a two-car garage and includes a charming two-bedroom apartment. This cool plan also features access to a full bath from one bedroom, while the second bedroom is conveniently located next to a powder room.
An efficient kitchen, living/dining room, and a laundry area are also located on the main-level of this house plan. A rear patio can be accessed from the living/dining room. Upstairs, 967 square feet of optional space is available.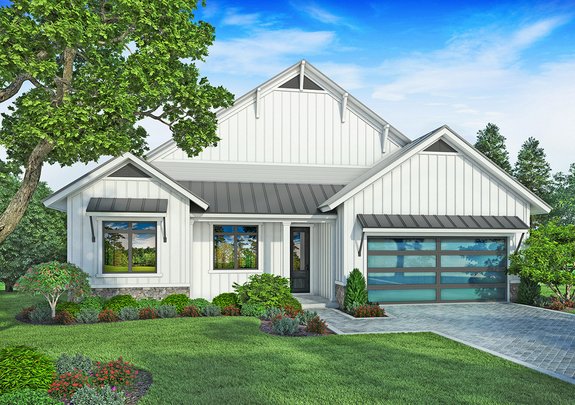 Plan 938-106
Here's a sleek, one-story plan with 1,736 square feet, four bedrooms, and two bathrooms. The kitchen sports a wide island that overlooks the great room for an open feeling and relaxed entertaining. Another nice touch: the big master shower.
Explore builder-friendly house plans
Browse affordable house plan designs
Questions? Call 1-800-913-2350 or contact us here.*