By Courtney Pittman
Are you looking to build a house plan that features a home office? Say no more. As the need to work, communicate, and attend school online grows, so does the popularity of house plans with home offices. Whether you're looking for a plan that features a small built-in desk, secluded loft, or an enclosed study/office space (that could also double as a bedroom), we've got you covered. Our home office house plans offer a wide range of possibilities.
Click here to explore our collection of home office house plans.
Check out these home office decorating and organization tips below.
How to Decorate a Home Office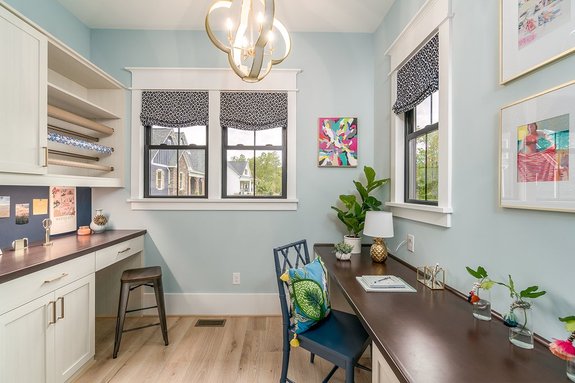 Plan 51-1160 displays a calming paint color and stylish accessories.
When it comes to decorating your home office, you want this space to feel efficient and promote productivity (in style). You will be spending a large chunk of your day in here – so make sure you create an environment that makes you happy. Here are some key things to remember:
Rugs add comfort to any space and make it feel warm and inviting. They also give you a chance to incorporate a color scheme.

Want to make your office even more stylish? Jazz it up with some sweet curtains. Pro tip: hang your curtains four to six inches above the window for an elongated look.

Small details make all the difference. Items like wall art, picture frames, throw blankets, accent furniture, and more deliver tons of flair.

Choose a fun desk and chair for your office. Whether you're looking for a bold color or simple wood, your desk area will be the main focal point of this space, so be sure to opt for one you love (and that's the right size).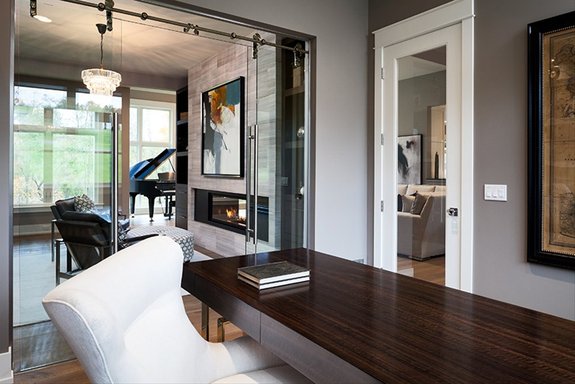 Plan 928-287 features a sleek white chair that feels elegant and modern (and not to mention comfortable).
Painting the walls (or even just one) will add some pizzazz to your office space. Another perk? Painting is something affordable that you can do yourself – and it really improves the overall vibe.

Lighting makes all the difference. Add contemporary style with a cool desk lamp, floor lamp, or even a luxurious chandelier.

Boost your mood and improve air quality with some indoor office plants.
How to Organize a Home Office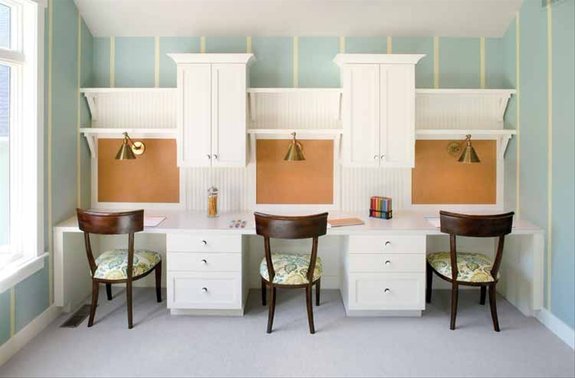 Plan 928-23 is homeschool-ready with stylish built-in desks and cabinets.
Organization is key when it comes to a home office. A clean space with thoughtful details will encourage productivity. Check out these helpful tips:
Declutter your home office. Nobody wants to work in an environment that feels unorganized and messy. Ease your mind and create a clean, happy work space by getting rid of items and papers that you no longer need. This is the first step to organization (check out these declutter tips from HGTV)!

Utilize every bit of wall space. A pegboard is a fun way to hang and organize items. Another option is mounting a shelf on the wall. This will give you plenty of space for storing things in cute baskets, trays, etc.

Store things (like pens, staplers, paperclips, important documents, scissors, etc.) away in drawers so your space doesn't feel overwhelming. Another idea? Plastic food containers are a cheap and easy way to sort and categorize items in the drawers.

Use a filing cabinet for important work documents. This essential office piece keeps papers tidy and makes it easy to find what you're looking for. The good news – these days, file cabinets come in all kinds of stylish colors and sizes (for DIY file cabinet ideas, check out these tips from Bob Vila).
Now it's time to get inspired with these house plans with home offices!
Warm and Welcoming Craftsman Design
This design boasts a stylish (and private) home office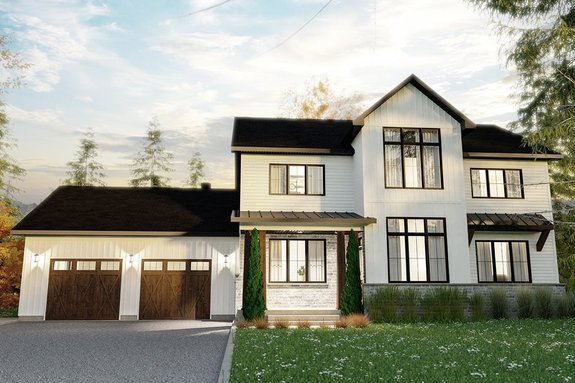 Plan 23-2724 features nice storage options.
Here's a warm and welcoming modern Craftsman house plan that promotes relaxation. The open, contemporary floor plan makes everyday life easier for homeowners. A den/office space (pictured below) just off the foyer provides plenty of privacy.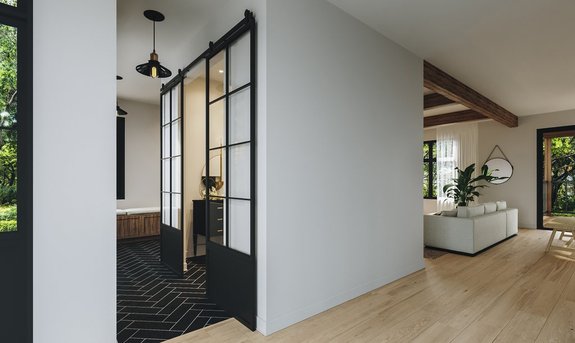 Keep items organized in the large mudroom next to the two-car garage. Need more storage space? You're in luck. A walk-in pantry easily stores groceries, while the spacious laundry room keeps the mess at bay. Upstairs, the master suite features two walk-in closets, a soaking tub, modern shower, and dual sinks. You'll also find two additional bedrooms and a bathroom on this level.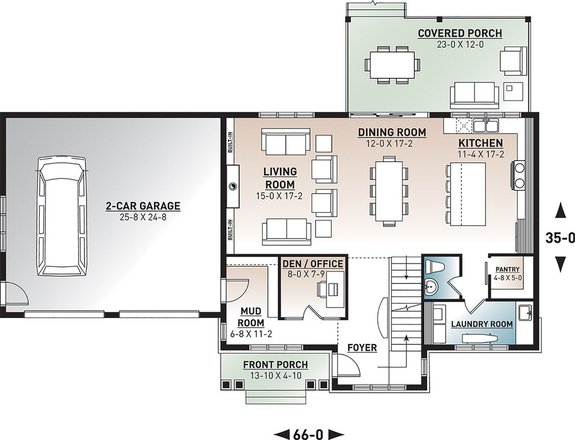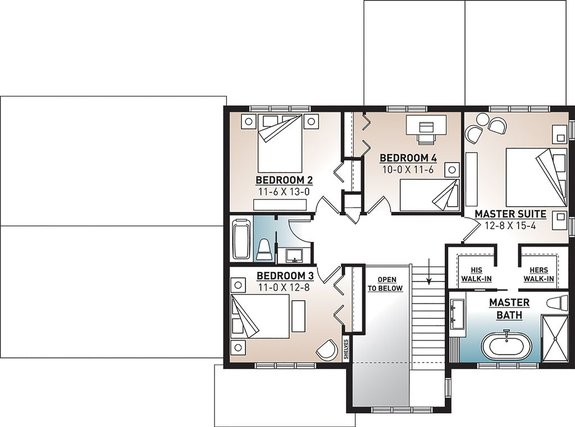 Texas Modern Farmhouse Plan
Front and rear porches make it easy to relax outside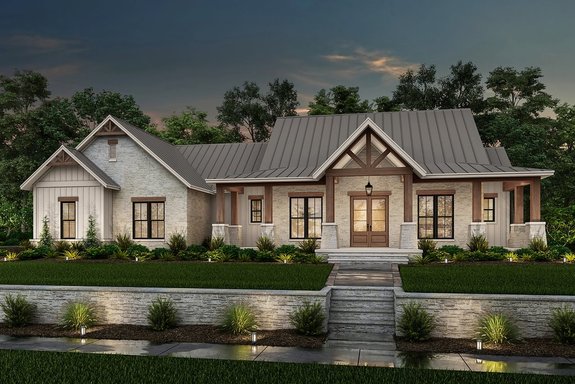 Plan 430-229 sports a cool home office and a built-in desk space.
A spacious office just off the foyer makes it easy to work from home, while a built-in desk in the hallway (which features a sliding barn door for privacy) is the perfect place to do school assignments. The open floor plan between the great room and island kitchen provides easy flow. Vaulted ceilings in the great room create an airy vibe, while two sets of double doors open to the rear porch for seamless indoor-outdoor living.
The master suite resides to the left of the floor plan and features direct access to the laundry room (via the walk-in closet). Two additional bedrooms share a Jack-and-Jill bathroom and walk-in closets on the right side of the layout. Don't miss the warm fireplace in the great room!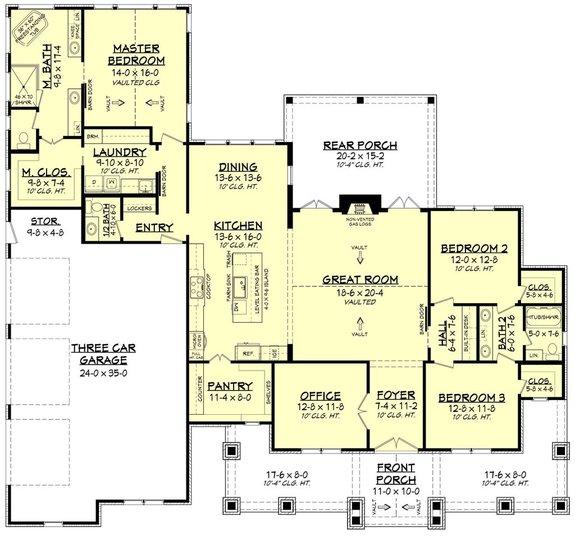 Country Design with a Generous Study
A loft could also be used as a home office in this farmhouse plan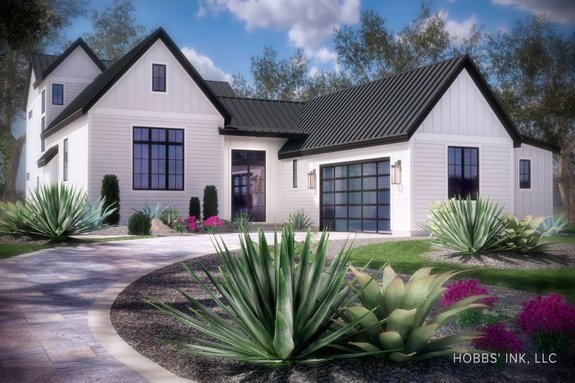 Plan 935-21 features a big island in the kitchen.
Working from home is made easy thanks to the generous study in this modern farmhouse plan. The kitchen overlooks the great room and gives you a big island that's perfect for cooking and enjoying casual meals. Long day? Relax in the spacious master suite or on the rear porch just off the great room. A versatile loft upstairs could serve as a game room or another home office space if needed. The options are endless!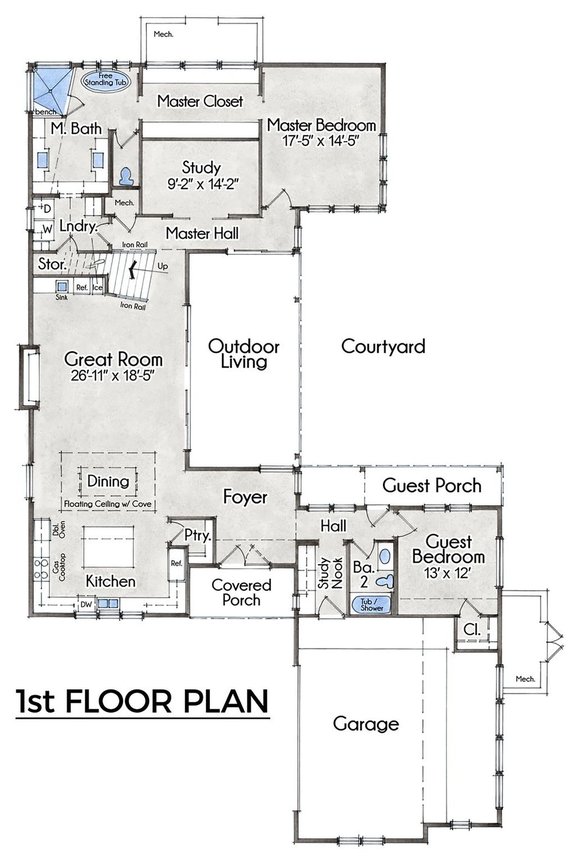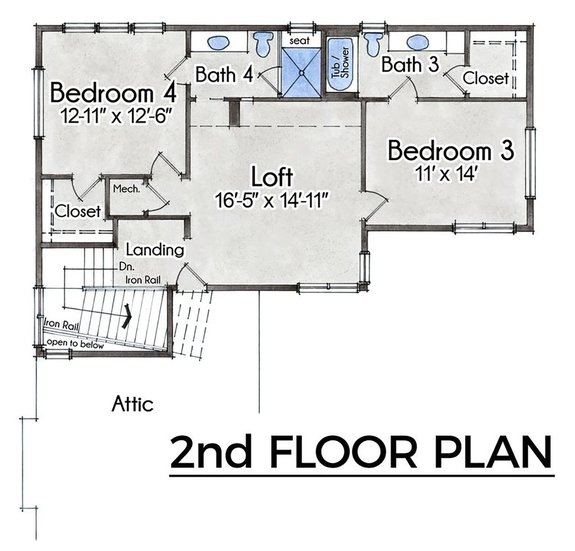 Free-Flowing Floor Plan
You'll love hanging out at the big kitchen island
Plan 124-1202 gives you a home office away from all the noise.
Spacious and cool, this modern Craftsman house plan (see more modern Craftsman plans here) gives you a free-flowing layout between the main living areas that promotes relaxed living. The kitchen island gives you plenty of space for cooking and hanging out. Here's a thoughtful detail: the home office is located to the left of the floor plan for extra privacy. A den/bedroom space could also be used as home office if needed.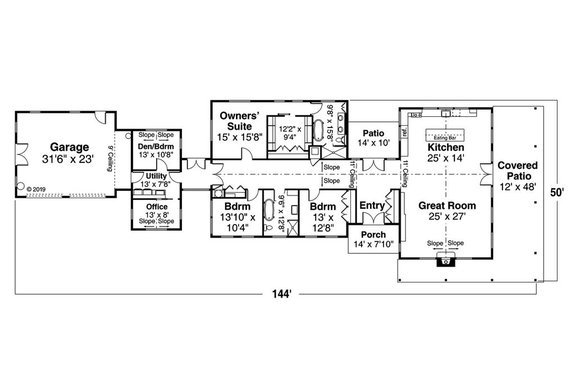 Contemporary House Plan
This design gives you plenty of room to grow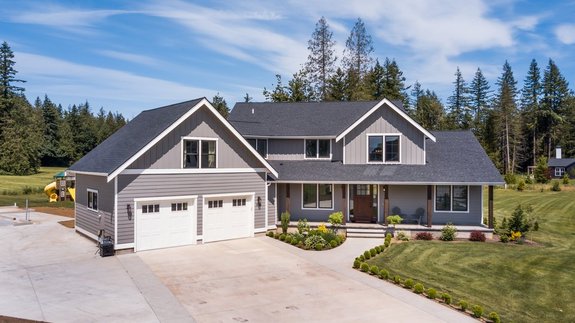 Plan 1070-81 offers a spacious den that could be a home office.
Explore photos of this standout house design. There's a big porch in front, giving you plenty of room to hang out and relax when the weather is nice. In back, the covered deck is ready for post-work evenings. The kitchen features a generous island that gives you room for both cooking and sitting. The den would also make a handy home office.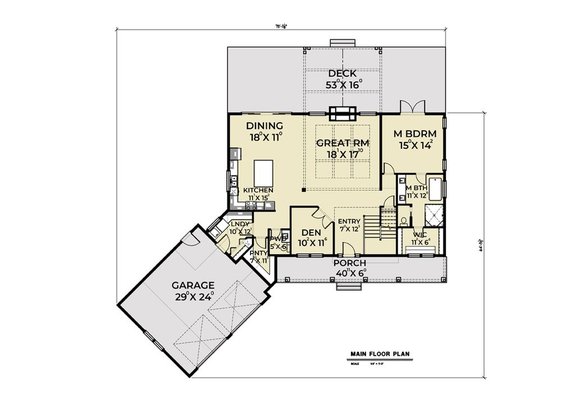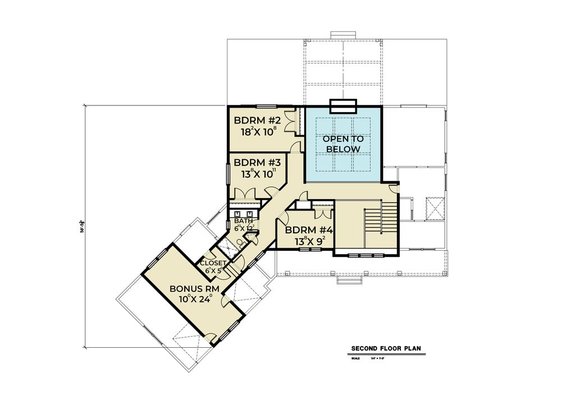 Eye-Catching Curb Appeal
An open layout makes it easy to relax in this modern farmhouse plan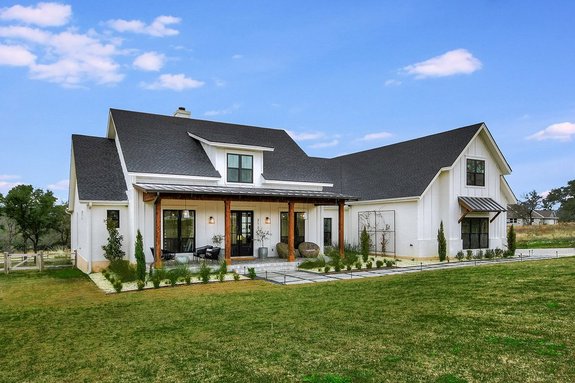 Plan 430-156 offers a dining space that could also be used as a home office.
This modern farmhouse plan displays eye-catching curb appeal. A wide front porch delivers country charm, while the open layout encourages a relaxed lifestyle. Serve up snacks at the kitchen's island or sit down for an elegant meal in the dining room. The dining space could also serve as a handy home office if needed – much like these home offices from Apartment Therapy). In warmer weather, the rear porch beckons you outside.
You'll find tons of storage throughout the home, with every bedroom boasting a walk-in closet and a huge pantry in the kitchen. The master suite's closet opens directly to the laundry room – making it easy to throw in a load. A large bonus suite upstairs can be finished now or later (and could also be used as a home office).