By Boyce Thompson
Interested in building a home from a modern farmhouse plan? If so, you're definitely not alone. But, why? What makes contemporary farmhouse plans so enticing? Back in the day, farmers built their homes expeditiously with materials on hand, often with the help of neighbors. Their goal was to build a home with durable exteriors (so the work wouldn't have to be repeated) and practical, family-friendly interiors. Tall windows, ideal for looking out on fields and pastures, flooded rooms with natural light. Big kitchens provided enough space for a small battalion of cooks to prepare meals made from home-grown food. Large, covered front porches were the ideal space to relax after a hard day's work.
Click here to browse our collection of modern farmhouse plans.
Today's farmhouse designs, which are showing up even in the pages of high-end home fashion magazines, remain true to their roots. One big reason is that the signature elements of farmhouse design – a kitchen-oriented floor plan, a black-and-white color scheme, and occasional industrial accents – dovetail nicely with what the modern family is looking for in a new home. Using salvaged material for beams and flooring in your home coincides with green building trends. And the rustic simplicity of the farmhouse vernacular aligns with a trend toward clean modern design (learn more about this popular style from The Spruce). Here's what to look for if you are interested in building a modern farmhouse plan.
White Exteriors with Vertical Accents
This farmhouse delivers curb appeal with classic elements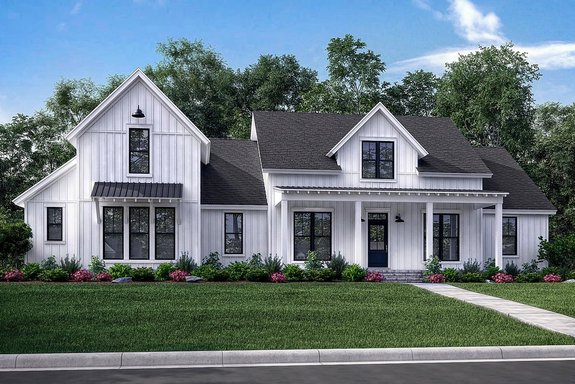 Plan 430-165
A farmhouse design, as you can see in the plan above, lays claim to more vertical exterior elements than the typical home. In this case, board-and-batten siding applied in a vertical pattern points toward stately gables that crown a steely sloped metal roof. Most modern farmhouses are clad with durable, rustic materials – fiber-cement siding, sheet metal, and board-formed concrete are common specs.
Black barn lighting is often used as an accent, tying the house to agricultural buildings on the farm (check out these barn light ideas from HGTV). White walls, coupled with black-rimmed doors and windows, cement a stately farmhouse impression.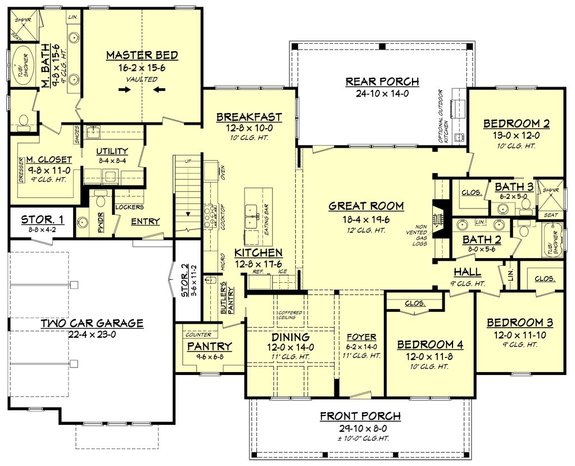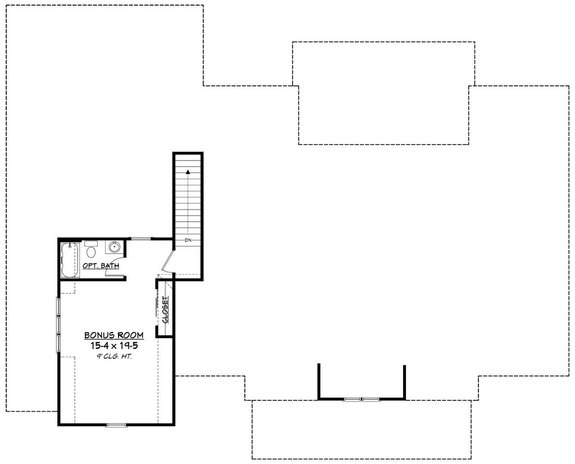 A Metal-Clad Gable Roof
Metal roofs are making a comeback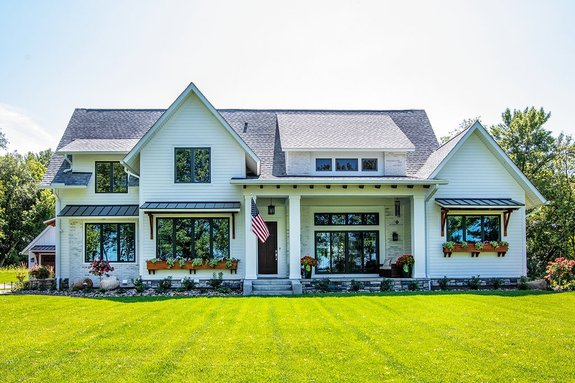 Plan 51-1132
Metal roofs, which have made a strong comeback in recent years, are another staple of farmhouse design. Metal roofs were a popular spec back in the day because of their ease of installation. An added benefit today is that they are relatively easy to equip with solar panels, if you want to go green.
Multiple awnings on the plan above – which would look great in a rural or suburban setting – shade tall windows, some with quaint planter boxes, reducing unwanted heat gain during summer months. They reinforce the horizontal plane of the roofline. Carriage garage doors are a natural for the modern farmhouse. They were often used on barns that housed horse-drawn carriages.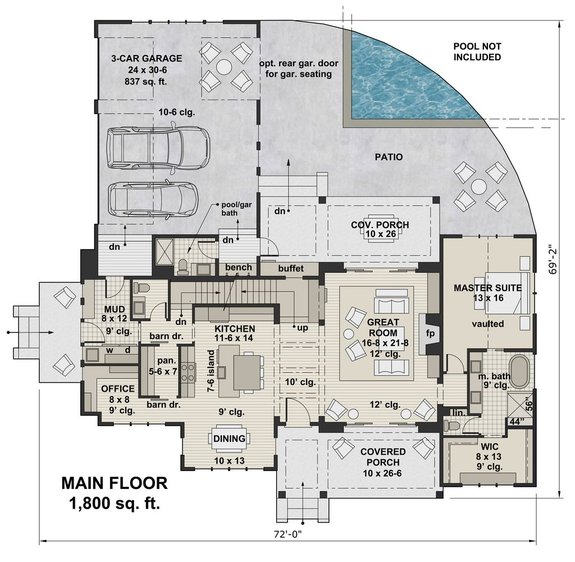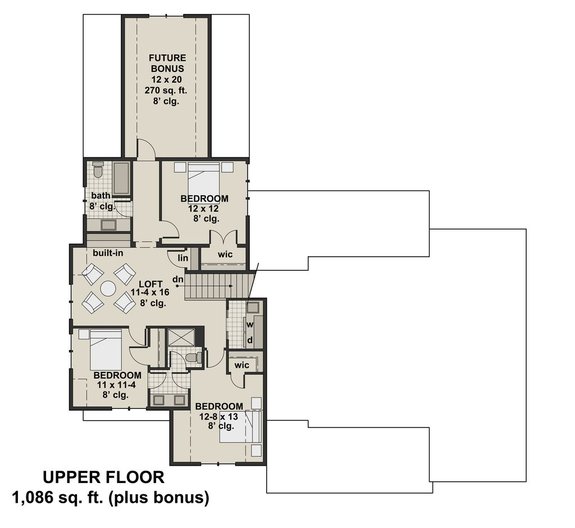 An Ample Front Porch
A front porch provides easy outdoor living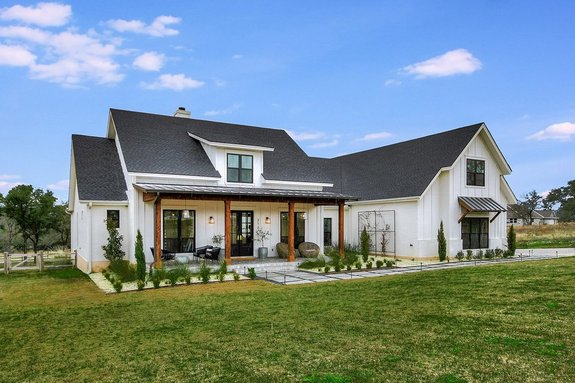 Plan 430-156
A big front porch may be the most recognizable element of farmhouse design. The porch on the plan above is wide and deep enough that family, friends, and neighbors could occupy it at one time. Some could even take up rocking chairs. And there's room for a porch swing. If the front porch gets too hot in the evening – say the home faces west – the family could take refuge on a more private back porch.
Rustic wood beams, another common farmhouse spec, support porch roofs in front and back, allowing them to be used in all kinds of weather. Porches provide an ideal perch to watch the progress of crops, check on cattle in the pasture, and maybe even catch raccoons that get in the garden.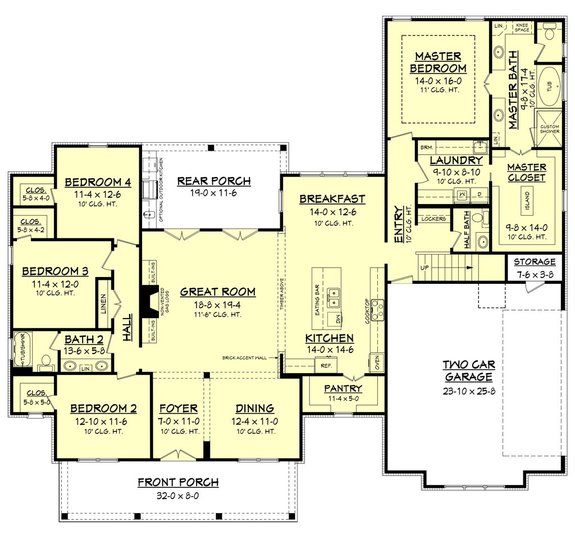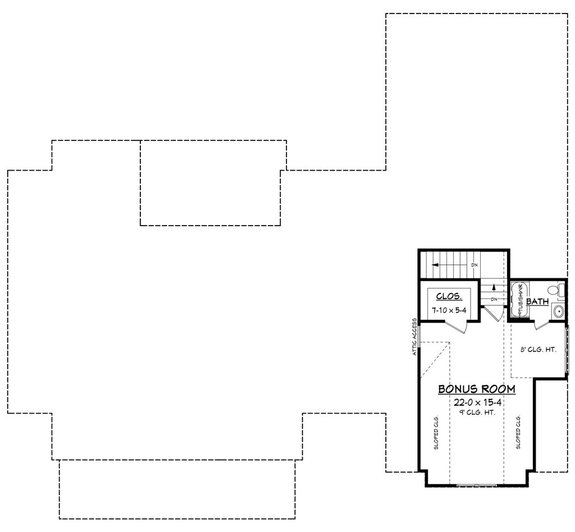 Functional Interiors
A mudroom adds practical storage solutions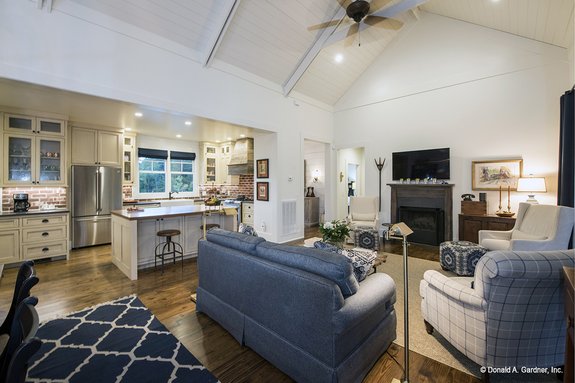 Plan 929-8
Many farmhouse designs rely on a white-and-black white color palette on the interior as well, or at least a very simple color scheme. White walls are often complemented by dark, wide-plank hardwood floors. One benefit of hardwood flooring, of course, is that it's easy to clean up, and it's a great choice if anyone in the household suffers from allergies.
Banding makes the interior walls appear to be built from wood panels rather than drywall, which may not have been available in the old days. A ceiling defined by wood beams and slats reinforces the rustic simplicity of the interiors. True to form, the floor plan centers around an open kitchen and great room anchored by a large fireplace.
A mudroom off the garage, a necessity in farmhouse plans, provides a place to park muddy boots after a hard day in the field, or the yard. Mudrooms are so practical that they are finding their way into plans of all styles.
Another common interior element found in farmhouses: antique fixtures and furnishings. Used in moderation, they look right at home when used against white walls and ceilings. Farmhouse plans have a lot in common with country designs. The two styles share a fondness for comfortable rather than formal furniture and furnishing arrangements. But a key difference is that accessories are kept to a minimum in farmhouse design. Restraint, along with clean lines and a high-contrast modern color palette, gives the modern farmhouse a more sophisticated appearance than a country home.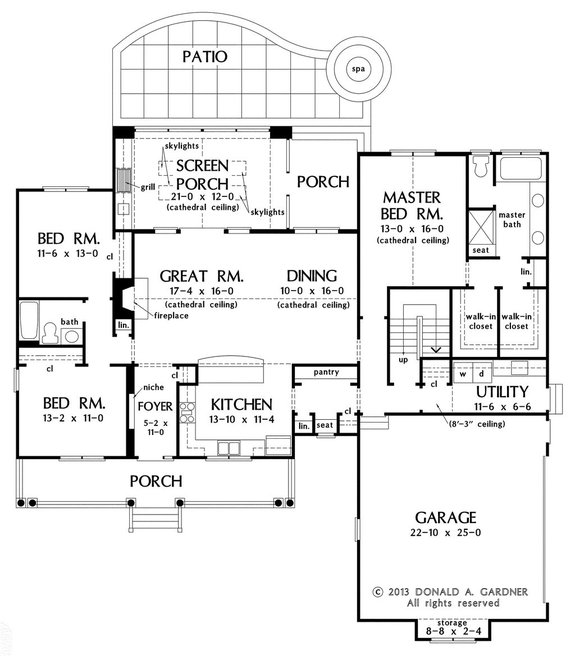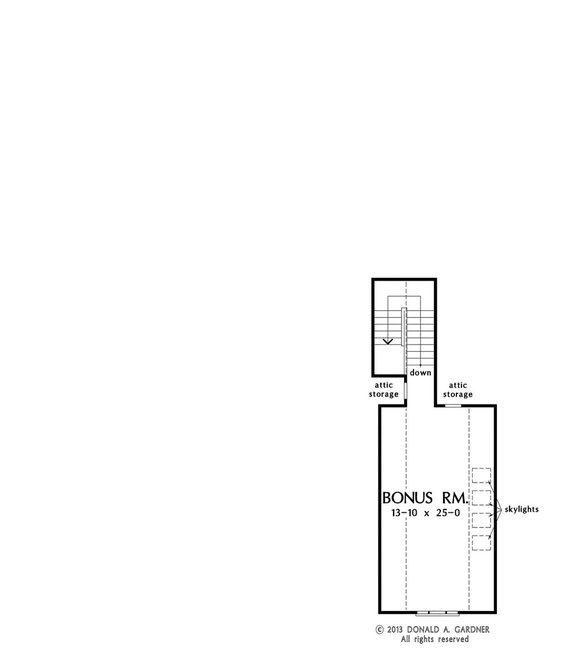 A Spacious Kitchen
Kitchen islands provide plenty of space for casual dining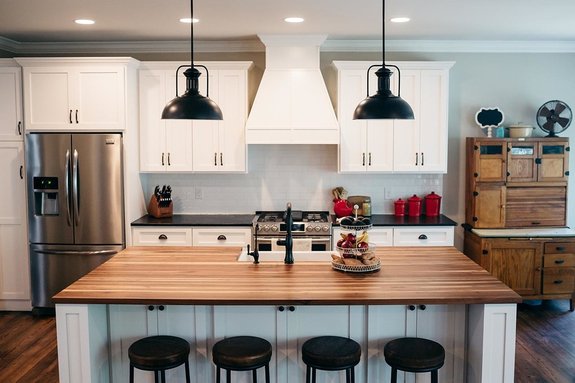 Plan 17-2148
The kitchen is the heart of a farmhouse plan. Kitchens often featured wood countertops, because that's what was available. Molding and trim, more showy than necessary, were kept to a minimum in these modest homes. The simple profile of Shaker cabinets continues to be a natural fit.
A kitchen island provides ample space to prepare a big meal. Industrial elements – barn lighting, a gooseneck faucet, and a deep sink – reinforce the farmhouse look. Kitchen designs leave plenty of room for storage. It's easy to imagine keeping mason jars in the throwback antique cupboard pictured above. Pantries are another common element in farmhouse plans.
Sliding barn doors are another natural choice for the modern farmhouse (explore these barn door ideas from This Old House). They are a great way to separate rooms in open floor plans. You could close the barn door on an office if you needed to get work done and open it when no one is home. A claw-footed tub might look good in a bathroom. Hanging pots and pans over a kitchen island is another natural.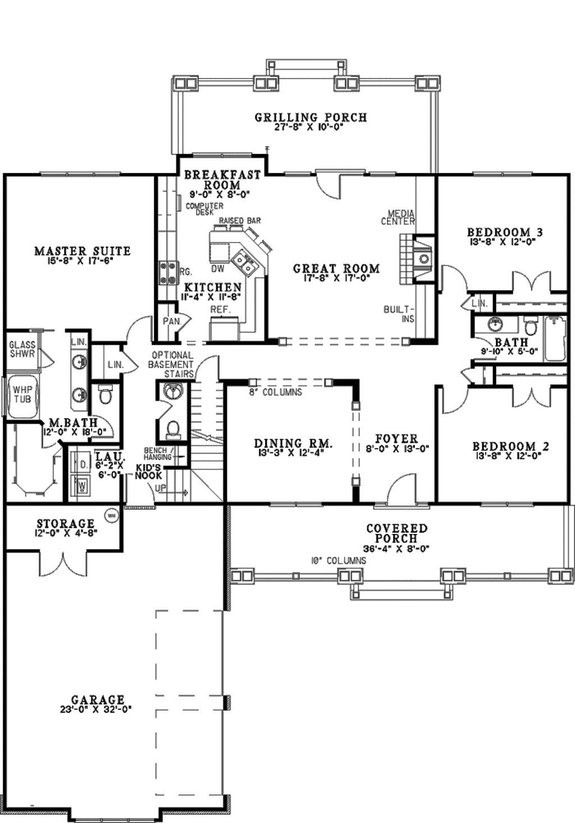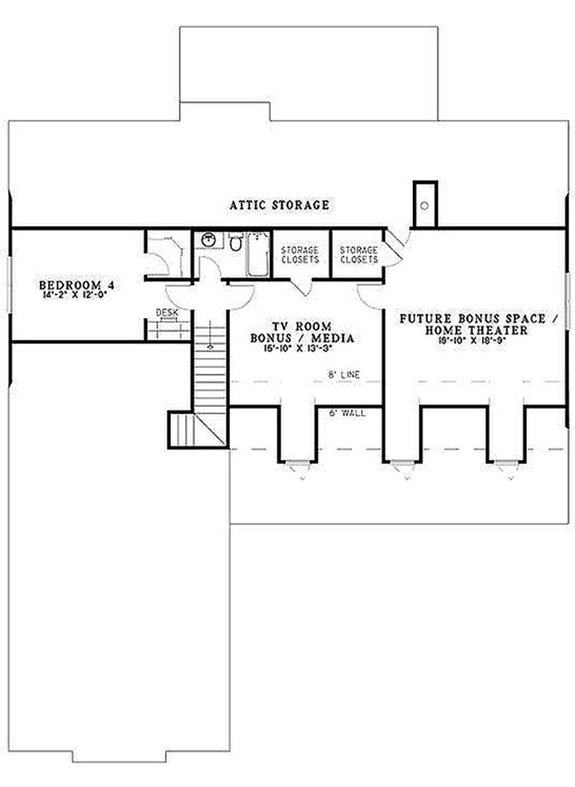 Delightful Details
Classic details make all the difference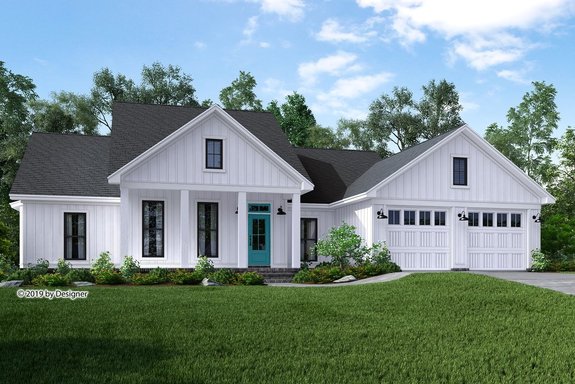 Plan 430-188
Tall windows betray the farmhouse roots of this plan. Over-sized windows cast light deep into interior spaces. They provide wonderful views of exterior landscapes, skylines, and approaching weather. Upgrading to Low-e windows in a modern farmhouse provides the best of both worlds – ample winter sunlight without a loss of heat.
Farmhouses, the oldest built before the days of air conditioning, tend to have open interiors to promote natural ventilation. Windows and doors on the front porch could be opened to promote the flow of fresh air through the house. The open floor plan centers on a vaulted great room anchored by a large hearth.
A stone fireplace makes a lot of sense in a farmhouse design, especially if the material is used outside on the foundation or landscaping. Salvaged wood is another staple of this look. All the better if it has scratches and nicks. Distressed hardwood flooring, which is getting easier to source from older buildings that are town down, is another desirable look. Mixed metals in modern farmhouses – a natural for light fixtures, kitchen hardware, and stairway railings – gives them a modern appearance. So do strong color accents, which work well with a black-and-white color palette.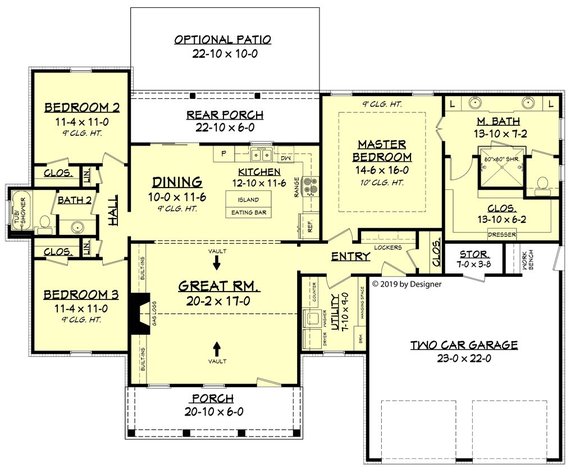 Browse our collection of modern farmhouse plans here.