Eye candy is fun. When you're looking at cool house plans with photos, scrolling past stunning home after stunning home, it's easy to spend hours dreaming. But finding equally Insta-worthy options that are affordable to build (and that your builder will love) is possible, too.
We've rounded up ten small house plans that are stylish and efficient. While everyone's definition of affordability differs (for example, what's reasonable to build in Tennessee might break the bank in California), these cool home plans feature simple footprints and open layouts under 1,500 square feet. And, of course, cool modern exteriors.
Vacation Getaway
This cool house plan boasts modern and rustic vibes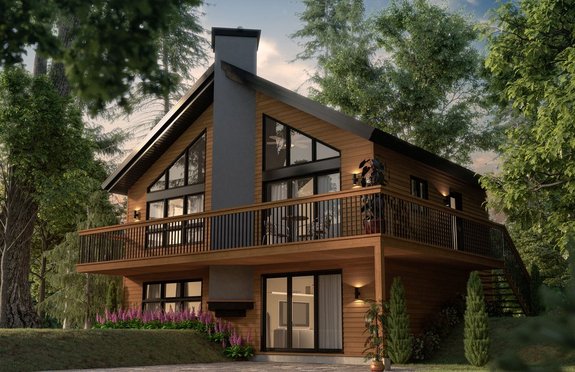 Plan 23-602 stands out with large windows.
A contemporary take on a classic A-frame, this simple design will stand out in rustic location. The open living areas step out to a porch, so you can grab your coffee and sip it outside while enjoying the view.
Modern Farmhouse
Enjoy style and an a kitchen island with this house plan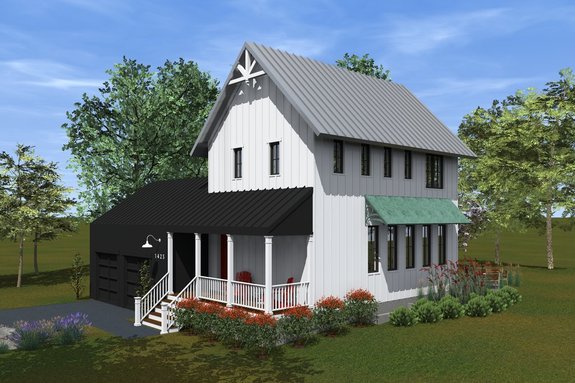 Plan 933-2 delivers country curb appeal in style.
Here's a good example of the red-hot modern farmhouse trend. This design takes a much-loved style and streamlines it to an easy-to-build box shape that gets extra curb appeal from vertical siding, a porch, and dark window frames. The kitchen island provides a ton of room for meal prepping and hanging out with family.
Upstairs, you'll find a huge shower in the master bathroom and a flexible office, as well as the laundry room (check out these laundry room ideas from Bob Vila).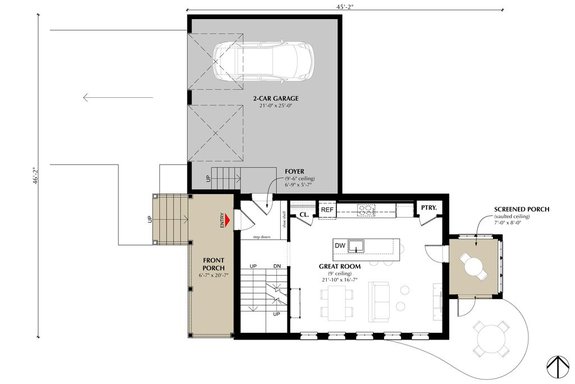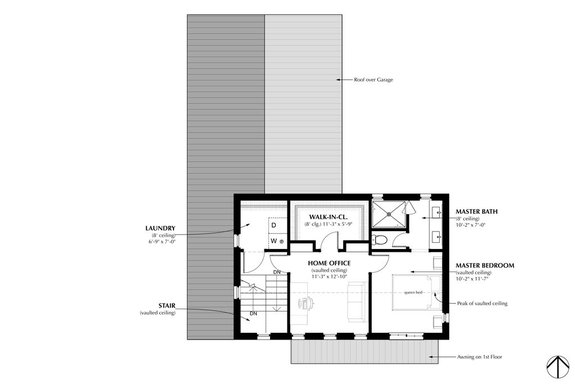 Garage Apartment with a View
Take advantage of scenic views with this garage apartment plan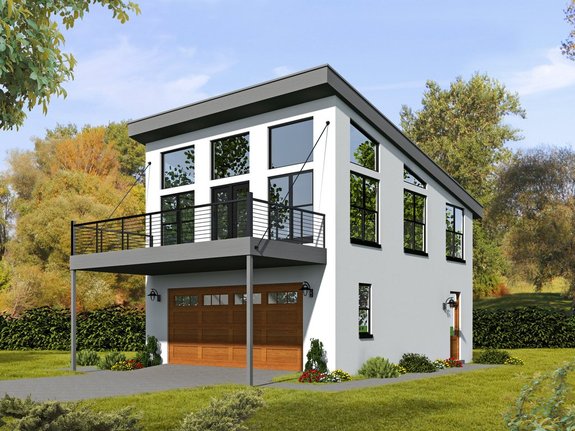 Plan 932-69 sports lots of windows and a sweet balcony.
This striking design takes splendid advantage of a scenic lot. Walls of windows let light stream inside to illuminate the open living spaces. The kitchen opens directly to the living space for easy living. The bedroom is located at the rear of the plan for extra privacy and features a spacious closet. Enjoy outdoor living on the generous balcony.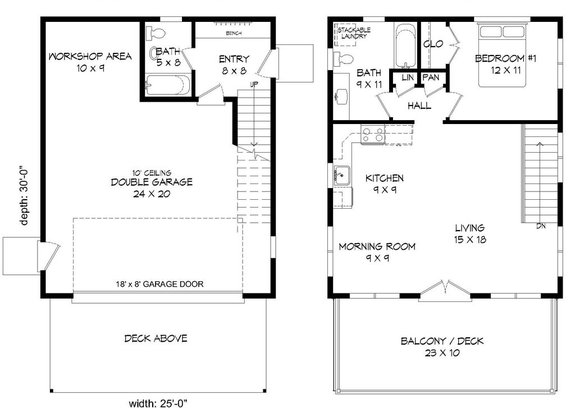 Window Wall Turns Heads
This contemporary house plan is perfect for a narrow-lot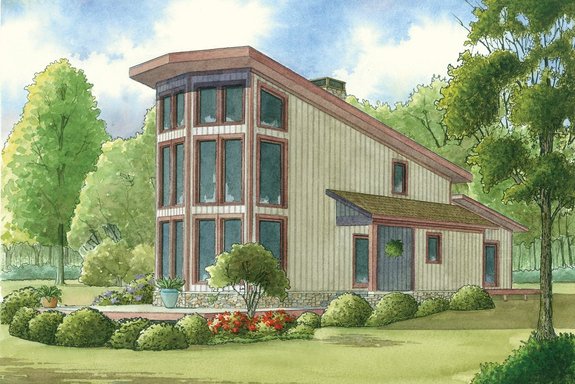 Plan 923-6 creates a casual vibe with the eat-in kitchen.
It's hard to believe, but this unique home holds a modest 1,098 square feet with a slim (28'6") width. That means that this design would fit well in a narrow city lot, where land can be expensive. A sleeping loft provides extra room (explore these loft ideas from House Beautiful), while owners get a comfortable suite with a walk-in closet and private bath on the main floor. The eat-in kitchen offers plenty of room for a table to create a casual vibe.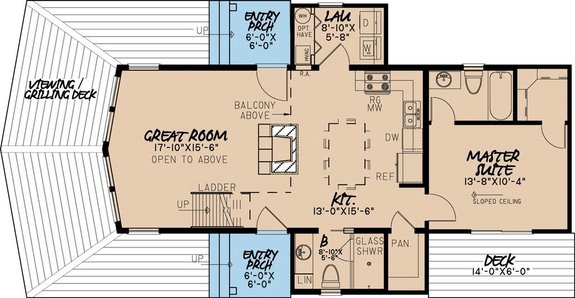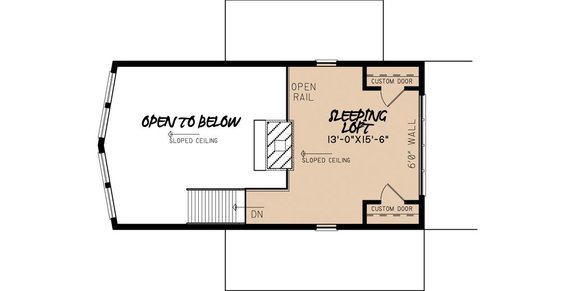 Mid-Century Modern
A small house plan with retro details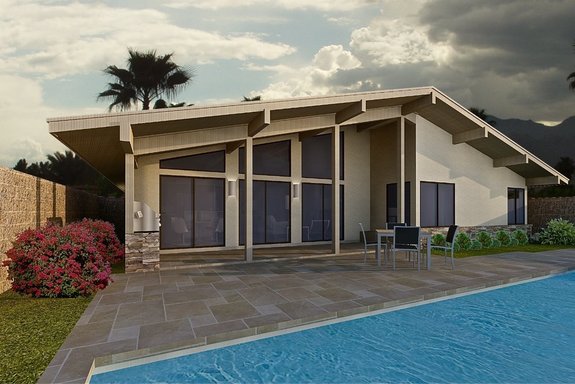 Plan 489-1 offers a large master suite.
Love that Palm Springs look? This cool house plan recreates the same effortless, outdoor-centric feeling of those classic homes. But unlike a home from the 50's or 60's, this floor plan feels totally up-to-date. Sliding doors lead from the great room to the patio for seamless indoor-outdoor living. A large, curving island provides a main spot for enjoying drinks and appetizers. For dinner, head a few steps over to the open dining room. The master suite includes a large shower and spa tub with a view.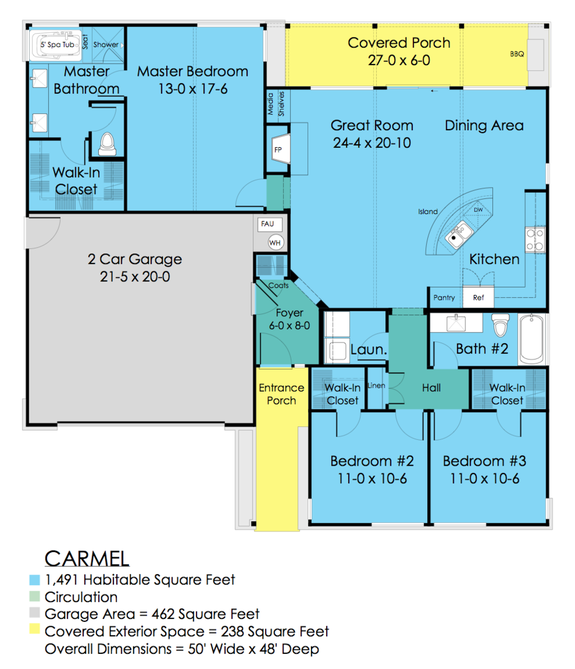 Fun Curb Appeal
A see-through fireplace delivers cozy charm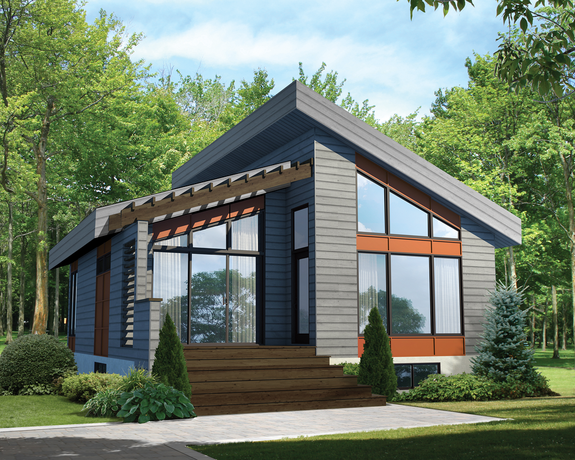 Plan 25-4578 creates curb appeal with sleek lines and large windows.
This small house plan grabs your attention and doesn't let go. The intersecting roof planes create an exterior with tons of dynamic energy. A see-through fireplace (get fireplace decorating ideas from Good Housekeeping) gives warmth to both the living room and the bedroom, which connects to the luxurious bathroom through the closet.
Social Kitchen
Space-saving features deliver easy living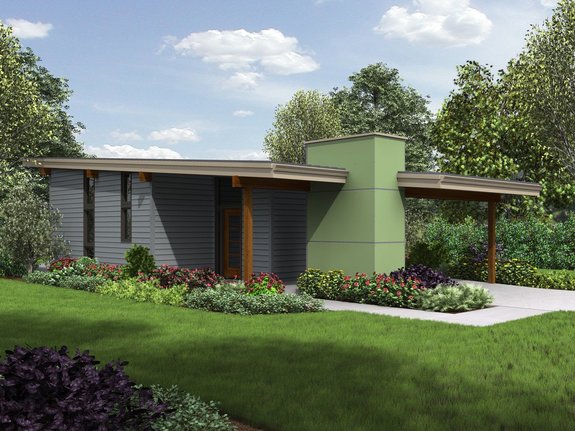 Plan 48-685 offers indoor-outdoor living via sliding doors.
There's room for three people to sit at the built-in table in a great space-saving feature that means you don't have to devote more space to a dining room. A fireplace adds a cozy focal point in the living room, which steps out to the patio via sliding doors.
Bedroom 1 also steps outside, so you can greet the day first thing. Vaulted ceilings in both bedrooms and the living room add a feeling of volume.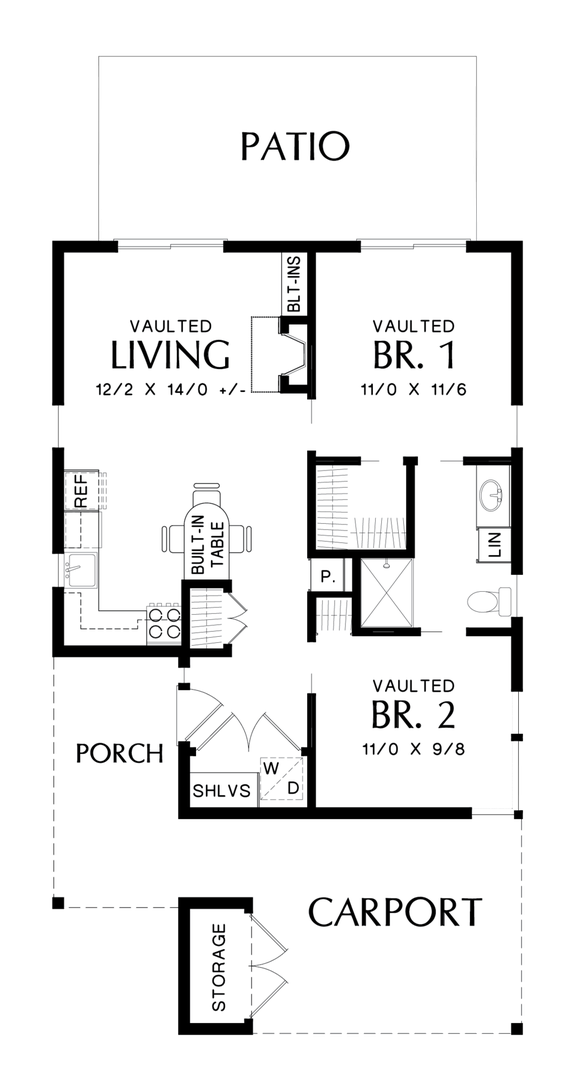 Super-Open Layout
Deliver rustic charm with rugged details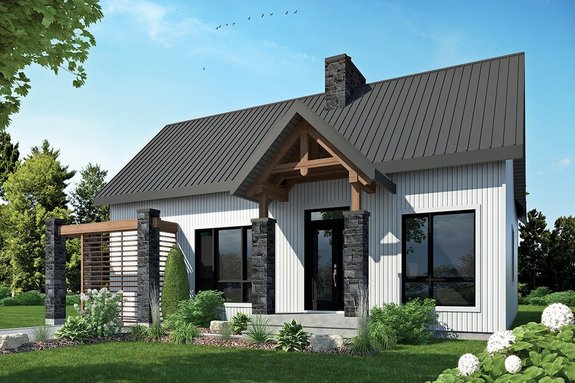 Plan 23-2316 has a super-open layout and lots of style.
The rustic touches (including a decorative truss and stone-covered columns) on this cool home plan give a warm, rugged look. A super-open layout inside makes it easy to move from the island kitchen to the dining room and living area, where a fireplace contributes a bit of definition. Relax in the master bedroom, which enjoys private access to the bathroom.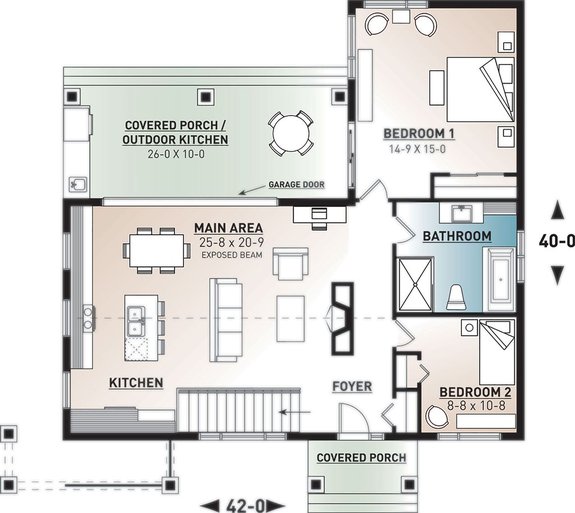 Emphasis on the Outdoors
This small home plan boasts impressive outdoor living spaces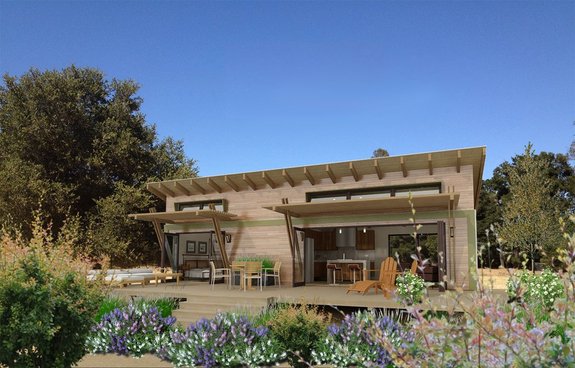 Plan 484-6 would work well as vacation home.
Can't you imagine this at a lakefront or mountain location? This sleek, small home opens along most of its side to flow seamlessly onto the impressive deck. The bedroom even has room for a queen or king bed.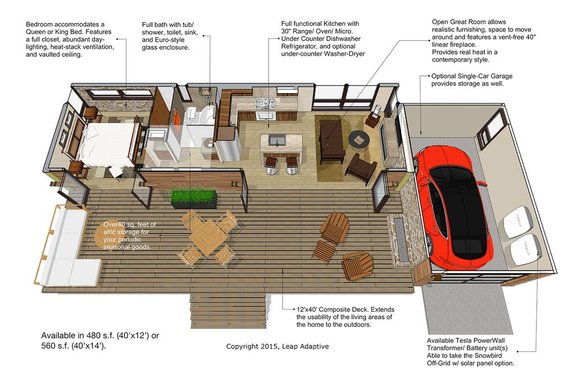 Classic Ranch with Sleek Lines
This home design maximizes space with an open floor plan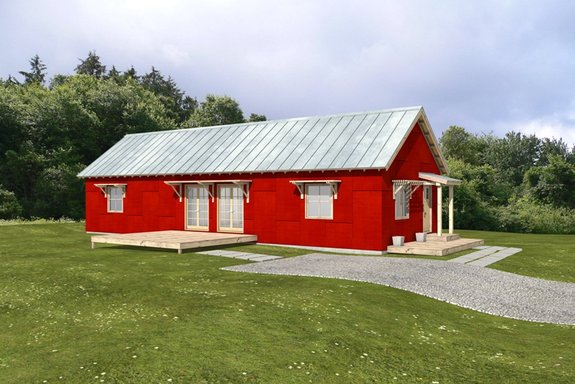 Plan 497-55 keeps it simple with a bright interior and efficient floor plan.
Maybe you don't want to go fully modern. Simple but striking shows how adding a metal roof gives a contemporary twist to a ranch style. The bright and breezy interior keeps it simple with the kitchen along one wall. For additional privacy, the master suite opens directly into the bathroom.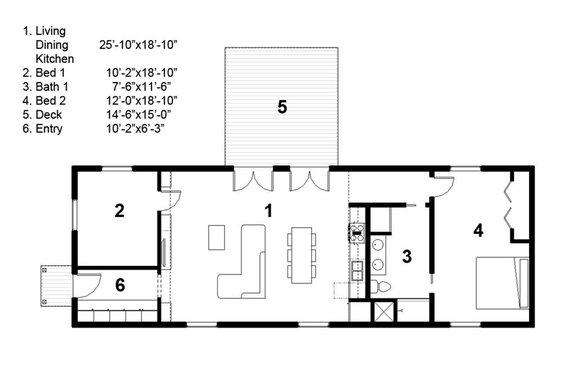 Click here to browse more small house plans.