By Courtney Pittman
Want to know what it's like to build your dream home? You're in luck. Customers Hunter and Susie H. built a stunning farmhouse bungalow (plan 312-715) in Abita Springs, Louisiana and were kind enough to share their story. Blending vintage charm and modern style, their home features a classic front porch, vaulted ceilings, and a simple layout. See for yourself – check out their interview (and photos!) below.
Click here to browse our collection of farmhouse bungalows.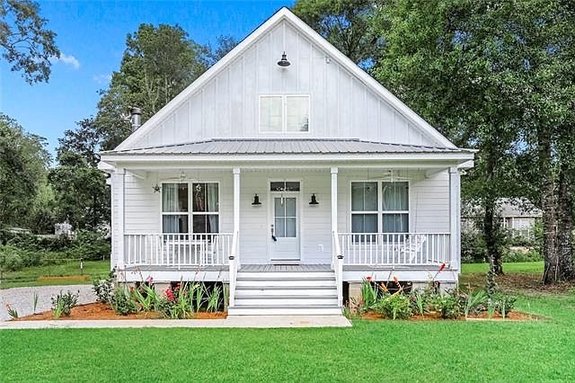 The exterior view of plan 312-715 in Louisiana.
Why did you want to build your own home?
We thought building a house would be an affordable way to get the square footage and design that we were looking for in a home. Our plan was to keep things very simple and finish some of the work ourselves to keep cost[s] down.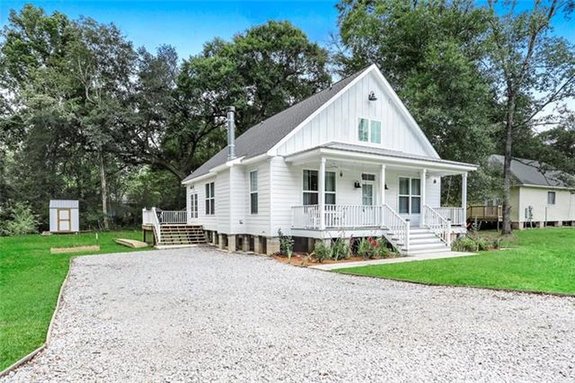 Farmhouse styling (like board-and-batten siding) and charming details deliver classic curb appeal.
How did you find your house plan?
We spent a lot of time looking online for house plans, checking Pinterest and house magazines. We were building in the historic district of a small town so we knew that we wanted a house that fit well with the historic cottages around it.
We wanted a simple roof line and a front porch. We were also looking for a house that had most of what we needed on the first floor, but also had a second floor that we could finish on our own for additional space.
[Editor's note: explore these fall front porch decor ideas from Country Living]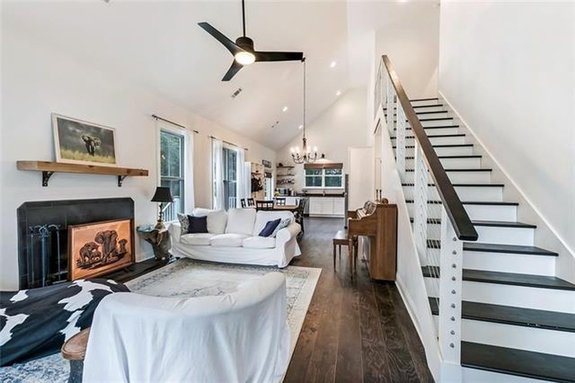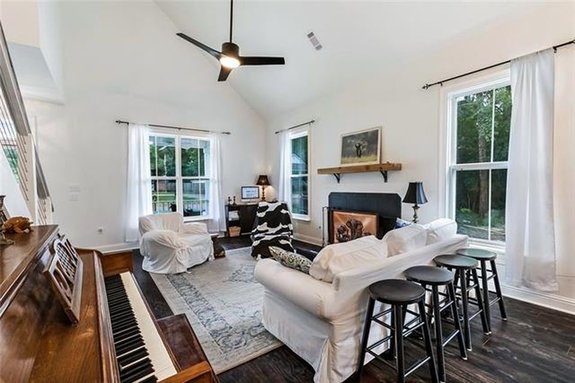 An open layout between the great room and kitchen takes advantage of every square inch of space.
What factors did you take into account when deciding on a budget?
We were aiming to keep total cost[s] under $250,000, but we were planning to do some of the work ourselves.
Did you end up going over or under budget? Why?
We ended up going over budget because there were issues with the lot preparation that the city required us to address.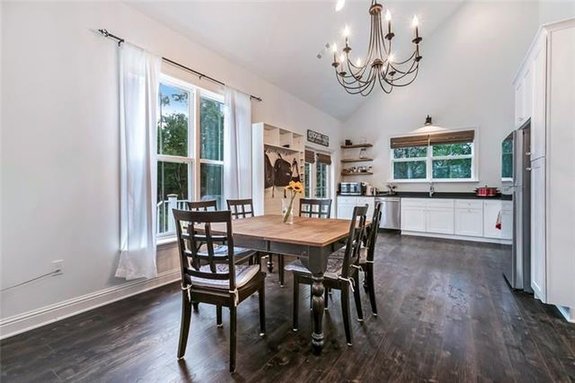 The kitchen feels bright and airy with open shelving, tall ceilings, and an open layout.
Did you make any modifications? If so, what were they?
Yes, we did make modifications. We flipped the layout of the plan. The main modifications we made were in the kitchen. We added a window because we wanted a view of the backyard from the kitchen. One of the reasons we bought the lot was a 100 year old oak tree in the backyard and we wanted to be able to see that from the main living space. So we took out upper cabinets on either side of the window because we just wanted the focus on the view out the window. But that meant we had to redesign the layout of the kitchen as far as the sink and appliances.
We also added French doors on the side of the kitchen that open to a deck. In the master bath, we changed the tub to a large, walk-in shower. We changed the layout of the upstairs bath so that we could have a freestanding tub.
[Editor's note: the Houseplans modification department can help you make all kinds of changes to most plans.]
What was your timeline and how long did it actually take?
We had hoped it would take 6-9 months but it took about that long just to get the building permit. Once we started building, it took about 9 months.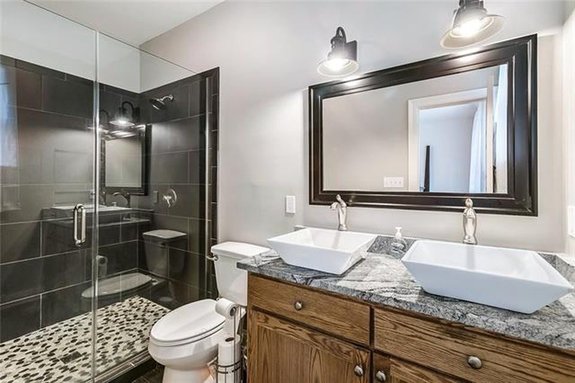 The master suite sports a spacious bedroom, dual sinks, and a walk-in shower.
If you could do anything differently, what would it be?
We thought we could save money by buying a cheaper lot, but it cost us time and money in the long run.
Prior to building this house, we had remodeled a house and with remodeling, we made decisions as they came up. With building a new house, we wish we had planned everything out before we began. Things would have flowed more smoothly and the budget would have been more accurate if we had decided on everything, down to doorknobs, before we began.
Who was your builder?
Southwest Builders
What did you learn from this experience?
The main thing we learned was to plan everything out before you begin. Because we made modifications to the kitchen and the master bath, it started a series of small modifications that we didn't completely anticipate until we got into the process. We should have determined the design more specifically before we began.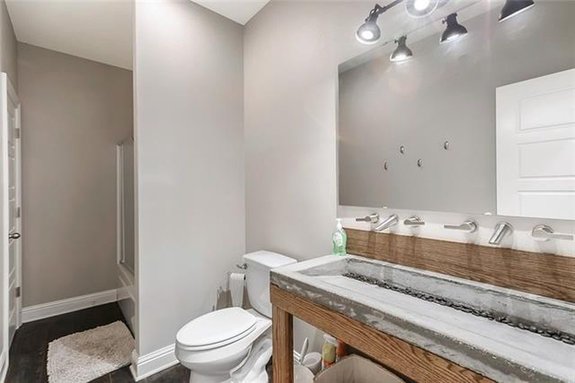 The upstairs space could be used as a guest room, home office, game room, and more. All photos courtesy of Cody Currier and Nola Real Estate Marketing.
For more farmhouse bungalows, click here.