By Courtney Pittman
Houseplans.com customer Randi F. built her dream modern farmhouse plan in Pennsylvania – and we are swooning (to say the least). With a wraparound porch, elongated windows, and a classic metal roof, this standout design (plan 430-160) boasts bold, country style. Want to learn more about her building process and see real photos? Check out her interview below.
Click here to explore our collection of modern farmhouse plans.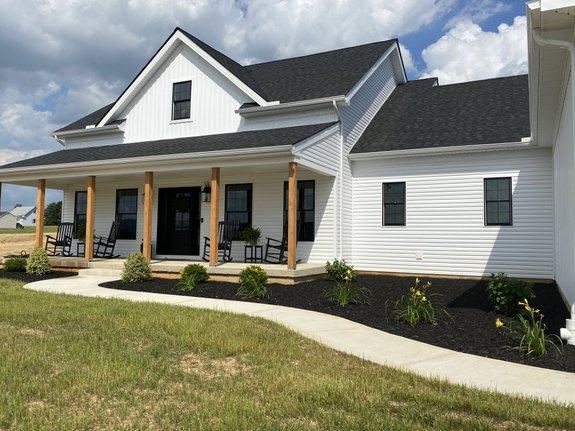 An exterior view of Plan 430-160 in Pennsylvania.
Why did you want to build your own home?
After my husband and I started our family we quickly realized our home, although cute and quaint, was becoming entirely too small for our needs. Children sure do come with a lot of stuff, but then again, so do I! We began looking at homes for sale locally. The selection was not what we anticipated, especially for the price, and we simply could never settle on anything being the right fit for us. We decided that building our own home was truly the only way to ensure that we were going to get everything we wanted out of a home and with the money we had to spend. Best decision – ever!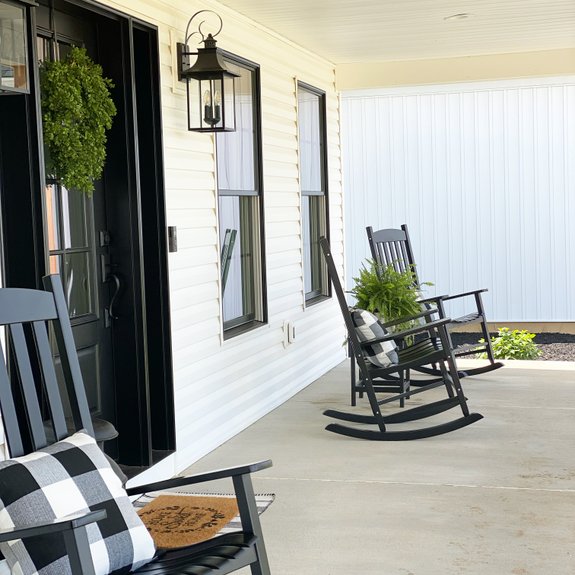 Rocking chairs, pillows, and plants add classic curb appeal to the front porch.
How did you find your house plan?
The process of finding the perfect house plan was at times tedious and frustrating. However, we knew we wanted a one story modern farmhouse with more closet and garage space than our previous home! (Can you guess who wished for which?) We purchased plan books from our local bookstore and went into several model homes, but ultimately we found the biggest selection online. We fell in love with Houseplans plan #430-160 because of its modest square footage, open layout, and charming exterior.
Which factors did you take into account when deciding on a budget?
When deciding on a budget, we took into consideration the money we had saved, our yearly incomes, how much profit we were going to make off of our current home, and what we wanted to pay in a monthly mortgage. With these things combined it was pretty clear what numbers we wanted to be close to. Fortunately, we were able to settle on a price for our home that made us feel comfortable moving forward.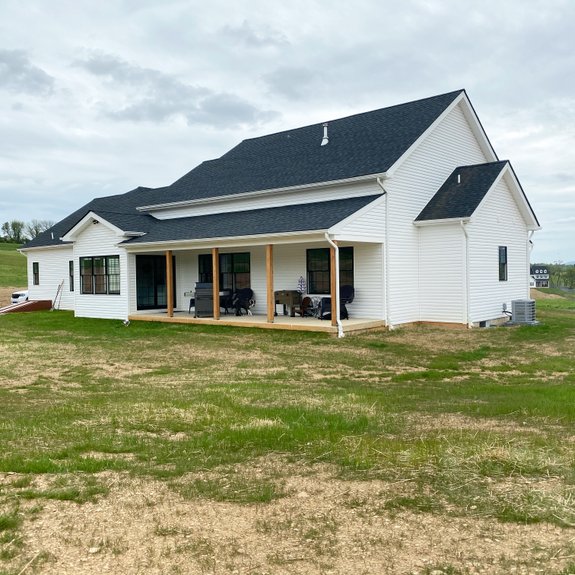 The rear porch provides even more space for outdoor living.
Did you end up going over or under budget? Why?
We went about 15% over budget. Most of this was because we were interested in additional upgrades while we were in the process of building. Although going over budget wasn't ideal, we were fortunate enough to make some changes that added to the value of our home that we will be able to enjoy throughout our ownership of this home.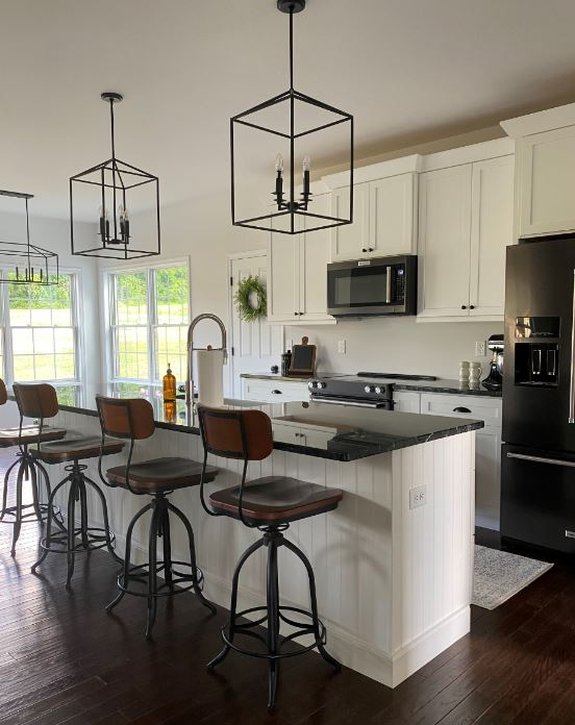 The country style kitchen sports decorative pendant lights and a central island for casual dining.
Did you make any modifications? If so, what were they?
We made several modifications to the original House Plan #430-160 to better fit our needs as a young family. The original plan was 2,282 sq ft. and our home is 2,104 sq ft. One thing we noticed with the original plan was that it did not have a morning room for an eating space directly off the kitchen. We added the room into our plan, which rearranged the pantry location.
The original plan called for Jack and Jill bathrooms for the kids with the only entry to the shared bathroom through their bedrooms. Being that our kids are still so young, we decided to close that wall off and create entry through the hallway space between the bedrooms. This way we were able to gain more wall space in their rooms and we would be able to monitor bathroom usage more easily. We also changed the powder room and laundry room to be directly to the left when walking in from the garage (the original pantry space).
Our master bedroom and master bathroom was rearranged to allow us to have an oversized three car garage. In our bathroom we decided not to put in a soaking tub, however, it would be a beautiful addition to the bathroom space!
The final and probably most visual modification we made was that we didn't make our front porch as big as pictured in the plan. That decision was solely made to cut back costs. However, we did utilize the space below the porches (in our basement) as HUGE closets for when we refinish that space one day! I highly recommend doing this!
[Editor's note: the Houseplans modification department can help you make all kinds of changes to most plans.]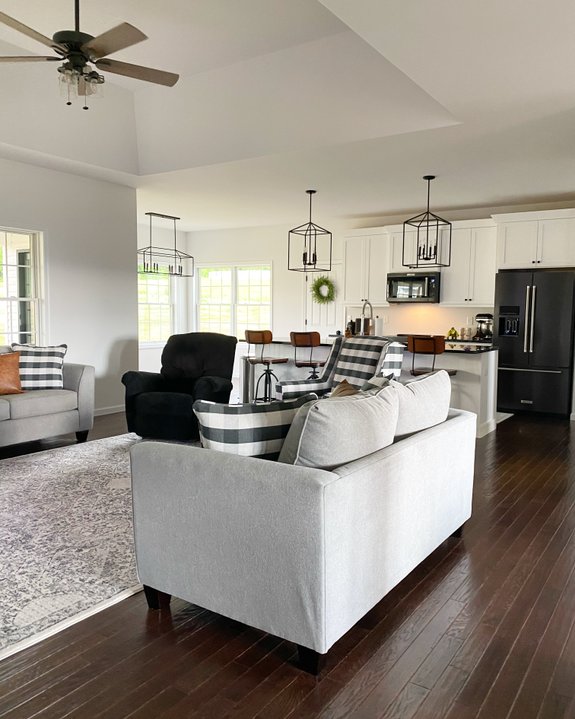 The spacious great room opens to the kitchen, creating an airy vibe.
What was your timeline and how long did it actually take?
We never set a specific timeline for our home to be built. We knew we wanted to be moved in in time for our daughter to attend Kindergarten in the new school district. We started building in July 2019 and we got our temporary occupancy permit and moved in the beginning of April 2020. We had a setback with permits in the very beginning (46 days!) and had changed a few things along the way that also lengthened the process for us. We embraced the time frame as it allowed us to save money, invest more into upgrades, and watch and thoroughly enjoy each step of the building process. While it seemed like an eternity then, it already feels as if this has been our home forever.
If you could do anything differently, what would it be?
Since we found our plans online, we never were able to walk through a physical model of it and visualize all aspects of the home. We felt pretty confident in what we had picked out and the modifications we made with our architect. As we were building, we realized that we should've opened up the foyer space to expose more natural light into the house. Our architect persuaded us away from this option due to all the different ceiling levels that there would've been and the real possibility of it looking awkward. However, we wish now that we would've followed our original notion and went with it. Maybe one day we will undertake a renovation, but until then we simply love what we have!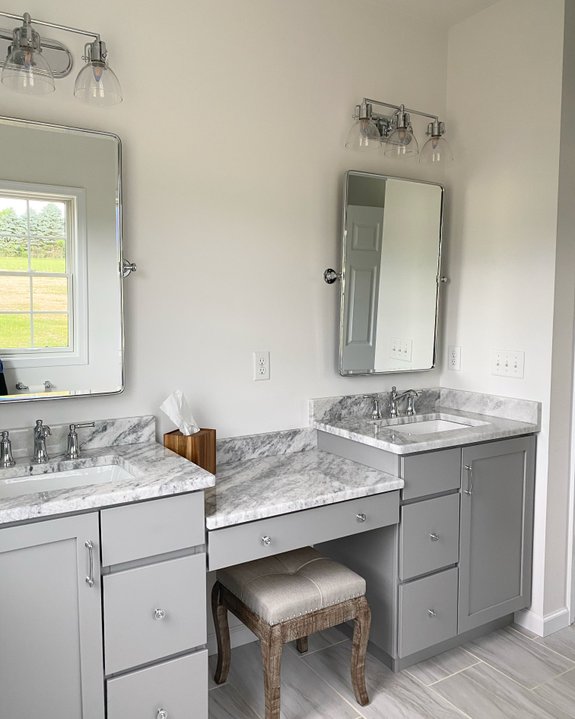 The master bathroom features dual sinks and a convenient vanity space.
Who was your builder?
We built our dream custom home with David Sell of Reen Homes who operates out of Bethlehem, Pennsylvania. Our construction manager was John Beemer.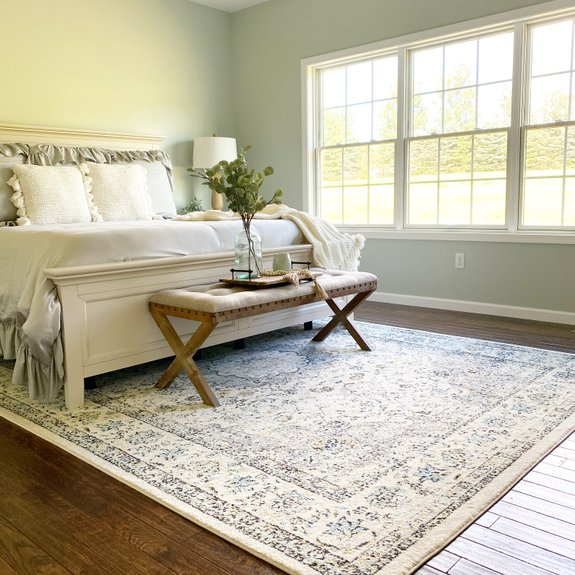 Large windows and neutral tones promote relaxation in the master bedroom.
What did you learn from this experience?
Building a home involves a lot of dedicated personal time, an abundance of patience, and lots of decisive decision making! Despite the challenges it can bring, the joy and accomplishment you feel that first night in your brand new home is immeasurable.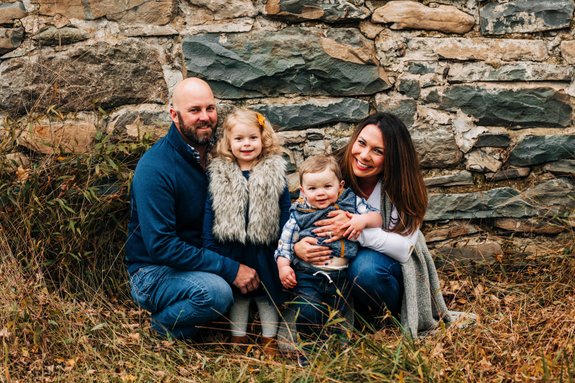 Follow @familymakesthefarmhouse on Instagram to keep up with their home journey! All photos courtesy of Randi F.
For more modern farmhouse plans, click here.