By Courtney Pittman
Love the modern farmhouse look? You're in luck. Houseplans.com customers Christy Greico-Smith and Jeremy Smith built their dream modern farmhouse plan (plan 48-943) in Texas – and our jaws are dropping. With a wide front porch, a super-open layout, and some cool customizations (like a fun bunkroom), this on-trend home design is just as stylish inside as it is outside. Learn more about their building experience (and see photos!) with their interview below.
Click here to explore our collection of modern farmhouse plans.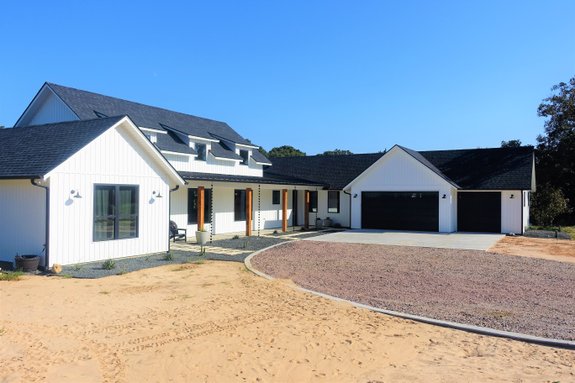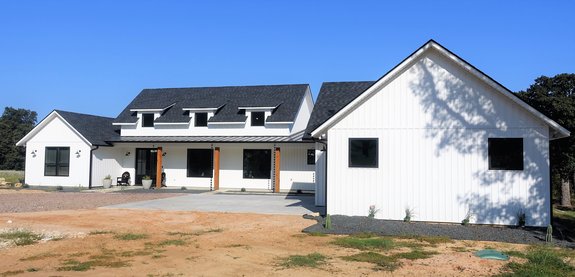 An exterior view of plan 48-943 in Texas.
Why did you build your home?
We had been on the search for a lake home / second home in the Texas or Oklahoma border of Lake Texoma for about a year. We had yet to find what we were looking for. We found a great fixer upper after a long search and it was going to cost a fortune to fix it the way we wanted.
Our realtor then told us of some lots of land that had just come on sale on water and we could build for the same price as the other home. This lake has a beach so when we saw the property we both fell in love instantly.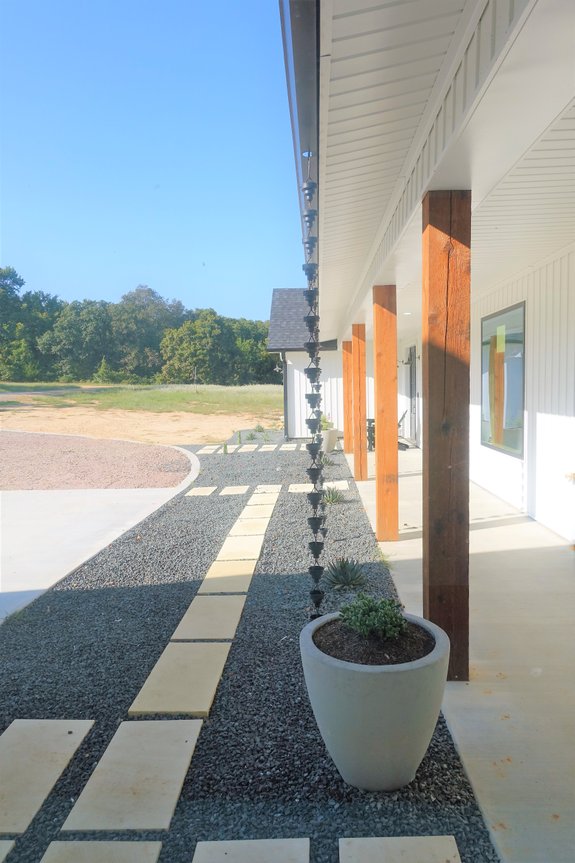 The front porch makes it easy to enjoy the changing seasons.
How did you find your house plan?
We met with several builders and they told us the first step would be to find a plan we liked and we could then modify it as needed. The only things we knew we wanted were a farmhouse style and a very open floor plan (we didn't want a dining room, breakfast area, office etc.) We ended up finding the plan we absolutely loved after searching through house plans for about a week!
We kept coming back to the same plan over and over. So we knew it was the one. The flow of the plan needed almost nothing changed and [it] was the perfect lake house. It's amazing how perfect the house flows. I actually can easily entertain and clean up after 10+ kids at the lake house.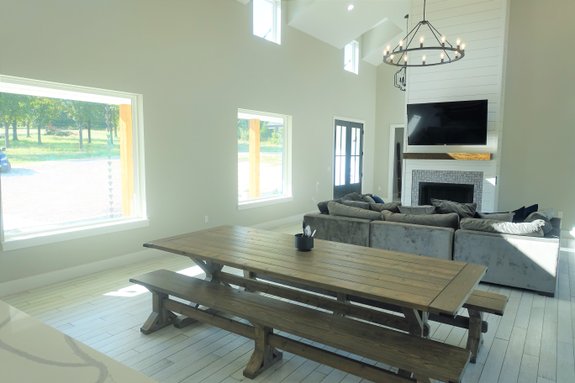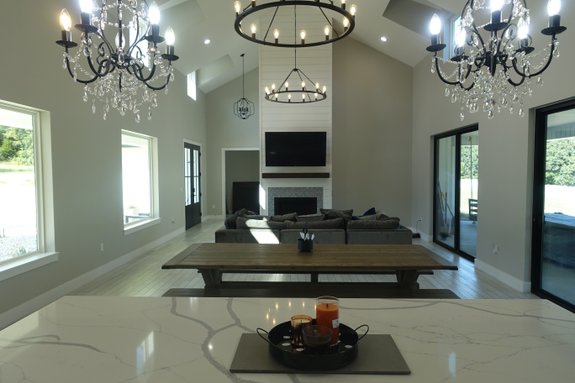 Bright and airy, the great room delivers an open flow.
What was your budget going into the process?
Our budget all in was $600,000.
How much did you end up spending?
We ended up [spending] a lot more. The house came in at around $630,000. The lot itself was $220,000 because it was lakefront and there are not a lot of cleared lakefront lots. We were only off on the build of the house by $30,000. We had some unexpected retaining wall, driveway and metal roofing cost come into play that ate at the budget very quickly. But that figure includes the landscaping which my husband has done all on his own. We wanted a very desert/Arizona landscape so it's easier to maintain.
The house appraised at $730,000 right after it was built. So we gained $100,000 in equity right away. Because of Covid-19, the lake properties have been selling like crazy and we really lucked out with our timing during a crazy and difficult season of life. It has brought us so much joy and relaxation already.
[Editor's note: discover these lake house decor ideas from Country Living.]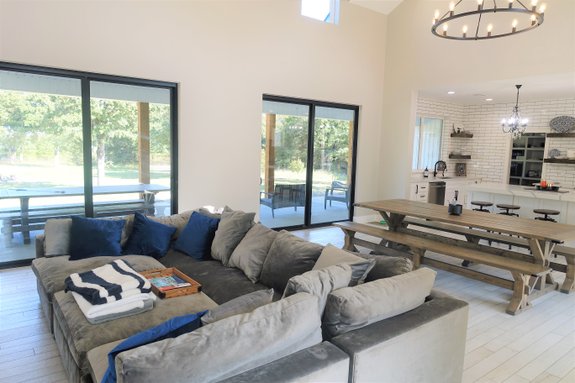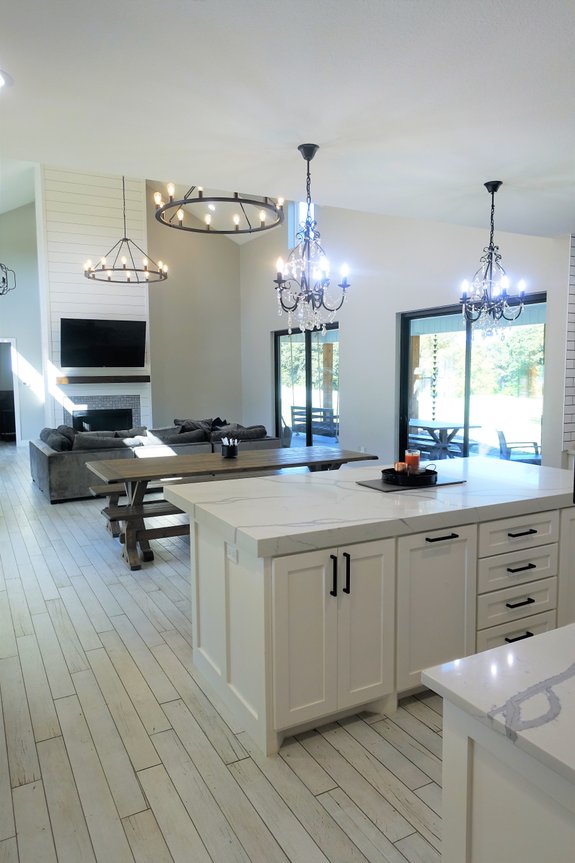 A vaulted ceiling draws the eye up, while the kitchen island overlooks the great room.
Did you end up going over or under budget? Why?
I kept a very, very tight log of what was going out. I found designer inspiration for everything I bought but did not pay full price on any of it. The finish out of the house was taking place during [the] Covid-19 lock down so I was limited to all online shopping at the time. It is a pretty remote area and because of that we were not able to use a lot of our city contractors. The contractors on the lake are more expensive but also very skilled at what they do.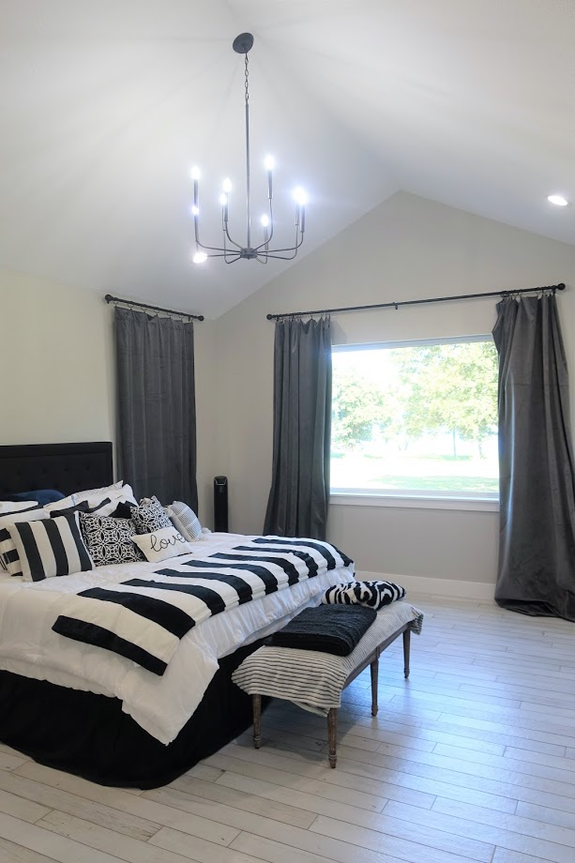 Vaulted ceilings, a large window, and a stylish light fixture make this bedroom feel cool and modern.
Did you make any modifications?
We extended the back bedroom by 8 feet to make it fit bunk beds for a lake bunkroom. We extended the back porch out by 8 feet to match up with the back of the house. We added a closet to the office so it will count as a 4th bedroom. I removed doors from most of the closets and finished them out because I love clean organized closets!
What was your timeline and how long did it actually take?
Our timeline was 6-7 months (in our minds ha) and it took 9 months to build.
[Editor's note: the Houseplans modification department can help you make all kinds of changes to most plans.]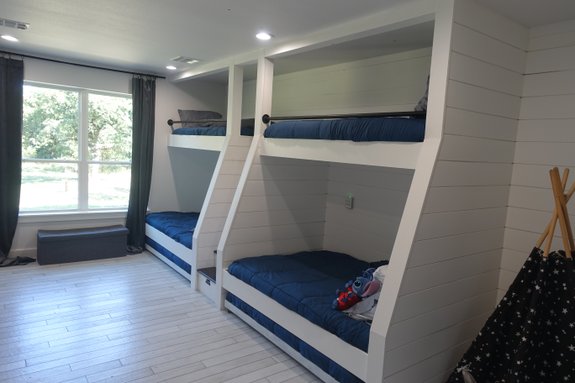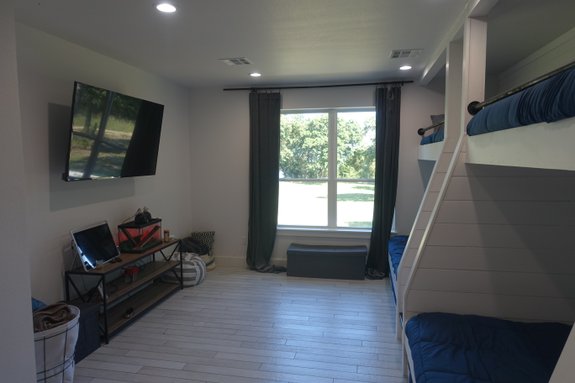 The bunkroom provides more (and fun!) sleeping options for guests.
If you could do anything differently, what would it be?
House is perfect!! If I could change something it would be that I could have afforded more built-ins. But we are slowly adding them all in over the next few years. If this had been our full-time home I would have also invested in the steel black windows and doors throughout. That alone was an additional $50,000 dollars so it was not an option.
Our goal is to slowly add them all in over time. A few of these include: a drink/bar station outside our master and guest bath. [Built-in shelves] and snack station in the bunkroom. Wood tops in the pantry. Because of my need to stay on budget these were out of the question with the trim out contractor who was local and very expensive.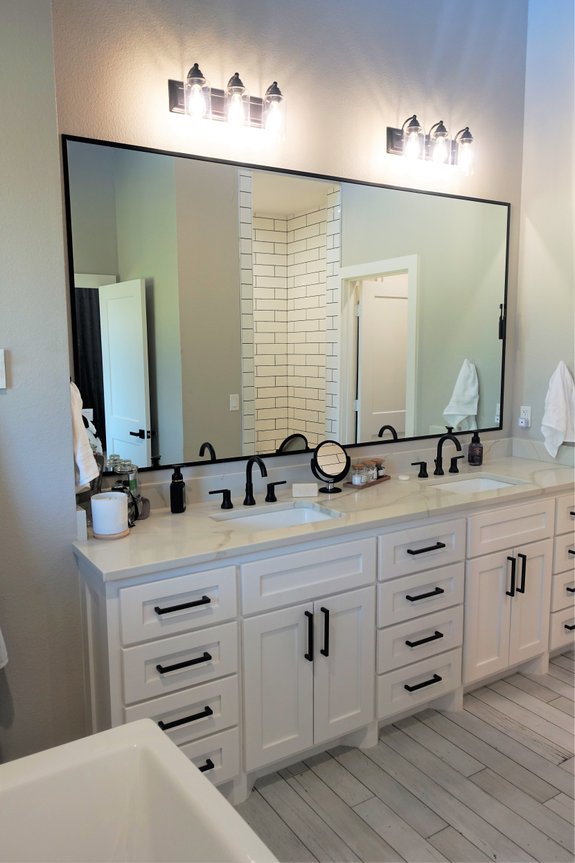 The master suite features dual sinks, a walk-in shower, and a soaking tub.
Who was your builder?
French construction of Kingston, OK. He has been building on Lake Texoma for over 25 years.
What did you learn from this experience?
We loved building so much we want to do it again!! I really love the design process and want [to] build again in the future. We will for sure purchase plans again. These plans made it very easy to build a true one-of-a-kind custom lakefront dream home, something our family will enjoy for generations!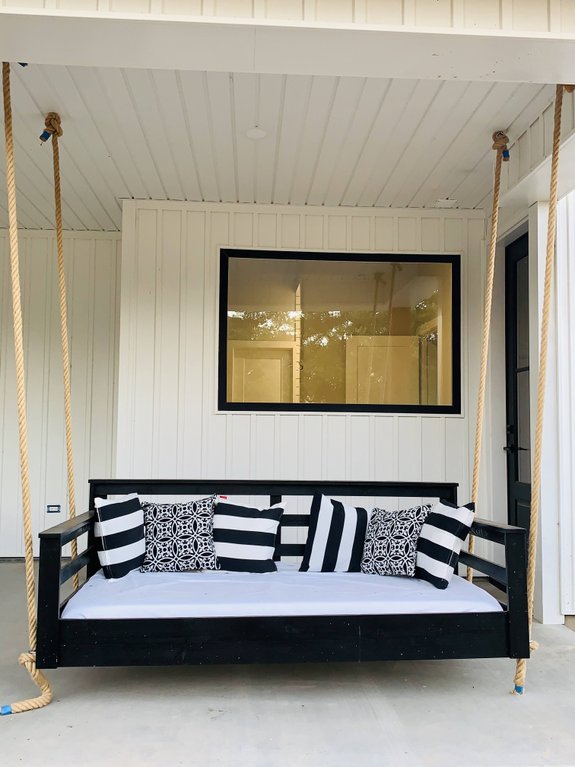 A trendy porch swing adds comfort and style. All photos courtesy of Christy Greico-Smith.
Explore modern farmhouse plans.