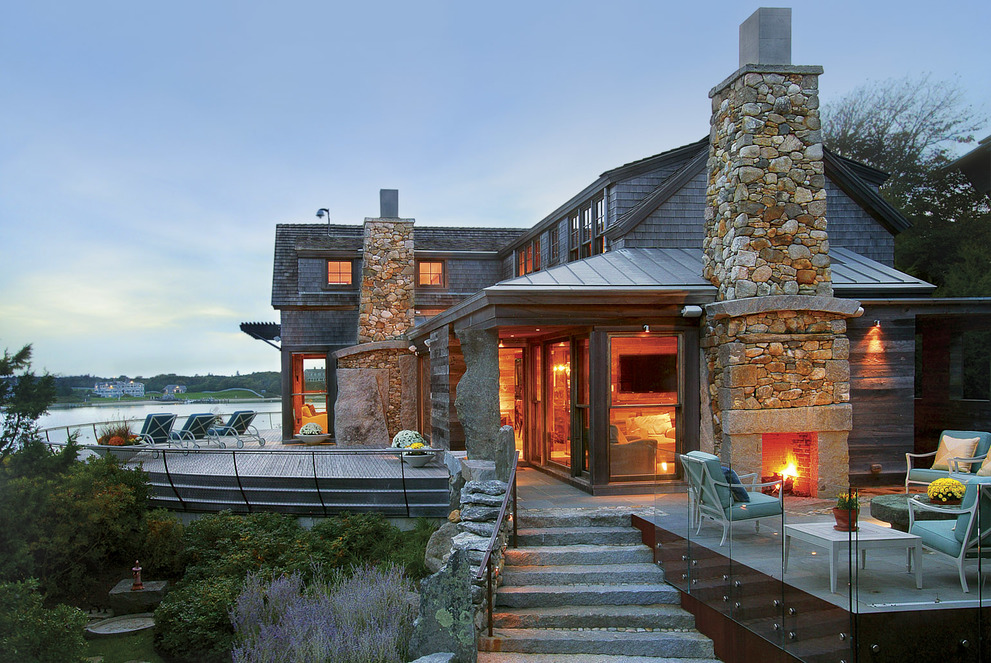 Katie Hutchison writes in "Architecture the Way We Like It" about a home on the island of Martha's Vineyard, Mass., designed by Mark Hutker and James Moffatt of Hutker Architects, that the editor's choice award went to. Deeply rooted to the traditions and style of its place, the house is a singular example of regional architecture-flush with design elements worth replicating in houses of all sizes, budgets, and locales.
A linear arrangement of small and highly functional core elements-mudroom, bathroom, stairs, pantry, and study-anchor the north wall of the house, allowing the shared main-floor living spaces and second-story bedrooms to project toward southern views and daylight. The same approach, though reduced in scope, organizes the nearby guest house.
A deep, sweeping deck wraps the living area of the main house, providing panoramic views and plentiful access to outdoor living space. The deck and all of the interior living spaces are anchored by the massive stone fireplace in the living room.
These spaces remain open to each other to provide the contemporary living environment the homeowner was seeking.
In this home, an approach that combines the best new, regional, and vernacular elements yields an island residence that resonates with its place and time.
The result is a home that collaborates with its site to be at once integral to it, a product of it, and a new manifestation of it.


Read more:http://www.finehomebuilding.com/item/34291/editors-choice-2014-architecture-the-way-we-like-it#ixzz350rWjrZQ
Follow us:@fhbweb on Twitter|FineHomebuildingMagazine on Facebook