As you're sifting through house plans looking to find the perfect one, you might find it a little difficult to imagine the house of your dreams just from sketches and schematic floor plans. Photos speak a thousand words, and when you can visualize all that a house can be from the inside and out, it makes it that much easier to find the one that's right for you. We know that words can only say so much about a design, which is why we put a list together of some of our most beautiful house plans that include photos or helpful computer renderings. Please note that photos may reflect modifications to the floor plans. Call us with questions!
Single-Story Craftsman Design
A lovely three-bedroom home awaits you here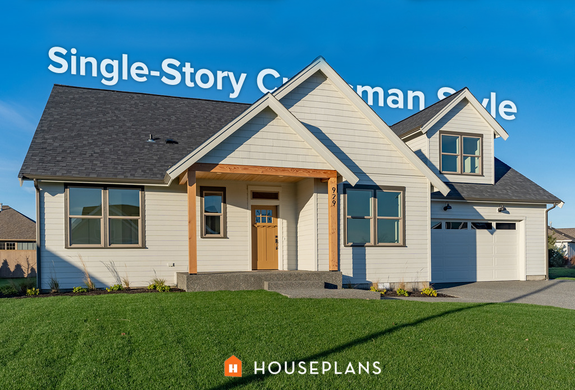 Plan 1070-52 features an open kitchen design.
Craftsman details make this home appealing from the outside, as well as the inside. With 1,339 sq ft, you'll have plenty of ways to use all the available space that this design offers. Two bedrooms are located on the left side of the house as you enter, and on your right is an extra space ideal for a den or office. Continue through and you'll be greeted with the open kitchen, dining, and family area with access to the rear patio (check out these budget-friendly patio decor tips from HGTV). The master suite is located on the right side of the house and includes a bathroom and walk-in closet.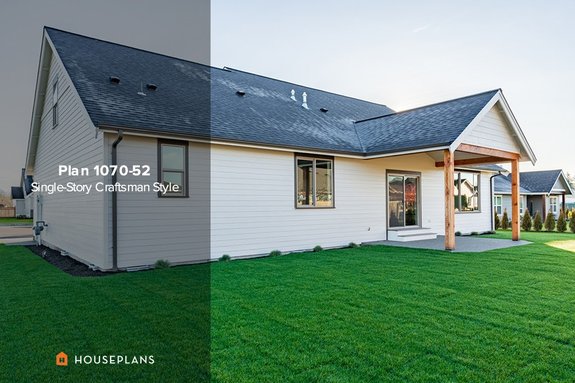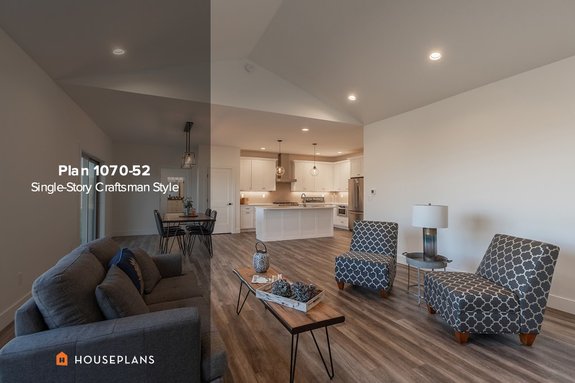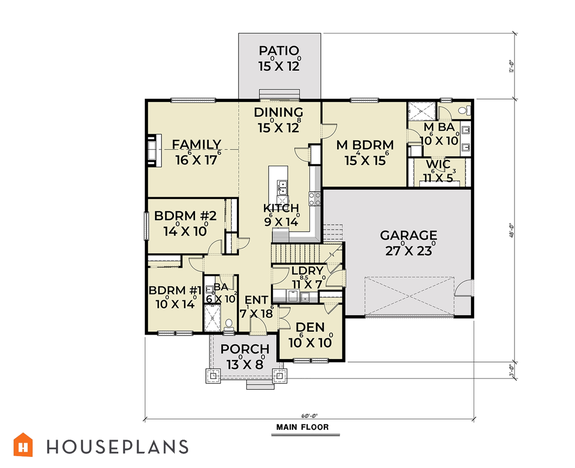 A Two-Story Farmhouse with Modern Appeal
There are many ways to utilize the space this plan offers
Plan 1070-51 boasts a handy walk-in pantry.
The curb appeal of this Farmhouse style two-story plan is unmistakable (much like these farmhouse plans from Builder Online). This design includes four bedrooms and two and a half bathrooms, with a total of 3,138 sq ft of space. On the first floor you'll find the master suite as well as a spacious great room and dining area. Adjacent to the dining area is the kitchen, which comes with a walk-in pantry. On the second floor you'll find three additional bedrooms, a bathroom, and another room that would work well as a family room or entertainment center.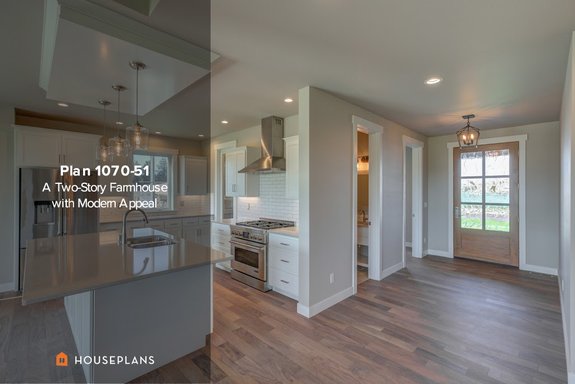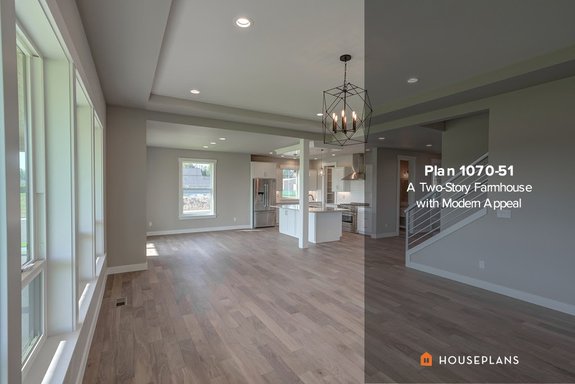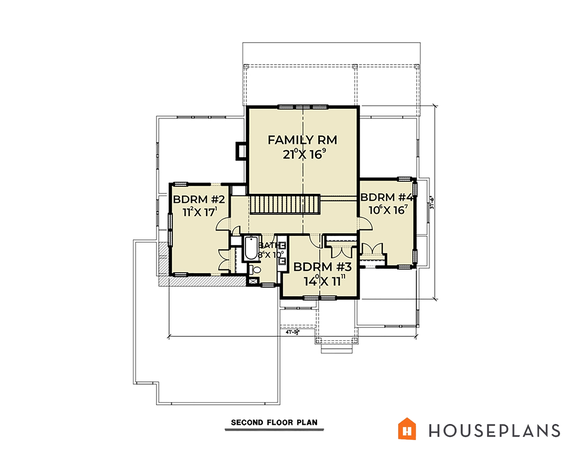 Enjoy Two-Story Living in Craftsman Style
You'll love the modern accents in this classic plan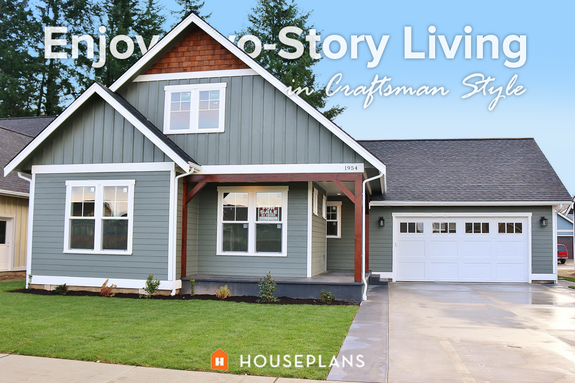 Plan 1070-50 features a versatile loft space on the second level.
The wooden outdoor accents on this house will offer you a welcoming sense of home as you step inside this plan. You can choose to enter either through the front porch, or via the two-car garage and arrive almost immediately in the airy living room, kitchen, and dining area. The rear patio is accessed from the living room and is just the right size for outdoor dining. The master bedroom, bath, and walk-in closet are on the first floor, as is space for a den, office, or studio.
The second floor contains two bedrooms and an additional bathroom. A loft space connects the two upstairs bedrooms and would do well as a workout area or family room.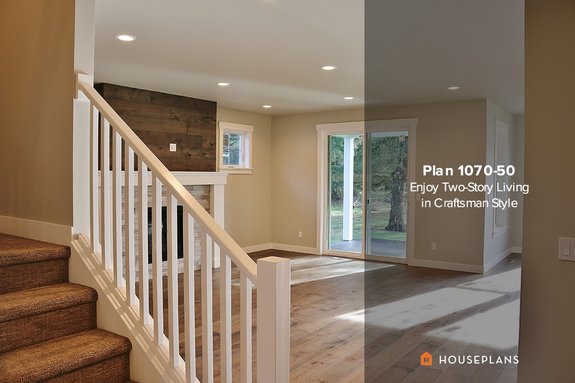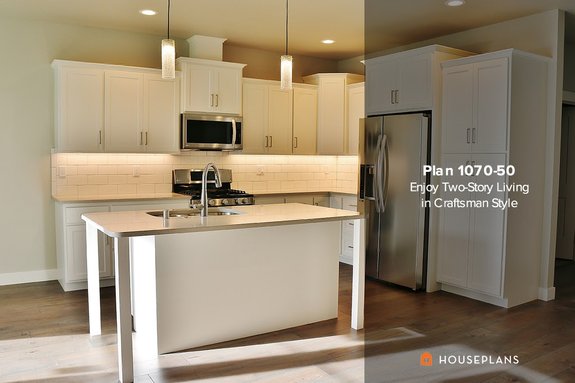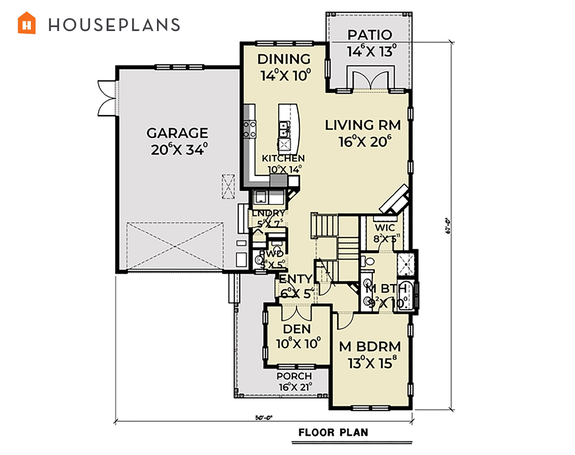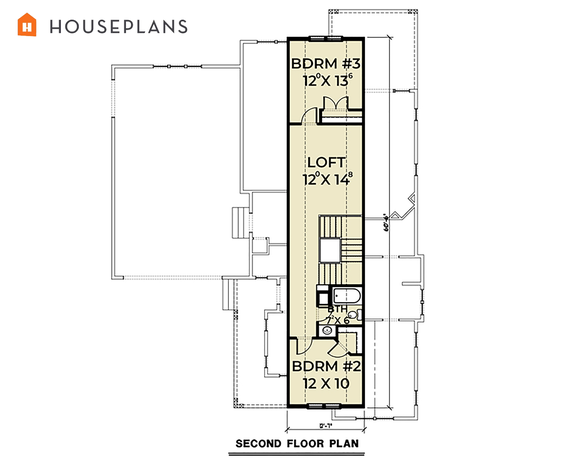 Contemporary Farmhouse Living
A sleek design marries traditional and modern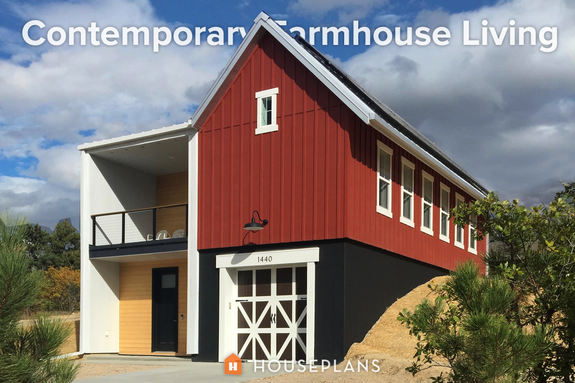 Plan 933-10 feels bright and airy with vaulted ceilings.
This interesting house plan has all the outdoor likeness of a traditional country barn on one side, while the other boasts of contemporary appeal. You will enter this house on the lower level, which can be built to include a two-car garage under the main floor living space. There's room for a guest bedroom and a bathroom on the lower level as well. As you come up the stairs, the main living space opens to a bright and open kitchen, dining, and great room that includes access to the front deck.
This level contains the master suite complete with access to the rear deck, and room for an open office or den area behind the great room.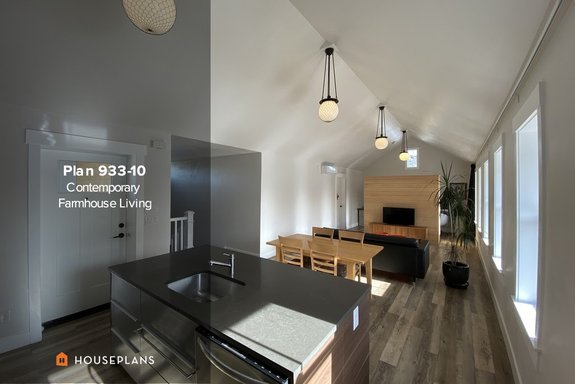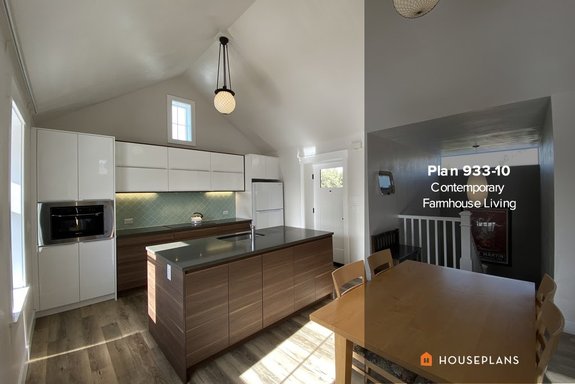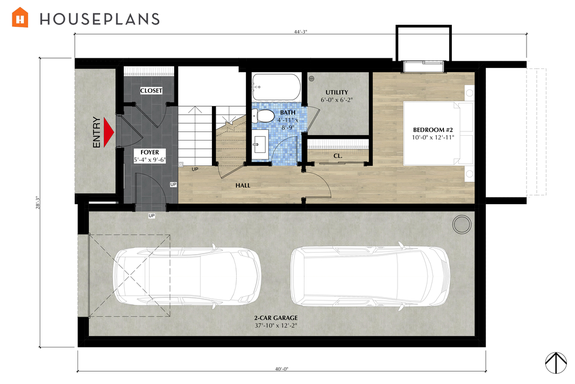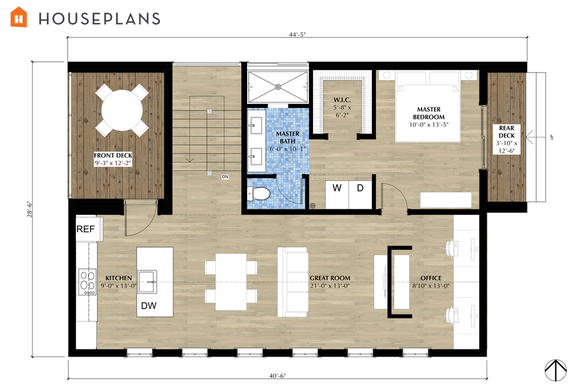 Ranch Style Design Suited for Narrow Lots
This one-story house plan has great options for outdoor enjoyment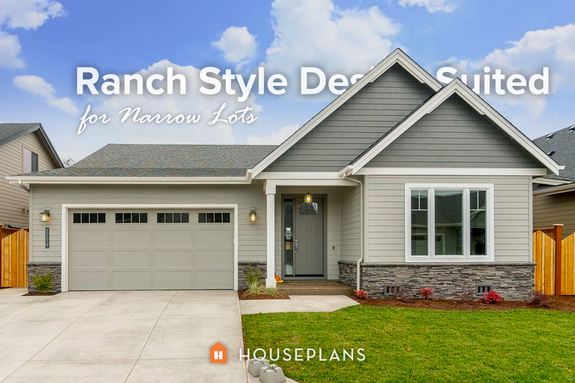 Plan 124-1186 has a covered rear patio for easy outdoor living.
This single-story house plan really knows how to utilize all of its 1,829 sq ft of space. As you enter through the covered front porch, you'll immediately be greeted by two of the three bedrooms (one which includes a vaulted ceiling) and a bathroom off to the right. Continue through the entryway you'll find the open dining area, a kitchen (that includes a breakfast nook and eating bar), and a great room that boasts an eye-catching stepped ceiling. You'll also find easy access to the covered rear patio from this area of the house too. An owner's suite is towards the back part of the house with a spacious walk-in closet and a bathroom that includes dual vanity sinks.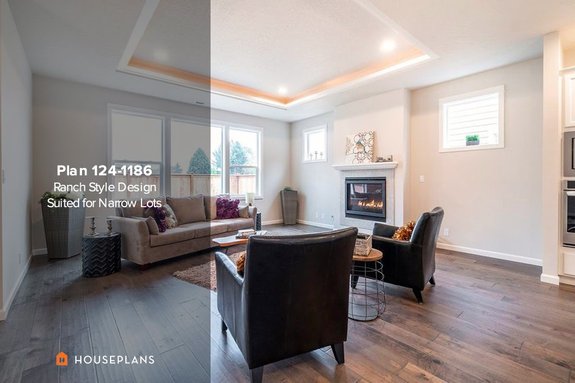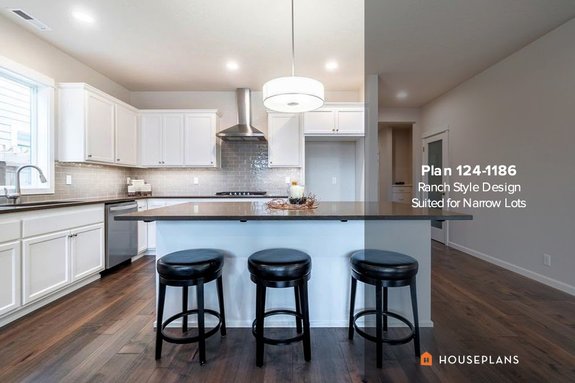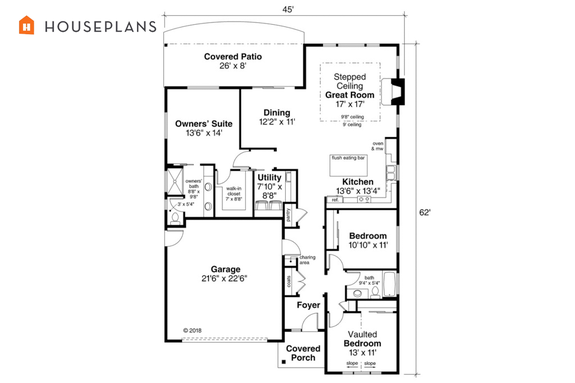 An Eye-Catching Ranch Style Design
Take advantage of the extra room available with the lower level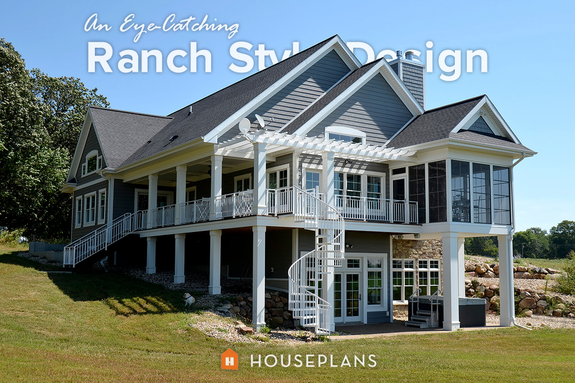 Plan 70-1499 has plenty of room for storage.
This house plan gives you the convenience of one-story living, with the opportunity for extra space or storage below. The lower level in this design could be built to include two additional guest bedrooms, a game room, family room, bathroom, and even open space for a fun inclusion such as a wet bar. There is also ample room for extra storage on this level.
When you ascend the staircase to the main level, you'll find yourself in view of the master suite and an additional bedroom. As you pass by the den/office and into the great room, you're sure to be impressed by all the natural light available in the dining area and kitchen.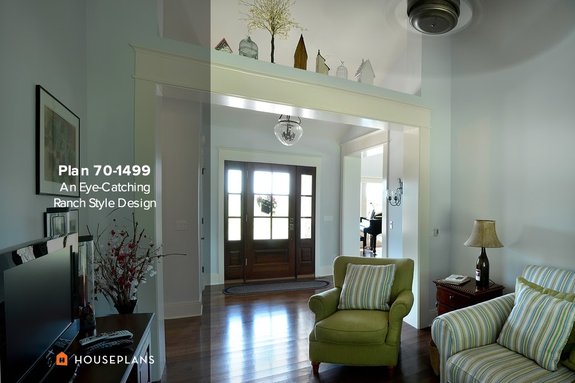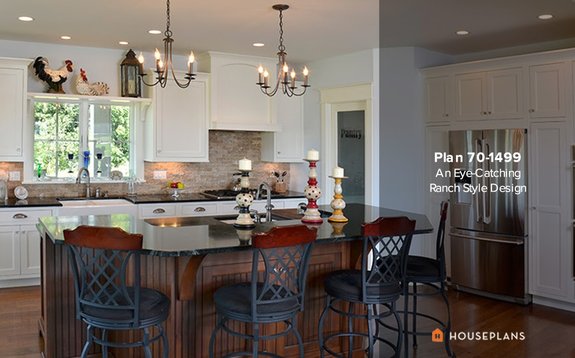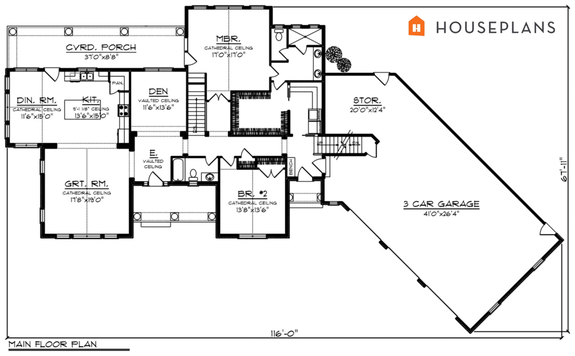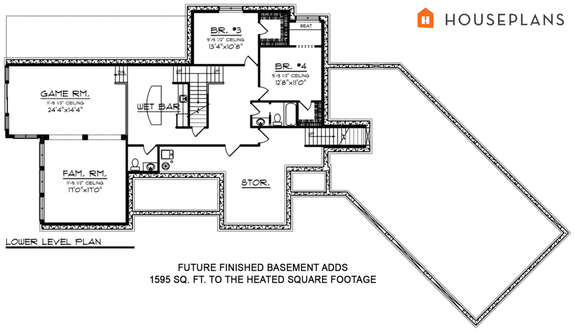 Contemporary Craftsman Design
It's all about the details with this plan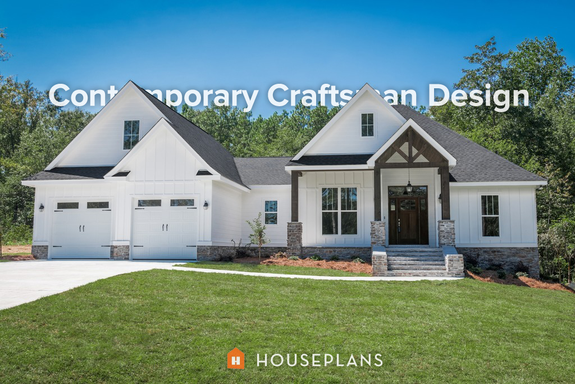 Plan 430-157 offers easy access to the rear porch from the great room.
This beautiful Craftsman home plan would work well on a scenic lot. As you come through the vaulted entryway--that includes an exposed truss and beams-- to the great room, you'll be greeted by split bedrooms on the one side and the open kitchen (that includes a butler's pantry in addition to a walk-in pantry) and breakfast area on the other side. The great room offers easy access to the rear porch and optional patio. On the other side of the kitchen area you'll find the master suite, space for a washer/dryer, and access to the optional bonus room with a bath.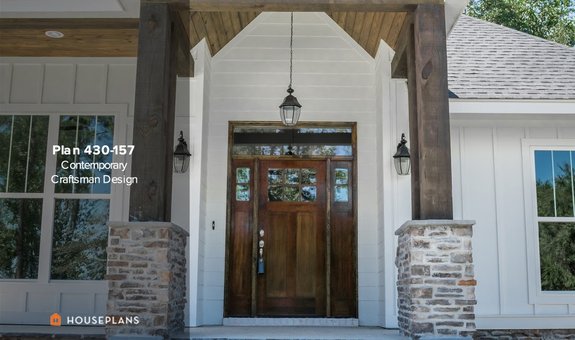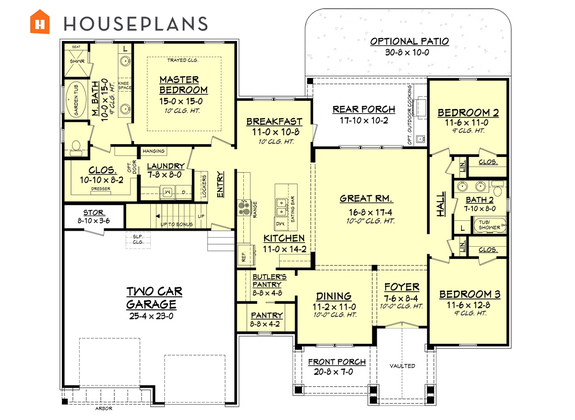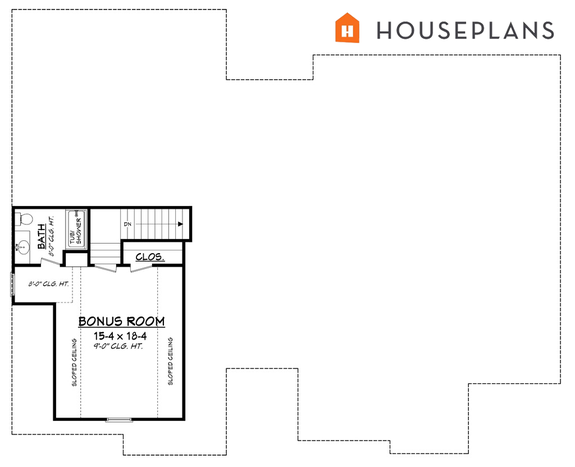 Elegant European Style House Plan
This beautiful plan is sure to impress you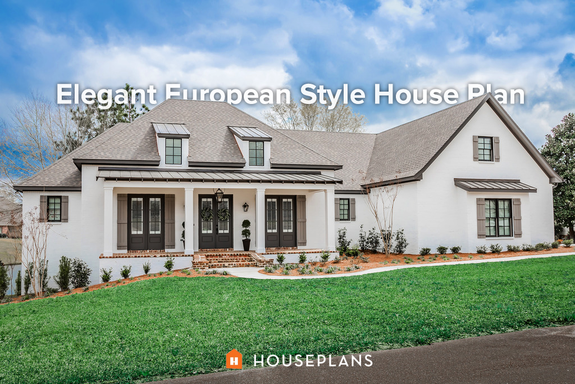 Plan 430-192 sports brick-accented walls and an open kitchen.
Talk about an eye-catching house that offers as much space and convenience as it does style! The impressive entrance brings you through the foyer and into the beautiful great room, complete with a fireplace and brick-accented walls that lead you through to the open kitchen (that includes an eating bar and nook), and dining area with views of the rear porch. Two bedrooms and a bathroom are located beyond the great room, while the master suite--complete with two bathrooms and separate walk-in closets--resides on the opposite end of the home. Enjoy a night of entertaining in the screened porch that includes a fireplace (check out these screened porch ideas from Southern Living).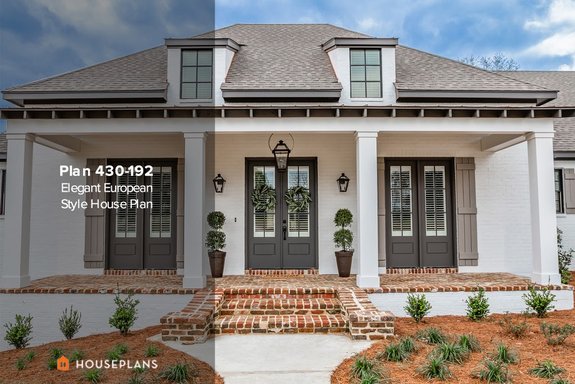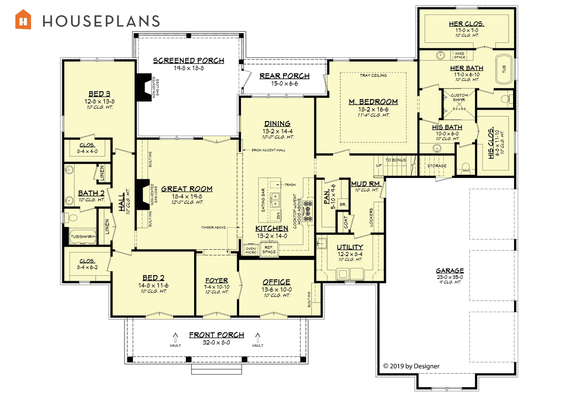 This Attractive Plan Has Lots of Appeal
Enjoy living in this spacious contemporary style house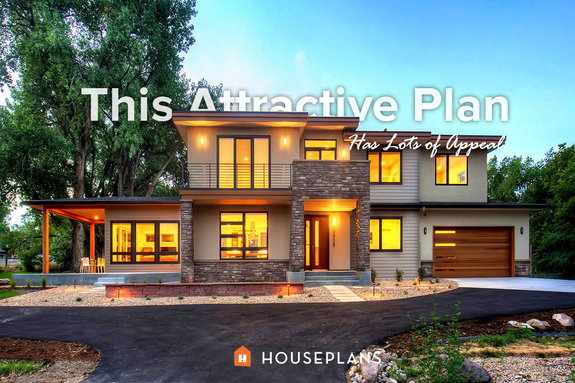 Plan 1042-19 optimizes indoor/outdoor living with covered porches.
If you've always wanted a contemporary style house, this might be the plan for you! This design has an open floor plan that optimizes indoor/outdoor living, with covered porches and front and rear patios offering many opportunities to relax outside. The first-floor dining, kitchen, and great room are enhanced by plenty of natural light and spacious nine foot ceilings. A versatile rec room can be used in a variety of ways.
On the second floor you'll find the master suite as well as space for an office/den. There are two additional bedrooms on this level as well as a bathroom and a convenient area for a washer/dryer.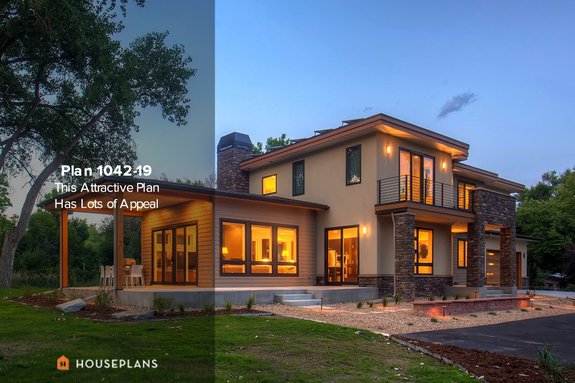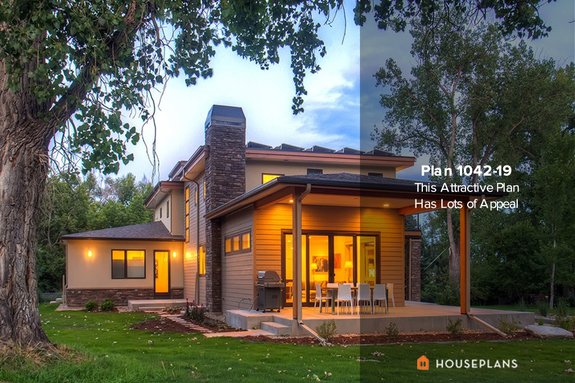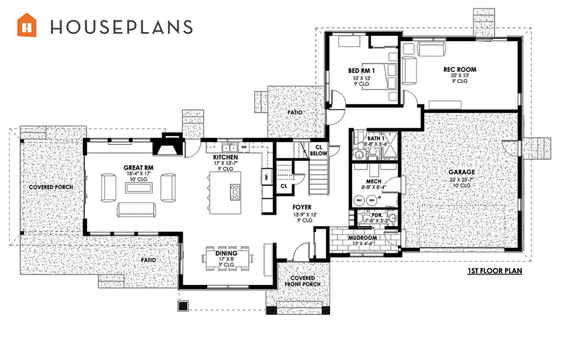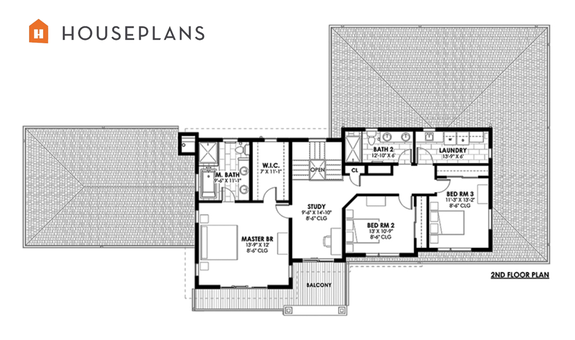 Farmhouse Style with Traditional Accents
A beautiful plan that doesn't skip out on the details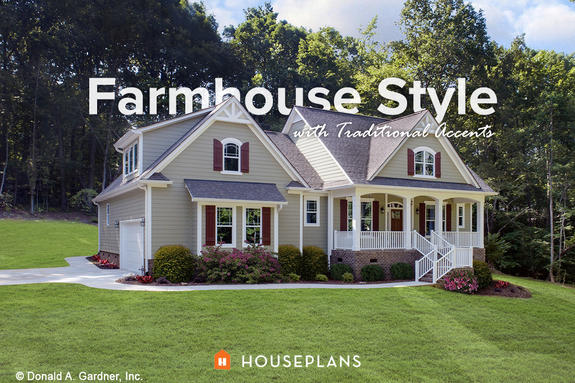 Plan 929-1044 features cool skylights above the porch.
This spacious yet charming farmhouse plan incorporates more space than you might think. With a total of 1,645 sq ft of space, there is plenty of room for three bedrooms and two bathrooms. The open great room features a fireplace and offers access to the rear porch and patio for easy outdoor living. Natural light is plentiful in this area of the house thanks to the skylights installed above the porch. On the other side of the great room is space for two bedrooms and a bathroom.
Tucked away to the rear of the home, the private master suite boasts a walk-in closet, dual sinks, soaking tub, and modern shower. Should you need additional space for storage, not only is there an area in the garage, but you can opt to include a bonus room above/below the garage as well.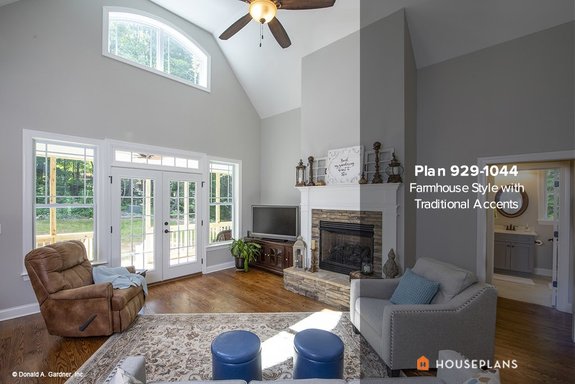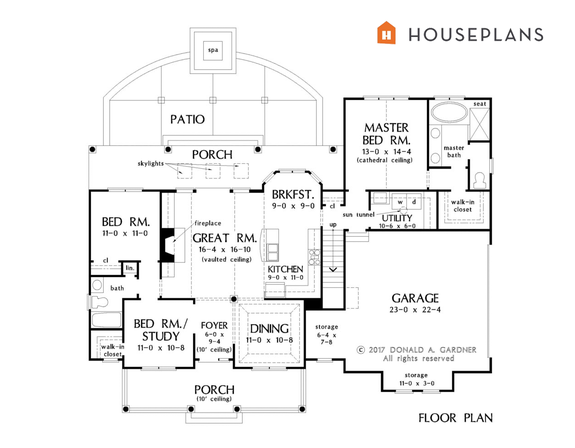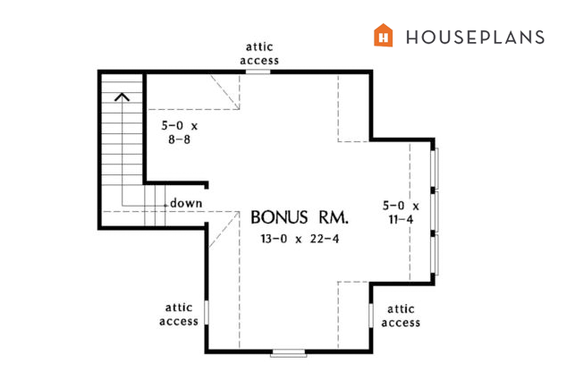 Dazzling One-Story Prairie Style House Plan
This attractive plan is sure to catch your eye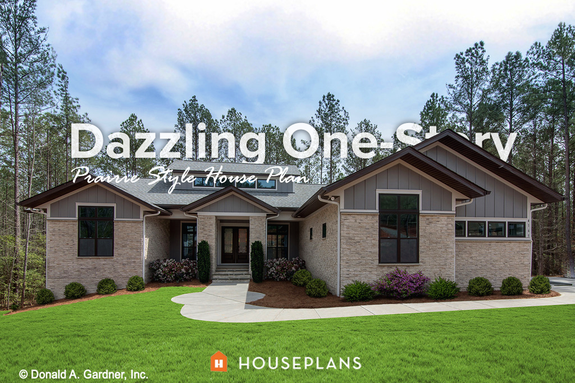 Plan 929-1001 features a luxurious master suite.
A Prairie style house plan that provides ample space for outdoor dining and entertaining! As soon as you enter this house, you'll be immersed in the great room and dining area that include beautiful vaulted ceilings. Straight ahead you can access the screened porch (with skylights!) and continue on to the generous patio space. The kitchen includes a kitchenette wet bar and a powder room off to the side.
The two bedrooms on one side of the house both have walk-in closets and share a Jack and Jill bathroom, while the master suite--that includes a seated shower in addition to a bathtub-- is on the opposite side.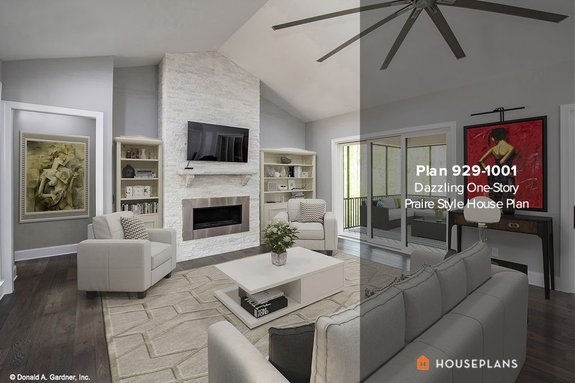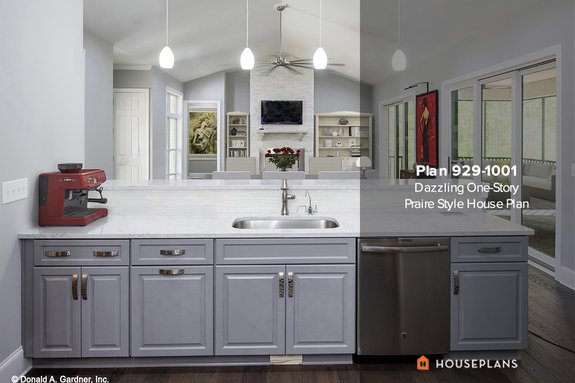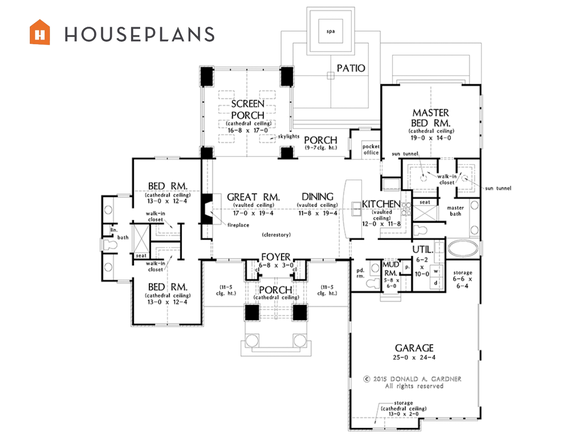 These are some of our most beautiful house plans, all of which include many more photos then we could include here! If any of these plans look like something you'd like to build, contact a Houseplans representative at 1-800-913-2350.