By Boyce Thompson
I'll never forget an experience twenty years ago walking a magazine show home in a new traditional neighborhood. The architect had taken pains to draw a traditional house plan as true to precedent as possible, right down to built-up molding profiles in the living room, a formal parlor near the entry, and exterior details that would make the home easy to confuse with one built eighty years before. The experience raised a question: Haven't there been improvements in floor plans and home construction during the last 80 years?
Click here to browse our collection of traditional house plans.
The answer, of course, is yes. It's a lost opportunity to slavishly recreate designs of the past. The reality is that we know more today about how to engineer homes than we did a century ago. Designers can create compelling open spaces within homes, instead of a series of crammed rooms. They can take advantage of modern materials that require less care and maintenance. The best traditional house plan designs today cater to modern sensibilities. They appear fresh, even as they reference traditional touchpoints.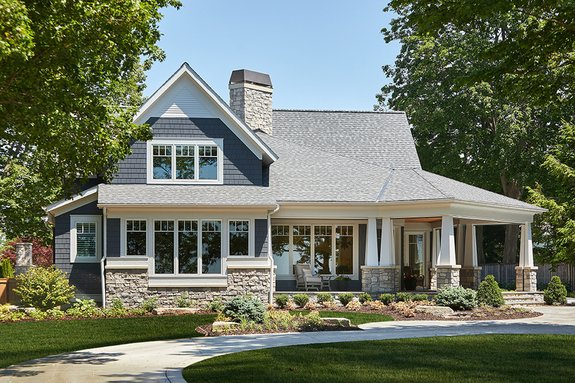 Plan 928-304
Take Craftsman-style house designs that first appeared in the early 1900. The style sought to emphasize the skills of carpenter-builders, who would carve unique molding patterns and build cabinets and trim on site. Sometimes masons would gather stone on site to build foundations, columns, and chimneys. The home designs, as result, appeared hand-made rather than factory-produced, one reason the style remains popular to this day.
The plan above (plan 928-304) retains the tell-tale elements of a Craftsman-style home – a low-pitched roof, a long front porch, and tapered columns – even as it branches out in new directions. A stone chimney and foundation could be built with cultured stone, a less-expensive substitute for the real thing. An angled front door, something you rarely saw back in the day, makes the home ideal for a corner lot. Inside, the living room centers on a large fireplace. But a television could easily be placed on an adjacent wall. with sectional furniture positioned to command views of both amenities.
Abundant windows bathe the interiors with sunlight and, in a modern twist, a sunroom takes full advantage of outdoor views. The plan also features a large private master suite – something else you didn't see a century ago but almost considered mandatory today – with a dedicated bathroom and closet. Three secondary bedrooms are located upstairs, along with two baths. An unfinished basement and bonus area over the garage provide space for expansion or storage, two modern needs that older home designs often can't accommodate.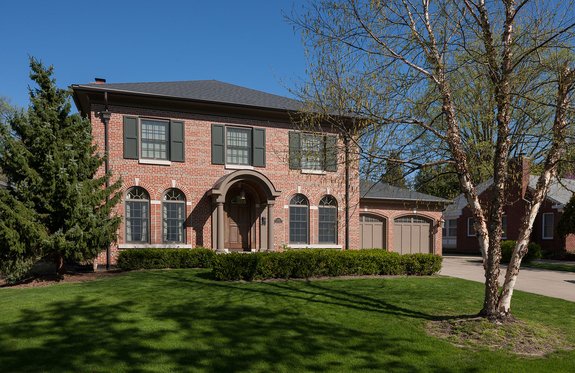 Plan 901-142
There's no mistaking the square, symmetrical shape of a Colonial-style house. Bigger homes would often have five windows on the second floor over four windows and a door on the first floor, earning the moniker "five over four and a door." Storm shutters would close to cover windows in the event of storms. Shallow eaves made it easy to spot decorative dental molding. Columns supported a small covered front porch to protect visitors from the elements. Inside you'd find a "center hall" floor plan with a living room to one side and a dining room to the other. Bedrooms were typically upstairs.
The above plan (plan 901-142) is unmistakably colonial yet makes its own statement. The window configuration departs from the usual pattern, with pairs of keystone arched windows on the first floor. Inside, the house keeps the center-hall emphasis. But there's an office rather than a living room to one side. In another modern touch, visitors can see clear through the house from the foyer to a screened-in porch overlooking the backyard.
The house plan has been updated for modern living. A family room, anchored by a fireplace, occupies the entire back half of the first floor. A stair hall with a tray ceiling and open railing leads to four second-floor bedrooms – two with their own bathrooms, and two that share a Jack-and-Jill bath. The laundry room is also on the second floor. At the same time, the home plan retains traditional elements that still make abundant sense, especially a mudroom off the garage and a large pantry for bulk storage.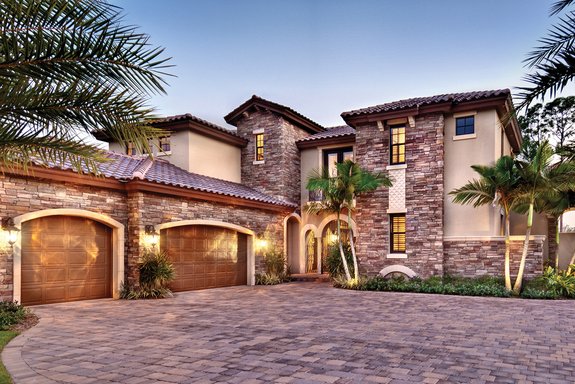 Plan 930-21
Mediterranean home plans remain a staple of American architecture, especially in the warm climates of California and Florida.The look is defined by tell-tale red tile roofs, decorative iron work, a stucco building form, balconies, and stone accents. Stucco and stone often reappear on the inside, along with arched doorways, decorative iron light fixtures, and tile flooring. Another hallmark of the Mediterranean style: intimate connections between indoor and outdoor spaces, a big reason why the style is enjoying a renaissance.
In the plan above (plan 930-21), a large side loggia, running nearly the length of the house, aces those connections. Patio poors and windows open to the loggia from the foyer, dining area, guest suite, and great room to the covered porch, promoting natural air circulation. Elsewhere, windows wrap a dining nook on three sides, providing fresh-air dining. The study has its own lanai, a great place to retreat and read a book. A second-floor guest suite includes a relaxing balcony. The exterior remains true to Mediterranean design with terracotta-hued barrel roof tiles, limestone sheathed walls, stone accents, and golden-hued stucco façade.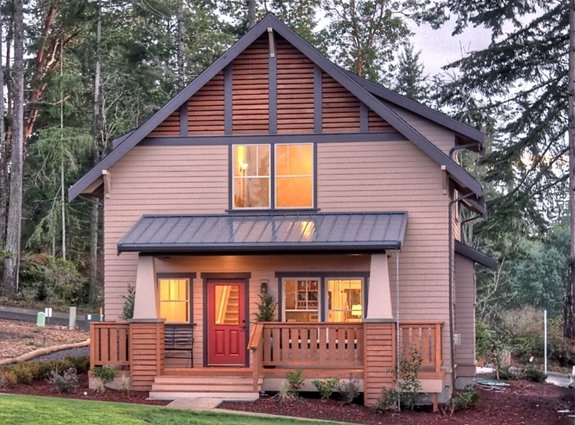 Plan 461-24
Bungalows are another traditional home plan style that doesn't seem to go out of style. Pioneered by British vacationers in India, the style was imported to the United States in the early part of the 20th Century. Americans were drawn to the informality and simplicity of Bungalows; they represented a departure from Victorian-style homes that emphasized formal living arrangements and ornamentation. The style grew so popular that kits were sold throughout the country. There's no mistaking a bungalow – it's built low to the ground, with low sloping gabled roofs, large covered porches, and eaves that provide shelter from the sun. Wood-paneled front doors often have a friendly multi-paned window on top.
Plan 461-24 (above) keeps the DNA of a Western-style bungalow, with its sequenced clapboard siding, exposed rafters, and dormer with a low shed roof. A large front porch, deep enough for a swing, has its own roof, which rests carefully on a beam supported by posts that appear to rise from the ground.
The house plan pays careful attention to dimensions. It's drawn in four-foot increments, which makes it easy to lay in sheet goods in standard dimensions. That results in less waste during construction. The rectangular form of the house keeps bump outs to a minimum; they create extra corners and add costs. The roof and windows are simple yet elegant. Savings in construction leave money for modern upgrades: energy-efficient appliances, solar power, and insulation.
Most deviations from tradition are on the inside. Instead of segmented rooms, the plan favors open space, with lines of vision from front to back. The kitchen and dining room are separated by only a countertop. The design includes a large living room fireplace, but there's room in the corner for an entertainment center. Bungalows were known for their built ins. This modern one includes a built-in desk in the living room.
As the preceding homes demonstrate, traditional home plans offered today can offer the best of both worlds – old-world charm and modern sensibility.
Browse our collection of traditional house plans here.
Explore bungalow home designs here.