By Boyce Thompson
One of the first things to look for in a house plan is how foot traffic would work. Circulation patterns could almost be tracked scientifically, based on the location of the front door, garage, kitchen, family room, and bedrooms. But with a little practice, and some imagination, you can figure out how your family would move around the house on a daily basis. This is important information to have – circulation patterns play a big role in new-home satisfaction. You don't want to walk far with dry-cleaning in your hands. Bathrooms need to be close to living areas.
Click here to browse our collection of open floor plans and mudrooms.
Plan on building your dream home? Download our FREE beginner's guide.
First think about where you are most likely to enter the house. If you drive most places when you go out, the answer may be the garage door. If you are bringing things home from the car – like groceries, dry cleaning, or hockey gear – it's nice to have a place to drop them off inside. That's why you often see a mudroom or utility room close to the garage entry. The beauty of these spaces is that they help you avoid cluttering your home's interior.
In most home plans, the kitchen also takes its place near the entry from the garage. That makes it easy to bring in grocery bags from the car and place on them on the kitchen counter. This can be especially nice if you have a large family and have to make multiple trips to the car. If you regularly bring home a lot of groceries, it's really nice to have a kitchen pantry to store things. Here's a transitional farmhouse plan (pictured below) that's long on family-friendly conveniences. You can find a mudroom, utility space, and a pantry all near the garage entry.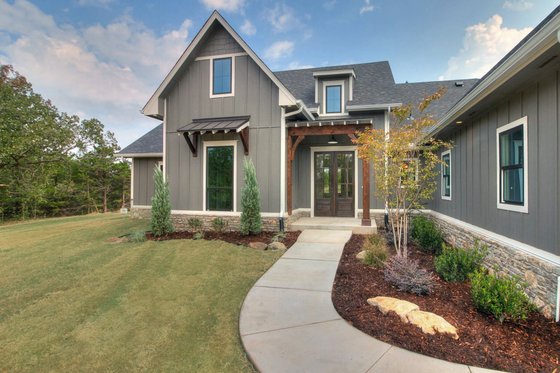 Plan 1067-1
You will use the front door more often if you are building an infill home in an urban location, or if you prefer to leave your car in the driveway. In that case, it's nice to have space in the foyer where you can drop off keys and packages, and a nearby closet to store coats. In older traditional homes, the foyer often provided views of an elegant staircase and the grandest rooms of the house – the living room and dining room. It's still possible to find plans that harken back to those old patterns, if they are to your liking. Here's a traditional plan (pictured below) that makes a grand statement at entry.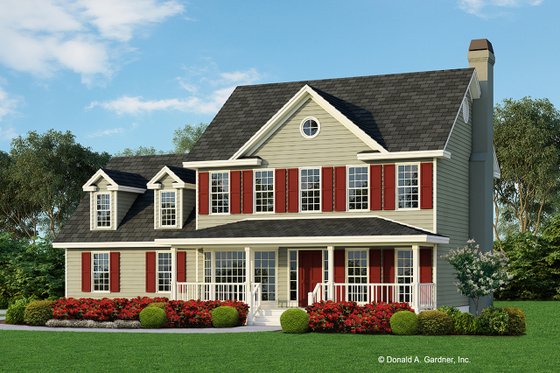 Plan 929-241
Even if you want a less formal home, with the most frequently used rooms aligned along the back, most guests will still arrive through the front door. It's important to think about what they will see and their path through the house. Many contemporary house plans provide a view at entry through the back of the house. It's great when visitors get a view of the great room, or maybe even landscaping in the backyard. It makes your home look larger and more inviting. As the best designers know, human gravitate toward lighted views. The Eleanor by Visbeen Architects (pictured below) makes a strong impression upon entry. You only have one chance to make a first impression.
Plan 928-13
The next thing to look for when studying pathways are hallways and interior walls. These elements not only influence the flow of a house, but they can have a major bearing on the cost of construction. Hallways and interior walls should be essential; otherwise they take up space within a house that isn't livable. Also, since so many new homes these days feature open floor plans, with zones for living, dining, and cooking, they don't need as many room dividers. Hallways and interior walls may be vestiges of obsolete thinking.
Something else to study is how the living zones within a great room plan exist independently and flow together. You need to be able to move around comfortably within public rooms. There needs to be plenty of clearance around the kitchen island, so that it's easy to reach the refrigerator, even when people are sitting at the island. If the plan includes a nook for taking meals, make sure that there's enough space get up from the table and to the kitchen for seconds. The nook in this plan design (below) is not only spacious but enjoys some of the best backyard views in the house. Its close proximity to the powder room is convenient.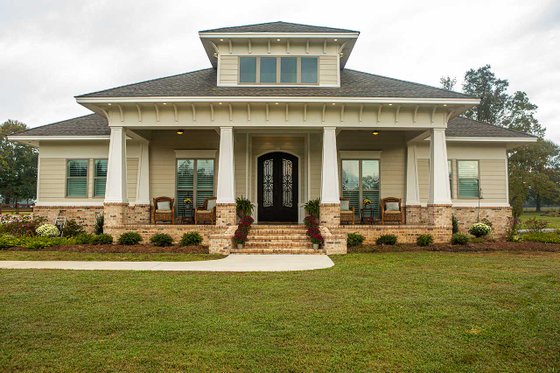 Plan 930-463
If you plan to entertain frequently, a new set of circulation requirements come into play. Party guests who come through the front door need a place to leave a coat. Then they'll want to grab a drink. They usually head in the direction of the kitchen. A kitchen island, which can be used to put out drinks and food, is a great place to congregate. Bars are making a comeback as baby boomers move into their retirement years and entertain more often. Here's a contemporary house plan built for entertainment – inside and out.
Plan 892-14
We've probably all been to homes that worked great for parties. One rule of thumb is to provide large spaces for people to congregate and intimate settings to reacquaint. Rooms need access from two directions so that it's easy for party-goers to circulate. That includes outdoor spaces if you want people to party on the deck or patio. This contemporary plan with Prairie style influences (below) and a wraparound deck would make a great party house.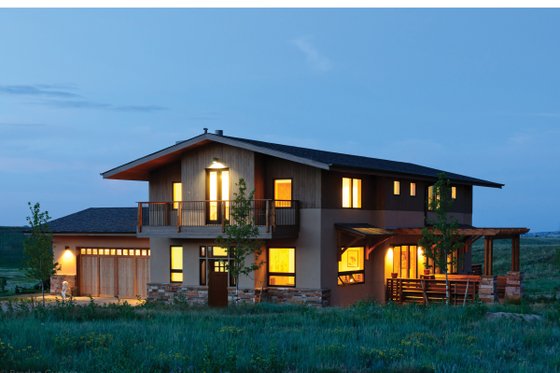 Plan 1042-16
One place where circulation space is often wasted is on second-floor hallways. Bedrooms need some separation for privacy, and you may want a vestibule for the master bedroom to create additional privacy. But the best plans provide quick access to bedrooms from a second-floor landing.
There are some cases where you might want long hallways in a plan. So-called gallery plans focus on providing walls to showcase art and other possessions. It's nice when the hallways end with a focal point – a window, lamp, or piece of art – that draws people down the hall. Here's a plan (below) with long sun-lit hallways that would be great for displaying art or mementos.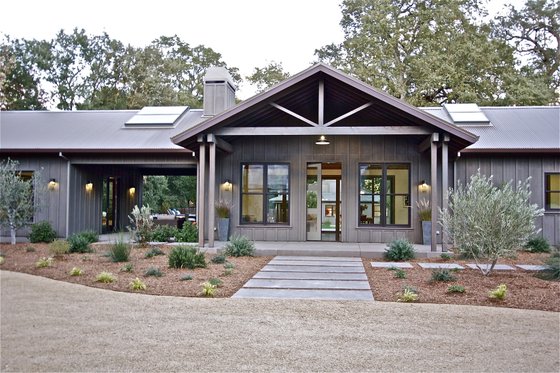 Plan 888-17
Feng Shui – the art of creating good energy flow within a house – takes circulation to a much higher level. It may take an expert to fully analyze a plan for Feng Shui, to see that a home can easily accept and retain chi energy from the outside. But some features that masters look for – like staircases and landings don't face the front door, so that energy can't easily escape – just make for a good house. Kitchens and great rooms will be aligned along the back of the house for the same reason. And bedrooms will be secluded from public rooms. This old-world plan with a rear staircase (pictured below) respects Feng Shui principles.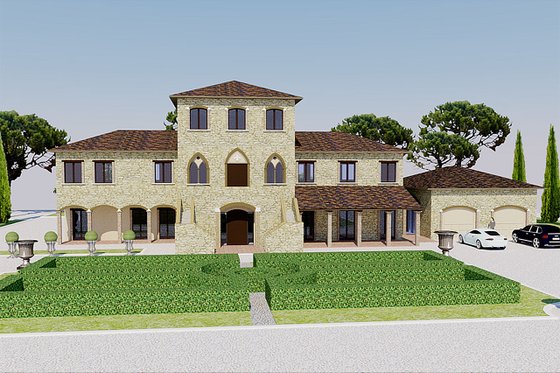 Plan 542-9
Browse our collection of outdoor living plans here.
Plan on building your dream home? Download our FREE beginner's guide.
Are you a builder? Join our Builder Advantage Program (for free!).