By Courtney Pittman
Building a new home can be an exciting (and daunting) process. The burning question every potential homeowner wants to know is, "How much damage is this going to do to my wallet?" Good news! We can provide house plans with cost to build estimates that are personalized just for you. New home construction costs vary widely, depending on where the house is built, the level of finish (tile, trim, window quality, etc.) and the construction site. With our Cost to Build report we can calculate basic building costs for your specific plan, based on the materials shown in the design and current pricing in your area of the U.S. or Canada, while also taking into account your preferences (like standard versus economy finishes).
Click here for more information on Cost to Build.
How long does it take to get a Houseplans Cost to Build Report?
It's instant! Our express Cost to Build report allows you to instantly download your report after checkout. Other reports (that are not express) are usually emailed within 2-3 business days of the order being placed.
What items are included in the Cost-to-Build Report?
The labor, overhead data, and construction materials in our reports are very comprehensive and include these items:
Foundations, heating/AC, rough framing, floor covering, exterior finish, appliances, windows, interior finish, roofing, and more – read more here.
What items are NOT included in the Cost-to-Build Report?
These reports do not include modifications/customizations, landscaping, purchase of the lot, preparation of the lot, site preparation of any kind, flatwork (like driveways), detached garages, or removal of existing structures.
Click here for more information on our Cost-to-Build Report.
Check out these popular plans and find out how much they cost to build!
Upscale Design
This house plan feels efficient and fresh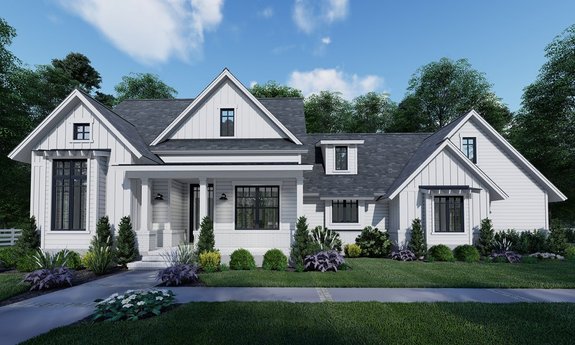 Plan 120-262 invites you to relax outside on the back porch.
Here's a surprisingly upscale design under 1,500 square feet. The open living areas feature French doors to the back lanai, where a fireplace invites you to relax on cool autumn evenings. The huge utility room keeps you organized. Find out how much this plan will cost to build.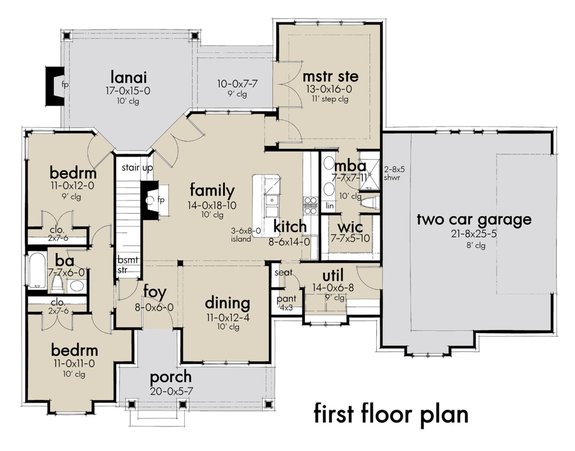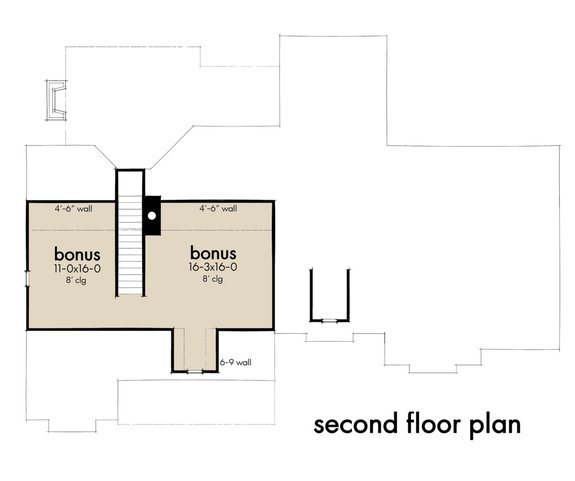 Modern Cottage Design
Enjoy an outdoor living with this modern house plan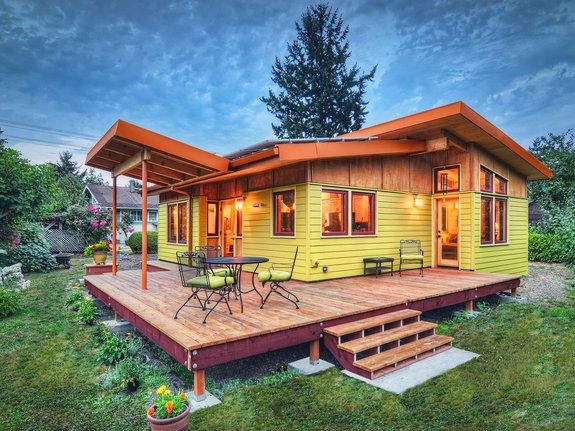 Plan 890-1 makes the most of a small space.
This modern cottage house plan boasts an adventuresome, playful design that makes the most of a small space with private and public areas that connect elegantly to the outdoors (check out these outdoor room ideas from HGTV). This design features a layout that is mostly open between the kitchen and living/dining area, while connecting to a large wraparound deck.
Key elements define individual "rooms" without separating one from another, like the kitchen peninsula and the window seat, making the main space feel larger than it is. Find out how much plan this plan will cost to build.
Modern Style with European Details
This plan gives you room for storage with a bonus space above the garage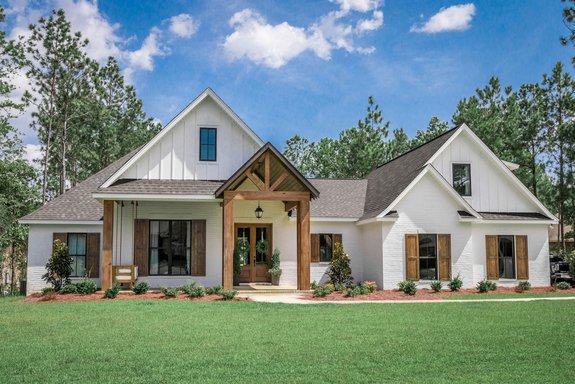 Plan 430-184 offers large porches and an outdoor kitchen.
This modern style home plan sports four bedrooms, two and half baths, and stylish European influence. With large porches and an open design, it offers comfortable living, as well as, terrific entertaining space.
A bonus area over the garage allows immediate storage and expansion potential. Check out the outdoor kitchen on the rear porch. Find out how much this plan will cost to build.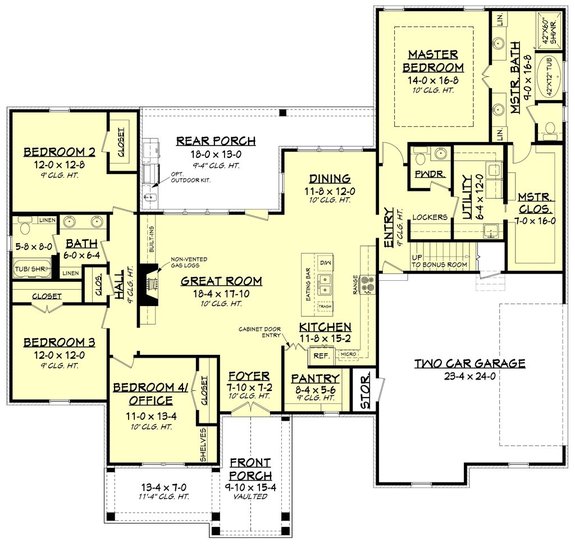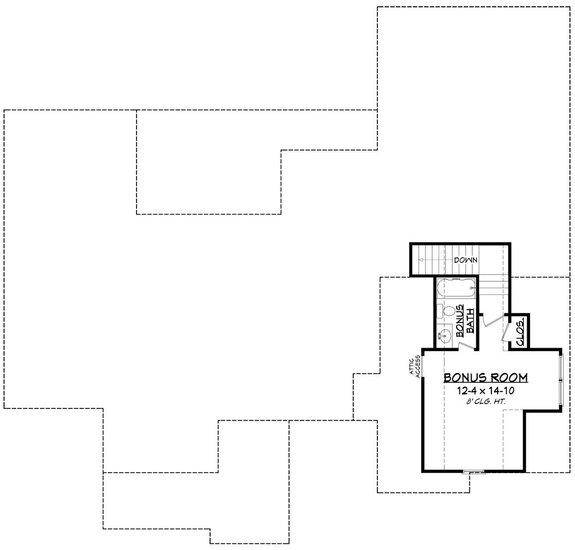 Two-Story Farmhouse Plan
Discover traditional elements mixed with modern designs in this plan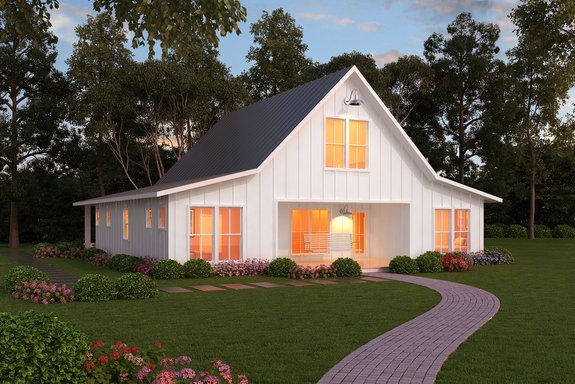 Plan 888-13 is influenced by classic barn design.
The design of this two-story farmhouse home plan design is reminiscent of a dairy barn and employs traditional elements interpreted in a modern way. Details such as the board-and-batten siding and a recessed, sheltered entry, add charm and utility.
A generous veranda/lanai wraps around the great room to allow for easy indoor-outdoor living. Find out how much this plan will cost to build.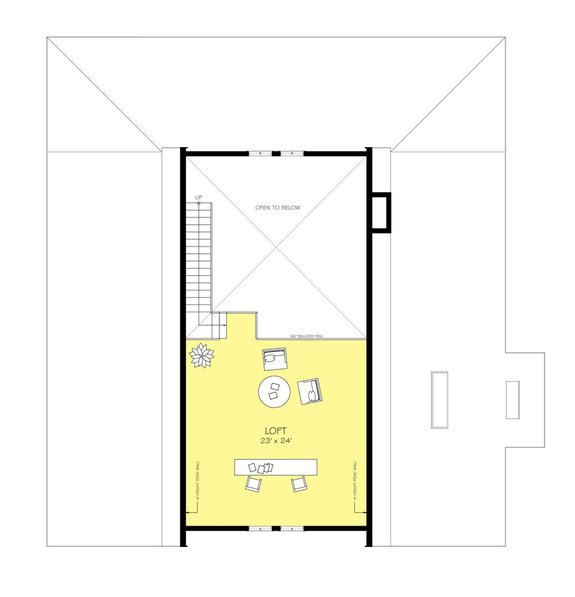 Welcoming Front Porch
Outdoor living is made easy with a screened porch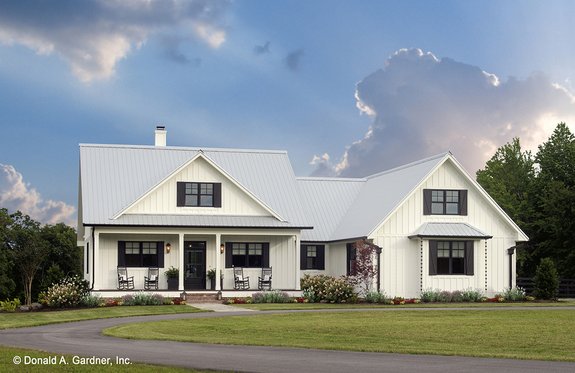 Plan 929-8 sports cathedral ceilings.
A welcoming front porch and prominent gables with decorative brackets add curb appeal to this traditional family home. The great room and dining area boast a cathedral ceiling and open to the spacious screened porch (explore these fall porch ideas from House Beautiful) with its own built-in grill and sink for backyard entertaining.
A mudroom off the garage includes a pantry, closets, and a seat for taking off shoes. The master suite features two walk-in closets and linen storage, plus a spacious bathroom with two sinks. Find out how much this plan will cost to build.
Eye-Catching Curb Appeal
An open layout promotes relaxed living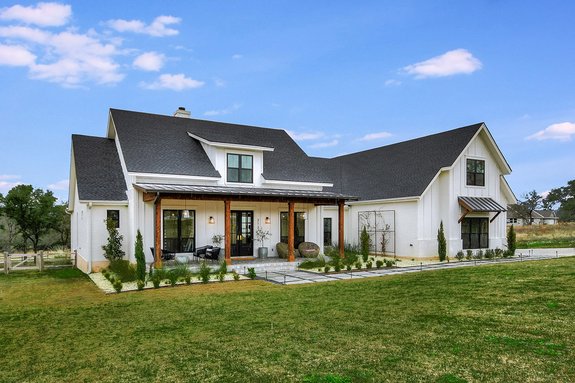 Plan 430-156 offers a bonus suite that can be finished now or later.
This contemporary version of a classic farmhouse displays eye-catching curb appeal. A wide porch welcomes visitors inside, where the open layout encourages a relaxed lifestyle. Serve up snacks at the kitchen's island or sit down for an elegant meal in the dining room. In warmer weather, the rear porch beckons you outside.
You'll find tons of storage throughout the home, with every bedroom boasting a walk-in closet and a huge pantry in the kitchen. The master suite's closet opens directly to the laundry room to make it easy to throw in a load. A large bonus suite upstairs can be finished now or later. Find out how much this plan will cost to build.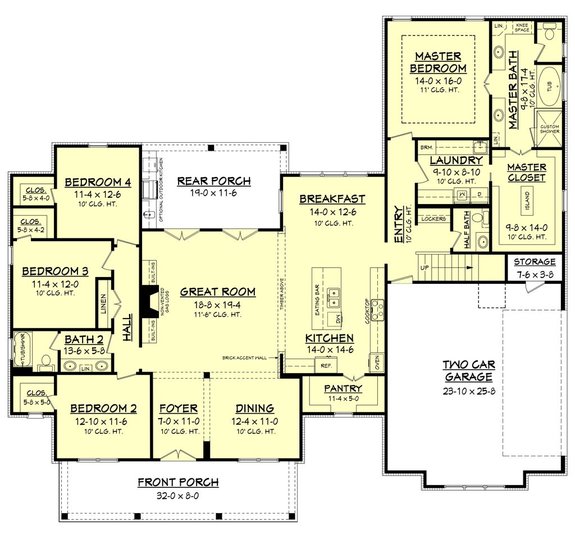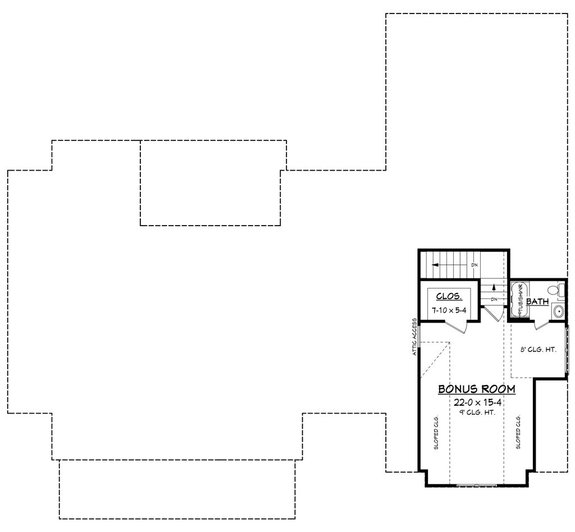 Impressive Indoor-Outdoor Connections
Relax and enjoy the outdoors with this house plan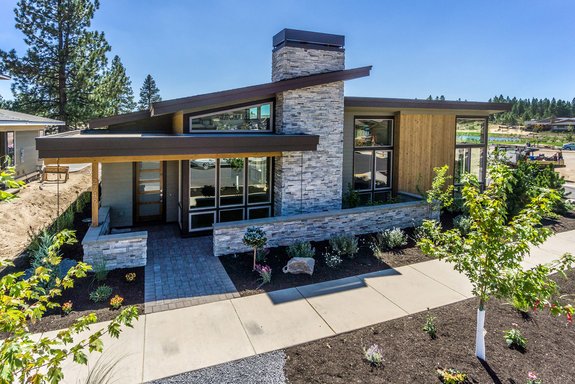 Plan 895-60 boasts a modern master suite.
This 1,731-square-foot modern home design creates impressive indoor-outdoor connections. The open kitchen, living room, and dining area flow out to a side courtyard, so you can relax on your private patio after dinner.
The master suite treats owners to a large shower, two sinks, and access to the courtyard. Find out how much this plan will cost to build.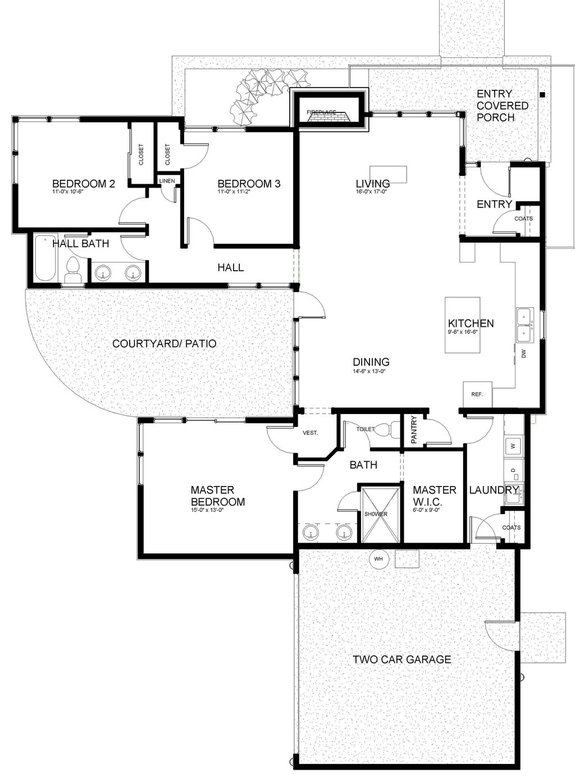 Simple and Efficient Home Design
Take a look at this affordable house plan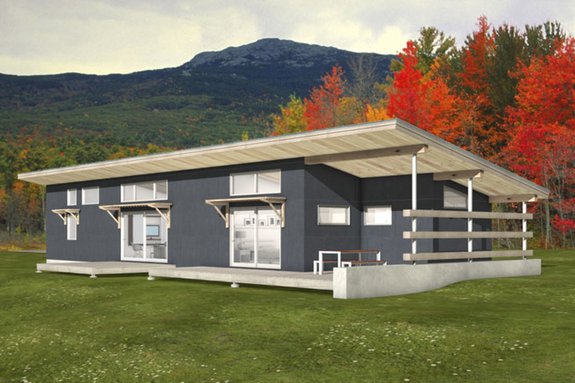 Plan 497-57 features universal design options.
This home plan design is simple and efficient – making it an ideal house plan for a modern family on a tight budget. Hosting three bedrooms, a large master bath room, a simple cost effective bathroom, a large common room, and plenty of storage, this design is full convenience. The single-level layout and universal design options make it an excellent house plan for empty-nesters.
This home features passive solar design techniques such as Southern exposure for large areas of glazing, window shading devices and super insulated construction options make this modern house plan green. The simple shape and D.I.Y. options make this an extremely affordable home design. Find out how much this plan will cost to build.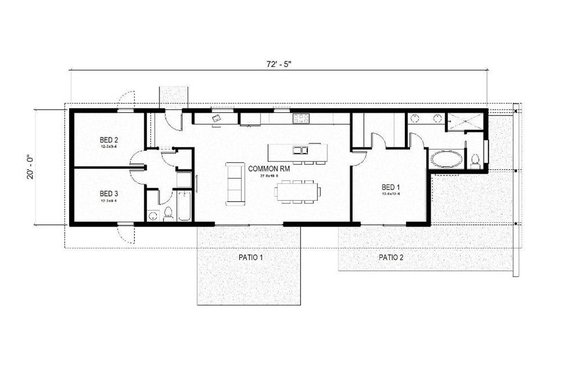 Country Home Design
The master suite offers two walk-in closets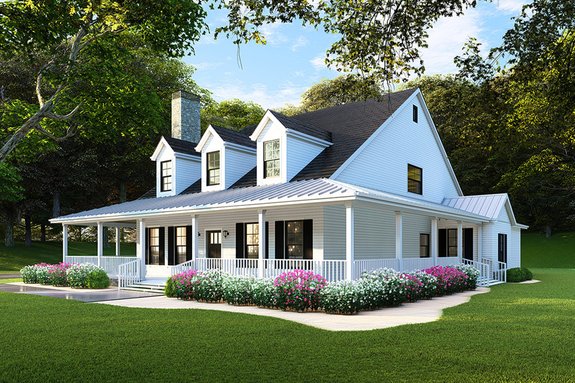 Plan 17-2503 features a large game room on the second level.
This beautiful country home plan design offers a huge wraparound front porch and has a side loading three-car garage. The great room sports a fireplace and is open to the kitchen, which features a large island bar, a walk-in pantry, breakfast nook, dining room, and access to the grilling porch. A laundry room boasts a shower and toilet for even more convenience.
Tucked away to the front of the floor plan, the master suite has not one, but two walk-in closets (organize your closet with these tips from Real Simple), while the master bathroom offers a soaking tub and a corner glass shower. Three more bedrooms are located in the back corner of the house. Don't miss the enormous game room on the second level! Find out how much this plan will cost to build.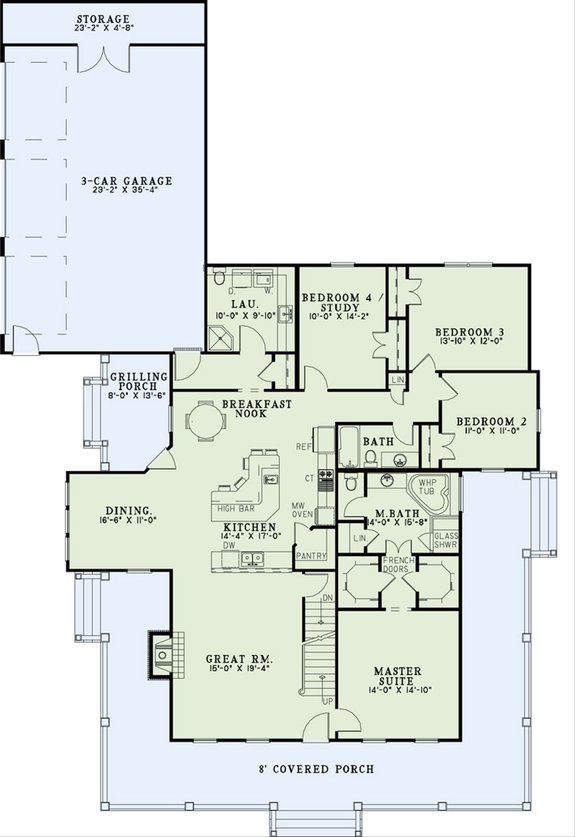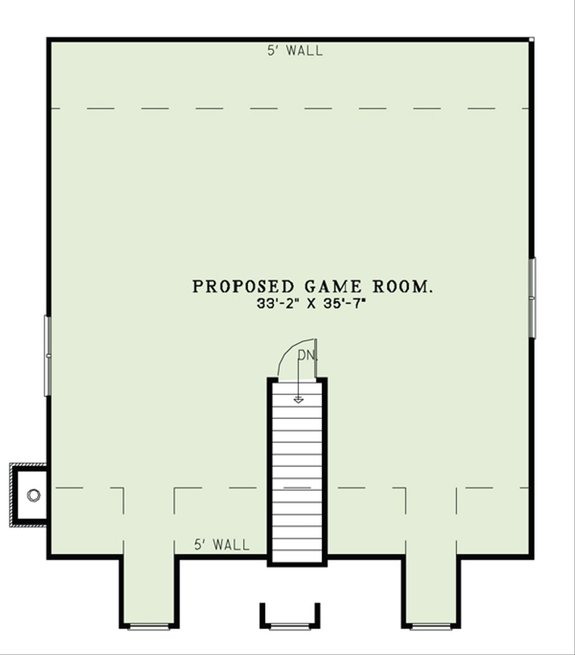 Click here for more information on our Cost to Build Report.