By Courtney Pittman
Full of style and smart features, affordable house plans are typically small, simple, and easy to build designs. With open floor plans, major curb appeal, and sweet indoor-outdoor living spaces, these budget-friendly house plans feel anything but cheap. You can keep building costs down with smaller footprints (check out this article from The Spruce for more ways to cut back on building costs), uncomplicated layouts (hello, open concept floor plans!), and smart material choices. Check out these cheap, easy to build house plans below.
Click here to browse our collection of budget house plans.
Plan 924-14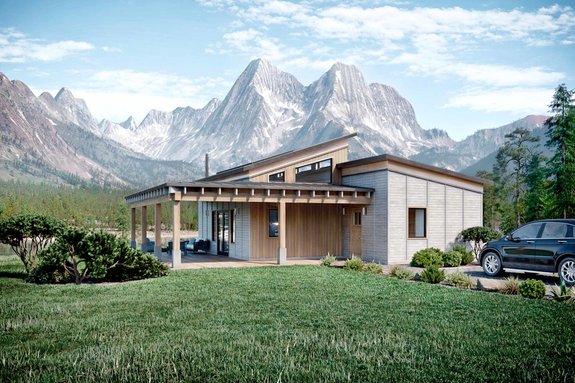 Modern, striking, and open, this new house plan design gives you huge curb appeal with 1,200 square feet. The open layout flows beautifully from the great room to the kitchen and out to the big porch. A home office (attached to the main living area) can be used in a variety of ways.
The master bedroom allows privacy and comfort and includes a bathroom with a built-in closet. Readily available right by the entrance, the utility room can be extended to have a more clutter-free storage space. Don't miss the large covered front porch and sundeck!
Plan 1074-7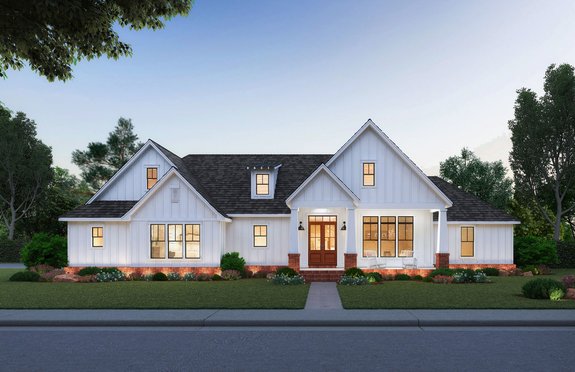 Here's a relaxed, farmhouse-inspired design that feels fresh and modern inside. The great room draws the eye up to a 12' ceiling for an airy vibe, and flows over to the dining room and island kitchen. Check out that rear porch that features an outdoor kitchen, perfect for spring - much like these outdoor kitchens from HGTV.
Plan 929-1093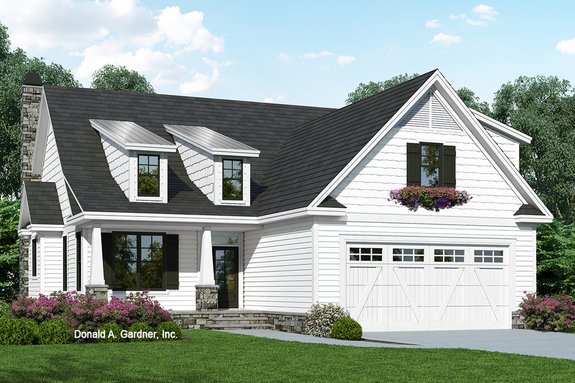 Highlights of this attractive modern farmhouse design include skylights in the great room, a big island in the kitchen, and walk-in closets for all three bedrooms. A bonus room upstairs lets you expand later and can have its own bathroom (check out these smart ways to use your bonus room from Freshome). With minimal bump-outs and an open floor plan, this design can be a cost-effective home building option.
Plan 430-221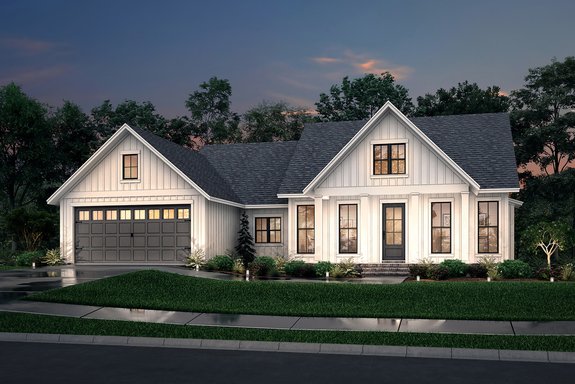 Modern farmhouse style doesn't require a huge budget, as this 1,706-square-foot home proves. You'll find tons of nice surprises, like extra storage in the garage, a big pantry next to the island kitchen, and stylish barn doors. French doors in the great room open to the rear porch for easy indoor-outdoor living. The master bedroom sports a spacious walk-in closet that provides even more room for storage.
Plan 430-217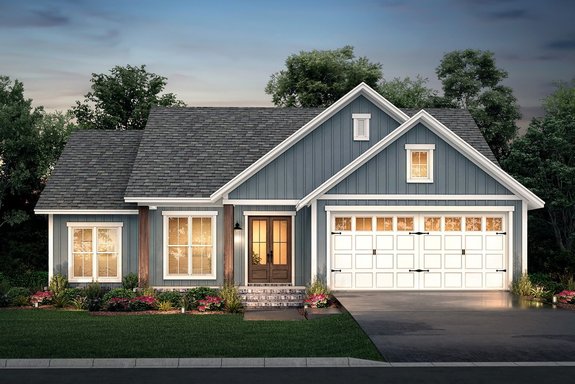 Hello curb appeal! This new, small farmhouse plan offers three bedrooms, two baths, an open layout, a kitchen island, decorative ceilings, and a mudroom with lockers. Tucked away to the right of the floor plan, the spacious master suite enjoys plenty of privacy, while two additional bedrooms and a bathroom are located to the left of the home. Front and rear porches make it easy to step outside and enjoy the day (for porch decorating ideas, read this article from Southern Living).
Plan 461-71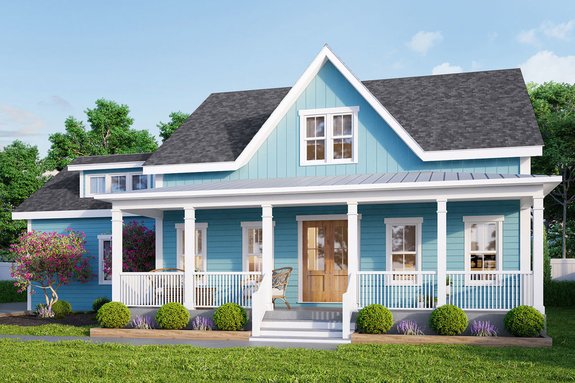 This farmhouse architectural design sports an uncomplicated footprint, making it builder-friendly. The large front porch and double doors welcome guests, while also providing plenty of room for relaxing when the weather is nice. A screened porch at the rear of the floor plan (just off the dining room and kitchen) keeps the bugs at bay. The kitchen is an entertainers dream with a generous island and plenty of counter space.
The main-level master suite gives homeowners privacy and makes it easy to age in place. Upstairs, you will find two additional bedrooms, a bathroom, home office nook, and bonus area over the garage.
Plan 47-1023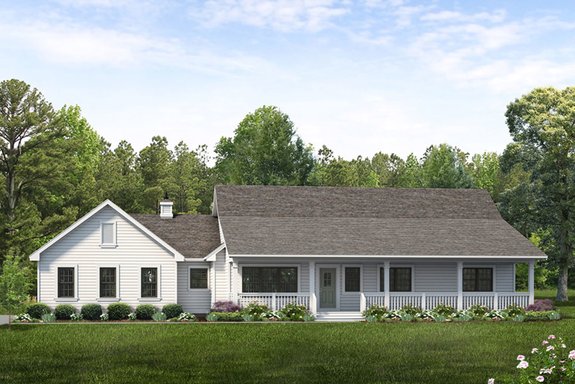 This graceful ranch home design offers plenty of thoughtful touches. Vaulted ceilings in the great room, country kitchen, and master bedroom add a dimension of extra space. Relax in the master suite's tub, where a bayed window gives a lovely view of the backyard. Check out the spacious laundry room/mudroom too.
Plan 924-12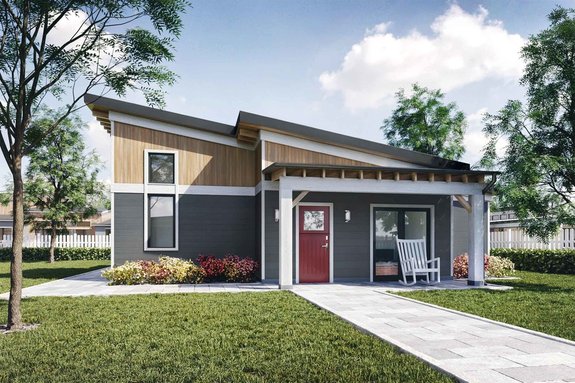 This modern house plan sports an inviting front porch and seamless indoor-outdoor living connections. An open layout between the main living areas creates a relaxed vibe, while a vaulted ceiling increases the volume of the space (making it feel bigger than it actually is).
Open to the covered porch, the kitchen boasts lots of counter space. The living room, kitchen, master bedroom, and the second bedroom has access to the outside through French doors. The second bedroom could be used as the guest bedroom or hobby room. The master bedroom is located away from the main living area to give more privacy and silence.
Plan 923-128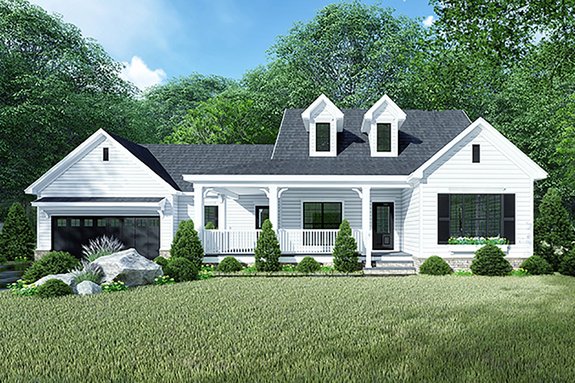 Isn't it a great feeling when you get something that's incredibly stylish AND fits in your budget? Well, if you're looking for a modern farmhouse that's under 1,900 square feet, check out this sweet farmhouse design. An open layout between the main living spaces makes this design feel contemporary and relaxed, while an extra-large kitchen island makes it easy to hang out.
Stylish and affordable, this traditional house design features 1,302 square feet. The open layout makes it easy to entertain, especially with the kitchen's big island. Check out the private master suite and its large walk-in closet. An inviting front porch delivers sweet curb appeal.
Plan 47-1075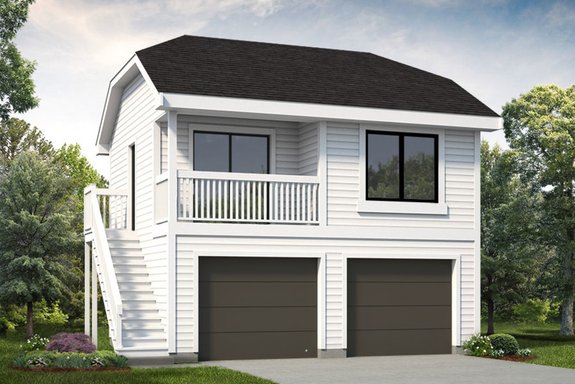 This handy two-car garage has charm galore, plus a one-bedroom apartment on the second level for guests or in-laws, or even to rent out. And really, who knew that a garage could have such curb appeal? We love the cute deck.
Plan 21-454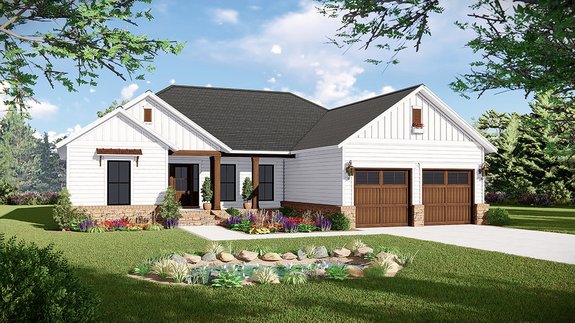 This affordable home plan feels fresh and current, with vertical and horizontal siding and a cute metal roof accent – adding farmhouse flair. Inside, a vaulted ceiling gives an airy feeling to the great room and dining area, with the island kitchen overlooking it all.
Owners will enjoy their five-piece master bathroom. Clever storage details include space for linen in the hall bathroom, a counter for folding in the laundry room, and extra storage in the garage.
Plan 25-4525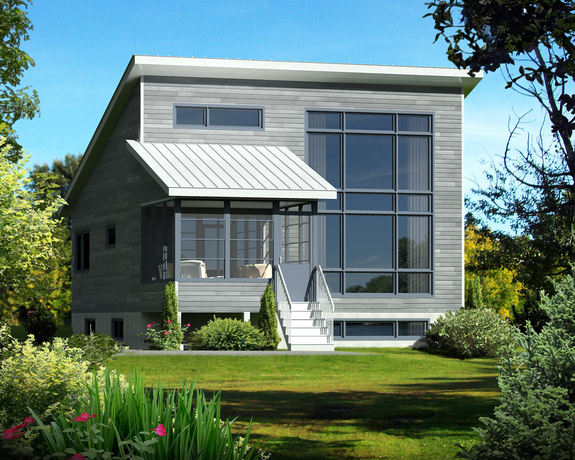 Thanks to the huge windows of this one-story cottage design, the surrounding nature can be admired year-round. The large open area features a living room and kitchen that overlooks the screened veranda in the front. Separated by a see-through fireplace, the master bedroom feels cool and modern.
Explore cheap house plans here.