By Boyce Thompson
Architects and designers who work throughout the country report that regional American home styles are growing in popularity. The trend coincides with the rise of websites that provide easy access to inspiring and diverse architectural photography. But it may also have something to do with a desire for authenticity. Most early home styles in America were imported from foreign countries – Bungalows from India, Georgian styles from England. Meanwhile, Americans were at work creating their own vernacular styles.
Click here to browse our collection regional home styles.
Many regional styles respond better to local weather conditions and material availability. The tough skin and sturdy form of Cape Cod cottages stands up to wind and driving water. The horizontal orientation of Prairie homes flows with the natural expanses of the Plains. Adobe homes, which literally grew from the ground up (early ones were made with earthen bricks) absorb heat during the day and release it at night. And the stately porches that define Low Country homes capture precious breezes. Some regional styles have proved so popular that they've crossed over into other areas of the country.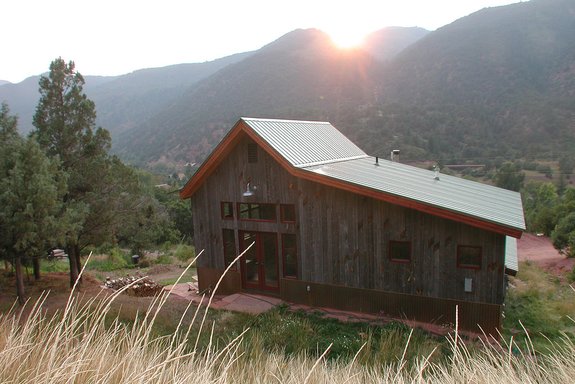 Plan 902-1
Mountain regions of the West have their own rustic architectural vocabulary, defined by bold natural textures. The best designs draw their exterior colors – grays, browns, and greens – and materials from the surrounding forests. The dark palette is an appropriate response to the biting cold and bright sunlight at high elevations; dark colors absorb more heat than bright surfaces and create less glare. The best mountain homes appear to taper into the ground. They often employ multiple stories to conform to hillside terrain.
Plan 902-1 (pictured above) blends into its surroundings as it steps down the hillside. Large south-facing windows capture as much winter sun as possible. A steeply sloping metal roof easily sheds snow and ice. Overhangs shield the interiors from summer sun and create a clearing around the house so that it can be reached after snow storms. An open interior layout assures that you can see the mountains from every room. Porches extend living spaces into the outdoors. Copious wood details on the interiors provide the requisite mountain charm.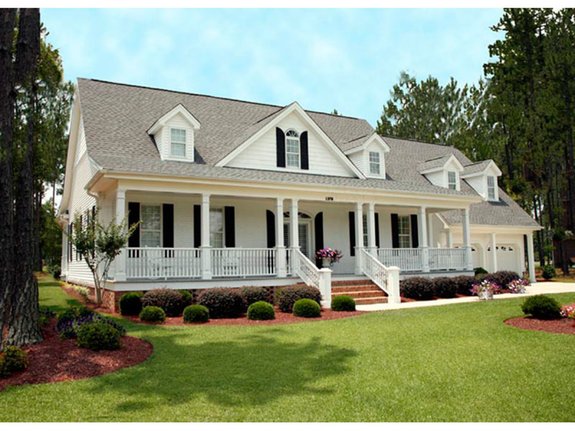 Plan 137-138
Low Country architecture of the coastal Carolinas strikes a unique pose. It builds on classical design, adding Southern touches such as wide front porches, some that wrap around the home. Early Low Country homes were simple, with rectangular or square floor plans, often only one room wide. Generous windows and porches funneled cool breezes into the interiors. Today's plans may incorporate multiple stories and second-story porches. But the traditional style remains unmistakable.
Plan 137-138 (pictured above) is a home design rooted in classical architecture with its elegantly proportioned columns, symmetrical dormers, and radius windows. But it also responds to the coastal climate. Black shutters could be closed as storms approach. A sturdy roof will sustain heavy rains. And a raised elevation prevents flooding. A genteel front porch is ideal for sitting out on warm nights. Modern touches include a first-floor master bedroom suite and rec room over the garage that could be used as an office, bunk room, home theater, or nearly anything else you might imagine.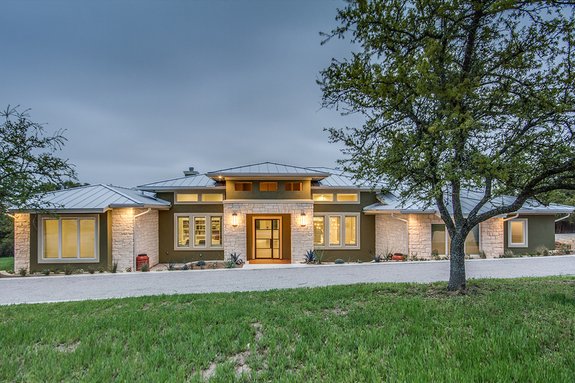 Plan935-13
The Hill Country architecture of Texas emerged from a mixture of German preference for masonry buildings and agricultural styles of deep overhangs and low-sloped metal roofs. The earliest homes were built not only for protection from the elements – heat, rain, and wind – but from potential hostility. A masonry first floor often gave way to a timbered second floor. Homes made the most of natural resources, creating paths for natural ventilation and capturing rainwater.
This house above (plan 935-13) by Janet Hobbs references the essential elements of Hill Country architecture – especially the warm limestone and metal roofing – as it branches out in a Prairie-style direction. Simple wood trim on the exterior and concrete floors inside speak to an unpretentious lifestyle. A rainwater collector provides water for irrigation. A small photovoltaic system supplies some electricity. The house can't operate off the grid. But, as Hobbs says, it still appeals the cowboy spirit, "an unwillingness to be 'beholdin' to some public utility."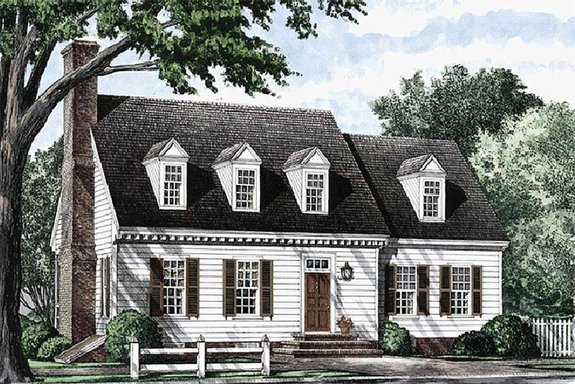 Plan137-178
Early Cape Cod houses were symmetrical single-story frame buildings with a steeply pitched gabled roof, a large central chimney to heat most rooms, and frugal ornamentation. The style grew out of a desire to build homes that could withstand cold New England winters. It reflected a desire to put frugalness ahead of showiness. Over the years, owners added wings to create more living space and dormers to add interior light. Chimneys moved off to one side, once furnaces entered the scene, provide more floor space.
Today's Cape Cod houses, like plan 137-178 pictured above, retain the style's tell-tale elements, especially the rectangular shape and symmetrical appearance. Dormers on a steeply pitched roof line up carefully with double-hung windows below. Dental molding, operable shutters, and a transom over the front door, provide the only ornamentation. Clapboard siding protects the home from cold winters. But the interiors also provide modern creature comforts. A family room joins a living room and dining room on the first floor. Porches provide outdoor living opportunities in the back.
Plan 928-279
Prairie style architecture, popularized by Frank Lloyd Wright, is marked by strong horizontal lines, hipped roofs with broad eave, windows assembled in horizontal bands, and restrained craftsmanship details. The horizontal lines were a response to the native prairie landscape of the Midwest. Early Prairie style homes broke with tradition, dispensing formal rooms in favor of spaces where families could congregate. Devotees sought to create an authentic North American architectural style.
Prairie style architecture is so popular today that it is showing up throughout the country. Plan 928-279 (pictured above) features horizontal lap siding, symmetrical banks of windows, and generous roof overhangs would be a nice addition to any neighborhood. The Craftsman details begin with stone pillars at the entry. The 2,100-square-foot home fulfills the promise of modern family living, with a roomy living room, dining space, and island kitchen. Together, they form a great space for entertaining.
Adobe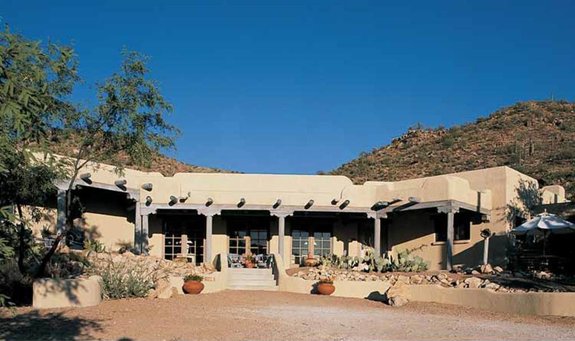 Plan72-486
Abode houses – marked by flat roofs, thick walls, and projecting round roof beams (vigas) – are unmistakable. Early Pueblo houses were built from adobe bricks made of sunbaked mud, often harvested on the building site. But these days most adobe homes are designed with store-bought masonry and stucco. The materials are used to create the heavy, rounded look of original homes. Many modern plans retain interior courtyards that highlighted the original versions.
This classic Adobe home strikes a balance between historic integrity and contemporary living. The wings of the home wrap a partially enclosed patio in the back. A long, covered front porch provides a welcome respite from desert heat. A beehive corner fireplace warms the master bedroom at night. The home's thick walls and tile floors absorb the heat of the sun during the day and slowly release it at night. Small windows, deeply set and shaded by the continuous porch roof, help keep the interior cool.
Browse regional home styles