Sometimes we'd just like to have a little extra space, and other times more room to grow is a necessity. A garage apartment home plan could be the solution you require to meet the changing needs of your situation. These sweet house designs are versatile and functional, and can be used in a variety of ways (like a private home office, in-law suite, and more). We've gathered some of our favorite garage apartment designs in a variety of styles below.
Farmhouse Style Garage Apartment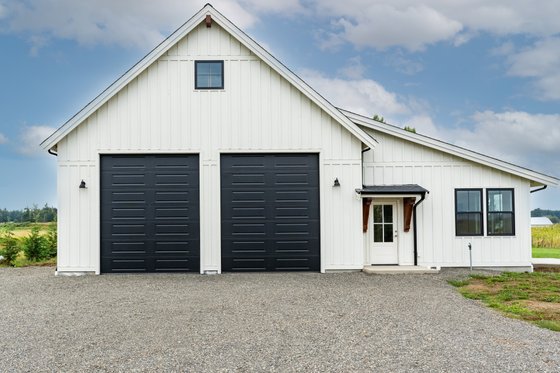 Plan 1070-120
This garage apartment plan exudes classic farmhouse style. From the barn-like doors of the garage, to the slope of the roof, this house design is very appealing. The two-door garage offers plenty of space for vehicles, and includes a generous area for a workshop or storage. You'll enter the apartment through the separate front door and will be immediately welcomed by the spacious living room, which flows easily into the kitchen and dining area. Pull up a seat to the large kitchen island located adjacent to the stove.
Further back to the rear of the plan is the bedroom, space for a closet, and the full bathroom. Another perk? This garage apartment plan makes aging in place easy with everything located on one convenient level.
Check out these garage apartment plans from Builder Online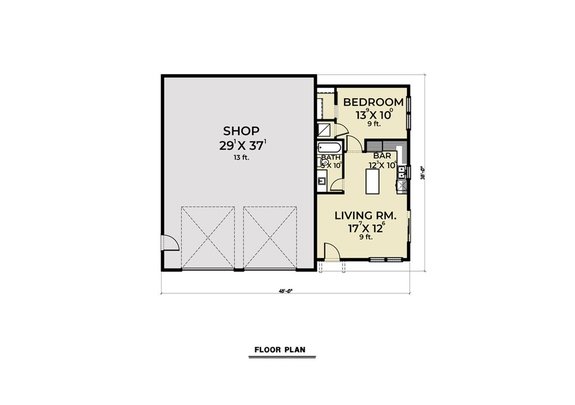 Traditional Style Garage Apartment Design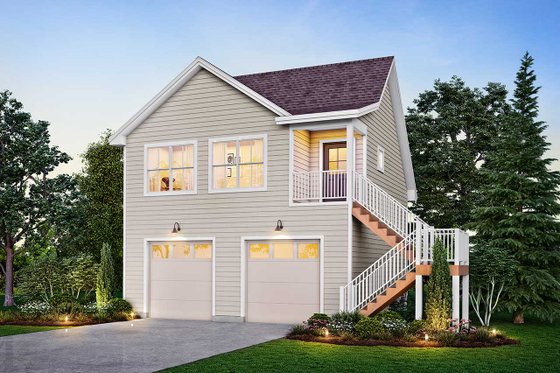 Plan 410-3611
Looking to build a garage and an accessory dwelling unit (ADU) behind your house? Here's a nice one. On the first floor is a two-car garage (with separate doors) ideal for vehicles, a work area, or extra storage space. You can access the second-floor apartment with the outdoor steps. Once you walk through the entryway, you'll find all you need for a cozy living space. The living room/dining area has plenty of space for relaxing, offers great views, and the kitchen is well-equipped with everything you need.
The bedroom is conveniently connected to the bathroom, which includes a shower and a washer/dryer area. We know you'll appreciate the generous walk-in closet that comes with this plan as well.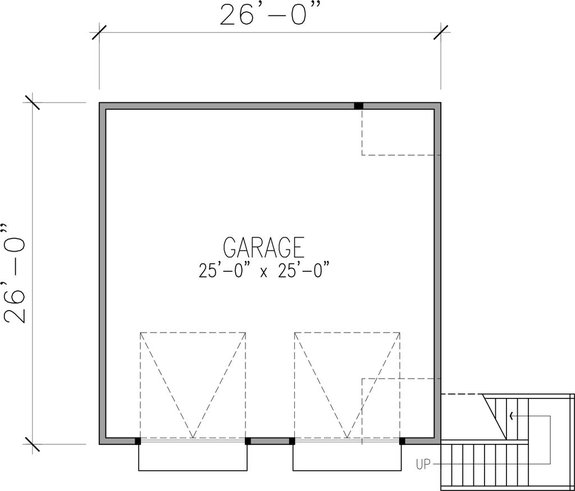 Garage Apartment Plan with Metal Roof Accents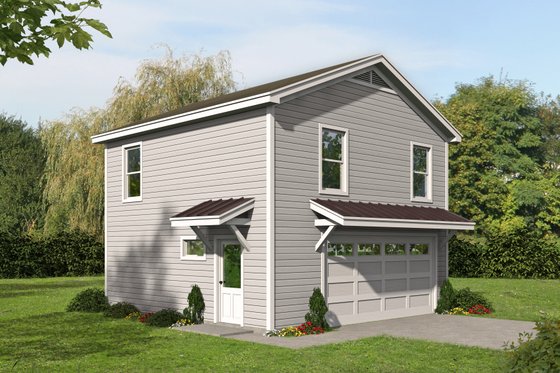 Plan 932-335
Are you interested in the versatility of a garage apartment house plan but need more than one bedroom? You might want to consider this traditional style home design. The first level is a double garage with plenty of space for vehicles and storage. You can access the stairway to the second floor through the stoop or from the garage itself. Once upstairs you'll find a spacious and airy living area that can also be used for additional storage. The full bathroom resides next to the two bedrooms that each come equipped with their own closets.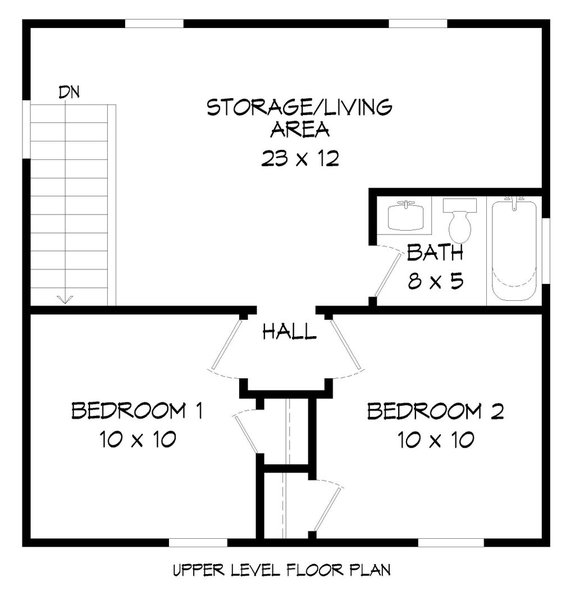 Carriage House Garage Plan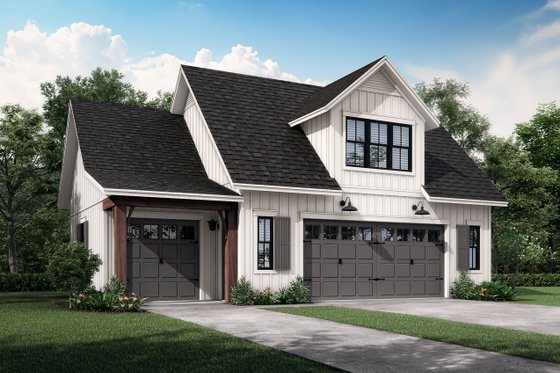 Plan 430-237
You're going to love the curb appeal of this garage apartment plan. Whether you decide to add it on to your existing lot, or choose to have it stand alone, this design can function as either. The double garage is just the right amount of space for your vehicles, while you can use the additional storage bay for a lawn mower, a work area, or storage space. A short walk up the stairs and you're on the main level, which includes a large living area enhanced by well-placed windows. The kitchen is equipped with all the modern amenities, and easy access to the washer/dryer.
The bedroom includes generous closet space, and the full bathroom is just steps away.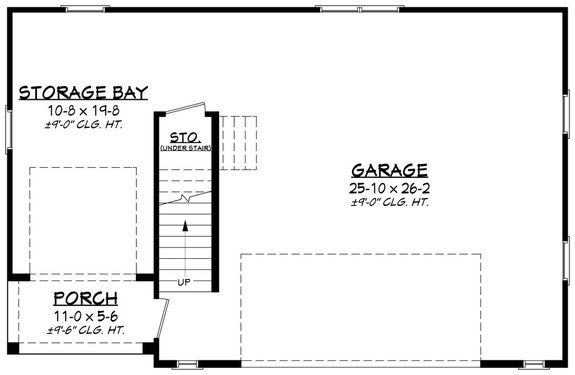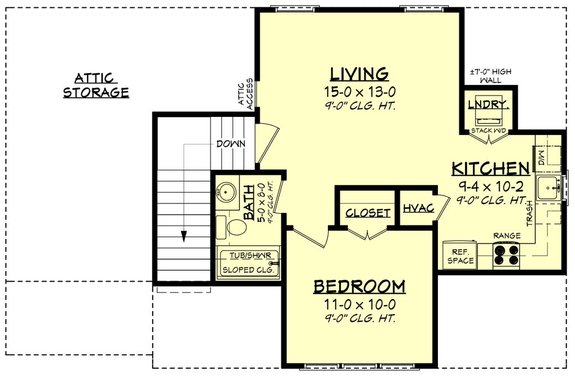 Country Style Garage Apartment Plan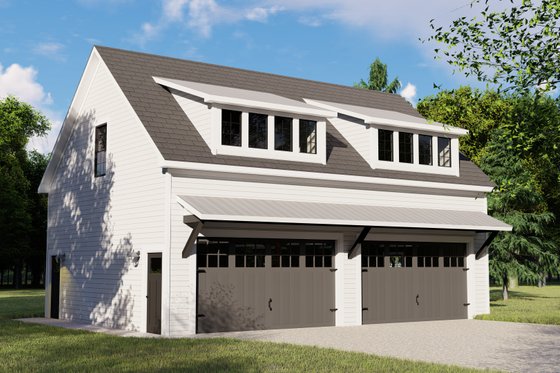 Plan 1064-75
Need space for more than two vehicles that comes with a bonus garage apartment? This plan could be for you. The first-floor garage is equipped with enough space for four vehicles, a storage closet, and even more room for a work area. Upstairs on the main floor you'll encounter a large, bright living area and easy access to a kitchenette. There is one bedroom in this design (with a spacious walk-in closet) and a full bathroom.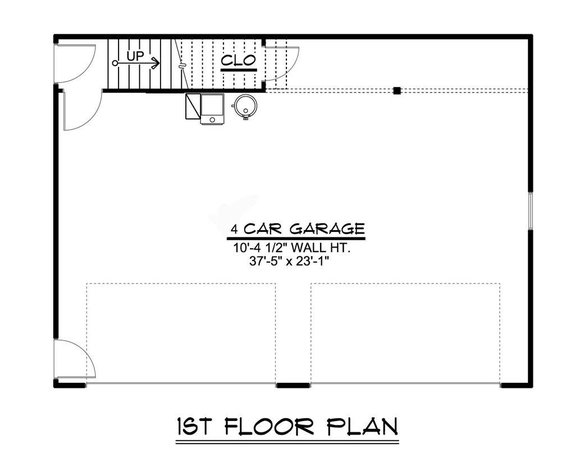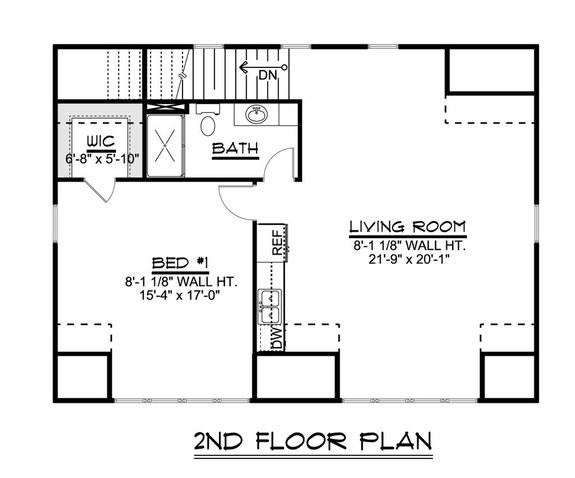 Contemporary Style Garage Apartment Design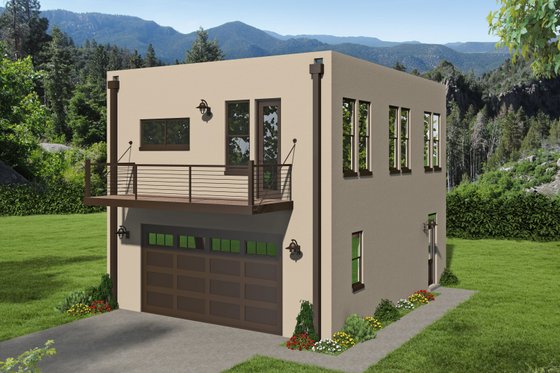 Plan 932-295
This compact garage apartment would be ideal if you're looking to downsize, have a narrow lot to build on, or just need a little extra space for family members. You'll find that the two-car garage offers plenty of space for vehicles, and you'll appreciate the convenience of having an entrance on either side of this design.
Upstairs you'll be greeted with an open living space that flows right into the well-equipped kitchen. This small home plan also comes with a balcony, perfect for relaxing outside or enjoying time with family. There are two bedrooms located at the rear of the home and just a short walk away from a full bathroom.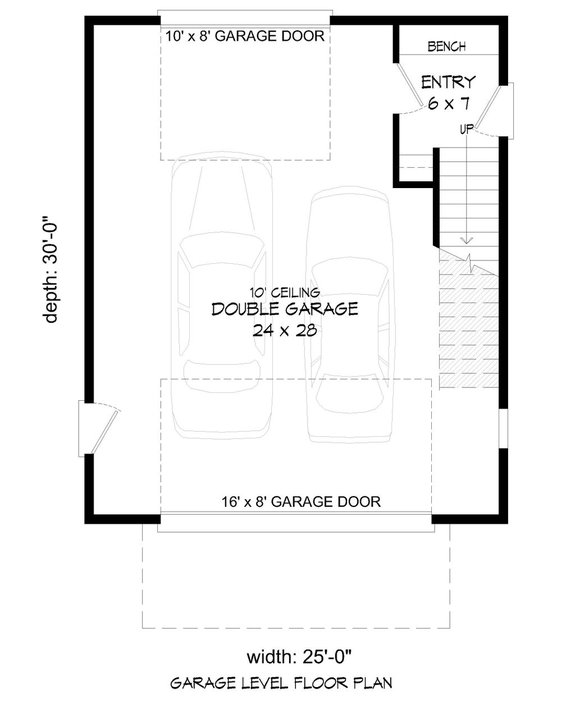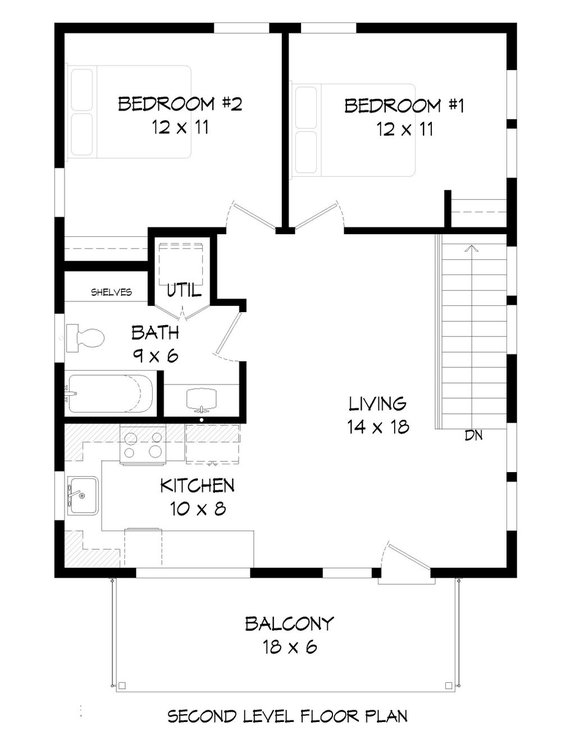 Craftsman Style Garage Apartment Plan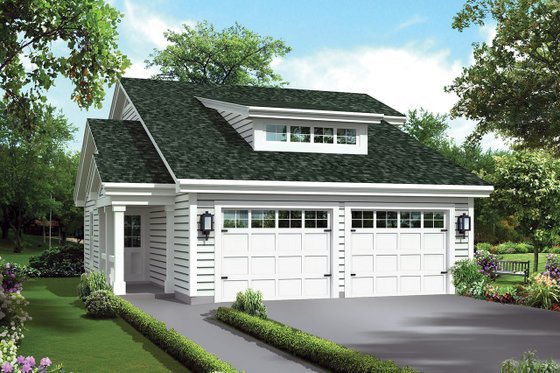 Plan 57-697
Love the look of a classic Craftsman but don't have a large lot? This Craftsman style garage apartment design is the ideal solution. The double garage doors and columned porch exude curb appeal and functionality. Inside the garage you'll find enough space for two vehicles, easy access to the main living level, and an additional storage area. There is a separate entrance to the living room through the columned porch, where you'll find a corner fireplace and access to the outdoor patio (perfect for dining al fresco).
The U-shaped kitchen includes a convenient snack bar, and the washer/dryer is just steps away. On the upper floor, you'll find the master bedroom that comes with dual walk-in closets and a spacious full bathroom. The loft on this level boasts corner windows, and would make a great home office.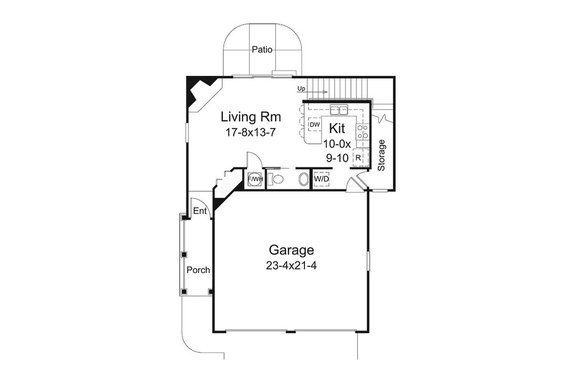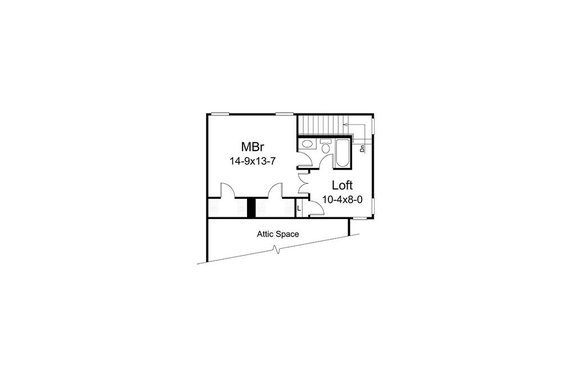 Eye-Catching Farmhouse Style Garage Apartment
Plan 22-575
If you've always liked the elegant facades of the timeless farmhouse style, this small home plan could be just what you're looking for. The double-door garage includes enough space for two vehicles and provides easy access to the stairway that leads to the main living area. Here you'll encounter a generous living space (with a full bathroom nearby) that flows into the modern kitchen. Further back you'll find the outdoor deck that is sure to be your new go-to relaxing spot.
The bedroom includes views of the deck and a spacious walk-in closet that offers additional storage options.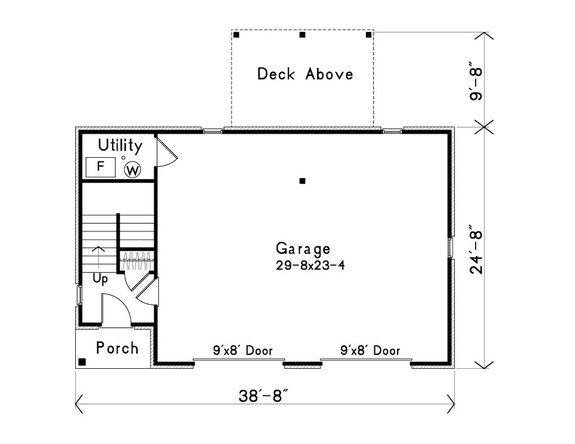 Contemporary Style Garage Apartment Plan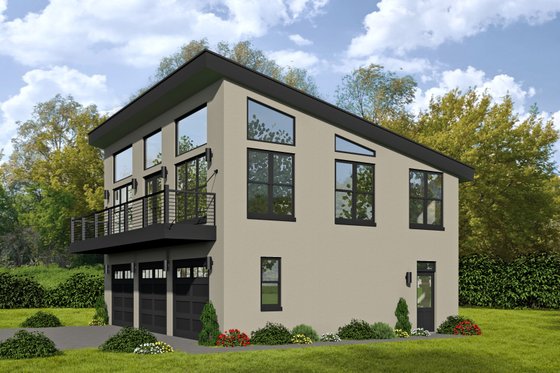 Plan 932-113
If your style leans more towards the contemporary, this garage apartment design is a great option. You'll have plenty of natural light throughout the rooms in this plan, thanks to the well-placed windows. You're sure to love all the space for vehicles in the garage, which can hold up to three. The first level also gives you a convenient half bath and additional closet space. Once you walk up the stairs to the main level, you'll find an open floor plan that seamlessly combines the living space, dining room, and the kitchen area (with a versatile kitchen island). You'll also find access to the second-floor balcony, where you can enjoy some relaxation time.
The bedroom is located to the rear of the plan and includes a spacious walk-in closet. The nearby bathroom features a luxe double-seated shower.
Explore these balcony decor ideas from House Beautiful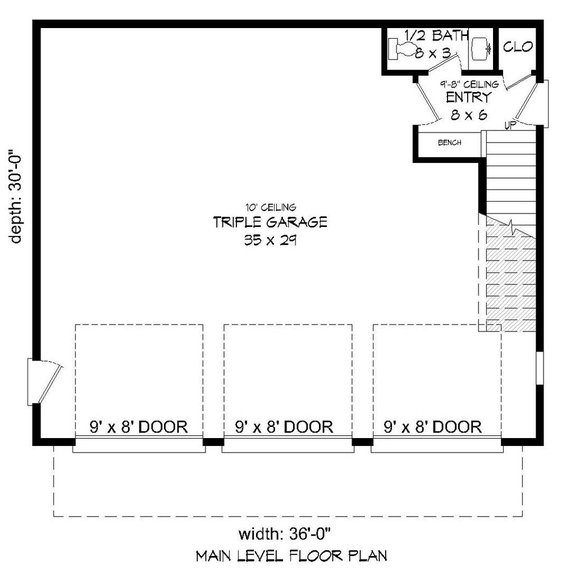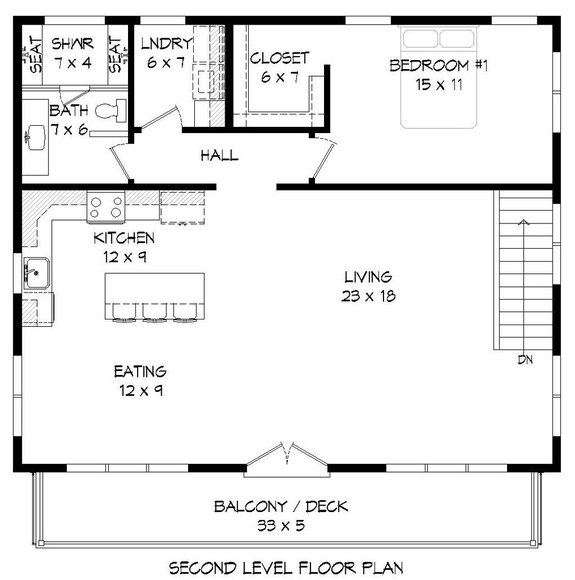 Garage apartment plans are a versatile option that can accommodate many different situations. Whether you need the convenience of a separate residence for family, or just want a smaller home plan, a garage apartment design could be just what you need.