By Boyce Thompson
One hundred years after Frank Lloyd Wright pioneered Prairie style architecture – an attempt to create an indigenous American style – the vernacular remains a vibrant part of the new-home landscape. Characterized by low-pitched rooflines, deep eaves, and symmetrical window patterns, the Prairie style has an enduring appeal. Though conceived to complement the wide-open prairies of the Midwest, the design seems at home on houses throughout the country. Prairie elements are even woven into other home styles to produce unique designs.
Click here to browse our collections of Prairie and Craftsman house plans.
Strong horizontal lines, meant to evoke the wide, flat, treeless expanse of native prairie landscape, define the style. The best Prairie-style homes seem to grow out of their natural surroundings. Much of that visual effect is achieved by overhanging, shallow-pitched roofs, stone foundations, and long horizontal structural forms. Wright felt that an orientation parallel to the ground distinguished the Prairie style from vertical European styles.
The Prairie style shared the ideals and design aesthetic of the Arts and Crafts Movement (also referred to as Craftsman). Both Craftsman house plans and Prairie designs encouraged the use of handcrafted details. But Wright wasn't a fan of ornamentation for ornamentation's sake. Instead he sought to emphasize building materials themselves as things of beauty. He went to great lengths to source thin-profile bricks to reinforce the horizontal plane of his homes, to design windows that permitted light to enter without sacrificing privacy, and to use locally harvested wood.
Open floor plans, maverick for the day, were another defining characteristic of the Prairie-style house. Wright eschewed formal Victorian room arrangements that isolated parents and children and emphasized social standing. Instead, he designed open floor plans with public spaces where families and friends could congregate, with defined spots to read a book, dine, or practice the piano. This idea of open floor plans with defined zones has had arguably a more enduring legacy than the Prairie style itself.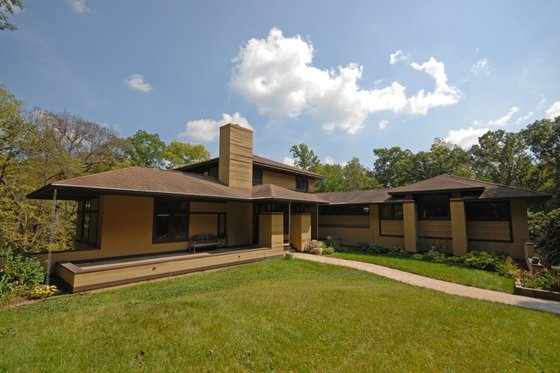 Plan 454-10 by Sarah Susanka - Architect and Author
The work of Frank Lloyd Wright is the clear inspiration for plan 454-10 (pictured above), which was created by Architect and Author Sarah Susanka. Looking at the house from the street, it's not immediately clear where the front door is located. Playing down the front door, Wright knew, draws more attention to the building's architecture. The exterior of this plan also relies on the thin-profile masonry that Wright preferred. A long retaining wall and walk in the front yard emphasize the triangular geometry of the plan. Inside, the home is long on the indoor/outdoor connections Wright sought to create. Sliding doors on a four-season porch open to create a breezeway. On the lower level, a walkout connects the home and backyard. Plan 454-10 makes at least one important departure from the work of Wright, who often isolated and de-emphasized the kitchen, which he viewed as a place of work. The kitchen in this plan is open to the family room. It would be easy to work in, with a large center island with a cooktop, shelves for cookbooks, several cupboards, and two pantries for storage.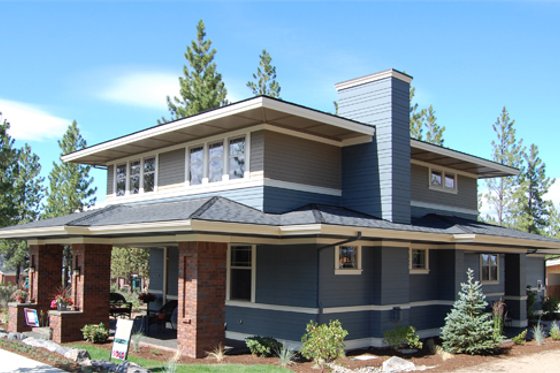 Plan434-15
The home above (plan434-15) draws from the vernacular's large roof overhangs to form a spacious front porch and a covered patio on one side of the home. Lap siding and white banding reinforce the home's horizontal plane. Windows are collected in groups of three and used symmetrically as Wright would often do. Wright used windows to highlight views of the natural landscape. But he was also very concerned with homeowner privacy. High windows on the sides of this house make it difficult for neighbors to see inside. The three brick columns that support the front porch roof create a Craftsman style impression at entry. Inside, the plan supports modern family living with a big family room and strong outdoor connections.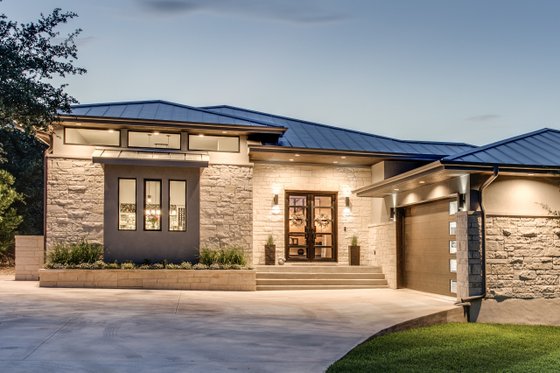 Plan935-14
The Prairie style is clearly referenced in shallow horizontal roof line in plan935-14 (pictured above). Once again, windows are grouped in threes and arranged symmetrically. But in a contemporary twist, they are sometimes placed vertically rather than horizontally, creating playfulness in the design. Similarly, the house is largely wrapped in thin-profile stone that reinforces the horizontal plane, but a large stucco bump-out on the front façade interrupts the flow, giving the home a contemporary appearance. That look is reinforced by other modern elements – a translucent garage door and metal awning supports. The interiors wrap around an oversized outdoor living space that joins a courtyard, blurring boundaries between interior and exterior spaces.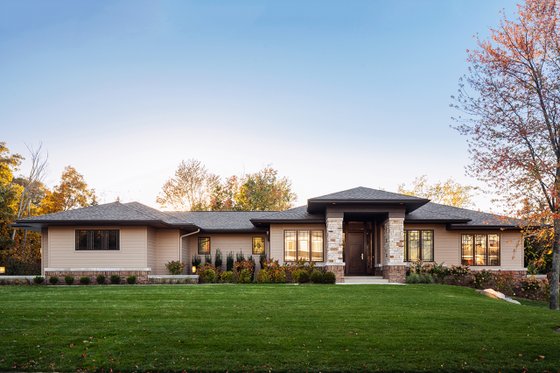 Plan928-278
The plan above (plan928-279from Visbeen Architects, also called the Cottonwood) marries Prairie elements with the ranch style. Horizontal lap siding, a shallow roof, and long eaves underscores the horizontal orientation of the building form. The most visible windows on the house are grouped in threes and done with art glass that Wright often employed. A brick foundation marries the home to the ground. The spacious main level includes a large combined kitchen and great room that would be great for entertaining. A private guest bedroom and a spacious master suite also find a home on this level. Upstairs, three bedrooms share a second family room that's big enough for billiards. A walkout lower level offers another 1,500 square feet of living space. It includes a large family room, three additional family bedrooms, and a shared bath.
Plan1042-19
The contemporary home pictured above relies on Prairie elements to give it a special appeal. The home has a strong horizontal alignment thanks to a series of deep eaves, lap siding, and a long front porch. The garage door, with windows off to one side, also emphasizes the horizontal plane. Most windows are arranged in groups of two and three, but in a modern touch they are often placed vertically. A stone foundation and columns give the home Craftsman character and making look at home with the landscape. The interiors contrast sleek hardwood flooring and monolithic white walls with usual details – a black, metal fireplace wall, a large stainless-steel range hood, and an oversized kitchen island with generous built-in storage. The first floor of the plan includes a guest bedroom that would be perfect for an in-law, along with a rec room and adjoining art room, complete with a small sink and outdoor access. There are three bedrooms upstairs, including the master, along with a laundry room.
Plan930-455
The plan above references the Prairie style – i.e., the shallow roof, deep overhangs, and stone columns – even as it makes its own statement. The three-bedroom, two-bath house packs an amazing amount of modern living options into 2,042 square feet. A loggia stretches across the back, complete with an outdoor kitchen. It can be accessed from the master suite, great room, and even the hall bathroom. That's convenient for guests who have come over for a barbecue or a swim. The plan is anchored by a large great room that's open to the kitchen and adjacent to a nook with great outdoor views. Family members who need privacy can retreat to the study; its double doors could also be opened to expand the great room. The plan even finds room for a formal dining room and a large utility space with linen storage. A small foyer marks the entrance to a private master bedroom wing, with two large walk-in closets, a make-up area, and a soaking tub.
Browse our collection of Prairie house plans.
Explore Craftsman house plans.