How Charming: French Country Curb Appeal and English Cottage House Plans
Every imagine yourself in an enchanted cottage in the woods? How about a perfectly rustic home placed among fields of lavender? Get the feeling with French country house plans and English cottage house plans.
See French Country House Plans
Here's an excellent example of how striking and cute a french country house plan can be. Design 929-855 shows off clipped gabled, dormers with arched rooflines, plenty of shutters, and rugged stone. Five bedrooms (two of them on the main floor) and a variety of gathering areas give a family ample space to unwind and relax.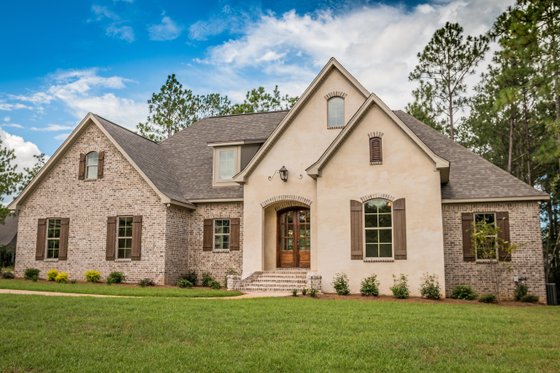 You'll often find stucco on the exterior of a French Country house plan, along with shutters on the windows. Brick frequently appears too. Design 430-142provides a particularly elegant example, with an arched entryway that draws you in visually.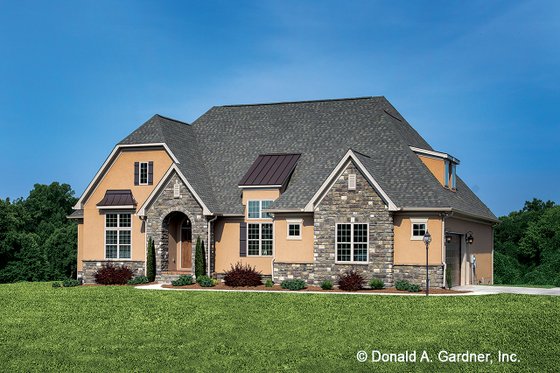 Plan929-957 juxtaposes stucco and stone, with a stone arch highlighting the entry. A clipped gable and metal roof awnings add extra interest. Note the side-loading garage, which keeps the focus on the engaging front. See that window above the garage? It lets light into a versatile bonus room, which you can use for storage now and finish later (as you please).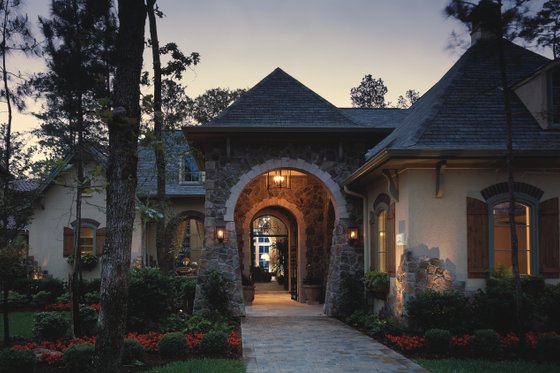 The best European-inspired plans create the impression that they've always been there, along with a sense of wonder and enchantment. Plan 20-1731 looks as if it emerged out of a fairytale! The impressive entryway features a series of arches that pull you inside, almost as if you're under a spell.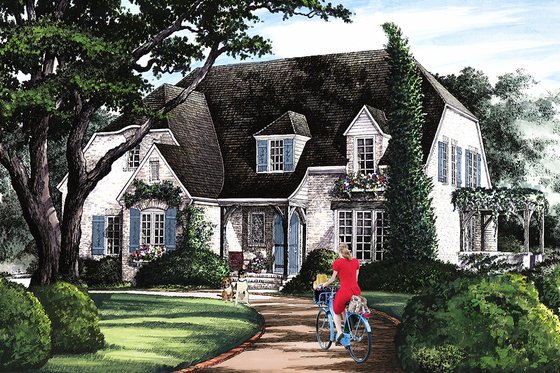 French country house plans and English cottage house plans feel utterly romantic. Plan 137-289 would fit nicely on a wooded lot, or any area with sleepy charm. Yet its open layout is quite contemporary, with an island kitchen that flows into the great room. The master suite and a spacious guest room are both easy to reach on this level (making it simple for an elderly relative to come stay with you, for example).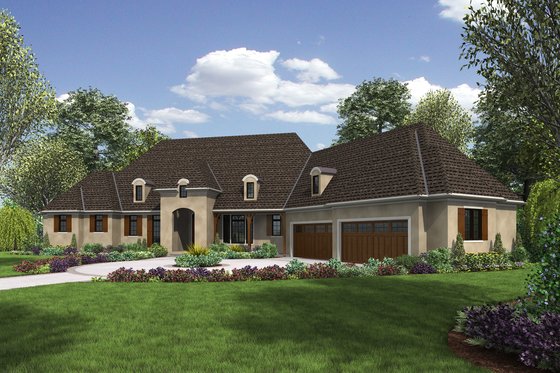 Here's another layout with plenty of room to spread out. Plan 48-654 would work nicely on a lot that slopes to the back, since it includes a walkout basement that opens out to a patio. The lower level features three spacious bedrooms and an impressive variety of fun rooms: a theater, wet bar, wine storage, exercise room, and tons of storage make this the place to be. On the main level, the kitchen provides enough space for a whole party to hang out.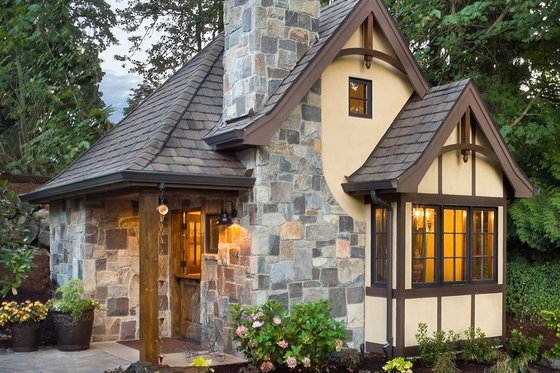 While English cottage house plans evoke a different country altogether, what they have in common with French country house plans is head-turning curb appeal. English cottages often feature an irregular footprint that adds to the sense of whimsy. You'll sometimes find elements of Tudor Revival style, such as half-timbering and multipane windows. These may be small, like plan48-641 above (only 300 square feet!), or large enough for a family. But the overall impression is usually of cozy charm.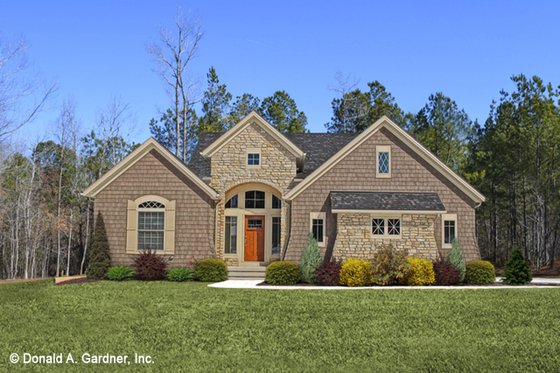 Here's a medium-sized cottage, plan 929-830 with 1,898 square feet. Shingle and stone harmonize on the exterior, with interesting windows (check out those diamond panes) keeping your eye moving around. Inside, all three bedrooms are easy to reach on the main level. A huge bonus space upstairs can become a playroom, studio, or just about anything else.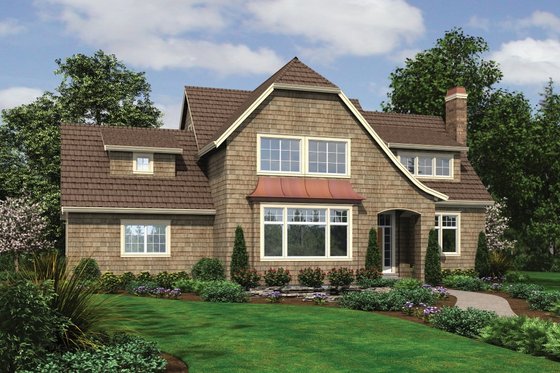 Need something a bit bigger for your family? Plan 48-564 gives you 3,529 square feet and an elegant exterior. The roomy flex space on the main floor could become a guest suite, home office, playroom, craft space...the possibilities go on and on. The laundry room sits conveniently on the second level, near the bedrooms.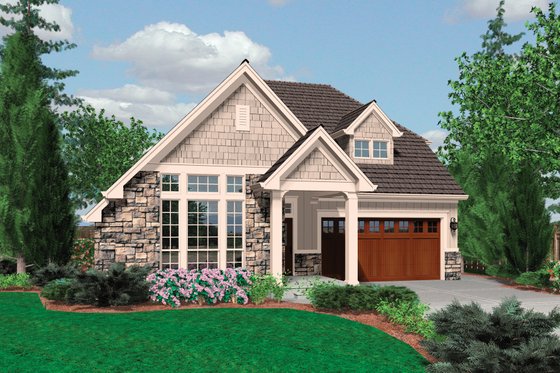 If you're building on a narrow lot and you need a front-facing garage, you can still get the cottage look. Plan 48-568 downplays the garage by setting it back a bit from the living room on the left, which also captures your gaze with rugged stone and graceful columns. Isn't that a cute dormer above the garage?
See French Country House Plans