By Courtney Pittman
Thanks to their small footprints and efficient layouts, small one story 2 bedroom retirement house plans offer flexibility and come in a variety of architectural styles. With all the rooms on one easy-to-reach level, these designs work well for homeowners who want to age in place. We've rounded up some of our favorites below!
Click here to explore our collection of retirement house plans
One-Story Craftsman House Plan
Hang out at the big kitchen island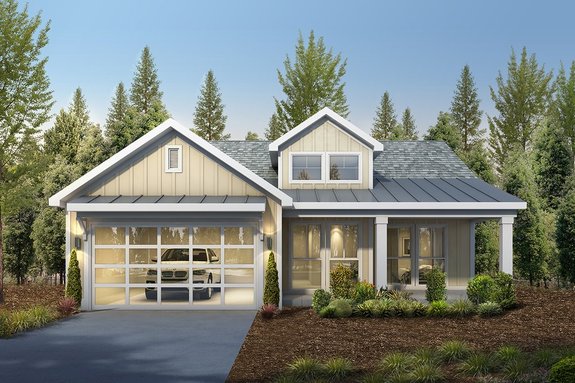 Plan 1073-15
An open floor plan makes it easy to get around, while the kitchen showcases a big island for hanging out. The master suite invites you to relax in your private spa-like bathroom, which includes dual sinks and a large walk-in closet. An additional bedroom could be used as a guest suite, a library, a game room, and so much more (much like these bonus rooms from This Old House). Watch the seasons change on the rear covered patio.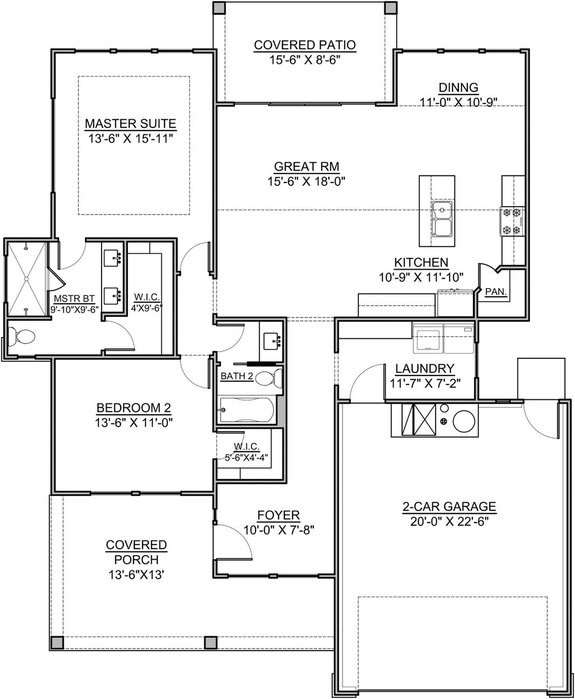 Budget-Friendly Modern Farmhouse Plan
Enjoy the extra-large shower in the master suite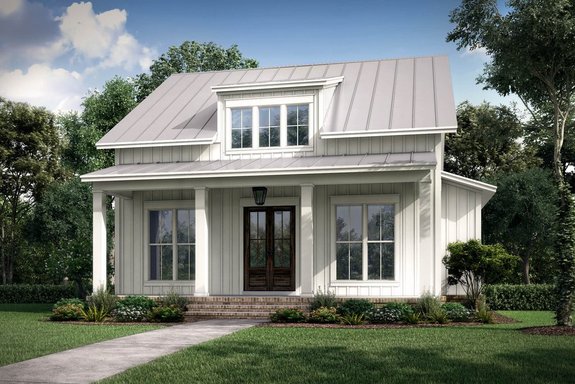 Plan 430-227
Modern farmhouse style doesn't require a huge budget, as this 1,257-square-foot home design proves. The oversized kitchen gives you an island (with an eating bar) and a spacious pantry. An open floor plan between the main living areas creates a relaxing vibe.
Decorative details like wood beams and sliding barn doors deliver country flair, while front and rear porches make it easy to enjoy the great outdoors. Check out the large extra-large shower in the master suite. This design could even work as a backyard dwelling (check out this article about backyard dwellings from AARP).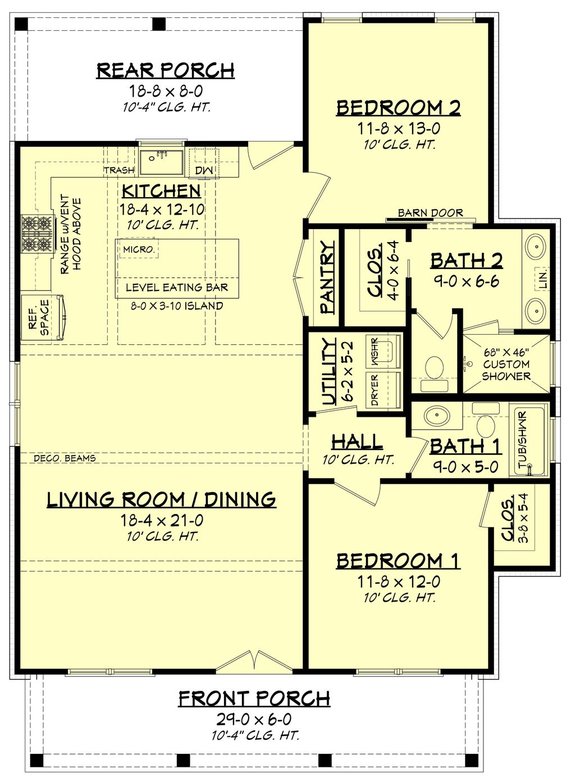 2 Bedroom Modern House Plan
Enjoy retirement with this simple design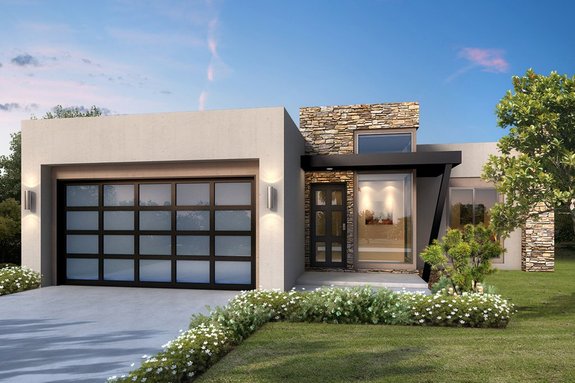 Plan 1073-5
Big style on a realistic budget: this modern home has 1,417-square-feet, making it a great choice for downsizing, retirement, or simply keeping things manageable. The open layout includes two beds and two baths. A covered patio at the back of the floor plan opens to the great room for effortless indoor-outdoor living (explore these outdoor design trends from Forbes).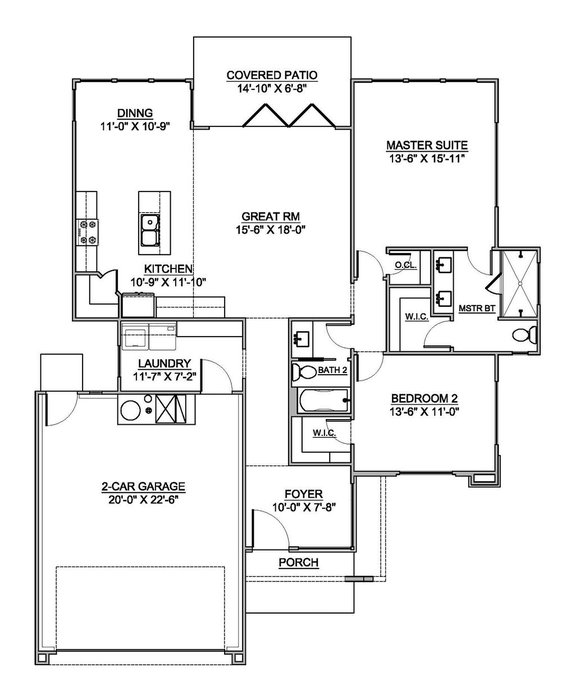 Affordable and On-Trend
Check out the master closet that opens directly to the laundry room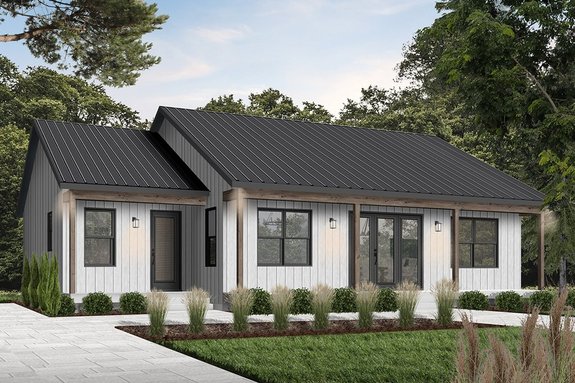 Plan 23-2715
Here's a layout that's both on-trend and affordable to build, thanks to a simple footprint and 1,604 square feet. Inside, the kitchen sports a big island and overlooks the dining and living areas for an open feeling.
Step out to the front or side porches from here for easy indoor-outdoor living without needing a big lot. The master suite shows off a big shower, two sinks, and a walk-in closet that opens directly to the laundry room for convenience.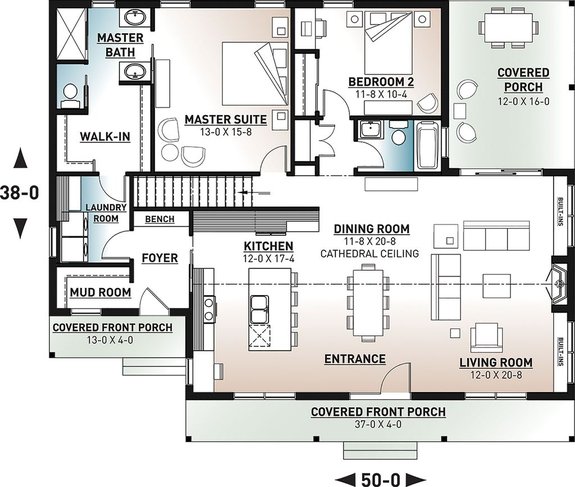 Simple, Compact Design
Everything has a place in the handy drop zone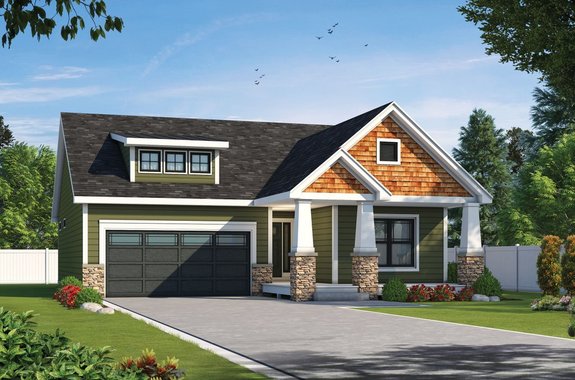 Plan 20-2391
Retire in style with this cottage design. This stylish 1,511-square-foot house plan gives you a simple, compact footprint to keep costs down. Inside, you'll love the open layout between the main living spaces that feels bright and modern. You'll find thoughtful details throughout the home, like a drop zone on the way in from the two-car garage. Don't miss the nice sunroom!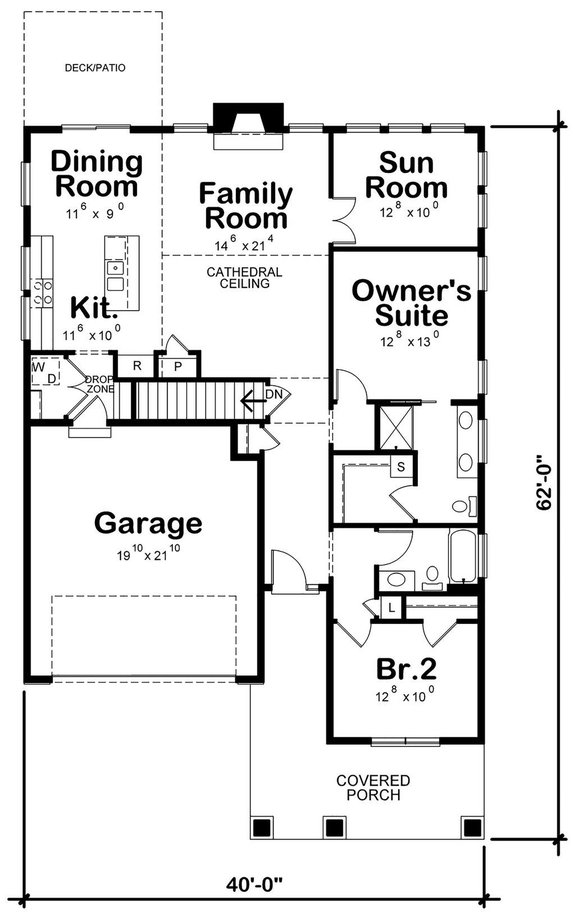 Open and Spacious
This design gives you three fireplaces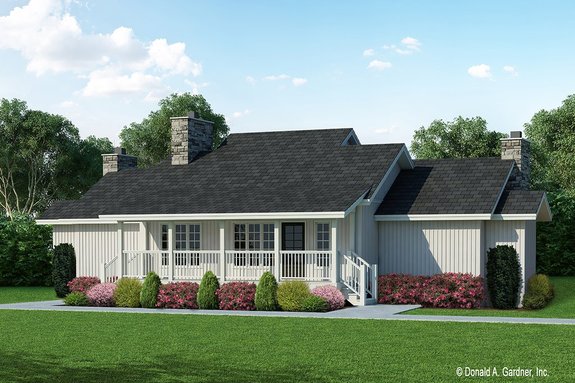 Plan 929-35
Super open and spacious, this farmhouse design feels contemporary. One of the bedrooms sits on the right side of the floor plan, where it can also serve as a versatile home office with a private full bathroom for your convenience. You'll find double sinks and a big fireplace in the master suite. Don't miss the large deck at the rear of the home.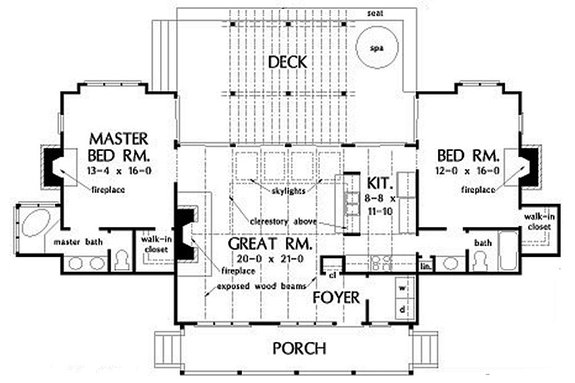 2 Bedroom Modern Farmhouse Plan
You'll find plenty of room for storage in the handy mudroom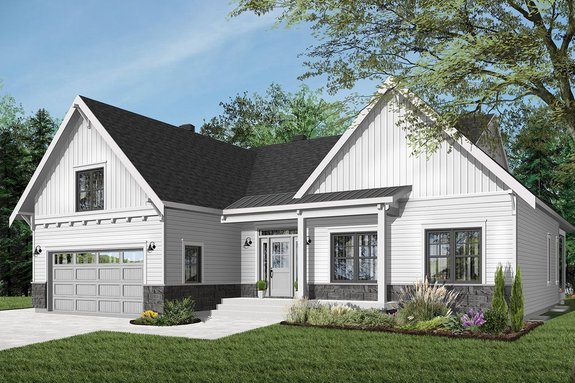 Plan 23-2679
This one story two bedroom house plan shows how lovely and striking simplicity can be. The exterior exudes on-trend modern farmhouse style that feels clean and modern. Inside, the main living areas are really, really open, including the island kitchen.
Nice weather? Sliding glass doors open to the rear covered porch (just off the living room). We also love the handy mudroom next to the two-car garage. A bonus room upstairs can be used for extra storage if needed.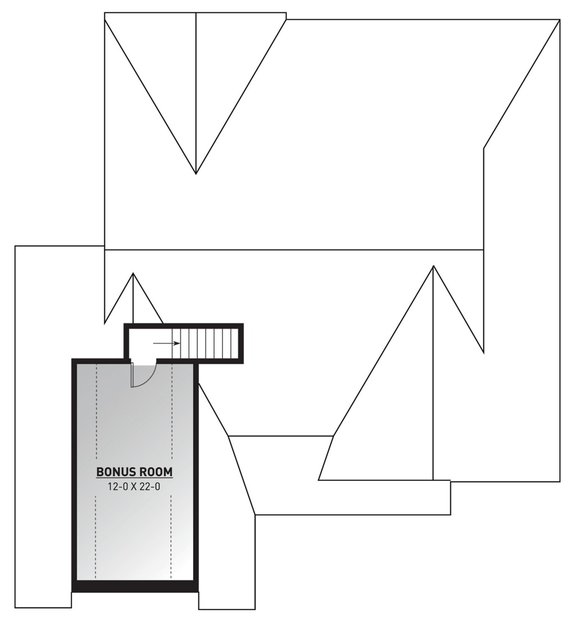 Small Ranch House Plan
Retire in style with this home design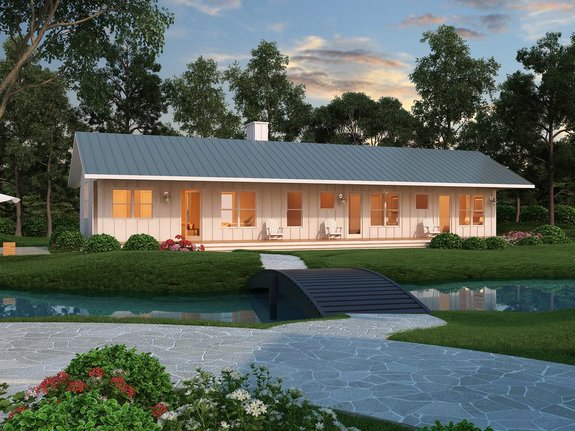 Plan 888-4
This 1,480-square-foot home features an easy-to-build footprint that will help you stick to your budget and retire in style. Inside, the open layout flows nicely between the kitchen and the great room. The master suite includes a private bathroom and a walk-in closet. Check out the handy office.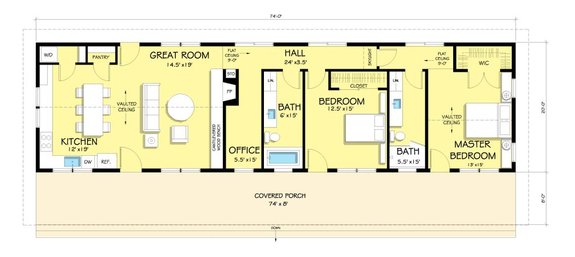 Luxurious Cottage Design
A screened porch provides a cozy retreat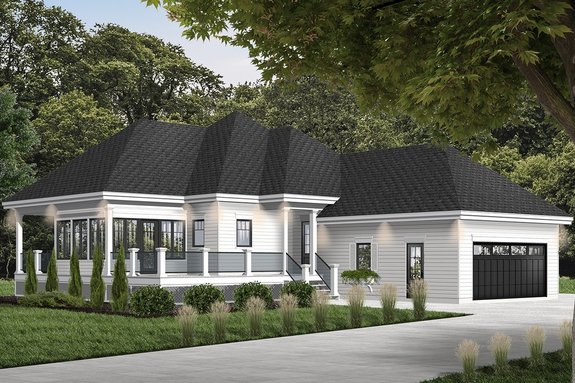 Plan 23-2489
This luxurious cottage uses every square foot wisely, both indoors and out. The main gathering spaces open to one another for easy flow. A snack bar provides room for relaxed meals. Nearby, the side porch transitions to a screened retreat for cozy sitting when the weather is less than perfect.
The master suite rests in back, just past the laundry alcove. A guest bedroom is situated far enough away for privacy, with a second full bath all to itself.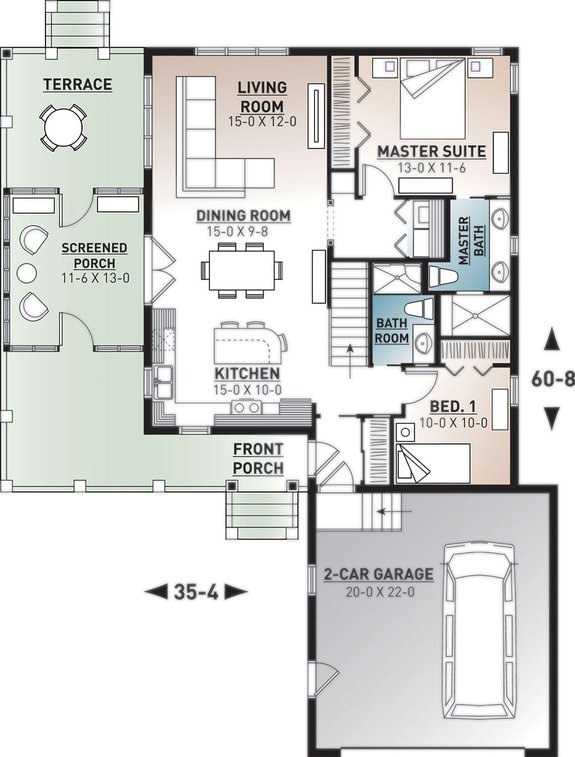 Explore retirement house plans