By Courtney Pittman
Striking the perfect balance between classic and new, the modern farmhouse style is all about clean lines and timeless details. With rustic features, chic amenities, and major curb appeal, it's no wonder this style is trending – especially in Texas and the South. Whether it's their country kitchens (like these kitchens from Country Living), charming front porches, or nostalgic exteriors, one thing is for sure – modern farmhouse plans aren't going anywhere anytime soon. Check out these swoon-worthy modern farmhouse floor plans – including a Texas farmhouse makeover (by yours truly).
Click here to browse our collection of modern farmhouse house plans.
---
An 1890s Texas Farmhouse Gets a Modern Makeover
This timeless farmhouse renovation creates the perfect balance between traditional and chic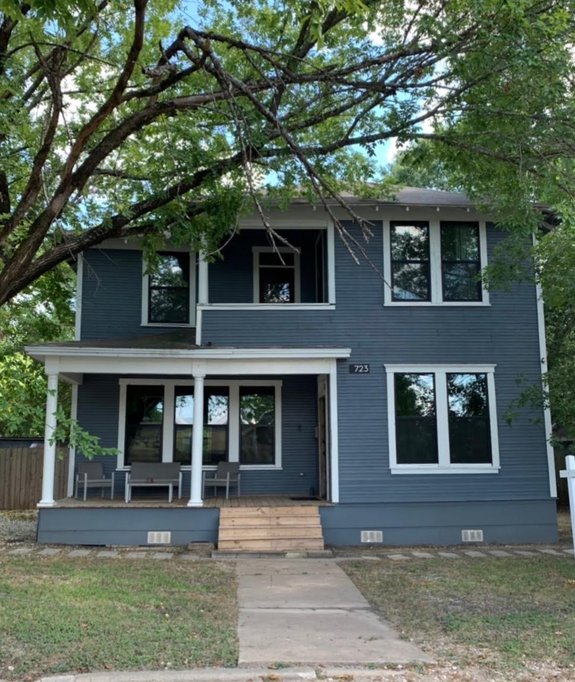 Before: Exterior
When this dreamy old farmhouse (built in 1896) went on the market in Taylor, TX – a small town located about 30 minutes east of Austin (and home to some of the best BBQ in Texas) – my husband and I had to jump on the opportunity. It's not every day a piece of history goes up for sale (and at an affordable price) near the capitol of Texas. So after a month of back and forth negotiations and paperwork, this country gem was finally ours – and so were the renovations.
Classic Whitewashed Exterior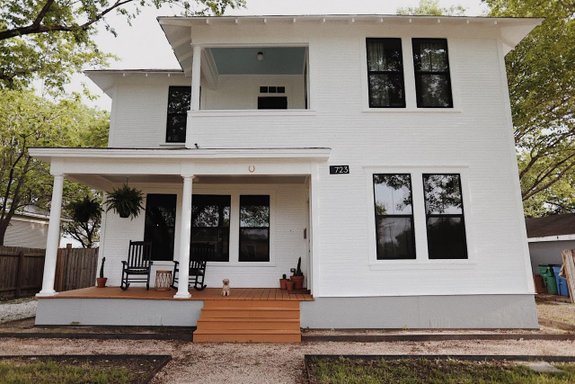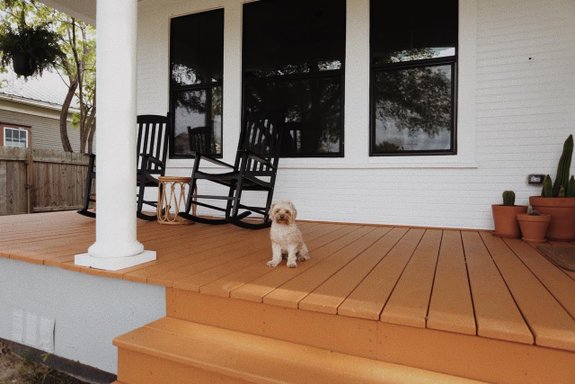 After: Exterior
We opted for a classic white farmhouse look on the exterior of the home and, in true Southern fashion, painted the porch ceilings a traditional shade of haint blue (legend has it this wards off evil spirits, but we just wanted to add visual interest). A decorative horseshoe above the porch adds stylish curb appeal (and plenty of luck).
Shiplap Foyer Walls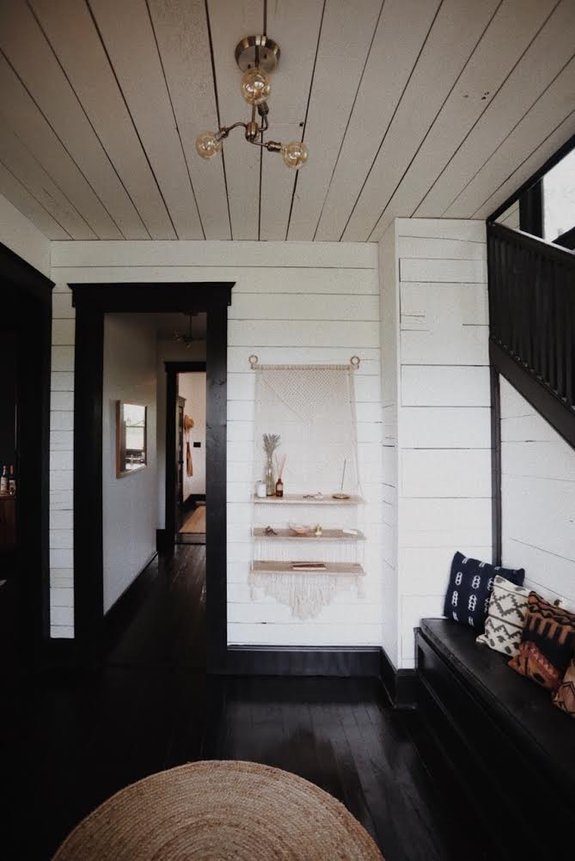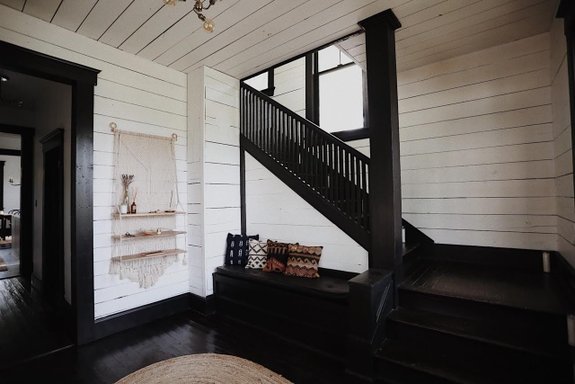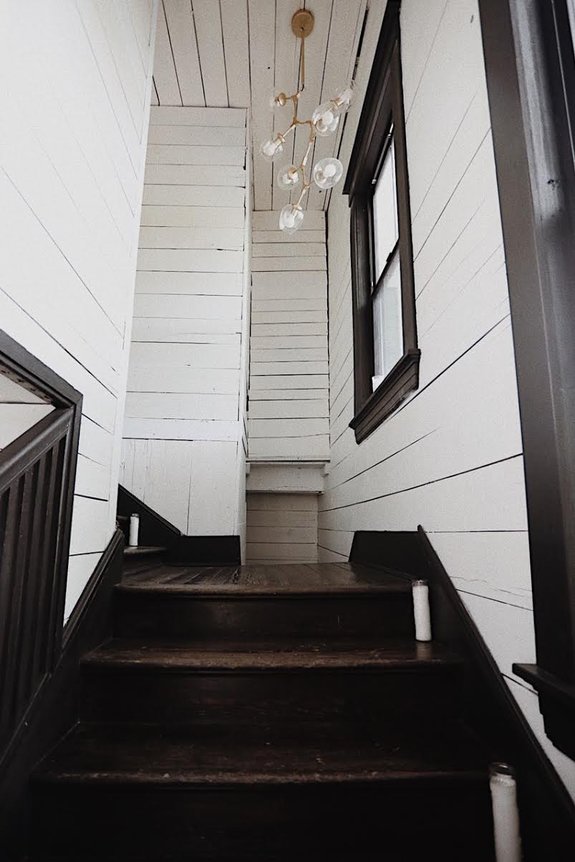 The foyer (pictured above) and staircase area boast the original shiplap from 124 years ago. We painted the walls a bright white to create a welcoming vibe as you enter the home and opted for a darker stain on the old wood floors to help hide imperfections.
New Orleans-Inspired Parlor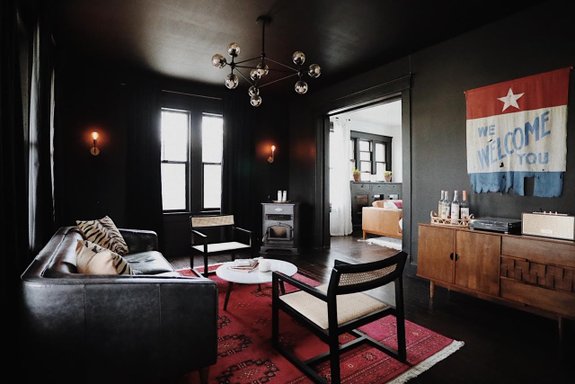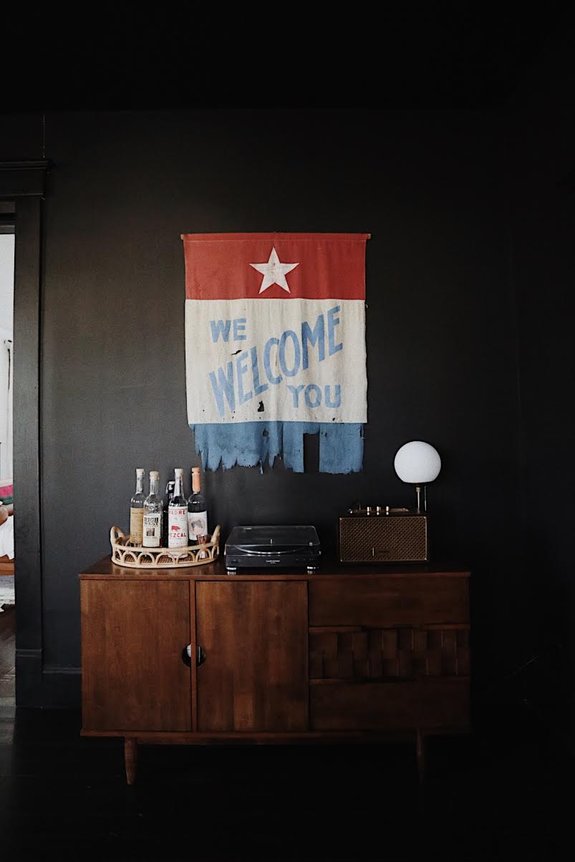 The New Orleans-inspired parlor (above) is our favorite room in the whole house – and where we spend most of our time when friends and family are visiting. With moody colors, dim lighting, a wood burning stove, and sweet antique finds, this space feels like a blast from the past.
Bright and Airy Living Room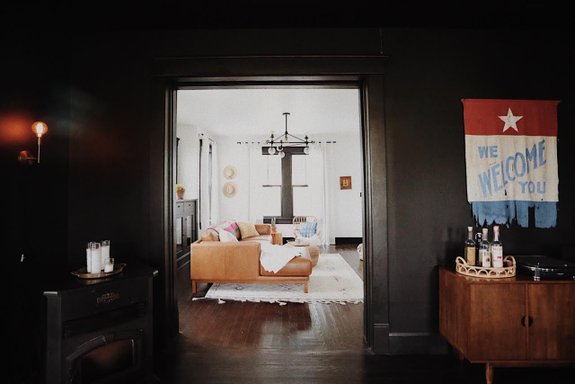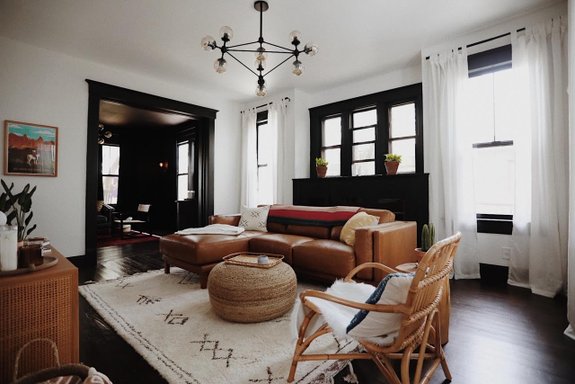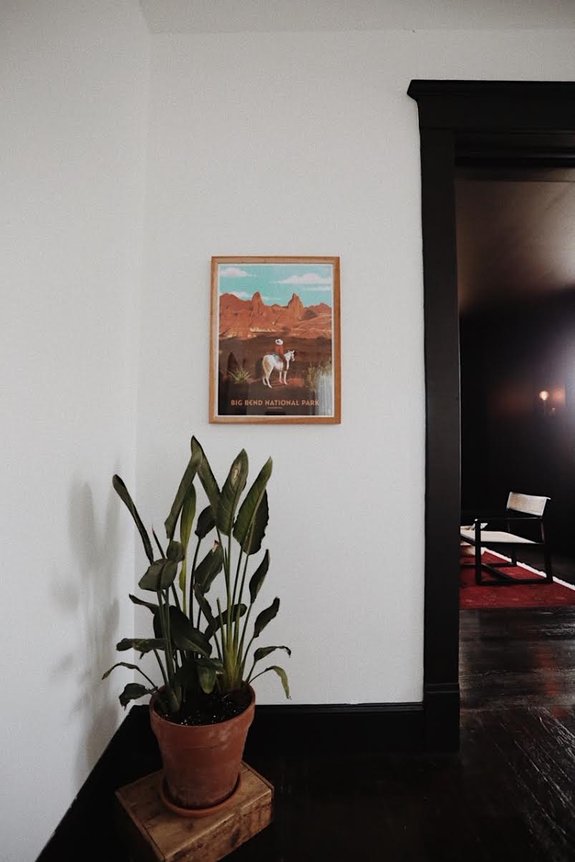 Creating a bold contrast from the parlor, the living room (above) feels bright, fresh, and airy. We painted the walls white and continued the black trim to create an easygoing flow between the rooms. Filled with vintage finds from road trips, this space shows off our deep love for the West Texas desert.
Minimal and Modern Kitchen/Dining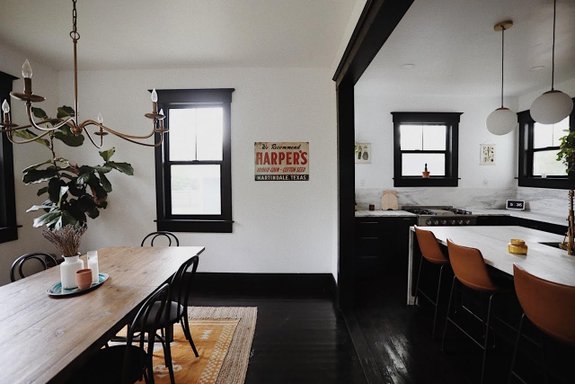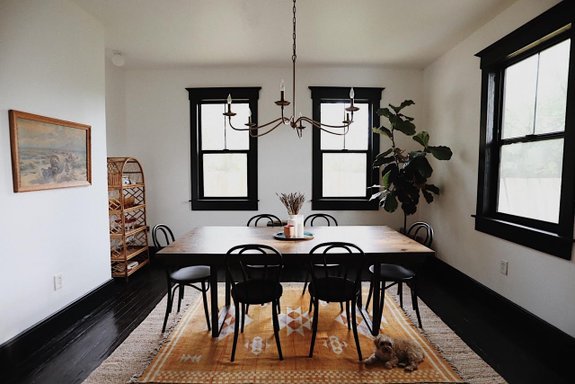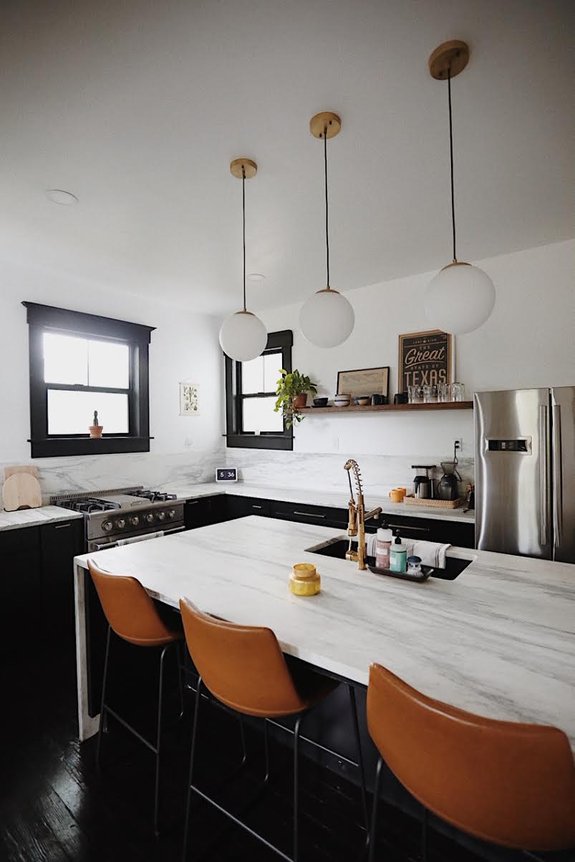 The kitchen and dining area (shown above) sport a minimal and modern vibe with white walls, black trim, and a large waterfall edge island. Combining black shaker-style cabinets, open shelving, and marble counter tops, this space feels both rustic and contemporary.
A Doctor's Office-Inspired Guest Room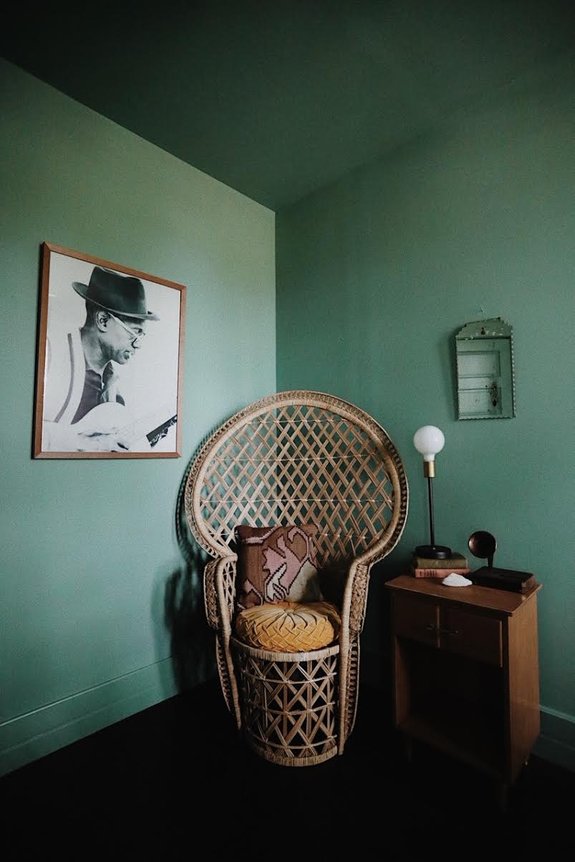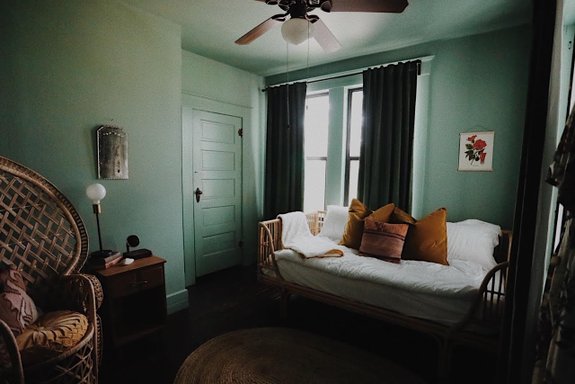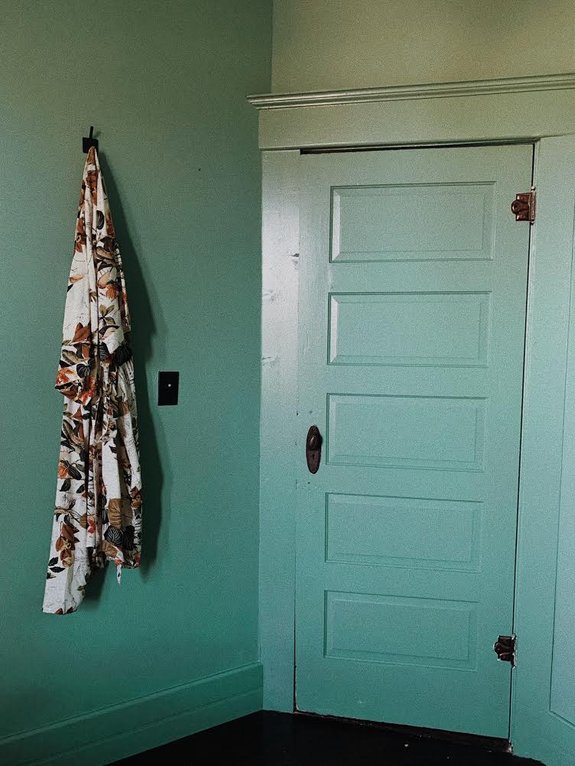 Originally owned by a doctor, the second floor housed patient rooms in the late 1890s (creepy or cool?). Inspired by the rich history of the home, we chose to paint the guest room "doctor's office green" (pictured above) as a nod to it's medical past. More vintage treasures fill this space - including a 70s peacock chair and an old print of our favorite Texas blues singer, Lightnin' Hopkins.
---
Get the Look with These Modern Farmhouse Plans
Farmhouse Curb Appeal
This home design feels fresh and contemporary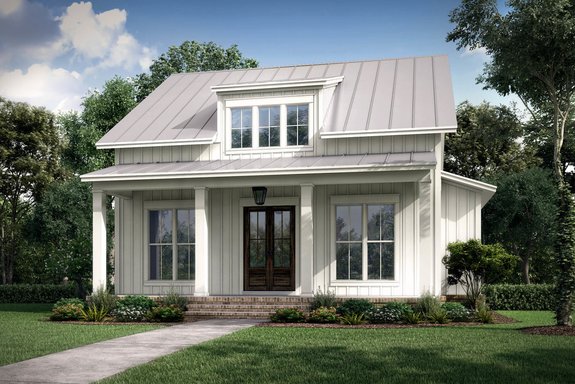 Plan 430-227 features large front and rear porches for easy entertaining.
Stylish and amenity-filled, this efficient plan (plan 430-227, above) gives you stunning curb appeal and a floor plan full of delightful surprises. For example, you'll find an oversized kitchen that boasts an island (with an eating bar) and a spacious pantry. The open layout between the main living areas creates a relaxing vibe and makes this plan feel bigger than it is.
Decorative details like wood beams and sliding barn doors deliver country flair, while front and rear porches make it easy to enjoy the great outdoors. Check out the large custom shower in the master suite.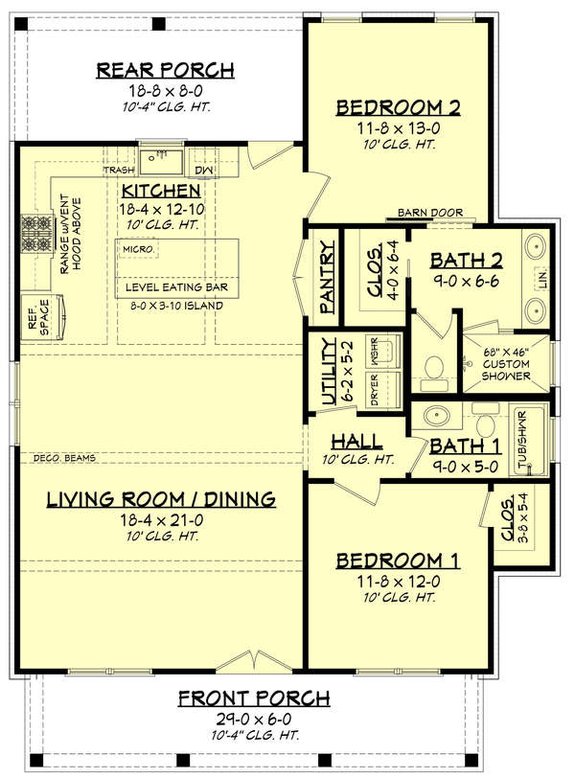 Elegant Design with Country Flair
This house plan features a modern open layout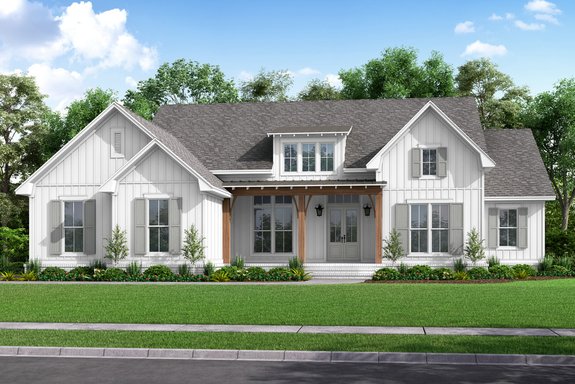 Plan 430-226 is all about country luxury.
It's all about a welcoming feeling with this lovely farmhouse design (plan 430-226, pictured above). A porch in the front and another in the back provide multiple places to sit and hang with family and friends. Inside, the kitchen takes center stage with a large island, walk-in pantry, and plenty of counter space.
Looking for some privacy? Check out the ultra-spacious master suite (and huge walk-in closet) tucked away to the left of the floor plan. Three additional bedrooms reside to the right of the home, while an office next to the foyer could be used as a hobby room or study.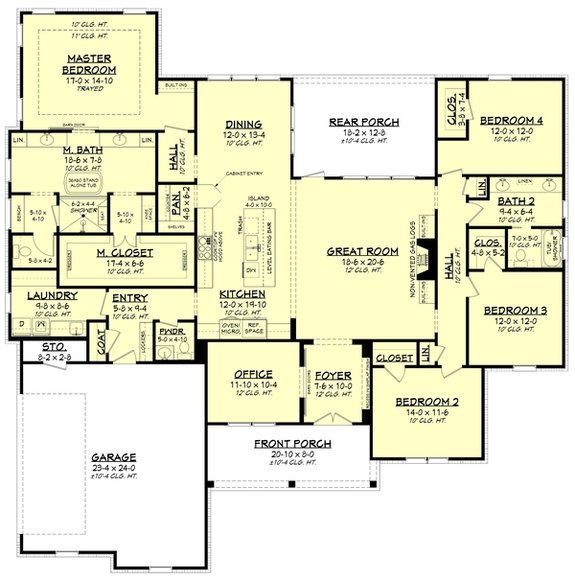 Rustic Farmhouse Design
You'll find cathedral ceilings in this sweet design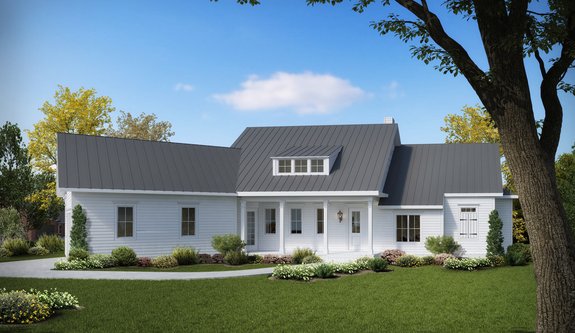 Plan 54-384 boasts inviting curb appeal.
This modern farmhouse house plan (plan 54-384, above) sports a fireplace in the great room and cathedral ceilings. A wall of windows provides plenty of natural light. The kitchen features a central island, breakfast nook, and a walk-in pantry.
Tucked away to the right of the floor plan, the master suite feels private and luxurious (for master suite design ideas, check out this article from Southern Living). Enjoy the great outdoors on the vaulted covered porch just off the living room. Need more space? A study could be used as a home office, guest room, or hobby space.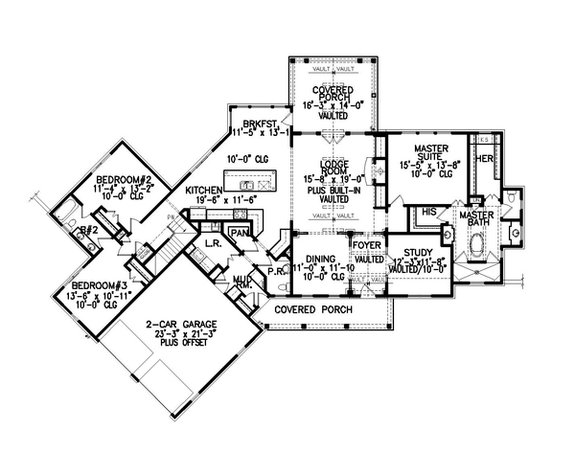 Farmhouse with Decorative Beams
The generous kitchen provides plenty of counter space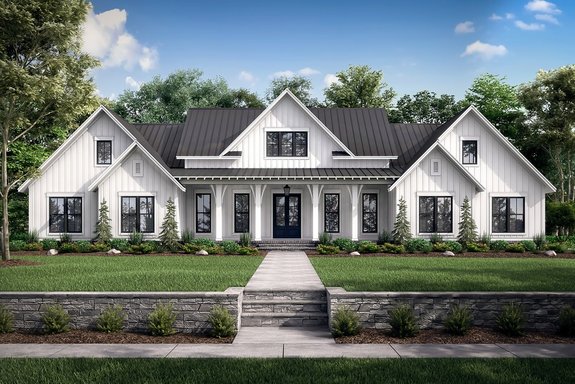 Plan 430-222 features an oversized master suite.
Here's a lovely four bedroom house plan (plan 430-222, above) with a relaxing master suite, open floor plan, and even a bonus suite upstairs to expand later as needed. The great room flows beautifully into the dining area and modern kitchen, where an island gives you room to hang out. A flexible office near the front of the home and a handy mudroom just off the three-car garage.
Porches in front and back add lots of outdoor living space. Don't miss the kitchen's spacious walk-in pantry.
Thoughtful Features Throughout
This modern farmhouse plan feels fresh and sleek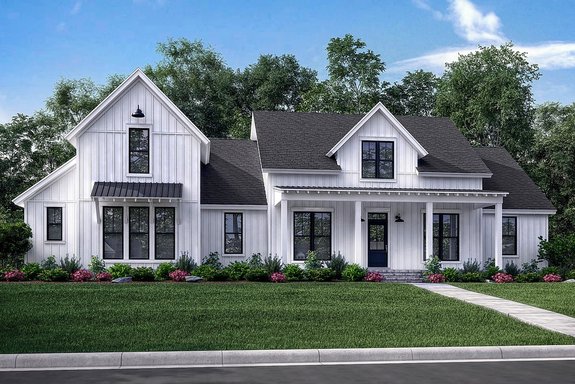 Plan 430-165 boasts eye-catching curb appeal.
This modern farmhouse plan (plan 430-165, above) feels fresh and sleek with vertical siding, abundant windows, and two eye-catching gables - much like these farmhouse designs seen in this article on Builder Online (published by Zonda, the parent company of Houseplans.com). Inside, the sightline directs your gaze from the foyer all the way through the great room and out to the rear porch, where an optional outdoor kitchen invites everyone out for barbecues. A snack bar in the kitchen creates a fun hangout zone, with the sink on the island so you can face your guests while rinsing veggies.
For elegant dinners, the dining room sits near the front, not far from the butler's pantry. Relax in your master suite, complete with a large walk-in closet that opens directly to the laundry room to make chores easier. Three more bedrooms (one a private suite) sit on the opposite side of the home. Other thoughtful features include lockers near the powder bath, extra storage in the garage, and a generous bonus suite upstairs.
Texas Hill Country House Plan
Check out the wall of windows in the great room
Plan 935-17 would work well on a scenic lot.
This gorgeous, Texas house plan (plan 935-17, above) shows off open living spaces and a luxurious master suite. Unique and thoughtful details include see-through fireplaces in both the living room and the master suite, a private "owner's courtyard," and a bar.
A wall of windows in the great room add a special touch between the interior and exterior. The master suite features a large walk-in closet that opens to the laundry room for extra convenience.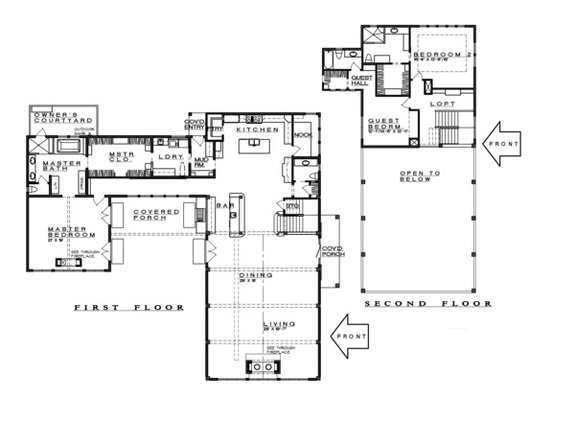 Explore more modern farmhouse plans here.