By Courtney Pittman
Design trends come and go, but in the Lone Star State, the modern farmhouse trend continues to be red-hot when it comes to Texas home designs (and we are here for it). With timeless features (like gable roofs, board-and-batten siding, generous porches, and large quartered windows) and contemporary layouts, it's no wonder homeowners can't get enough of this welcoming style. Today's modern farmhouse plans show off sleek lines, spacious country kitchens, and bring to mind an old-fashioned sense of home.
Click here to explore our collection of modern farmhouse plans.
While we all love the timeless look of white farmhouses (thank you, HGTV), there is a new trend taking over the country (and contemporary) home design scene in Texas: dark modern farmhouses. Whether they're dark gray, charcoal, or black, this trend is popping up throughout the region and Texans are embracing it. When we asked Janet Hobbs, of Hobbs' Ink, LLC (one of houseplan.com's fabulous home designers and a Certified Professional Building Designer in Austin), what her thoughts were on this fun new trend in Texas, she delivered valuable advice:
"It doesn't remind us of Grandma's house, except perhaps in the geometry of its steep gables and roof shapes. It is bold. It is a statement. It doesn't disappear into the countryside, it stands up tall and demands to be noticed. Often it doesn't hide behind the shadow of a deep front porch, but stands straight up out of the earth, proud that it is different…The black farmhouse is both edgier and less "safe" as a design choice. But, when it is done well it is VERY handsome and striking."
Classic and cool, these dark modern farmhouse plans are sure to stand the test of time.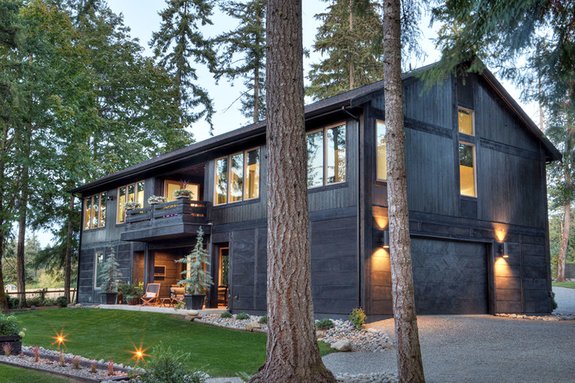 Here's a black farmhouse home design (569-37) that is fresh and modern. A freestanding staircase separates the living room and island kitchen/dining space, while still providing an organic flow between these areas. Two suites (located on the left and right wings of the floor plan) also reside on the main level of this design.
Homeowners can enjoy crisp, fall mornings on the covered outdoor area and balcony (just off the living and dining spaces). On the lower level, a spacious garage handles a car collection or gives owners room to work on projects.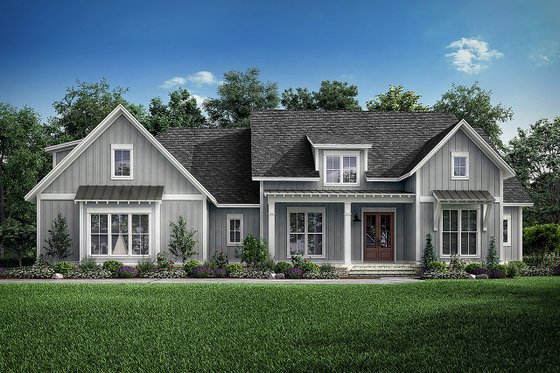 A gray exterior delivers a modern touch to this farmhouse design (plan1067-4). Inside, an open layout flows between the large island kitchen, the great room, and relaxed dining room for easy access when entertaining family and friends. Two sets of French doors open from the living room to the rear porch (which features an optional outdoor kitchen) allowing natural light to shine through.
The private master suite (check out the walk-in closet) is located on the left wing of the floor plan, while two more bedrooms and a game room (or in-law suite) are housed to the right.
This dark-gray farmhouse home design (plan430-174) is all about comfort and style. The wide open living, dining, and kitchen areas render an open and airy feel that is great for enjoying time with family and friends.
The large kitchen offers miles of counter space and storage. A utility room offers a sink, counter space and broom closet (just off the kitchen), while a handy mudroom features cool lockers for storing coats and jackets. Luxurious and roomy, the master suite is located to the rear of the floor plan. Want to kick back and relax? A cozy screened porch offers additional entertaining space for enjoying those cool and sunny days.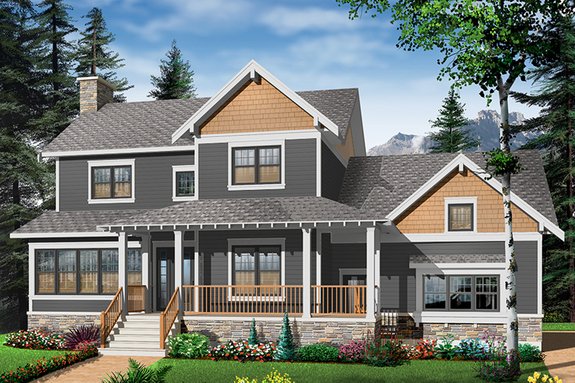 This modern farmhouse house plan greets you with a welcoming front porch and a dark-gray exterior. Inside, the well-equipped kitchen has everything you could want and is complete with a large island and breakfast area. Work from home? An office space on the main level would make a convenient home office (or guest room). Upstairs boasts a sizable master suite (with a huge walk-in closet), two bedrooms, and a bath.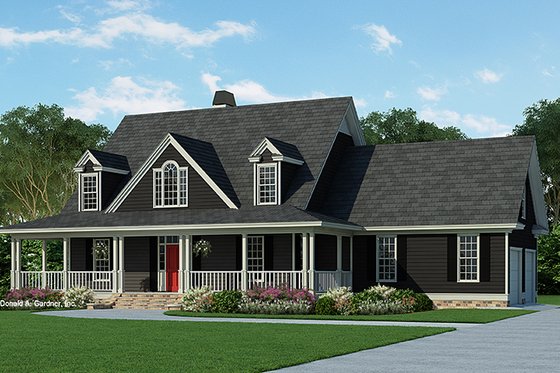 The warm down-home appeal of this farmhouse home design (plan929-215) is as apparent inside as it is out. An inviting front porch renders a classic touch, while the black exterior delivers modern curb appeal. The two-story foyer and open layout between the great room (with a hearth!) and kitchen make the main level feel open and bright. Efficient and convenient, the kitchen features an island work area and large pantry.
Located to the left side of the floor plan, the master suite (which includes deck access, a large walk-in closet, and dual vanities) grants homeowners extra privacy. Three additional bedrooms, a full bath, and bonus space are located on the second level.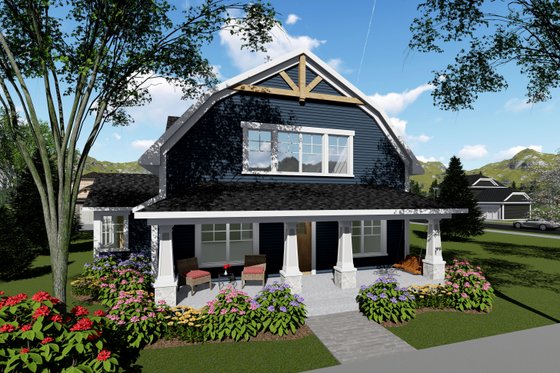 Reminiscent of barns of the past, this modern farmhouse design (plan70-1419) blends classic and modern with a wide front porch and dark exterior. Inside, a central fireplace in the great room draws you into the home, while an open layout makes it easy to entertain family and friends. Just off the dining room, a sun room would make the perfect home office or reading nook. Need to stay organized? Keep things in order in the large mudroom (that includes lockers and a coat closet) next to the two-car garage.
The master suite resides to the rear of the home for added privacy and includes a large walk-in closet and dual sinks. A second bedroom is located at the front of the plan and features its own bathroom. Enjoy the outdoors on the deck that is easily accessed from either the sun room or garage. Upstairs, a second story bonus area (and bath) could be used as a third bedroom suite or home office.
Granting homeowners comfort and joy, the modern farmhouse trend (both light and dark exterior versions) seems like it is here to stay.
In the words of Janet Hobbs, "Part of what makes Modern Farmhouse popular is that it is comfortable. Many of us have happy family memories of homes that, while more cluttered than what we are seeing now, looked much like this style. Whether we grew up in East Texas or Western Massachusetts most of us have celebrated a holiday in a white siding farmhouse filled with good cooking and good company. In this high tech world a softer touch is needed at the end of the day."
Browse modern farmhouse plans
Explore open floor plans