By Boyce Thompson
For anyone who shares a cramped bathroom in the morning, a spacious, relaxing, functional master bath may be the greatest luxury of a new home. The master bath, which previous generations may have viewed an indulgence, has become an essential element of today's new homes. The master bath has been transformed into a room to spend quality time with a spouse in the morning, indulge in a relaxing soak after work, and comfortably go about the business of grooming. The lifestyle benefits may not be immediately apparent by looking at the lines on a floor plan.
Click here to browse our collection of master bath plans.
A master bathroom suite can serve as an important place to transition between private and public life. Bracing showers deliver the psychic energy to tackle the day, just as hot baths provide relaxation to shed the worries of work. Today's master bathrooms are a place to linger, to try on different outfits, to catch up on the news, and to share plans for the day. Think twice about activities that might go on in the bathroom before you settle on a design.
Master bathrooms grew obese during the house boom. Some got so big that you couldn't heat them with a hot shower on a cold morning. And who wants to continually clean the glass walls of a large shower enclosure designed for two occupants? Master baths have settled back into a comfort zone. The emphasis these days is on efficiency, with space-saving walk-in showers and smaller, artfully designed sinks, toilets, and tubs. Built-in shelving is often substituted for bulky cabinets. Floating vanities and rounded tubs increase the perception of spaciousness. Raising the vanities leaves room for under-counter lights that add sizzle even as they provide a night light.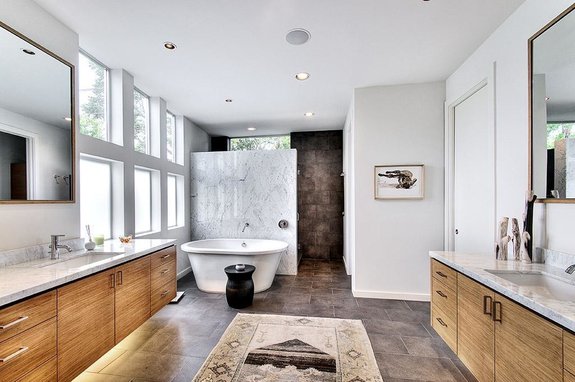 One place where designers aren't skimping is on lavs and the counter space around them. When dual lavs first showed up in master bathrooms twenty years ago, designers dubbed them "marriage savers." That's especially true for dual-income households. The setup (like the one pictured above in plan449-13) enables one spouse to hurriedly shave without worrying about leaving loose hairs or toothpaste in the sink. Another spouse can leave a hairdryer on the counter. Some designers vary even vanity heights if one spouse is significantly taller than another. And you may want to fit a chair under a vanity if you intend to use it to apply makeup.
The next necessary "revolution" was to compartmentalize the toilet. That enables two people to use the room simultaneously. The location of the toilet is an important consideration. You may not want it along the wall shared with the bathroom—otherwise you may hear it flush at night. At the same time, you don't want it so far away from the bed that it's difficult to reach in the night.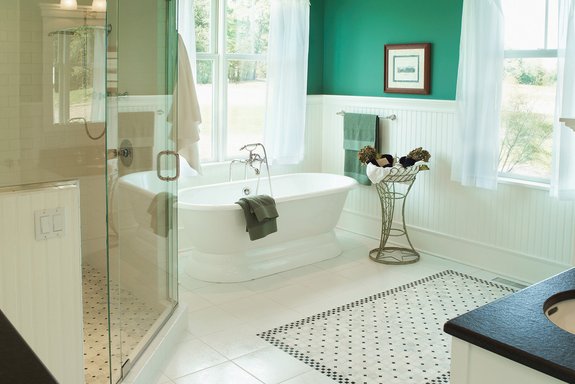 Plan 70-1157 features a master bath that is calm and inviting.
Bathroom design is getting smarter in several ways. Not only have water-saving fixtures and faucets gone mainstream, but you can find affordable faucets that turn on automatically when you put your hands under them, a shower head that plays your favorite music, and toilets with built-in washers and deodorizers. Also, several manufacturers make smart fans that turn on automatically when relative humidity reaches a dangerous level. Some come with motion detectors that can tell when people leave the bath and continue running the fan for another five minutes.
Lighting is a key element of bathroom design. We all remember the days when Hollywood lighting above the vanity was considered chic. Never mind that, the position of the lights over your head created shadows and you couldn't see your face clearly. The best approach is to leave room for lights on both sides of the vanity – about five feet off the floor. Bulbs that emit natural-looking light render your face better. You may want to put general ceiling lighting on a dimmer to set the mood for an evening soak.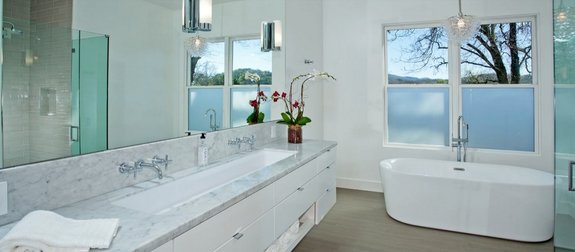 Storage space in the bath is often overlooked. You need a place to store medicine, hairdryers, towels, toiletries, and other items, preferably close to their place of use. The plan pictured above by Nicholas Lee (ranch style house plan888-18) provides tons of vanity drawers and shelves. It even leaves room for a bench by the bathtub, an ideal place to discard clothing or a robe, or tie your shoes. The frosted glass window is a nice compromise; it lights the room and provides bathers with privacy.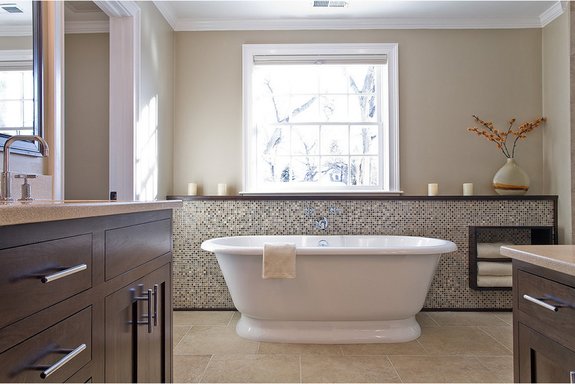 A key consideration today is the location of the master closets. Many plans, such as the one pictured above from Green Living (traditional style house plan497-46), locate them in a hall that separates the master bedroom from the master bath. In arid climates, you may want closets within the master bath. "It's very convenient to walk directly from the bathroom into a closet to dress," says Wayne Visbeen. "But you need to consider the effect of moisture on your clothes."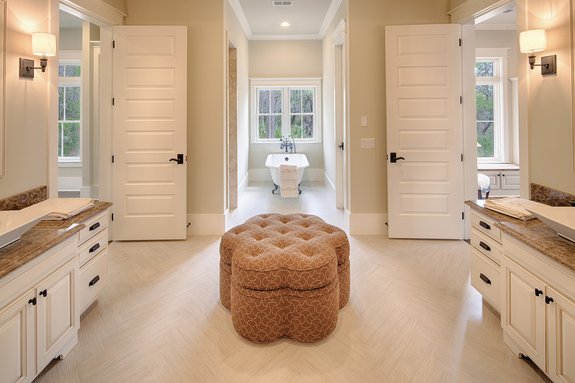 Another issue is whether to separate the bath from the master bedroom with a door. That may make it easier for one person to dress without disturbing another person who might be sleeping. The trade-off may be that the toilet is more difficult to reach at night. In this Visbeen plan (country style house plan928-12), a door separates a bathroom suite (complete with spacious walk-in closets) from the master bedroom. In some plans, a second door leads to the bathroom, so that one person can leave early in the morning without re-entering the bedroom and waking a spouse.
Today's master baths -- with their sleek tile surfaces, glass shower walls, large mirrors, and elegant fixtures -- are often the best-designed room in the house. An elegantly shaped stand-alone bathtub, typically set by a window, often serves as the focal point of the bath. It's taken the place of the bulky built-in, rarely used whirlpool tub. One advantage to a free-standing tub is that you can always change the style later. The approach also serves to accent plumbing hardware. Here's a good example in a bath by Wayne Visbeen.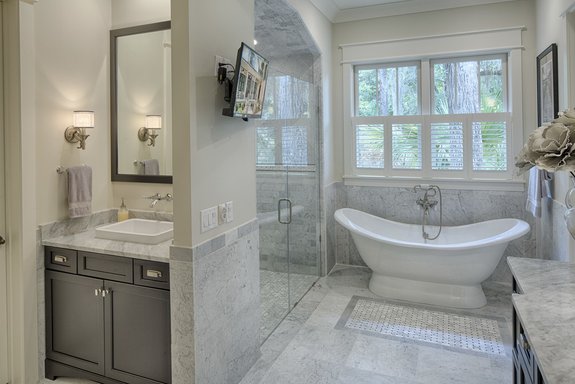 A chic master bath in country style house plan 928-13
In Visbeen's work, luxuries often work their way down from the custom market. The plan above (plan928-13) leaves room for a television along one wall, an ideal way to catch up on the news while getting ready for work in the morning. Tile climbs from the floor half way up the bathroom wall and completely envelopes a compact shower. Visbeen often leaves a spot outside the shower where someone can towel off without leaving puddles on the floor.
Another thing to think about -- how will you use the bathroom in the future? You may want to put blocking behind the walls to latter install grab bars in the shower or by the toilet. A shower seat and a no-threshold entry may also come in handy later on. Same with partially enclosing the toilet with, say, a frosted glass half-way so that could reach it in a wheelchair or walker. An extra-wide doorway not only adds elegance but prove vital later in life. "We're putting in big 3'-0" pocket doors to accommodate older homeowners," says Eric Taylor, vice president of design for Frank Betz Associates.
Explore our master bath plans
Browse our luxury house plans