Whether you're looking to reduce your carbon footprint, create a cozy getaway home, or just want a more budget-friendly home, a small house plan could be exactly what you need. These homes offer more space than their square footage might imply, and there are all kinds of ways you can customize them to meet your needs. Their limited space makes them a nice option if you're looking to downsize, or if you have a smaller lot as well.
Don't eliminate small house plans from your options without first taking a look at what is available. We've put together a list of some great ideas when it comes to keeping it small, and if any of them catch your eye, contact one of the Houseplans representatives at 1-800-913-2350 to get started on your dream home.
A Small Farmhouse Style Makes a Big Impression
You'll love the convenience of living in this small space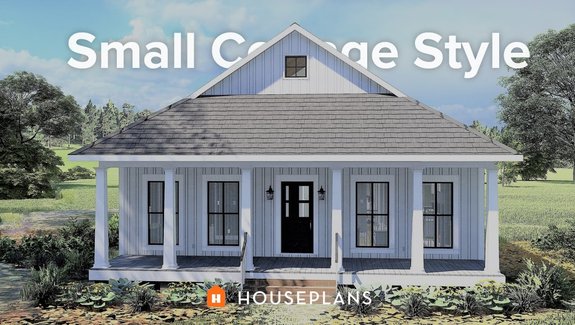 Plan 44-222
This farmhouse style plan (plan 44-222, above) is a nice option if you're looking for a smaller space with lots of style and 890 sq ft available for you to enjoy. The house offers instant appeal with its spacious and airy front porch and steeply angled roof. When you enter the home you find the great room that flows into a kitchen that comes with an eating bar, breakfast nook, and even a walk-in pantry with access to the covered rear porch. This porch would be a great place to set up outdoor furniture or an al fresco dining area (check out these porch decorating ideas from HGTV). Further back from the kitchen there is space for a side by side washer and dryer too.
The two bedrooms are located off to the side of the great room, with easy access to the full bathroom.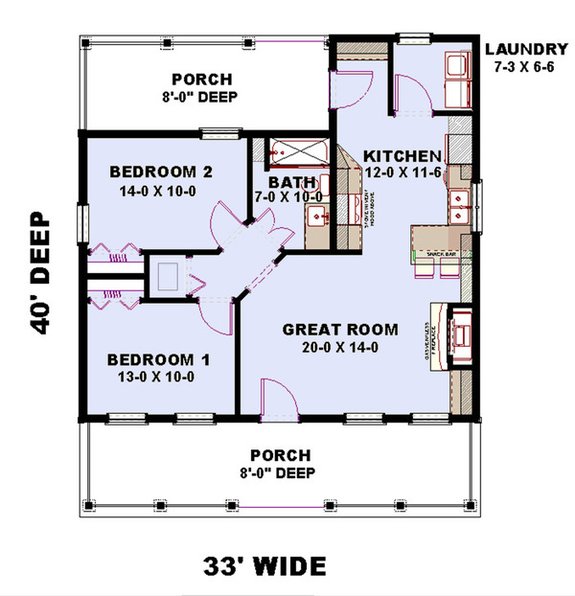 Downsized Living in a Craftsman
A small house with a lot of curb appeal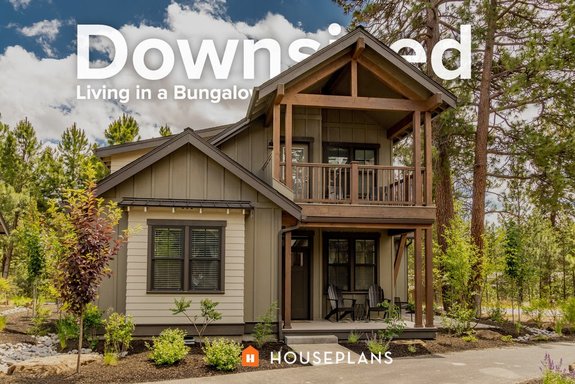 Plan 895-118
If you've always wanted the classic appeal of a Craftsman home, then this could be your chance. With a small house plan like plan 895-118 (pictured above), you won't have to worry about going over your budget to get the house you've always wanted. This plan consists of two stories and 1200 sq ft of living area. The lower and upper porches are very appealing, and contribute to the wow factor of the house. When you walk through the door, you'll find the living and dining areas flow easily into the kitchen, which includes an island.
Further back from the dining room is a space that could be used as a bedroom, den, or study--depending on your needs--as well as a half bathroom. The master suite is adjacent to the living area and includes a master bath and a walk-in closet. On the second story you'll be pleased to find the stairway leads to additional space for a bedroom or studio with access to the second story covered deck, and an additional full bathroom.
Living in Southwestern Style
Create your dream tiny house in a different kind of style
Plan 917-3
Small house designs come in all different sizes, but if you're imagining something like this adobe ranch house (plan 917-3, above), then you'll be pleased to know that the 398 sq ft of this plan offers a lot of opportunity to get creative. The unique covered porch is accessible by French doors and would be a nice place to relax either before or after dinner. The entrance to the home is via the outdoor patio, which makes for a unique way to enter the home. Inside, you'll find one bedroom, one bathroom, and an open area with the living, dining, and kitchen spaces all flowing into one another.
Cathedral ceilings and exposed rafters are also included in this small house plan and complement the southwestern aesthetic - much like these cool ceiling ideas from Freshome . When the outdoor patio and porch are included, the total footprint of this house design increases to 839 sq ft.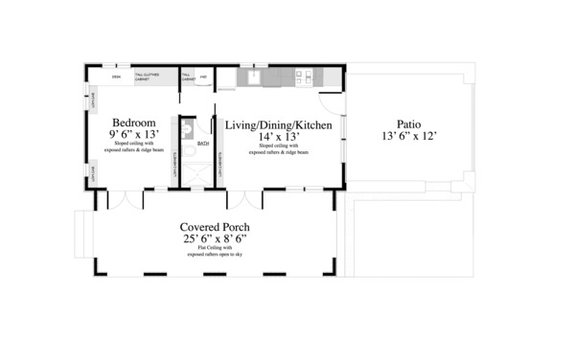 Efficient Living in a Small Space
Save on energy costs with this house plan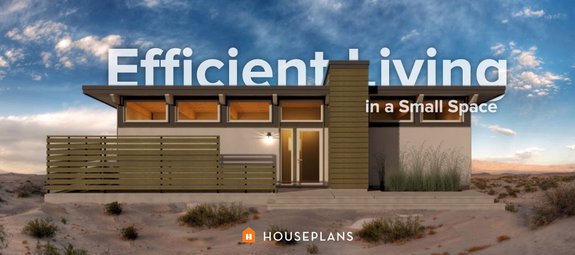 Plan 556-1
A big reason to consider small house plans is if you want to reduce your carbon footprint. Just like larger, traditional houses, plan 556-1 (above) can make use of energy efficient systems. This modern style small structure is 672 sq ft and would be well adapted to a dry, desert-like environment. There is one bedroom and one bathroom, and 2 x 6 framing allows for enhanced insulation, a good choice for building in an area with extreme temperatures. The low slope of the roof makes it easy to install solar panels.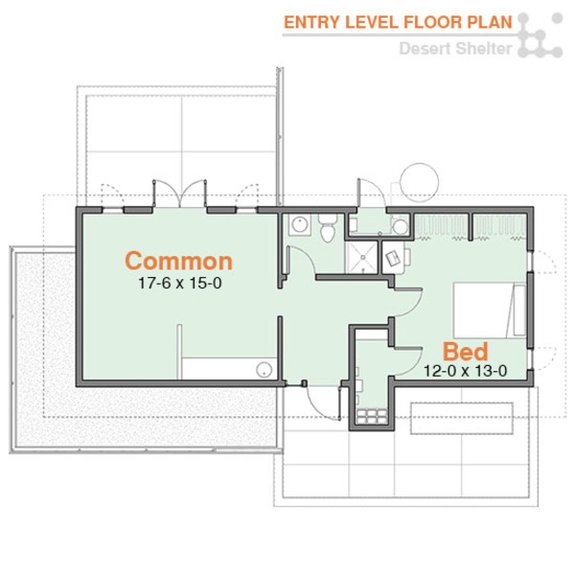 Appealing Design in a Small House Plan
A modern house plan that delivers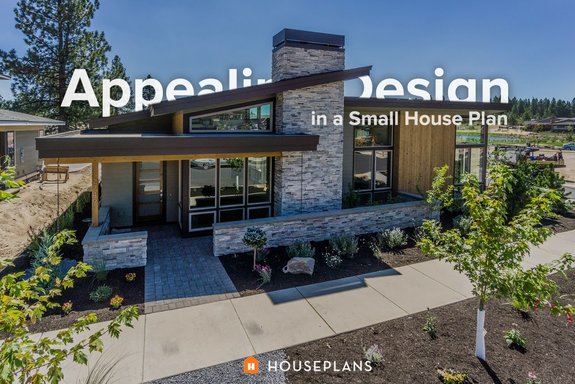 Plan 895-60
This contemporary house plan (plan 895-60, above) is a nice way to enjoy smaller-space living (check out these small modern house plans from Builder Online). The square footage of this house is 1,731 sq ft. Although the large windows and slanted roof give the illusion of two stories from the outside, this house is one story. You enter the home via the covered front porch and are immediately immersed in the open dining room, living room, and kitchen area. The master bedroom, bathroom, and walk-in closet are on one side of the home, while the other two bedrooms and another bathroom are located on the other side.
There is also a side courtyard that is accessed via the master suite or the living and dining areas, and would be a great spot for outdoor entertaining.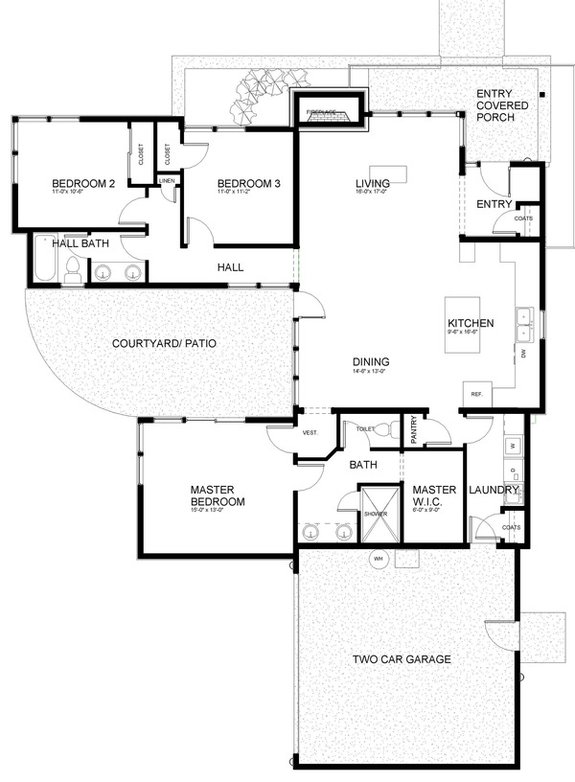 Connect to the Outdoors with this Small House Plan
This modern cottage fuses indoor and outdoor space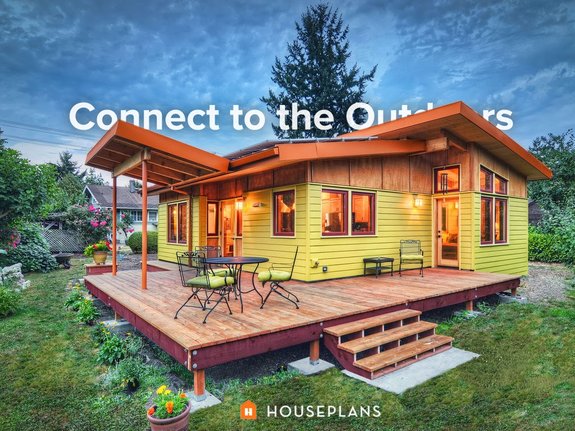 Plan 890-1
Although plan 890-1 (above) is only 800 sq ft, it seems to be bigger than it appears. This could be due to how the open layout maximizes both indoor and outdoor spaces, including a large wraparound porch ideal for outdoor dining. There are two bedrooms and one bathroom, as well as ample space for a living room, dining area, and kitchen. What makes this layout seem larger is that the design incorporates creative ways to define areas, without actually separating them. The main area is broken up with elements such as a kitchen peninsula and a window seat, which helps to define the kitchen and the living room.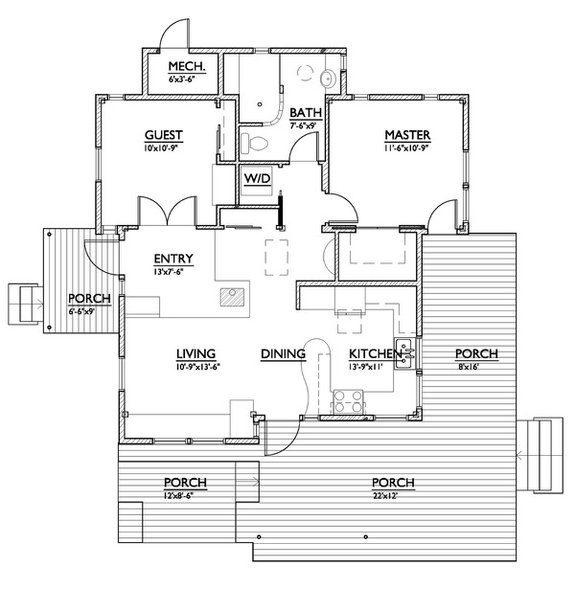 Economical Log Cabin Style Living
This is a stylish way to downsize your next space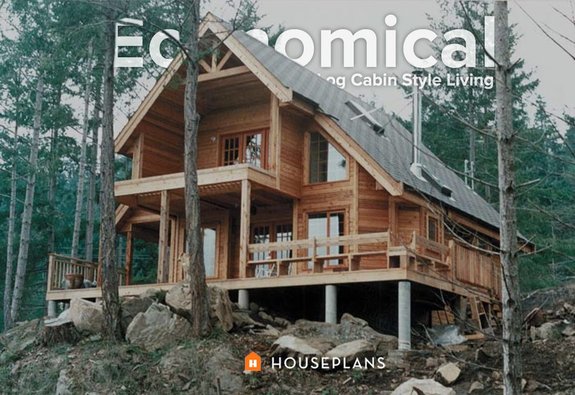 Plan 118-102
A cabin style house plan is a nice way to realize your plan for a small house, and although this plan (plan 118-102, above) is just 1,154 sq ft, it is definitely eye-catching. The appeal of this cabin is enhanced by the wraparound partially covered sundeck as well as a second-story lookout balcony. Once inside, you'll appreciate the living and dining space that showcases built-in window seats and a cozy wood stove. The kitchen is complemented by a garden window that looks out over the outside deck.
On the first floor there is one bedroom and one bathroom, and on the second story there is room for another bedroom as well as a bathroom. Adjacent to the upper-story bedroom is a loft or studio space that opens to the living space below. There is also access to the second-story balcony from the loft.
Country Style That's Budget-Friendly
Stay under your budget with this small house plan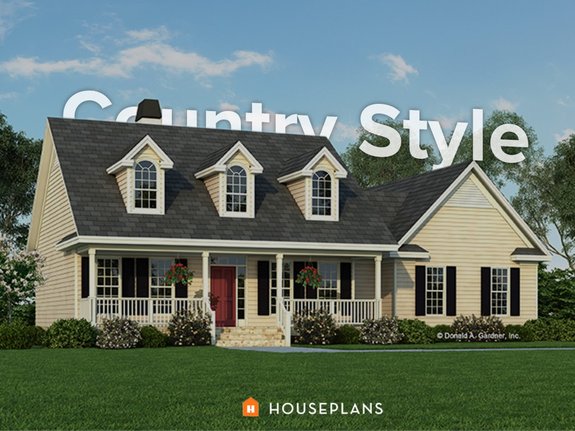 Plan 929-222
A country style house is another great option for those looking to build on a budget. Although plan 929-222 (above) may look larger, it is 1,561 sq ft, and on just one floor has room for three bedrooms and two bathrooms. As you walk in through the foyer, you will first encounter the dining area and the great room, which comes with a cathedral ceiling as well as a fireplace. The great room flows into the kitchen and breakfast area, which has access to the back porch.
The master suite is located on the far side of the house, and contains a bathroom and walk-in closet.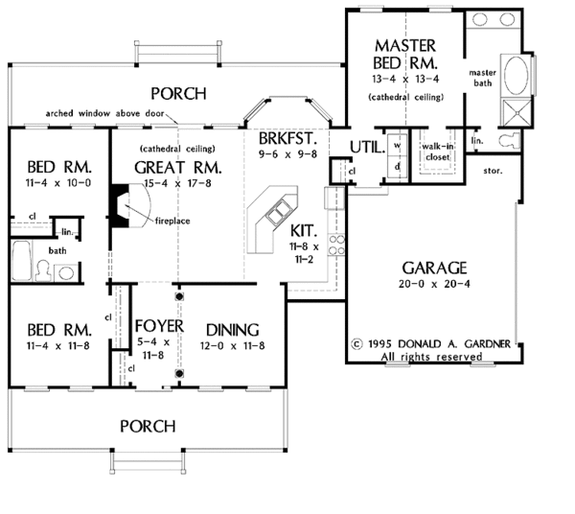 A Craftsman House Plan Whose Small Size Works Well
Enjoy the small space in this convenient design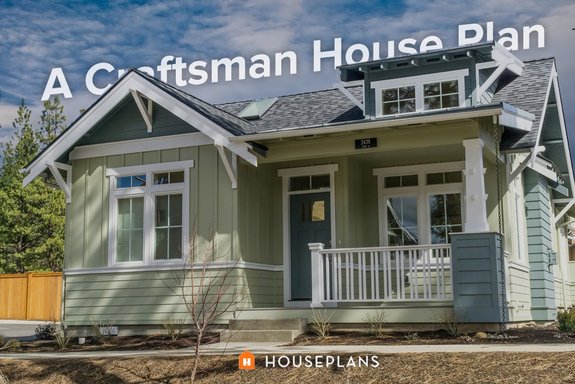 Plan 895-47
Whether you have a small or narrow lot, or just love how this Craftsman house (plan 895-47) looks, it really takes advantage of all of its 999 sq ft. When you walk onto the small porch and through the front door, you will be in the great room--which benefits from an abundance of natural light thanks to the many windows. The master bedroom is to the left, and includes a bathroom and walk-in closet as well.
The kitchen invites friends and family to hang out at the peninsula, with room nearby for a dining table. Towards the back of the house is a flex room, which could work as another bedroom, game room, or playroom. There is also an additional bathroom attached to the flex room as well.
Small house plans are a great way to reduce energy costs, downsize your living area, or get a great plan on a budget. All of these plans are customizable, so make sure to discuss this with your Houseplans representative.