By Aurora Zeledon
Choose a Walkout Basement House Plan for Your Sloped or Narrow Lot
Most people would prefer building on a spacious flat lot. Unfortunately, that's not always possible, especially if you're located in a city, rustic, or waterfront location. If you've just purchased a narrow or sloped lot, consider selecting a house plan with walkout basement. Walkout basements contribute extra space without requiring you to expand the footprint of the home and can turn a seemingly less than desirable hillside into a cool design perk. While you should check with your builder to confirm if a particular floor plan is appropriate for your area, below are some of our favorite walkout basement house plans that tend to work well for both narrow and sloping lots.
Visit more house plans with walkout basements collection here
Slim Dimensions, Big Style
When you're building on a narrow lot, it's all about building up, not out. A good way to do that is to include a finished walkout basement. Whether it includes a garage, recreation space, bedrooms, or simply storage, a house plan with walkout basement provides versatile room for your family.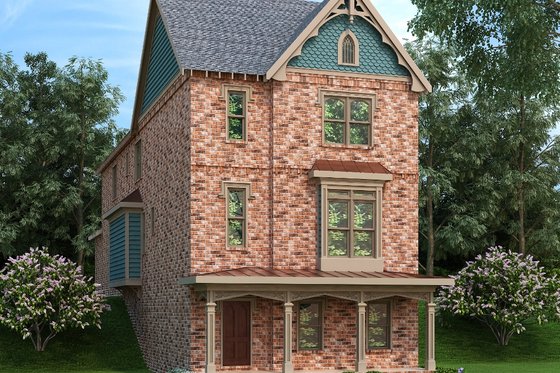 Plan 497-5 brings traditional brick style to a narrow lot. The lower level holds a rec room, wet bar, full bathroom, and optional elevator. If you have elderly relatives or want to make aging in place easier, planning for an elevator from the beginning makes everything easier.
Outdoor Living to the Max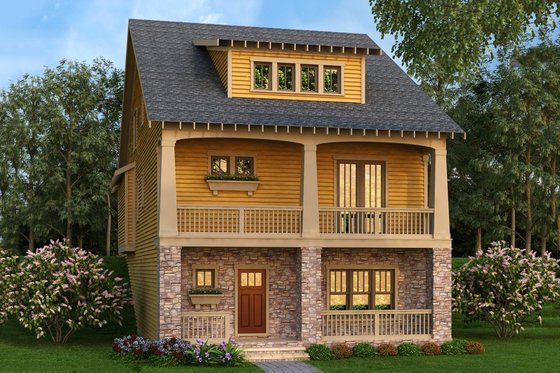 Building in the mountains or in a hilly area, like the Texas Hill Country? Make sure you take advantage of the view with plenty of porches, decks, verandas, and other outdoor living. Plan 497-5 gives you porches on two levels, so (for example) kids can hang out downstairs while you and the other adults enjoy a drink upstairs. A three-car garage gives you plenty of parking on the other side of the home.
Let There Be Light!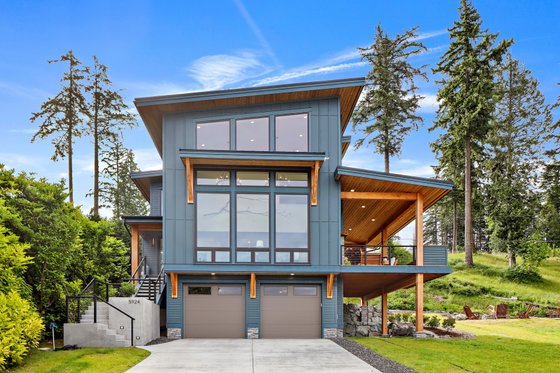 "In a dense, urban situation, an added benefit of sloping sites is that they can allow for multiple levels lit by natural light," says architect Jen Dalley in a Houzz article entitled How to Artfully Build a House on a Hillside. Plan 1070-7 (above) is a great example of a narrow, walkout basement house plan that would a) probably look great in a modern urban setting and b) boasts windows galore for maximum natural light!
Extra Apartment Downstairs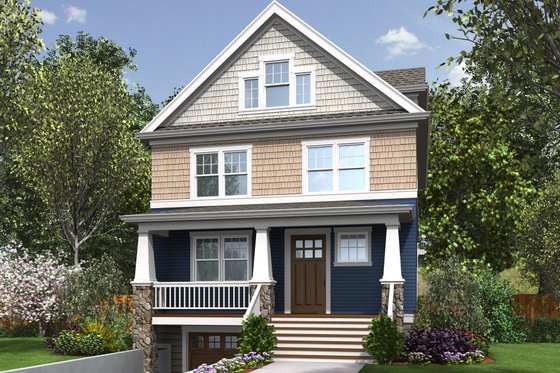 If you're building on a lot that slopes to the front, it's a natural choice to put the garage on the lower level. This area can also be used to house visitors (or an adult child) and becomes especially welcome with a kitchenette. Plan 48-678 provides a versatile apartment on the lower level, complete with a cooktop and sink in the kitchen. A game room at the very top level of the home offers even more room for fun. On the middle levels, you'll find the open gathering rooms and the spacious bedrooms, including the deluxe master suite.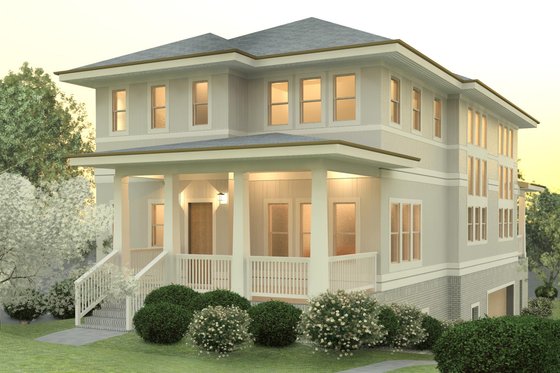 Here's another home that can accommodate an in-law or young adult with an apartment on the lower level. Plan 926-3 also includes a workshop and extra storage on this level. Other highlights include the playroom near the secondary bedrooms upstairs and a versatile dining room/library on the main floor.
Car Collector's Paradise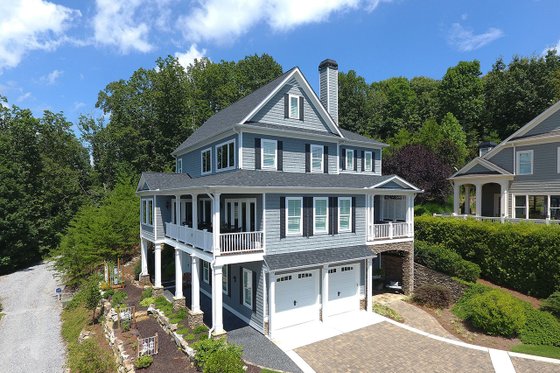 Maybe you'd prefer to keep the lower level clear for parking and tinkering with tools. Plan 437-57 devotes the whole bottom level to a four-car garage and a spacious workshop. An elevator takes you upstairs to the living areas on the middle level and the bedrooms at the top. Flip through the photos and check out that kitchen!
Fun and Games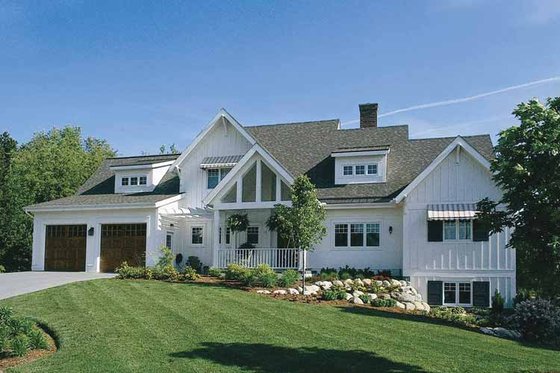 Speaking of hobbies, a finished walkout basement can become the hangout of choice for your family. Visbeen Architects designs fun-filled basements for many of their designs, like plan 928-47 above. Down here, you'll find a family room, a kitchenette with a snack bar, a guest bedroom and bathroom, a laundry room, a workshop, and plenty of extra storage.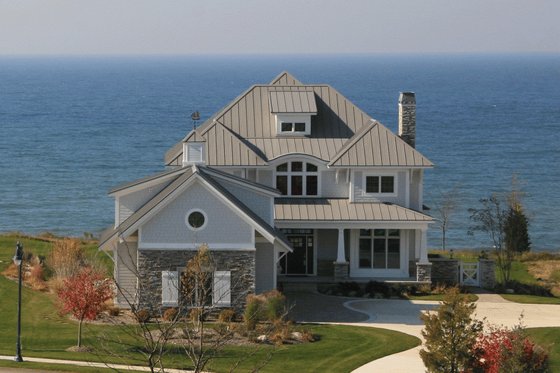 Billiards, anyone? Plan 928-7 (also by Visbeen Architects) amps up the party on the lower level with a billiards room, a fireplace in the family room, and a large covered patio. If you're building on a view lot, this home really takes advantage of the vista with a tower room and deck at the very top!
Or if you'd rather keep things a bit simpler (but still include room for guests), check out plan 928-288 from Visbeen Architects. This sleek modern farmhouse plan feels fresh, clean, and traditional while presenting you with an open layout that puts the kitchen at the center of the action.