By Boyce Thompson
Can you imagine your builder offering to pay your energy bills for the first year? You'd feel pretty confident that you're getting an energy-efficient home! That's the promise that designer Dave Jenkins' builder clients can make when they build homes from one of his house plans. Electricity bills can be as little as $600 a year. "Homeowners think the bill is probably triple that, so it's quite a value," says Jenkins, who designs Energy Smart Home Plans. But how? And what kinds of features should you look for in an energy-saving house plan?
Click here to browse our collection of energy efficient home plans.
Plan938-1 is a 2,287-square-foot starter home that became a DOE case study. With photovoltaics added to the roof, it produces all the energy it consumes.
The key to the energy efficiency of Jenkins' plans is running ductwork through conditioned space. That alone, he estimates, can save you 25 percent on energy expenses over a conventionally built house. Jenkins prefers to run the ductwork runs through dropped soffits with forced-air chases, rather than a conditioned attic. That's a cheaper alternative than using spray foam to create a conditioned attic. He insulates the attic floor with blown-in insulation, either cellulose or fiberglass, to achieve an R-value of 38.
Some of the latest building science is now designed into cutting-edge house plans. Some plans even assist with the most important green building consideration – using the home's solar orientation to your advantage. Ideally, key public rooms should face south so that they can be heated by the sun during the winter. Porch roofs and overhangs can be used to prevent the sun from overheating spaces when it's high in the sky in the summer.
Green Living markets home plans that include a chart for sizing shading overhangs based on five zones within the United States. The info sheet includes diagrams for building three basic bench window shading devices, along with material lists. Shading alone can reduce heat gain by up to 80 percent, according to the designer. You can see how an exterior shade was used to cool the main living spaces of the modern home design show below. With the addition of solar panels on a flat roof over a second-floor suite, the home could produce all the energy it needs to consume.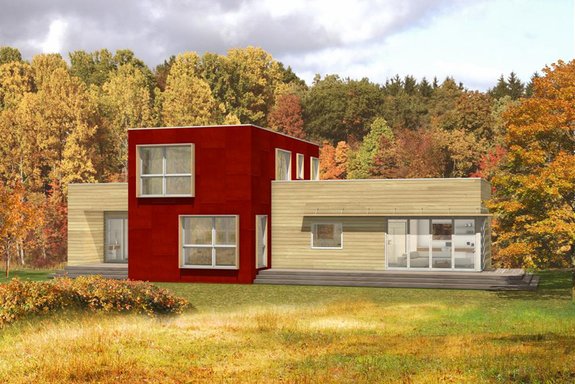 Plan497-54
The key to a net-zero home is building a home that consumes as little energy as possible. 2x6 studs in the walls of the above (plan497-54) Energy Green home leave more room in the walls for insulation and reduce the potential for thermal bridging. Plan specs call for low-density foam in the walls and roof, producing R-values of 19 and 38 respectively. A heat recovery ventilator reduces air changes to .25 an hour, saving energy in the process. With the inclusion of a high-efficiency gas furnace and air conditioner, a tankless hot water heater, and Energy star appliances, the firm estimates that it should take only a 1.95 kW photovoltaic array to reach net zero.
The plan's designers used RS Means data to determine what it would cost to build the basic house – before adding the high-efficiency appliances – in different regions of the country. Building the home as designed, on a concrete slab, with wood framing, fiber cement and cedar siding, and an EPDM roof membrane, comes to $267,595 on average, or $116 per square foot. The number includes engineering fees and a builder profit. The cost is much higher in the Northeast ($317,000 or $138 per square foot) and lower in the Southeast ($238,000 and $103 per square foot.)
Several designers now market plans built with structural insulated panels, another energy-saving framing technique. David Wright's High Sierra Cabin (below), first designed for Sunset magazine, has been built in mountain regions throughout the country. Quick SIPs assembly comes in handy in mountain regions with short building seasons. Builders typically source the SIPs from local manufacturing plants. "Sometimes access roads are a problem for trucks," he says. Building with SIPs, on the other hand, is rarely a problem. "It's not rocket science, and there are plenty of training videos available."
Plan452-3
Energy independence becomes a bigger issue in rural areas without easy access to electricity, water, and other utilities. The High Sierra Cabin (above) relies on PV panels for electricity, supported by a backup electrical generator that runs on propane. Propane is also used for cooking and backup solar water preheating. The SIPs provide so much insulation that a small Scandinavian wood stove easily heats the interior. Clerestory windows and vent skylights fill the home with light on winter days.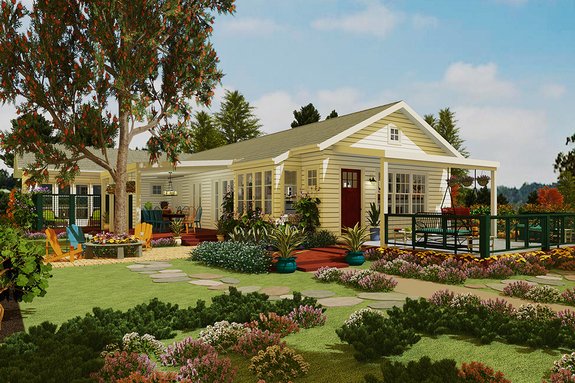 Plan917-43
The greenest plans, like the one above from Homestead Partners, make the most of natural ventilation. Windows on two walls of the bedrooms in this plan allow for cooling cross breezes. The main public rooms open to a porch that cools the great room. A roof over the porch screens the home from solar gain during the summer. "The ceilings in the great room slope up," says Ron Sakal of Homestead. "They draw up hot air so that you can get by with only ceiling fans in warm weather."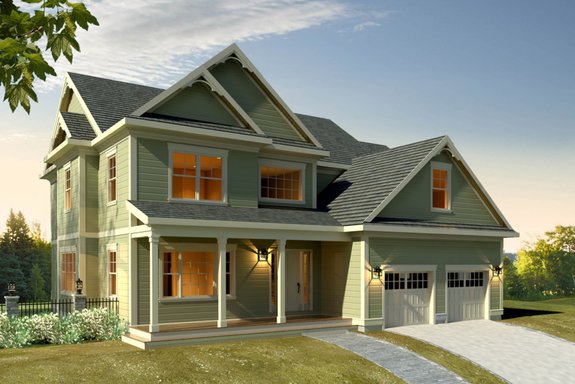 Plan497-16
Energy performance is all about details. The plans for the Green Living plan above call for a 2x6 stud wall with open-cell insulation, which is also used to insulate the attic roof and floor joists. On the outside, house wrap covers half-inch plywood or OSB sheathing. A rainscreen, 3/8 inches of air space, is left between the housewrap and siding. That way moisture that gets behind the siding has a way to escape. The foundation plan calls for two inches of rigid XPS insulation under a reinforced concrete slab.
A report that comes with the plan compares energy performance at three building levels – a home built to code, an improved version, and an optimized variety. The baseline home, built to the 2006 code International Energy Conservation Code, has R-19 walls, an R-38 roof, and windows with a U-value of .6. The improved version would include windows with U-value of .29, a programmable thermostat, and more efficient appliances. The optimized version would be built with the highest efficiency appliances, windows with a U-value of .17, and a photovoltaic array. The improved and optimized version use 45 and 60 percent less energy respectively and save 41 and 58 percent on annual utility bills.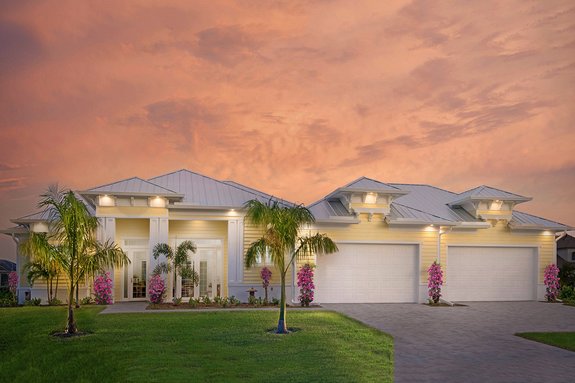 Plan938-83
It's amazing how far green building know-how has come in the last several years. The 3,694-square foot tropical cottage above by Energy Smart Home Plans operates at 107 percent efficiency. It contributes electricity back the utility grid. The home's conventional appearance belies its extreme energy efficiency. "The home offers proof that net zero homes don't have be shiny metal boxes or spheres," says Jenkins.
The home includes many of the same details as the one that leads this report. The plans call for installing furring strips and drywall over a block wall on the inside. The air space gets you an R-8 wall. "Anything more than that is a waste," he says. Raised heal trusses leave 14 more inches for blown in insulation on the attic floor and also provide for insulation above exterior wall top plates. The windows must have a solar heat coefficient of 2.0 or better.
"If you do that, and build the house tightly, you can get a 45 HERS," says Jenkins, adding that builders often don't achieve that on a first try. "Builders have to learn from experience. They need to foam every cavity, caulk every seam. When a plumber or electrician put a hole in wall, they need to make sure it's sealed. Builders need to be excited about this or they won't get to net zero."
Browse our collection of energy efficient home plans.