By Courtney Pittman
Plan on building your dream house plan in Texas this spring or summer? We're here to help. With so many exterior options (and the warm Texas climate), choosing the right one for you can be challenging. Whether you're looking to use an exterior siding material that is cheap, durable, or popular (or all of the above) – we've got you covered. Need some ideas? Check out these exterior design lessons from Freshhome.
Click here to explore thousands of Texas style house plans and home plan designs. Questions? Call 1-800-913-2350 today or contact us here.
From modern farmhouse plans to chic Craftsman home plan designs, you are sure to find your dream home at houseplans.com. Let's look at some commonly asked questions and answers when it comes to deciding on exterior material choices in Texas.
What is exterior design?
Exterior design depends heavily on the environment. "Two answers: design of the environment the home will be in OR Making the outside of a home complement its environment and express the personality of its owners" exclaims Janet Hobbs of Janet Hobbs, Ink and one of Houseplans.com's fabulous home designers and a Certified Professional Building Designer in Austin.

When it comes to exterior design, it can also be an extension of the interior design of a home. "Exterior design in my opinion is not mutually exclusive from the Interior. Design is all about materials, used together in creative ways that express the intention of the designer" says Bernie Calcote of Melde Construction in Austin, Texas. Creating a seamless balance between the interior and exterior can really set the overall tone of the design.
What is the best exterior material for a house?
Exterior materials depend on the climate. When it comes to the best exterior materials, it's hard to pick just one. "There's a lot of really good ones and a lot of really bad ones and many in between. The climate can be a factor as well as access to regional materials that might not be available in other areas. In my time in construction and mostly approaching renovations of older homes, the materials that have been proven to stand the test of time on the exterior is stone" Calcote states. In Texas, heat plays a major factor in choosing the exterior material for your home design.

When it comes to using stone, Hobbs seems to agree, "The material with the most longevity and that is the most maintenance-free is 4" thick brick or stone." With heat, tornadoes, humidity, and more, you want to be sure to choose an exterior material that can take the heat (no, but really) and is super durable.
What is the most durable siding?
Durability comes in different forms and in Texas, you don't want to skimp on this. "I generally spec cementitious board like Hardie Plank or Hardie Board and Batten system. However, LP Smartside has a pretty good record, too" says Hobbs.

Products made with a composite fiber cement are another durable option. "I'm assuming a composite fiber cement product would likely be the most durable. But again hesitant to say I know what is the 'most' durable" exclaims Calcote. It's always a good idea to check with your builder or contractor about what siding is the most durable in your specific area. Something that works well with the humidity in Houston may not work great with the dry heat in West Texas.
Is Hardie board better than vinyl siding?
In short, yes. Hardie board seems to stand the test of time better than vinyl siding, but this topic is also very opinion based. "Yes. This is simply my opinion at this time based on all the information I've been given" Calcote simply stated.
What is the best low maintenance siding?
When it comes to the hot climate in Central Texas, Hardie seems to be the best low maintenance siding. "In our market it's Hardie. But, while it holds paint much better than wood siding, it does eventually have to be repainted. We've had some fun with corrugated metal which will probably last forever with very little attention" says Hobbs.
What is the cheapest exterior for a house?
It depends on what you are looking for and how cheap you are wanting to go. "The most cost effective siding would be a cement impregnated board like Hardie board. It's a bit more expensive on the front end, but lasts much longer than previously popular composite boards or even real wood and does not need painting as much as other products" explains David Wiggins, an architect based in Magnolia, Texas.
Let's take a look at some of our favorite (and new) house plans and home plan designs:
Plan 430-213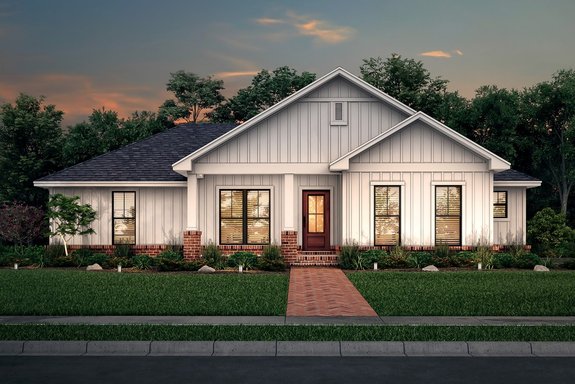 This budget-friendly farmhouse plan sports an open floor plan and two porches. The master suite resides to the right of the floor plan and includes dual sinks, a walk-in pantry, and easy access to the mud/laundry room. Two additional bedrooms and a bath reside to the left of the home.
Plan 120-268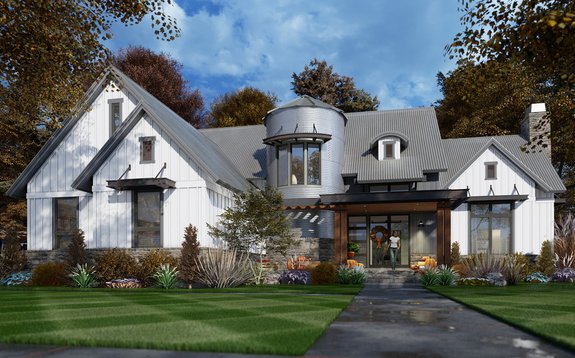 Classic meets modern in this contemporary home plan design. With an open floor plan between the main living spaces, the smart layout was designed for everyday comfort and casual living. Like to host and entertain? A rear lanai boasts plenty of room for holiday parties. The large family room features a cozy fireplace and easy connections to the rear lanai via sliding glass doors.
The main-level master suite sports a spacious walk-in closet, dual sinks, a soaking tub, walk-in shower, and access to the outdoor living space. Upstairs, two bedrooms share a Jack-and-Jill bath, while a bonus space can be used in a myriad of ways.
Plan 1070-33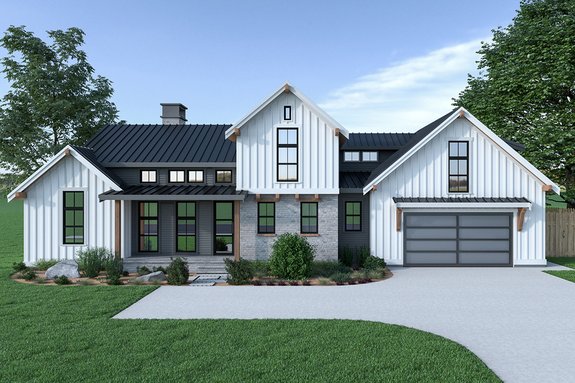 Need a good amount of storage? Check out this three bedroom country house plan that features lots of walk-in closets and a walk-in pantry. The master suite is easy to reach on the main floor and gives you a large walk-in closet, five-piece bathroom, and a view to the backyard. Check out the kitchen's large island. 
Plan 120-263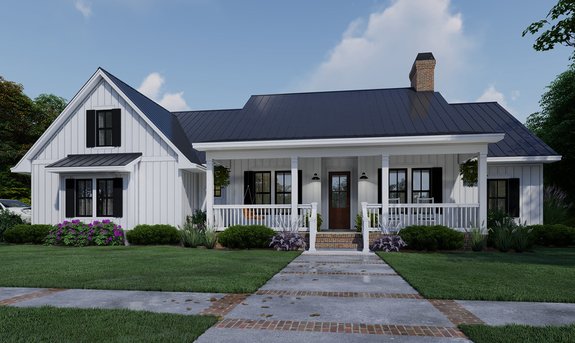 Clean and open, this 2,192-square-foot modern farmhouse feels fresh and contemporary. The kitchen overlooks the family room and includes a big island. Relax in the master suite suite, which includes a five-piece bathroom and a walk-in closet.
Plan 929-1086
This farmhouse design nicely balances open gathering areas with spacious private bedrooms. Highlights include the large fireplace in the great room (which also features coffered ceilings), the spa-like master bathroom, and more. Enjoy outdoor living year-round with a fireplace-warmed screen porch.
Plan 23-2667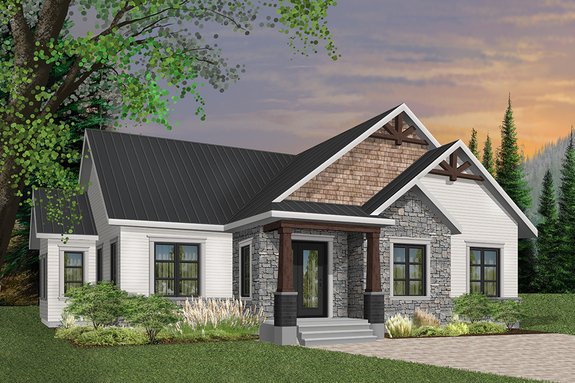 This 1,631-square-foot home would look great in a scenic location, where the shingle and stone accents can reference the landscape. Inside, the open layout makes the most of every square foot. The master suite boasts a large shower, a spacious walk-in closet, and windows looking out to the backyard.
Plan 430-207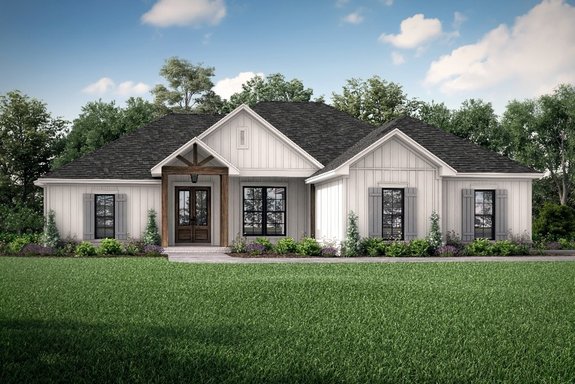 How open do you want to go? Very, very open? Then this 1,850-square-foot farmhouse ranch might be the one for you. The kitchen's island overlooks everything for easy entertaining. Note that every bedroom has a walk-in closet.
Plan 1066-69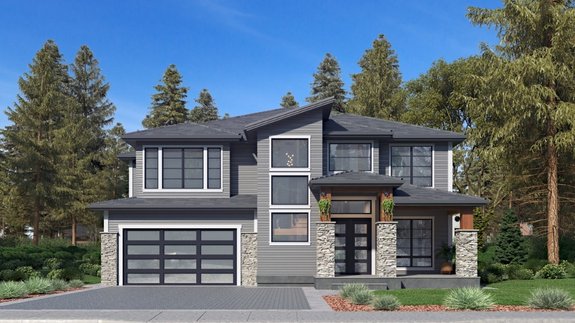 Go bold with this modern design. The party's in the kitchen, where a really big island invites everyone to hang out. Your guests will feel comfortable in their private suite on this level. Enjoy easy access to the covered patio from the dining room and family room. A versatile guest suite resides on the main-level, while the rest of the bedrooms are located upstairs. Don't miss the extra-large master suite!
Plan 927-995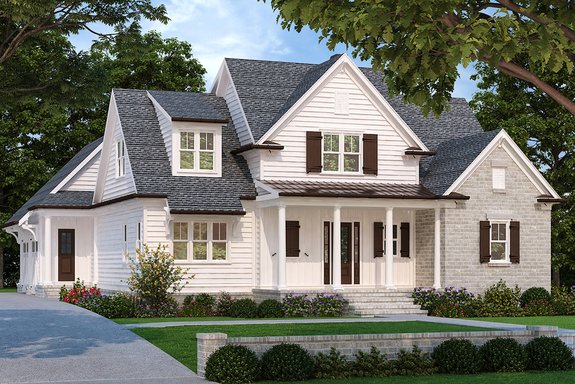 Stay organized with this 2,564-square-foot home, which features a mudroom just inside the garage entrance, a large walk-in pantry for the island kitchen, and a huge walk-in closet for the master. An optional bonus room upstairs could be used as a home office, guest room, game room, or hobby space. Enjoy the great outdoors on the rear covered porch when the weather is favorable.
Plan 1074-3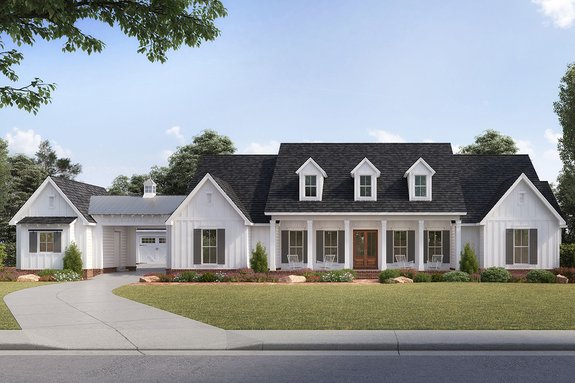 Here's a one-story layout filled with upscale amenities, including tons of storage (check out the big walk-in pantry near the island kitchen), relaxing outdoor living, and a luxurious master suite. Check out the wraparound porch which includes an island bar, outdoor kitchen, and a generously-sized fireplace.
Check out these home plan questions and answers – read the blog here.
Explore Texas style home plan designs. Questions? Call 1-800-913-2350 today or contact us here.