From Art Deco to Adams, Mannerist to Modern, Colonial to Contemporary, there is a huge range of style options for interior trim. Selecting which style to use in your new home has to do, then, with the overall style of the house and your personal preference. What matters most, though, is that you select a style that you enjoy, and that you use the style consistently. Here are some of the most common trim styles, their historic reference, and how each is used.

Colonial
While each region of North America has its own particular Colonial background (French in Louisiana, Spanish in Florida and the Southwest, British in the Northeast), the use of the term now generally means the New England Colonial style. Center halls with formal dining rooms and living rooms, symmetrical exteriors with double hung windows, steeply pitched roofs to shed water and snow and more are all trademarks of this style. The symmetry and general formality of this style calls for a trim that is classically proportioned and richly profiled (photo below is from
Plan 530-3
).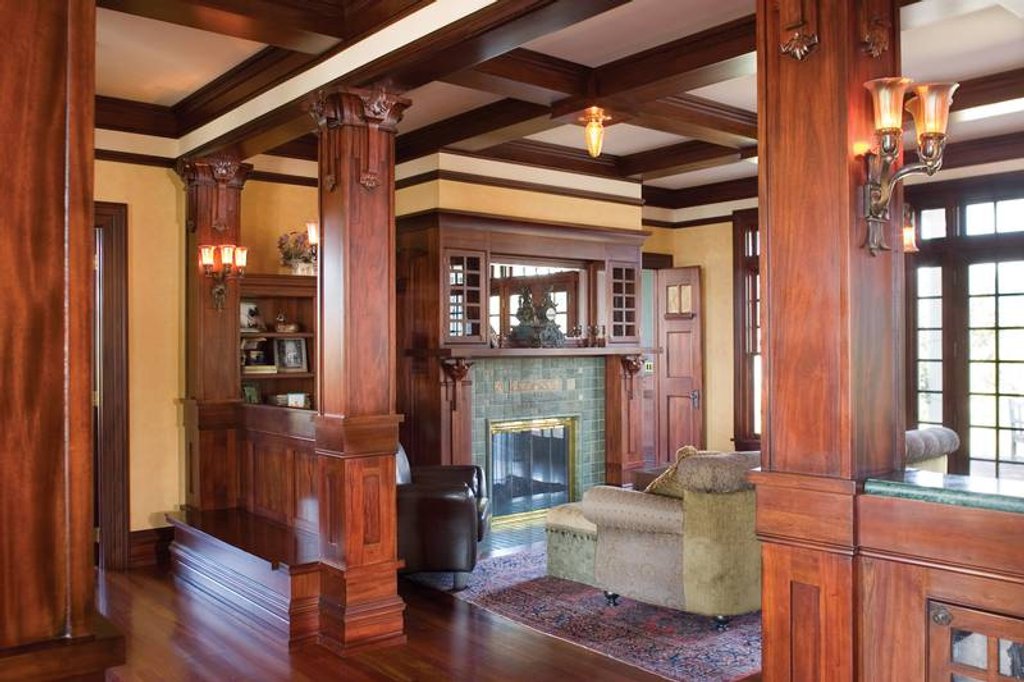 Compound curves and multi-piece trim can add a distinctly formal look to any room. When coupled with the Colonial, raised panel door (always with 6 panels), the style can remind us of our Colonial heritage. So consider this style of interior trim if you're planning on building a Colonial, Traditional, Plantation home. You can also use Colonial trim if you plan on building something that's a little less formal, say in the Cottage style, by using a profile that's a just a bit simpler in profile.

Craftsman
In the late 19th century and early 20th, a design approach that celebrated hand-craft and simplicity came into being. Open floor plans and a less formal approach to living also started to take hold. The Craftsman style reflected this combination of craft, simplicity, and informality. Characteristics of the style include simple, rectangular profiles, few curves and a minimum, if any, raised paneling. So window and door casing became a simple bit of rectangular lumber with just a little cap at the head. The same for the baseboard, a simple and straightforward rectangular profile that eschews any elaboration. The example below is from a vintage Craftsman house by architect Julia Morgan, courtesy
Sunset
magazine).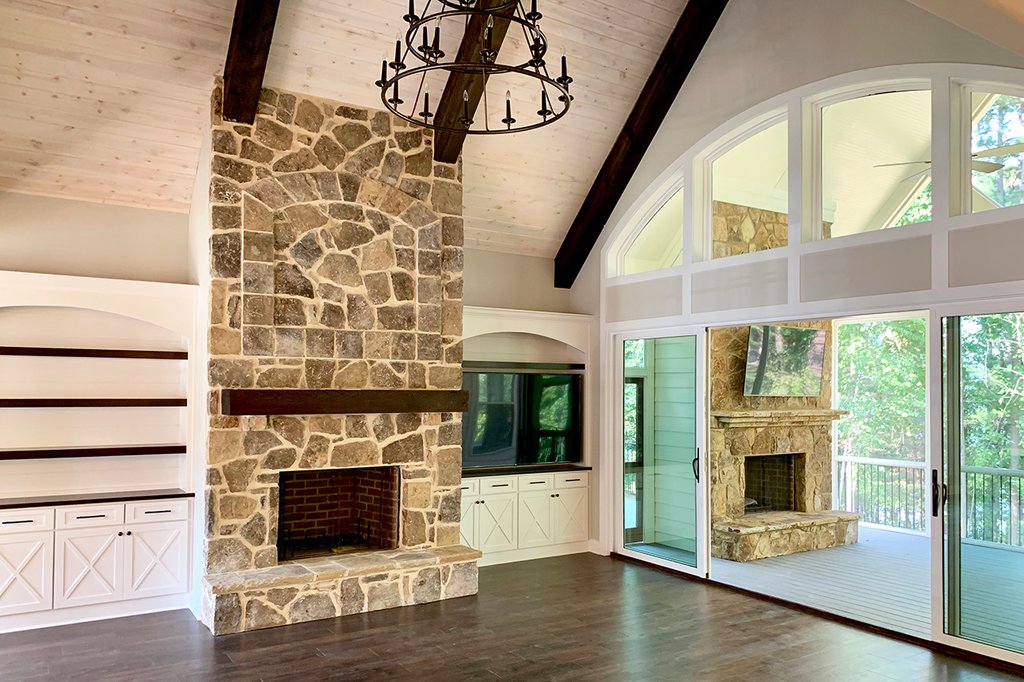 With changing tastes, the Craftsman style fell out of favor. So, unlike Colonial styled trim which can be found everywhere, Craftsman styled trim isn't so readily available. If this is the style of trim you'd like to use for your new home, a trip to a local lumber yard that specializes in trim will be worth the effort. So consider this style of interior trim if you plan on building a home in the Arts & Crafts, Craftsman or Bungalow style. By simply scaling the size of the trim pieces from larger to smaller you can achieve the right style for a larger, American Four Square home to a smaller and more intimate Bungalow.

Ranch
In the 1950's and 1960's the ranch house became a staple of the North American landscape. These houses, all one floor and filled with every modern convenience, had open and efficient floor plans that allowed for a very informal and relaxed family life.The ranch, or clamshell, style of interior trim was created in the drive to make these houses efficient to build. Skinny and made up of one piece, the same size of this trim was often used for baseboard and casing (photo below courtesy Ranchostyle.com).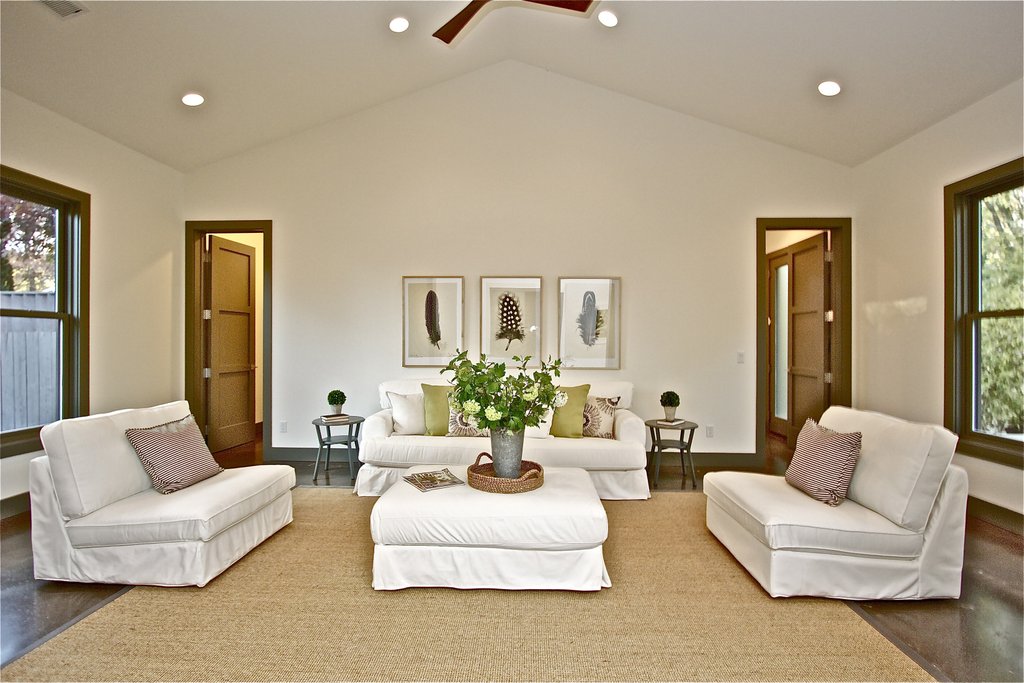 This allowed the trim carpenters to quickly and efficiently and inexpensively trim out a house, a good thing considering all of the houses under construction during the post WWII years. Ranch style trim started to fall out of favor in the 1970's when it was deemed to be too cheap looking as our houses got bigger and bigger. But it wouldn't be surprising to see a resurgence in the popularity of this style as we continue to rediscover and appreciate mid-century modernism. So if you're building a ranch or other fairly simply styled home, consider ranch style trim, especially if you're after a mid-century modern look.

Modern
In the early 20th century there was a move to get rid of all trim as unnecessary. No longer did we need these overly done bits of wood to dress up our interiors. Simple honesty would prevail so that where the wall and floor met would be simple and unadorned. Well, because trim does have a function other than just decoration, architects designing modern and contemporary styled houses developed the reveal, which in many ways is "negative" trim.
Rather than extending out from the wall surface, the reveal is an indent into the wall and allows a piece of wood, a much more durable material, to be placed where damage is likely to occur, like the base of the wall. So if you're building a modern or contemporary house, the reveal is a trim option you should consider. (Photo above is from
Plan 888-3
)