By Courtney Pittman
Is it a good idea to buy land and build a house? When it comes to being a homeowner you have two broad options – to build a new house plan or buy an existing home. Which move is the right one for you? There are pros (like getting a custom home that is ALL YOURS) and cons (like going over budget) when it comes to both, depending on your lifestyle and future plans. Janet Hobbs, of Hobbs' Ink, LLC, (one of our fabulous home designers and a Certified Professional Building Designer in Austin) takes a look at how each argument compares to one another. Check out her interview below!
Click here to browse our collection of dream house plans and home plan designs.
What are the pros of building a new home?
You don't pay for square footage you will never use. As an example, the formal living and dining room ubiquitous in homes of a certain era are NOT desirable for most buyers today. If you buy an existing home you may be stuck with one or both or some other space you don't need. If you build a custom home you can get rid of any unwanted spaces and only build what YOU want.
It's YOURS, all yours. You don't inherit blue toilets or pink floral wallpaper. Everything in the home has your signature and is yours alone. No baggage, or to be more esoteric, no weird energy from anyone who may have lived there before. It's just a clean palette for you to work with.
You get to improve the built environment by creating something unique. Vote with your dollars. If the public would insist on custom homes the market would respond and there would be no more cookie cutter subdivisions where every house has the same roof shingles and there are three alternating exterior paint colors in the whole subdivision.
Like the story of Cinderella's shoe, most homes are stock plans plopped on the land like chubby stepsisters' toes crammed into a tiny shoe. The ideal way to design a home is to learn the site that it will be built on: the slope, the trees, the views. The land should speak to you and the home should be designed to work with the place it will be built. Trees should be respected, slope accommodated and views glorified. With a custom home you can do that.
What are the cons?
Frankly, there is only one real negative to doing a custom design. The old model of designing your home then getting a builder to price it is not working well anymore, at least in our market.?In the "old days" I could give the builder a preliminary plan and get pretty reliable pricing which would tell us whether to proceed with plans or not.
These days it is very difficult to get a good prediction on what construction costs will be until AFTER your plans are drawn when it is basically too late. When that happens and the price is higher than anticipated no one is happy. The builder has a hole in his schedule. The client doesn't get the house they want after investing in a full set of plans plus engineering and the design professional looks like a spendthrift. It can be a lose-lose for everyone. If someone could come up with better predictive pricing the whole process would be much happier for everyone.
(Editors note: we can provide a "cost to build" estimate using the same software that many insurance companies and home appraisers use. Click here for more info.)
In your opinion, why build a custom home?
Short of having a baby, designing and building a home is probably the single most exciting and rewarding thing a couple can do together. It is an expression of your relationship, your values, [and] your commitment to each other. It is a very beautiful thing.
Creating a positive and aesthetic environment for your family and friends to flourish in allows them to do just that: flourish. A light-filled home with a central hub of a kitchen can be the best catalyst for bringing people together in a healthy environment – both literally and figuratively. If your home is built to proper green building and indoor air quality standards you and yours will literally be healthier. And, if it is an uplifting environment you can help give everyone a stable base. It can provide order, serenity, beauty, and can very directly influence happiness in an otherwise chaotic and not always beautiful world.
A home can give people a sense of place that makes them feel they are "home" even if they live far from where they were born. It can be an expression of who they are in ways that can't be achieved by moving into a home conceived and built by someone else.
Ready to find your dream home? Get inspired with these popular and NEW home plan designs!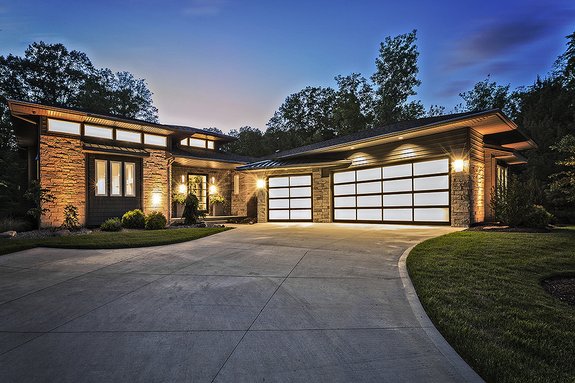 Plan 935-5
This popular modern house plan has some new photos, so you can get an even better look. The unique layout wraps around a side courtyard for effortless indoor-outdoor flow. Your visitors or in-laws will appreciate the private guest room. See plan 935-5 online.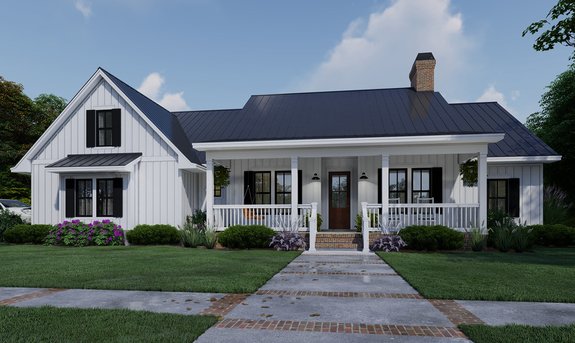 Plan 120-263
Clean and open, this 2,192-square-foot modern farmhouse feels fresh and contemporary. The kitchen overlooks the family room and includes a big island. Relax in the master suite, which includes a five-piece bath and a walk-in closet. See plan 120-263 online.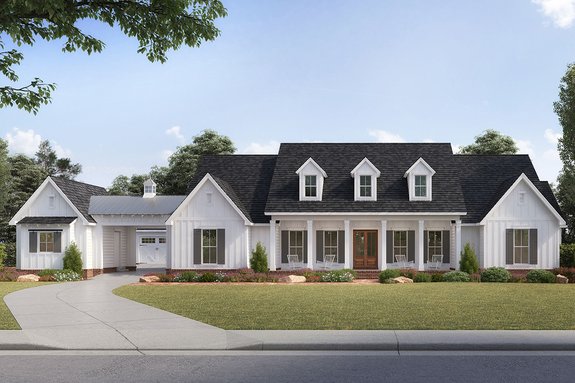 Plan 1074-3
Here's a one-story layout filled with upscale amenities, including tons of storage (check out the big walk-in pantry near the island kitchen), relaxing outdoor living, and a luxurious master suite. The great room flows out to the back porch. See plan 1074-3 online.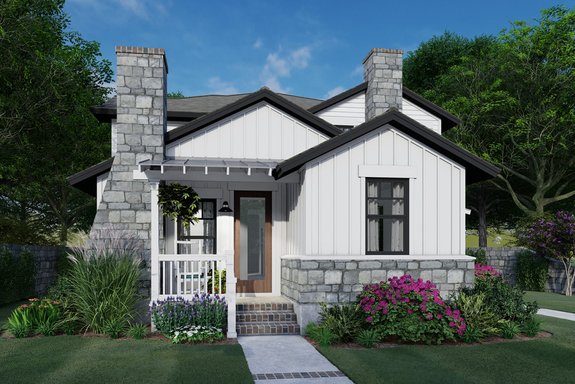 Plan 120-267
This duplex house plan presents outstanding cottage curb appeal and two units, each with an open layout, three bedrooms, and a two-car garage. The private master bathrooms are also surprisingly impressive, with double sinks and more. See plan 120-267 online.
Explore house plans and floor plans here.
Want to know how much your home will cost to build? Check out our cost-to-build report here.
Questions? Call 1-800-913-2350 or contact us here.