By Courtney Pittman
With efficient layouts and seamless indoor/outdoor living connections, these open concept modern cabin floor plans pack a serious style punch. Inside, the layouts waste no space while staying affordable with modest square footage. Check out our roundup below.
Small Modern Cabin Plan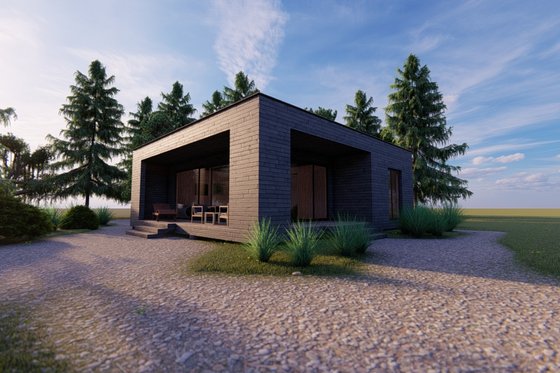 Plan 549-35
Hello gorgeous! This modern cabin floor plan shows off cool contemporary styling, including large windows. Inside, the layout is simple and open. The wrap around porch is easy to reach from the main living areas. Build it as an accessory dwelling unit (ADU) or a budget-friendly primary home.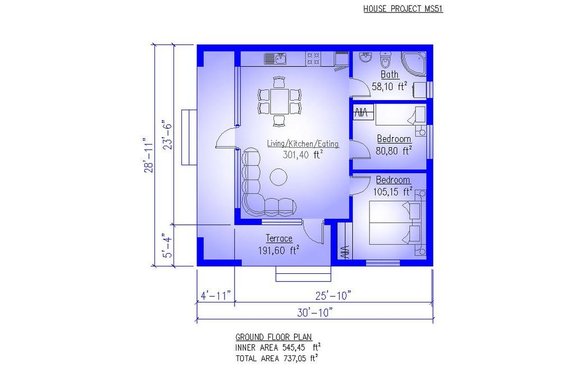 Standout Modern House Design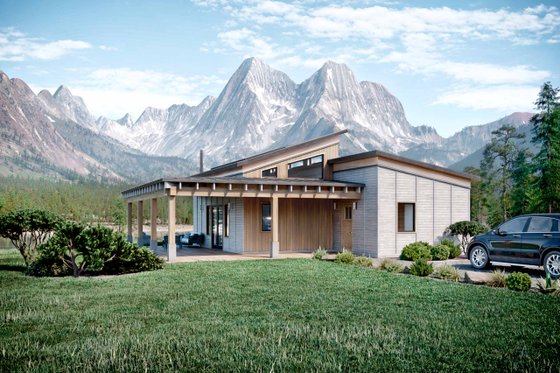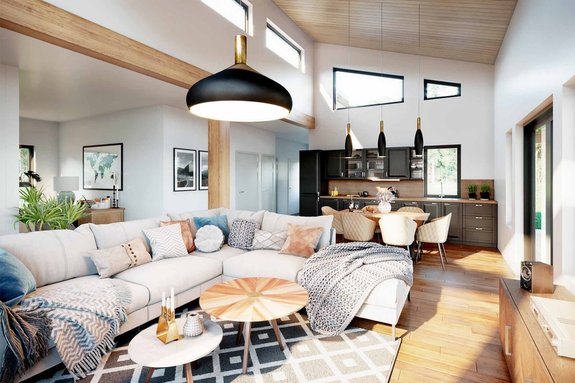 Plan 924-14
Modern, striking, and open, this modern cabin design gives you huge curb appeal with 1,200 square feet. The open floor plan flows beautifully from the great room to the kitchen and out to the big porch. Work from home? Check out the handy home office space just off the great room. Don't miss the big covered porch and sundeck.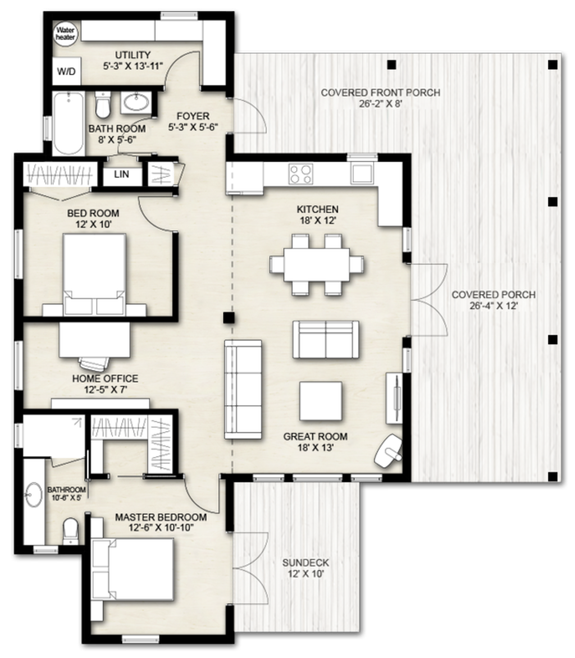 Budget-Friendly Cabin with Open Floor Plan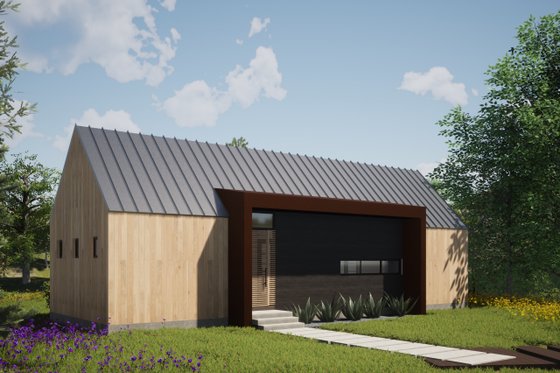 Plan 933-5
Open floor plans don't get much more open than this, especially with a patio like that. This modern cabin floor plan invites everyone to meet together in the middle of the home to relax in the kitchen, hang out in the great room, or enjoy a meal in the dining room. Each bedroom gives you a big walk-in closet.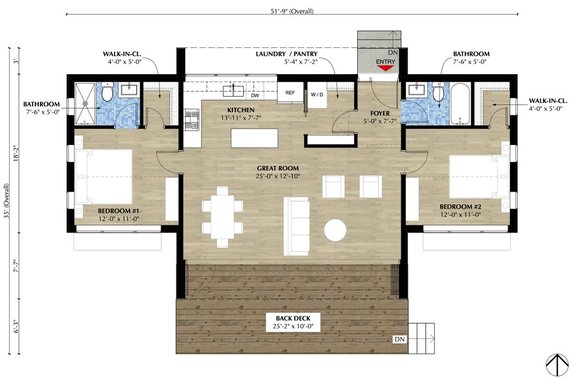 Modern Cabin House Design with Two-Sided Fireplace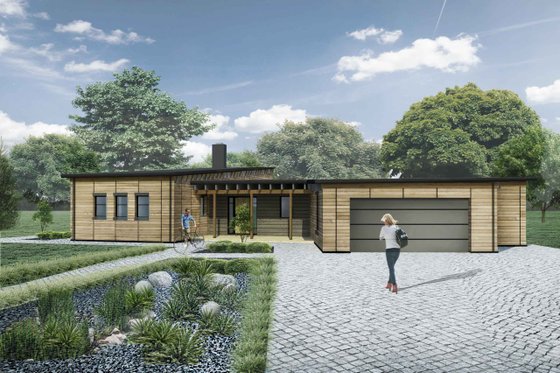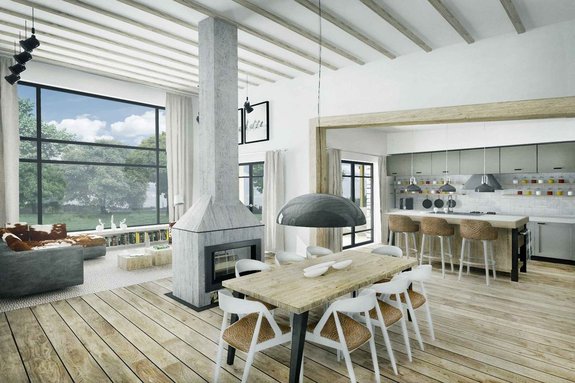 Plan 924-15
Take a look at the interior of this one-story cabin floor plan. The two-sided fireplace makes a great focal point between the great room and dining area, while a home office is the perfect spot to get work done. The open floor plan makes it easy for you to move between the main living areas. Head out to the covered porch when the weather is nice.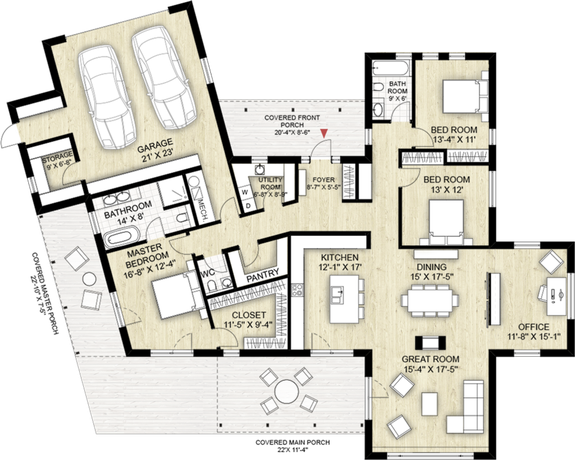 Affordable Modern Cabin Plan with Seamless Indoor-Outdoor Living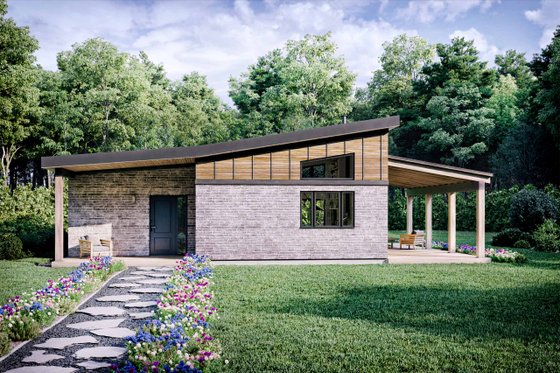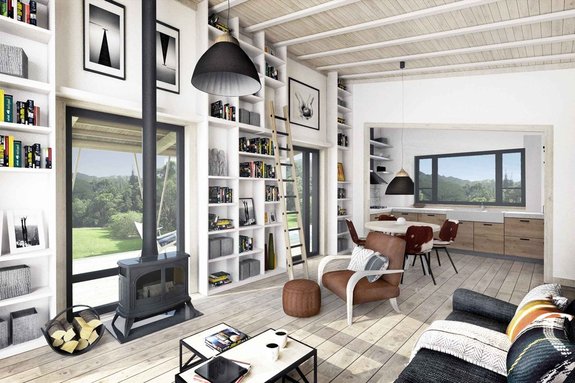 Plan 924-3
Outstanding indoor-outdoor connections make this striking small cabin house plan live large. A spacious porch leads into the open kitchen. Both bedrooms can open out to even more outdoor living. The large utility room makes it easy to keep things organized.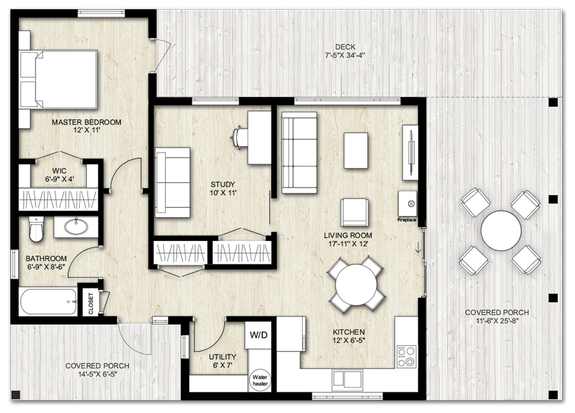 Sleek and Relaxing Cabin Design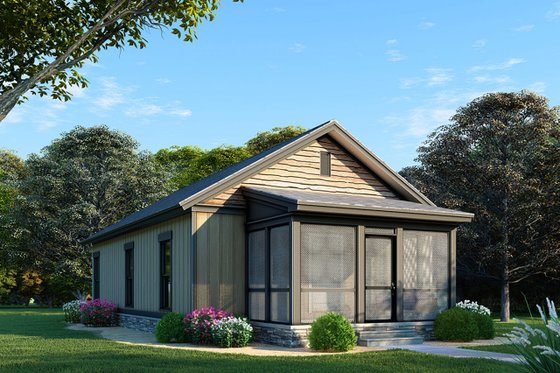 Plan 923-99
Check out this relaxing (and affordable!) cabin house plan. The simple layout inside makes great use of every square foot. With a super open floor plan, it's easy to get around. The back porch is great for grilling when the weather is favorable. Smart storage includes spacious closets in every bedroom and a generous laundry room.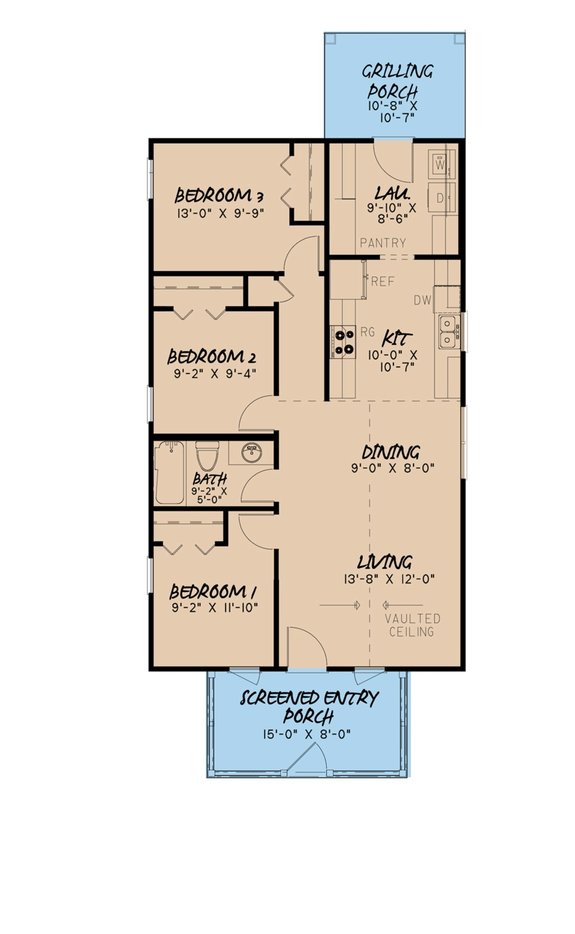 Cabin House Plan with Modest Footprint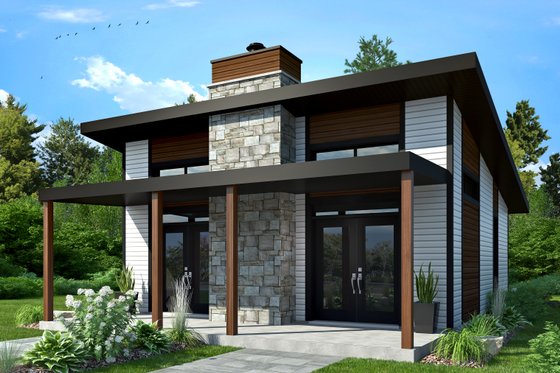 Plan 23-2605
This 686-square-foot cabin house design would look equally great situated by a lake or nestled into a small city lot. The front porch gives you plenty of space to enjoy the view. Inside, the open floor plan feels efficient and modern. Check out the fireplace in the main living areas.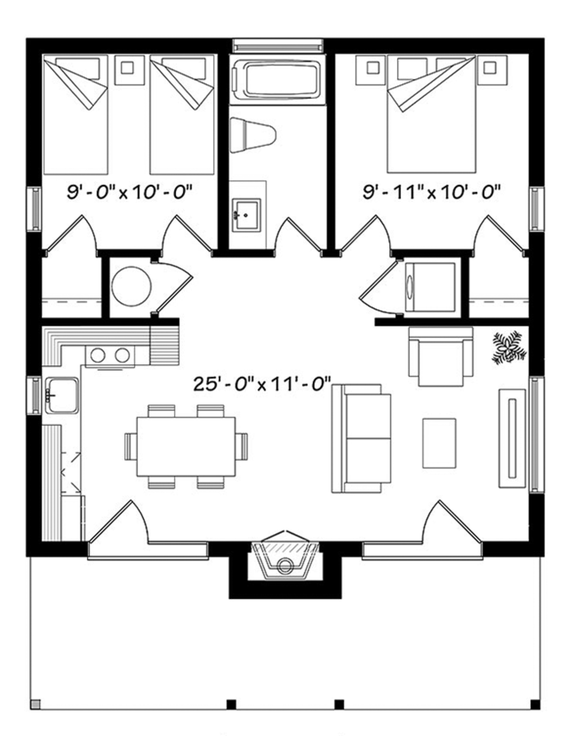 Small, Cool Cabin House Plan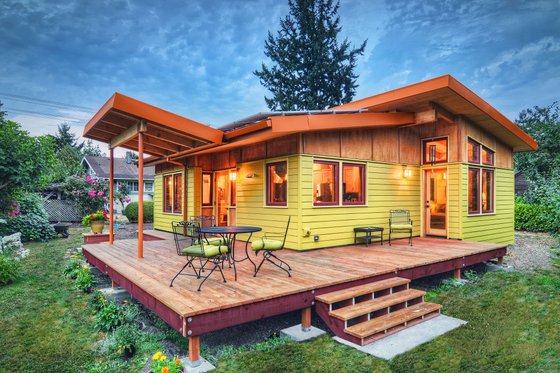 Plan 890-1
Now here's a modern cabin floor plan with cool curb appeal and a smart open layout. The kitchen sports a snack bar and overlooks the living room. Step out from the master suite to the big wrap around porch. A big walk-in closet gives you lots of handy storage space. A guest room can serve as a home office.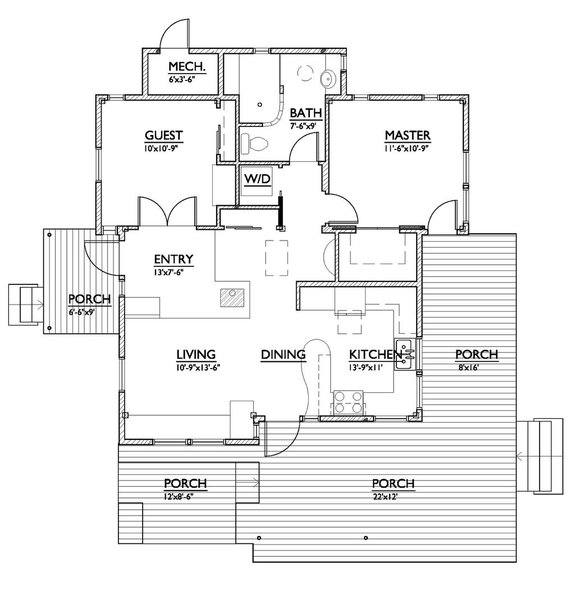 Stylish Modern House Plan with "Chill Deck"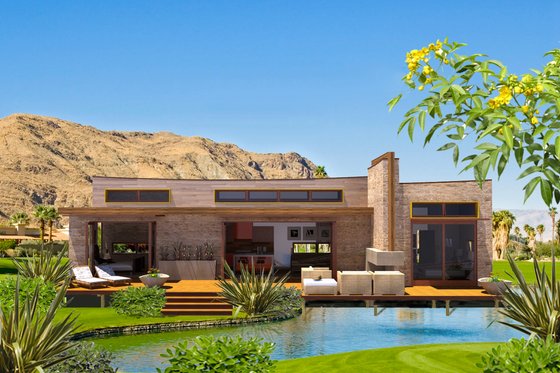 Plan 484-5
Sleek and modern, this cabin floor plan makes indoor-outdoor living a huge priority with doors that fold up to make the family room one great big living area with the deck. The master suite also opens to the spacious deck, so you can greet the day with fresh air and sunshine. Use the guest room as a home office if needed.
Rustic Cabin Plan with Screened Porch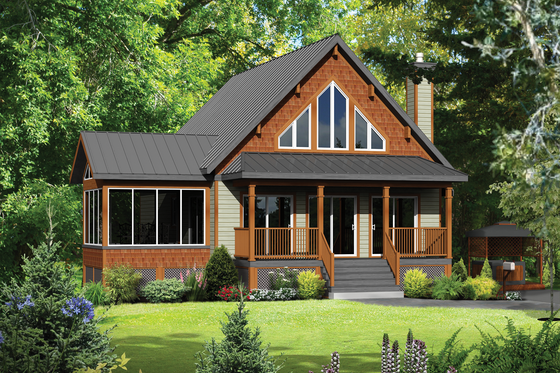 Plan 25-4291
This modern cabin floor plan delivers a cool rustic vibe with cedar shingles and a metal roof. Inside, the airy layout feels contemporary and relaxed with the island kitchen overlooking the great room. Hang out on the screened porch (and keep the bugs at bay) just off the main living areas. The main level includes two bedrooms, while two additional bedrooms reside upstairs.


Cabin House Plan with Great Flow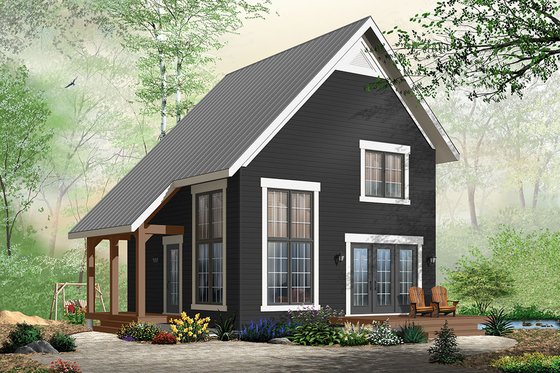 Plan 23-2267
Get modern cabin curb appeal with this standout design. Inside, the open great room flows into the dining space and kitchen, which encourages relaxed mingling around the island. The second level gives you two bedrooms and a full bathroom.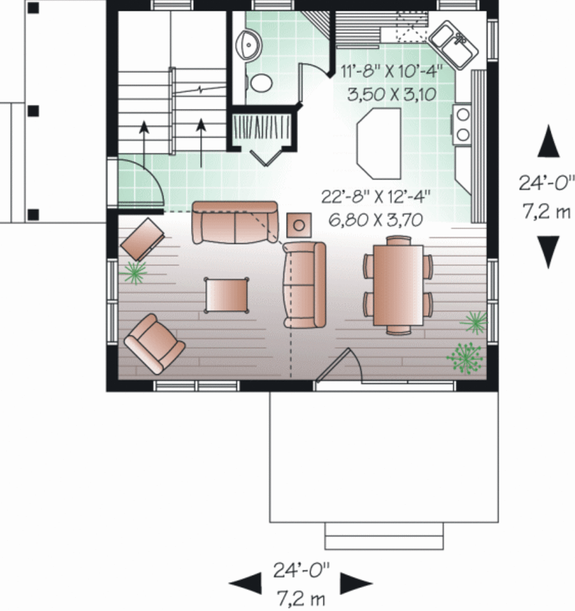 Swoon-Worthy Cabin Design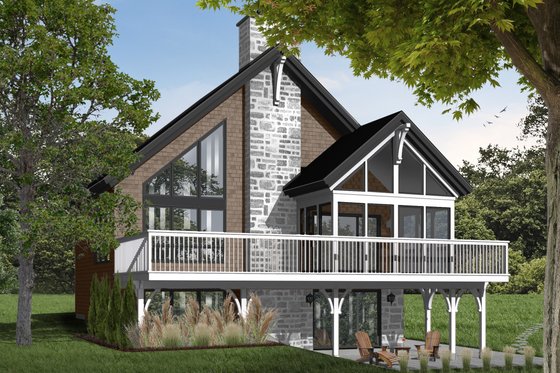 Plan 23-392
This modern cabin house plan will have you swooning! With generous outdoor living spaces (including a cool screened porch in the front), this design is ideal for scenic sites. The open floor plan delivers a casual vibe and makes it easy to move between the great room and the kitchen. A loft space on the second level can be used in a variety of ways.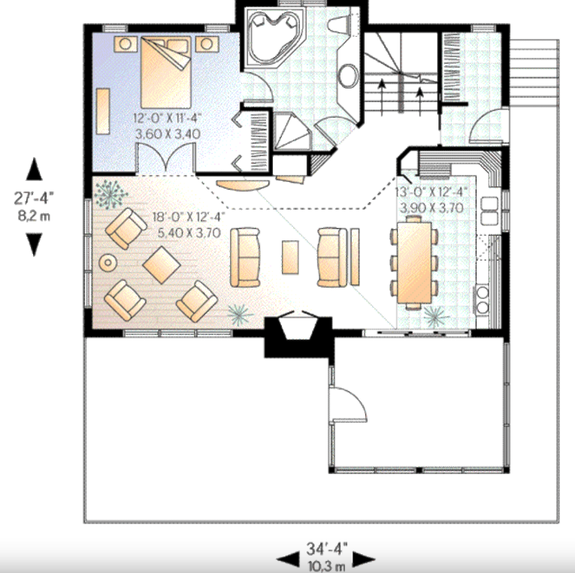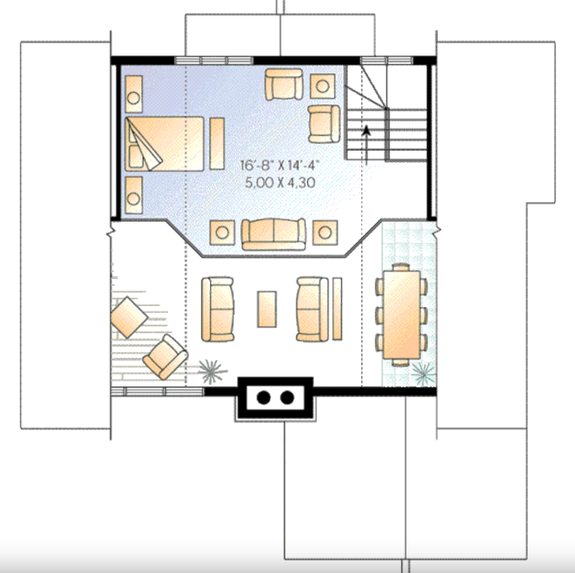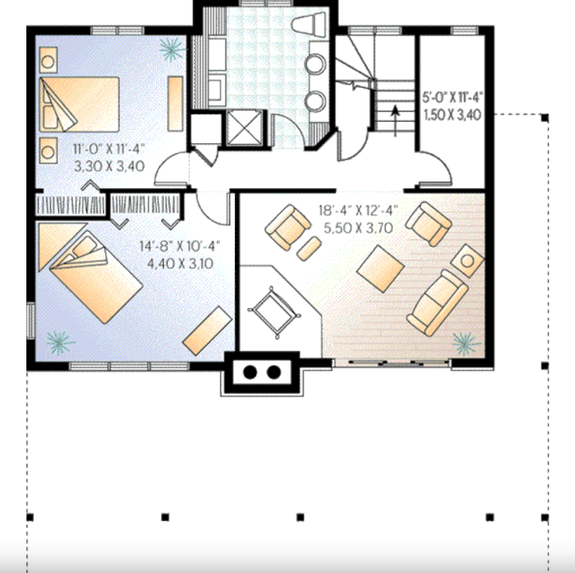 Smart Design Choices Throughout
Plan 124-1158
Smart design choices make this head-turning modern cabin house plan live large, from vaulted ceilings to a cool loft. Head outside and enjoy outdoor living on the sizeable deck. Inside, you'll find an open floor plan, a study (that could be used as a home office), two bedrooms, and much more.