Looking to get away and retreat to your own cozy cabin? Vacation house plans and simple cabin designs are the perfect way to achieve that getaway feeling--even if you intend to use them for a scaled-down main house. Smaller spaces have their own appeal, and make for an ideal way to incorporate a more rustic design into everyday life.
We've chosen our favorite small cabin plans that would be a great vacation home when you want to get away. With their smaller space and simple designs, these plans would also make a great primary residence if you're looking to downsize. If you see any cabin home plans that really stand out, give a Houseplans representative a call at 1-800-913-2350.
Small Cabin Plan That's Big on Style
You'll love the spacious feel of this cabin that includes a vaulted ceiling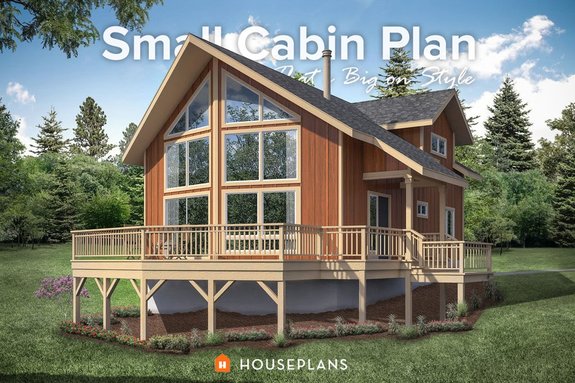 Plan 124-1158
This smaller and appealing cabin house plan is perfect for a vacation lot with a view. As you enter through the wraparound deck, you'll get a great view of the large wall of windows offering great views and lots of daylight. Inside, the main living spaces feel spacious and bright with vaulted ceilings and large windows. There is plenty of room for a kitchen, dining, and living area in the front of the house, as well as a rear bedroom and space for a study or office.
On the second floor you'll find the owner's vaulted loft complete with a dual-vanity bathroom and a walk-in closet.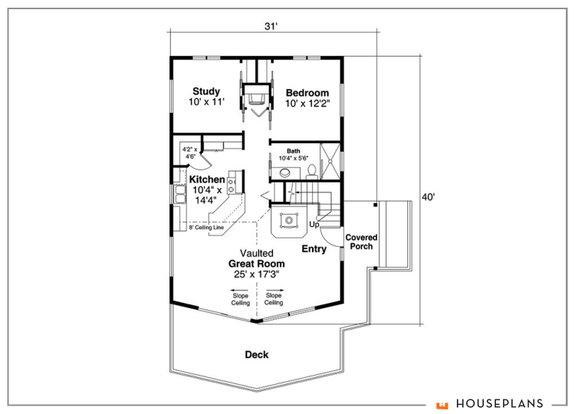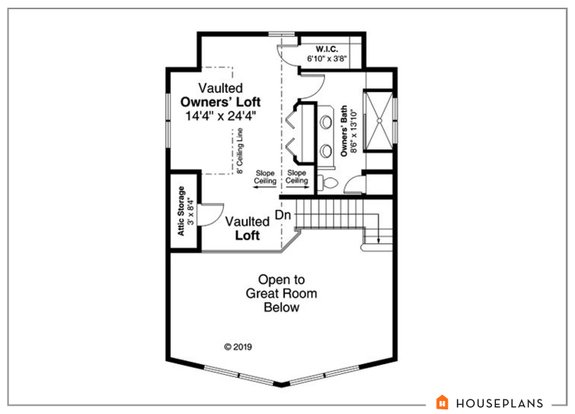 Modern Style Cabin Plan
The perfect home plan for a vacation getaway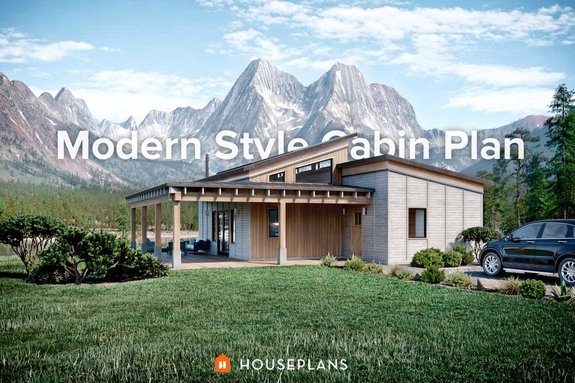 Plan 924-14
If you're looking for the ideal small cabin to build, then this interesting design is for you. The curb appeal of this one-story simple house plan is unmistakable and is a great way to incorporate indoor/outdoor living with a sense of style (click here for curb appeal tips from HGTV). The wraparound covered porch is the perfect place for relaxing and taking in the views. When you enter you'll find enough space for a living and dining area and a kitchen with views of the sun deck.
The spacious master bedroom includes a private bath and an entrance to the sun deck where you can enjoy some time outdoors. Further back you'll find another bedroom, a bathroom, and space for an office or storage.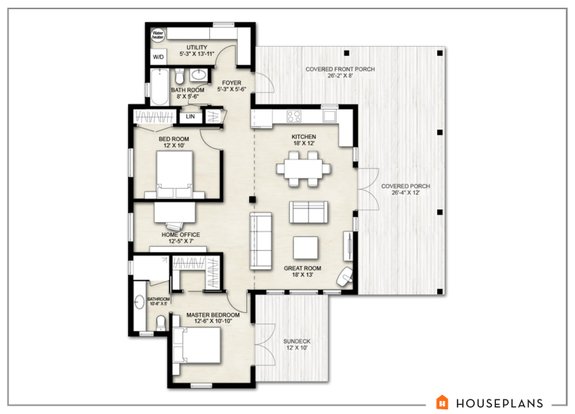 One-Story Simple Cabin House Plan
Enjoy vaulted ceilings and a large rear deck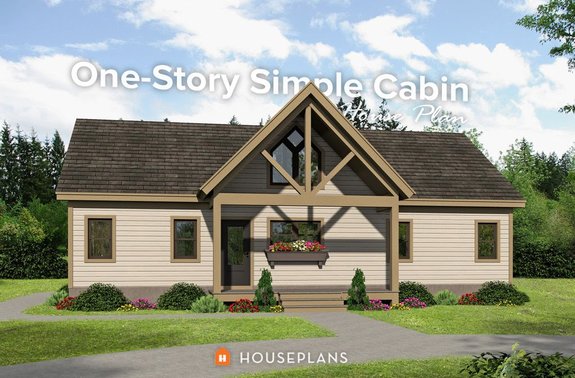 Plan 932-35
Here is a home plan that offers space and plenty of room to enjoy the outdoors. Walking through the front porch and you'll find you're immediately underneath a vaulted ceiling that goes the entire length of the plan. The country kitchen and great room feel open and spacious, a feeling that continues all the way to the rear deck. One side of the house contains the master suite, which includes a bathroom (with a soaking tub and separate shower) and generous walk-in closet.
On the other side of the house you'll find a secondary bedroom and bathroom and access to the screened in porch that allows you to enjoy relaxing on the rear deck.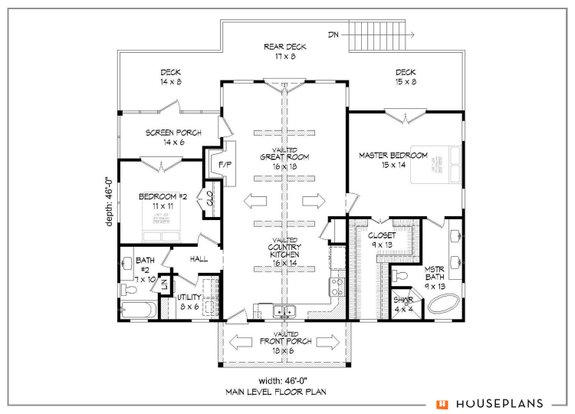 Cozy Chalet Home Design
You'll feel right at home with this smaller cabin plan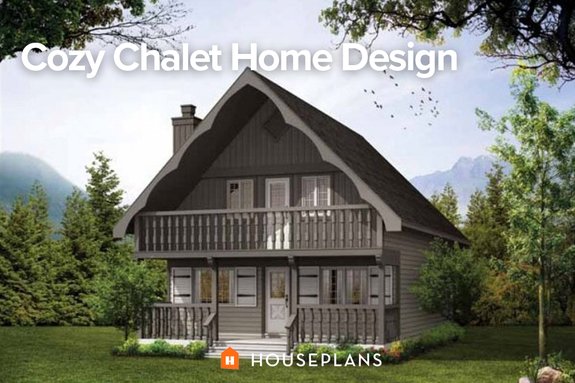 Plan 47-665
The scalloped trim of this cute cottage is just one of its many eye-catching features. The railed veranda welcomes you into the living and dining space, complete with a fireplace for chilly nights. The kitchen is fully equipped for easy meal prep and includes a snack bar for grabbing a quick bite to eat. Further back there's one bedroom, a full bathroom, and space for additional storage.
The second level contains the master suite with access to the stunning views off the balcony. The second floor is also home to a secondary bedroom, a bathroom, and plenty of storage to meet your needs.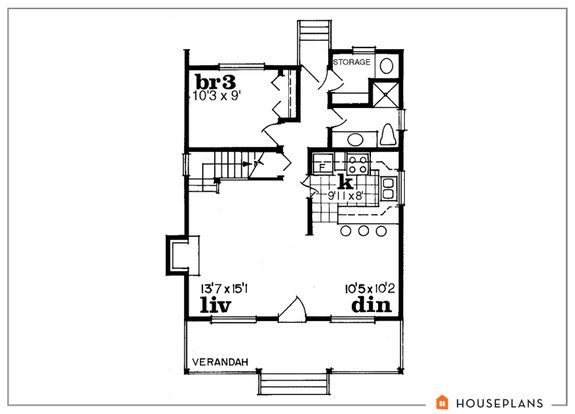 Two-Story Country Style Cabin Plan
Rustic appeal and modern amenities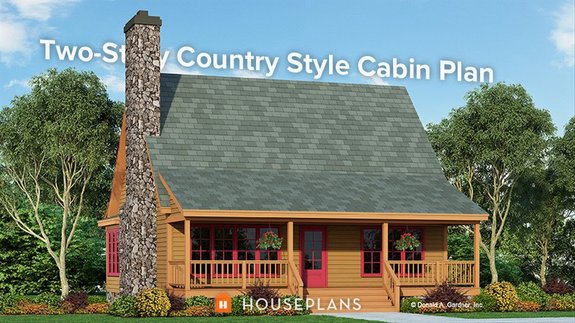 Plan 929-112
You'll be drawn into the rustic, country charm of this small cabin design. You're greeted by a wide covered porch with plenty of windows to take in the view of your lot. The open great room (with cathedral ceiling) flows easily into the kitchen and dining area, complete with a central island. There are two bedrooms on this floor--one with access to the rear porch and a walk-in closet--and a bathroom.
Enjoy the open space that the cathedral ceiling allows as you walk up the stairs to the second story. The second floor contains the master suite that includes a walk-in closet and bathroom, and views of the outdoors all around you.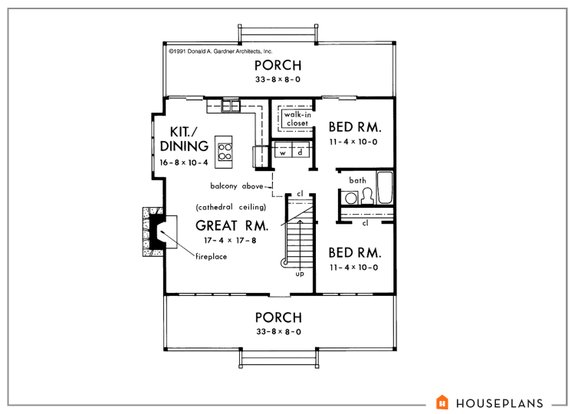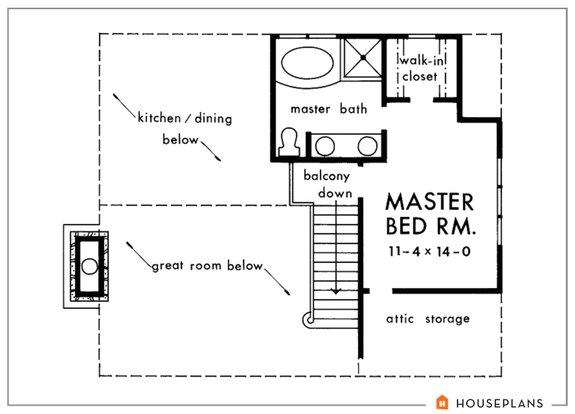 Charming Small Cabin House Plan
This smaller cabin really makes use of all the space it has available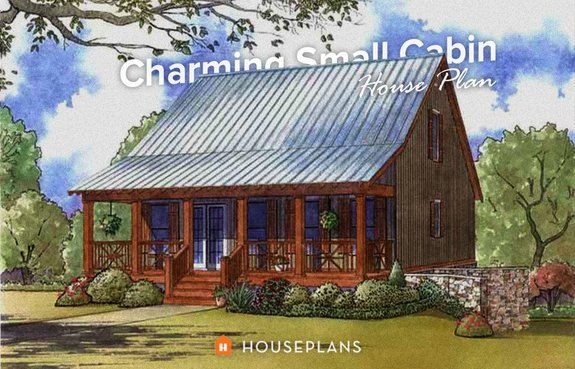 Plan 923-46
The welcoming wooden porch and classic country style really make this vacation home plan stand out (check out these vacation house plans from Builder Online). The open den is the perfect place to relax and enjoy the company of family and friends. It flows easily into the kitchen that comes with a peninsula bar ideal for casual dining or extra space for meal prep. The master bedroom is on the first story as is a half bathroom with separate shower enclosure.
On the second floor you'll find two generously sized secondary bedrooms and a full bathroom. This cabin plan comes with the option to include a basement with room for a bathroom and additional storage.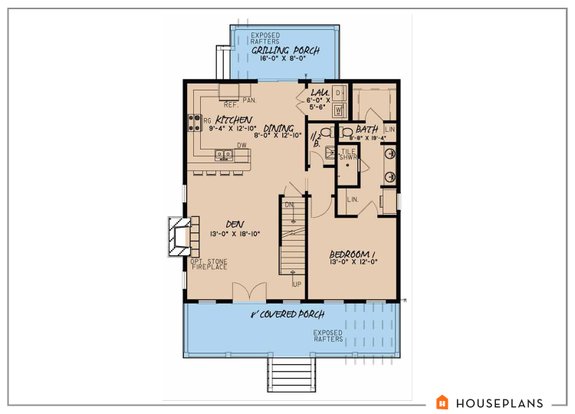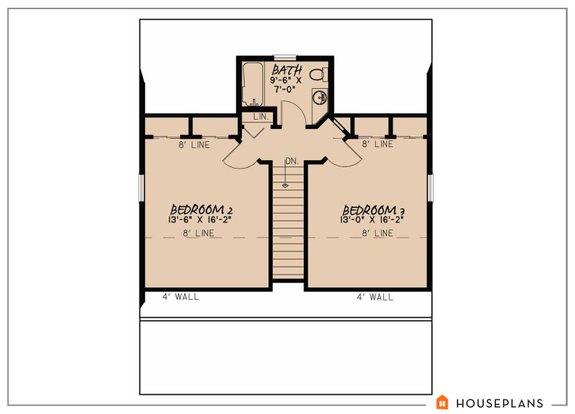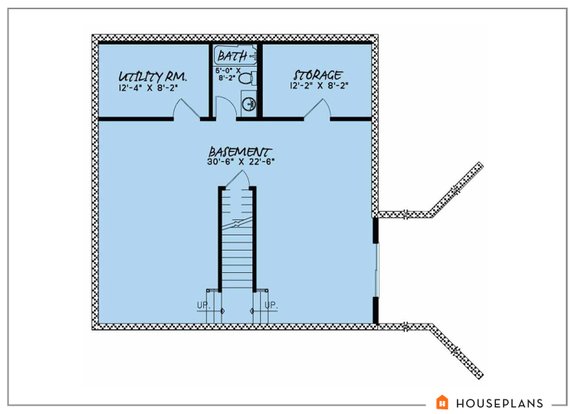 Simple and Small Cabin Design
An ideal vacation house plan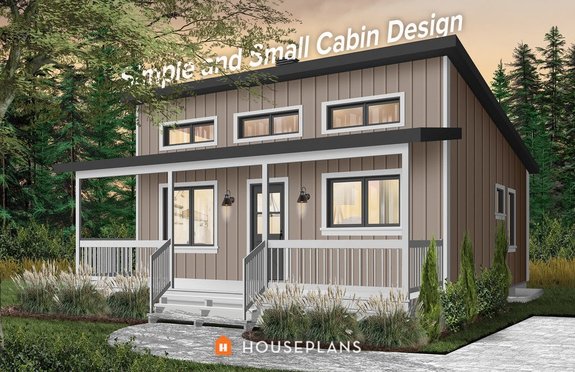 Plan 23-2301
If you're looking for a smaller design to serve as your vacation home, this simple design is a great choice. The one-story plan is efficient and has everything you need when you want to get away--including a porch to enjoy the view from. As you walk through the entryway, you'll encounter the living area and kitchen, with a dining area that fits in snugly. Toward the rear of the plan, you'll find one full bathroom and two bedrooms. Although it is a one-story cabin design, this home plan benefits from additional windows that are sure to let in plenty of natural light.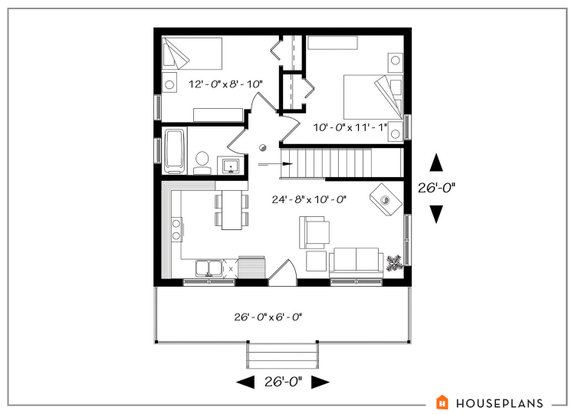 The Essential Cabin Vacation Home Plan
If you need a simple cabin design, this plan will work for you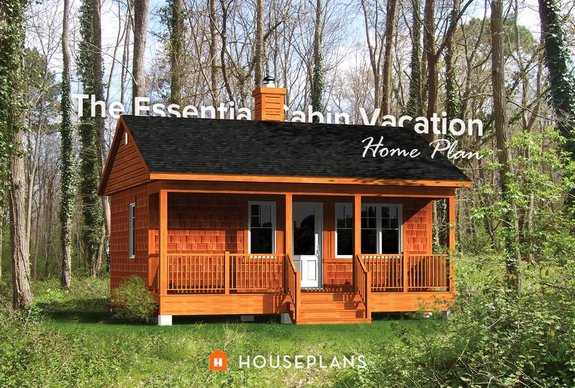 Plan 25-4565
A rustic getaway cabin perfect for those weekend trips! This small and simple cabin house plan has all the basics that you need to make a memorable time away from home. The front veranda offers a place where you can gather and enjoy some outdoor relaxation (get porch decor ideas with these tips from Country Living). Inside, a central fireplace keeps things warm in the cozy living room and kitchen area. This small home plan includes enough space for a bedroom, closet, and bathroom. Enjoy simple living with this cute cabin.
Cabin Style Two-Story House Plan
This rustic design offers plenty of space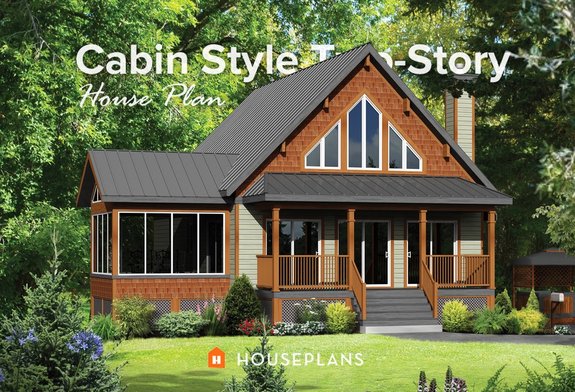 Plan 25-4291
This cabin home plan offers plenty of additional space that can be used in a variety of ways. The wood siding and shingles deliver a rustic look, while smart features throughout the interior deliver a modern vibe. As you pass inside, you're greeted by the open living room and dining area, kitchen (with cathedral ceiling) and access to a solarium perfect for relaxing. There are two bedrooms on the main floor in addition to a full bathroom.
The second floor contains two additional bedrooms, a powder room, and plenty of natural light thanks to the transom windows and the cathedral ceiling.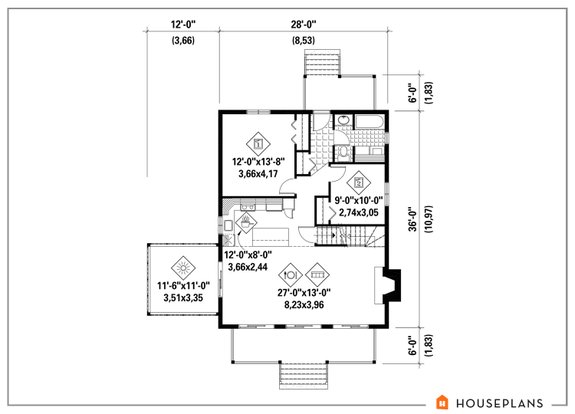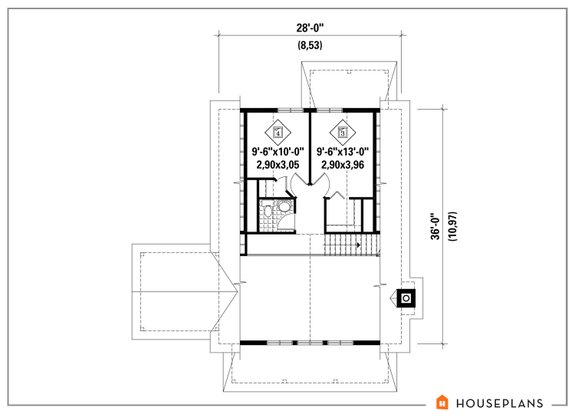 Modern Cabin Design with Rustic Details
A great cabin for a vacation home or extended family suite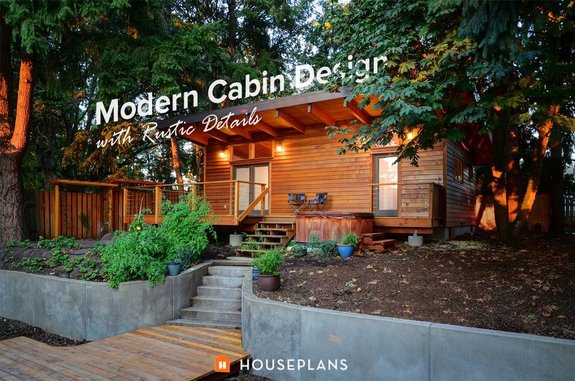 Plan 890-4
Whether you're looking for a small cabin house plan--or a design meant to house in-laws or extended family--this modern style cabin would be a great choice. The open wooden deck is the perfect place to take in the views or enjoy some time with family. Inside there is a multi-purpose main room that could be converted into a living area and bedroom, or be used as an office and shop. The U-shaped kitchen offers enough space for meal prep, while the bathroom comes complete with a dry sauna.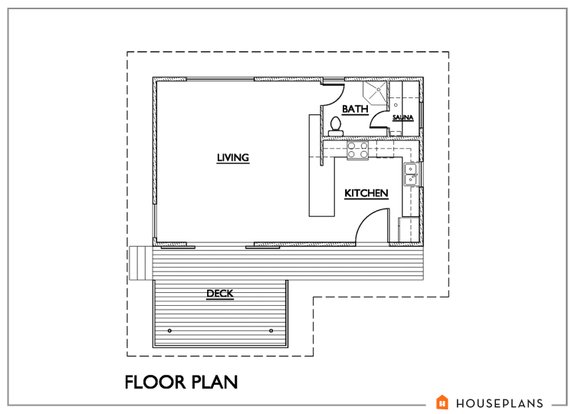 Small cabin plans are a great idea if you're looking to build the perfect vacation getaway home. You can bring a little rustic appeal to a secluded spot in the forest or the mountains, without having to sacrifice comfort and convenience! If one of these plans looks like something you'd be interested in, contact a Houseplans representative at 1-800-913-2350.