By Courtney Pittman
Looking to build your dream home without breaking the bank? You're in luck! Our inexpensive house plans to build offer loads of style, functionality, and most importantly, affordability. With builder-friendly features like open concept floor plans, smart material choices, and modest footprints, these home designs are both cost-effective and cool. We've gathered some of our most popular (and new) inexpensive house plans to build that are full of simplicity and charm.
Click here to browse our collection of inexpensive house plans to build.
Modest House Plan
This design shows off clean, sleek lines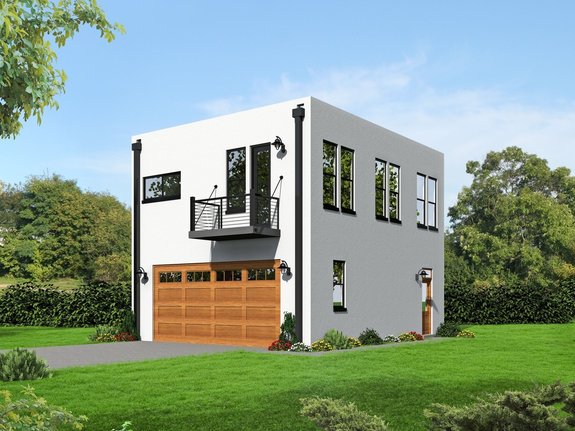 Plan 932-98 is all about efficient living with an easygoing layout.
This modest house plan (plan 932-98, above) shows off clean lines and modern styling. A two-car garage on the lower level provides plenty of room for storage, while an open living space on the second floor creates an airy vibe. Two bedrooms, a bathroom, and a laundry room also reside upstairs. Don't miss the sweet balcony just off the living room!
Huge Front Porch
Vaulted ceilings add a spacious touch to this design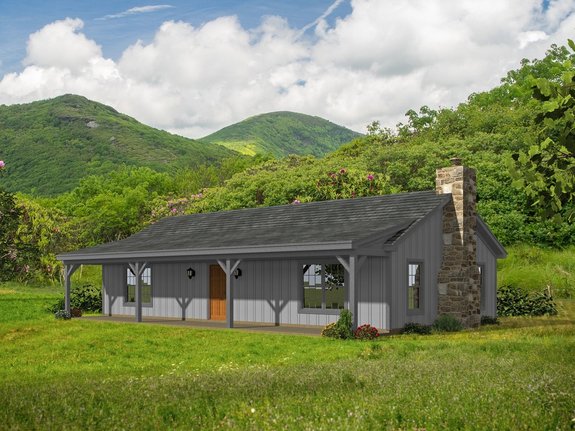 Plan 932-96 sports an open floor plan and two bedrooms
This beautiful country design (plan 932-96, above) offers a huge front porch and major curb appeal (design a great front porch with these tips from Builder Online). Inside, vaulted ceilings and an open concept floor plan between the great room, kitchen, and dining area allows the space to feel bigger than it actually is. Two bedrooms share a bath on the left side of the floor plan, while a spacious laundry/mudroom keeps things tidy.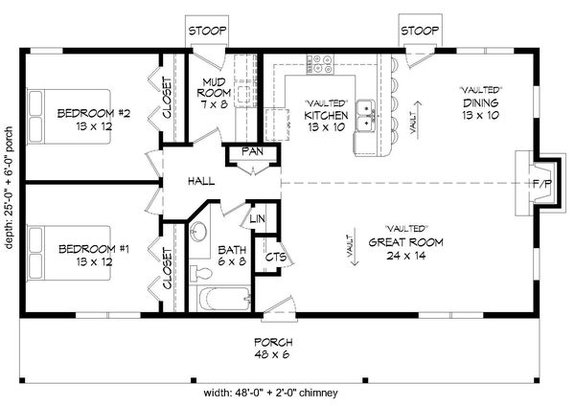 Budget-Friendly Farmhouse Design
The master suite sports a spacious walk-in closet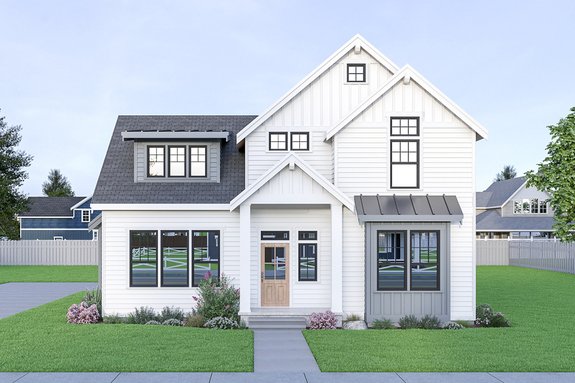 Plan 1070-40 fits nicely on a narrow lot.
This 1,844-square-foot modern farmhouse plan (plan 1070-40, above) fits nicely on a small lot, making it a stylish and budget-friendly design choice. The open layout flows from the living room to the island kitchen. The master suite includes two sinks and a spacious walk-in closet. A bonus room on the second level can be used in a variety of ways.
Plenty of Outdoor Living Space
This modern design delivers a relaxed attitude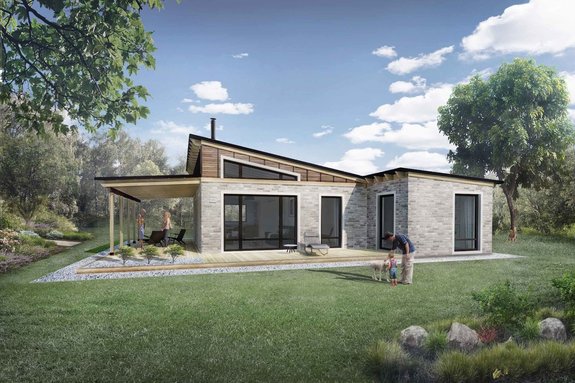 Plan 924-3 offers a seamless flow and high ceilings.
Plan 924-3 (above) is a modern design that makes the most of its small footprint. Plenty of outdoor living spaces deliver a relaxed attitude and bring the outdoors in. Bring on the porch hangs! Inside, a spacious kitchen and great room open to one another for a seamless flow.
The main living area features high ceilings, which allow the space to feel open and airy (make the most of vaulted ceilings with these tips from Freshome). Organization is made easy with built-ins in the living room. Tucked away to the left of the floor plan, the master suite enjoys privacy and opens to the patio.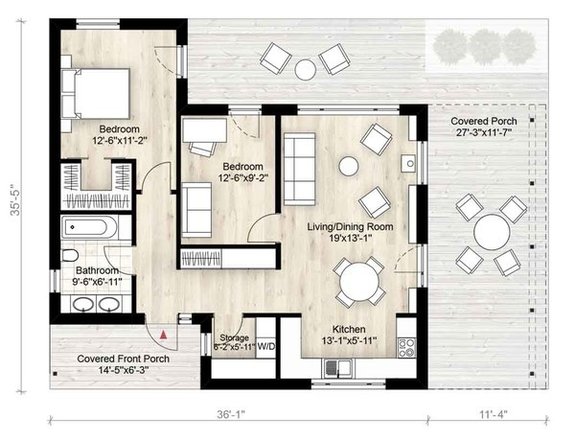 Rustic Details
This design makes the most of its square footage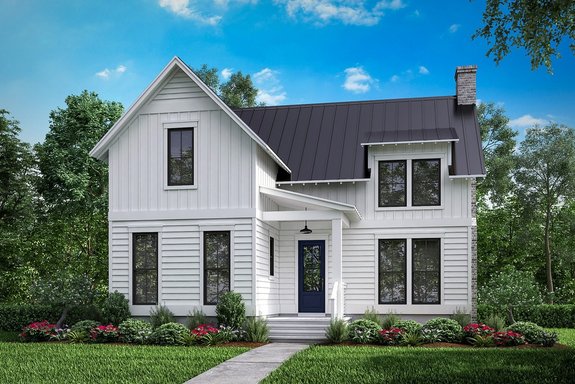 Plan 430-180 features a modest footprint and smart details.
Plan 430-180 (above) is a quaint farmhouse design that features a small footprint and an efficient use of space. Large windows provide tons of natural light, while 19-foot ceilings in the living room open to an upstairs loft (accessible by a ladder) – making the space open and airy. The island kitchen conveniently opens to the living room for an uncomplicated flow between spaces.
A bedroom on the main level features a walk-in closet and bathroom (with a spacious wet room). Upstairs, a loft adds more living space and could work great as an extra bedroom, home office, or playroom. Unwind on the covered rear porch after a long day – you may never leave!
Relaxed One-Story Design
Live efficiently with this country house plan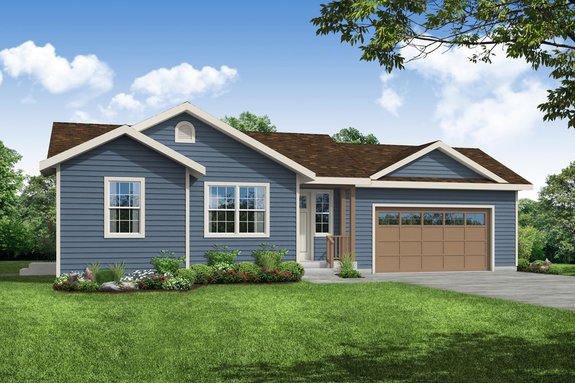 Plan 124-1170 features an eating bar at the kitchen island.
Both intimate and welcoming, this relaxed one-story house plan (plan 124-1170, above) is sure to meet the needs of homeowners looking to live life efficiently. The kitchen's island overlooks the living room for a relaxed, contemporary feeling. Check out the large walk-in closet in the master suite.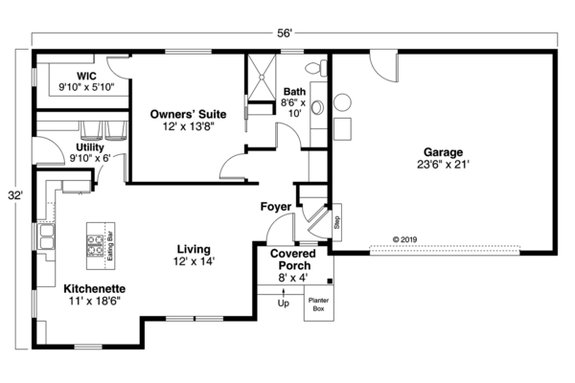 Contemporary House Plan
This design is great for a growing family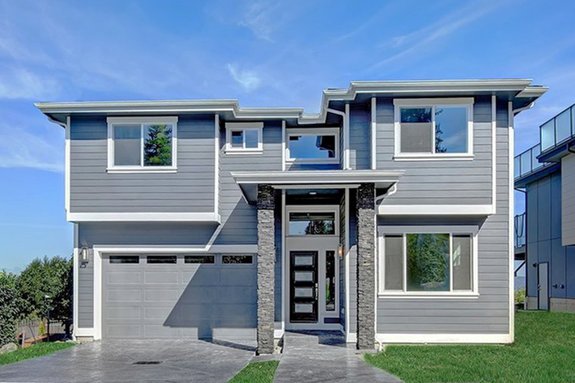 Plan 569-40 lends a spacious feeling with an open floor plan sliding glass doors.
Inexpensive house plans to build don't have to be small. Plan 569-40 (pictured above) is perfect for a bigger (or growing) family that wants to have space – without spending an arm and a leg to get it. With two stories, this home saves space (and cash) and is great for a narrow lot. The super-simple design and open layout lend a spacious feeling, while cutting back on costs.
Sliding glass doors open right up to the outdoor dining and living area, extending the living space with ease and functionality. A guest suite on the first floor could also be used as an extra bedroom, home office, playroom…the options are endless!
Simple and Chic Farmhouse
This plan includes very open living spaces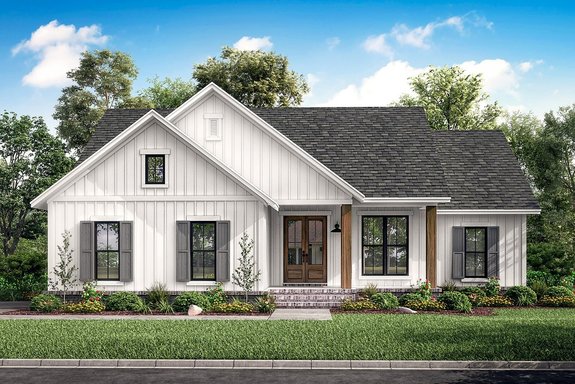 Plan 430-200 provides plenty of counter space in the kitchen.
Simple and chic, this inexpensive house plan to build (plan 430-200, above) gives you three bedrooms, two bathrooms (including the private master bathroom with two sinks and a shower), and very open living spaces. The island kitchen includes plenty of counter space and opens to the rear porch for easy indoor-outdoor living. Don't miss the lockers by the garage.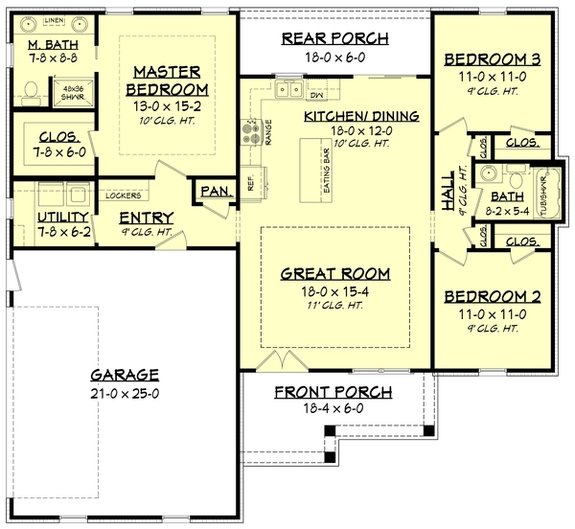 Cost-Efficient Farmhouse
This budget-friendly design doesn't skimp on style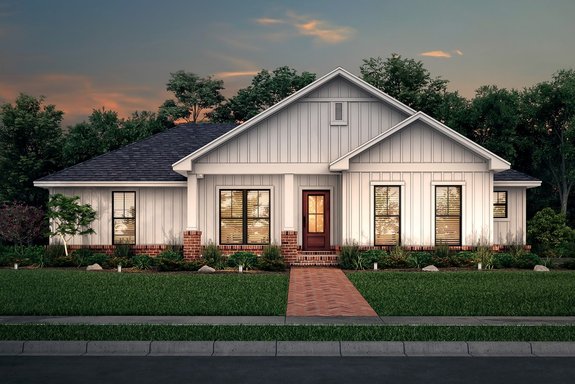 Plan 430-213 extends the living space with a cool rear porch.
Budget-friendly and gorgeous, this 1,327-square-foot design (plan 430-213, above) doesn't sacrifice style. The great room flows beautifully into the open kitchen, where an island gives you room to hang out. The master suite features a private bathroom and generous walk-in closet.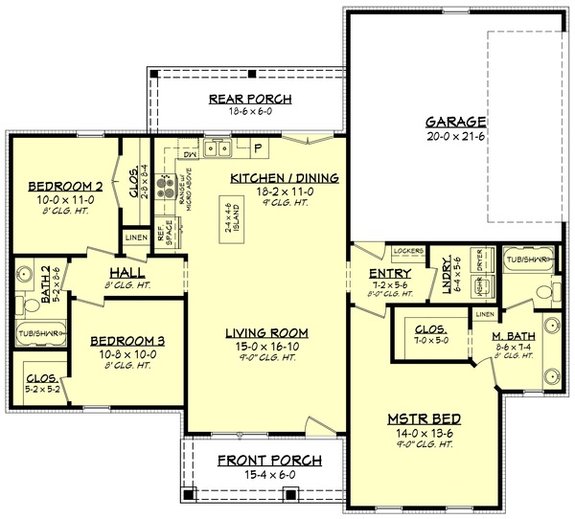 Modern Ranch Design
This ranch house plan could make a cool accessory dwelling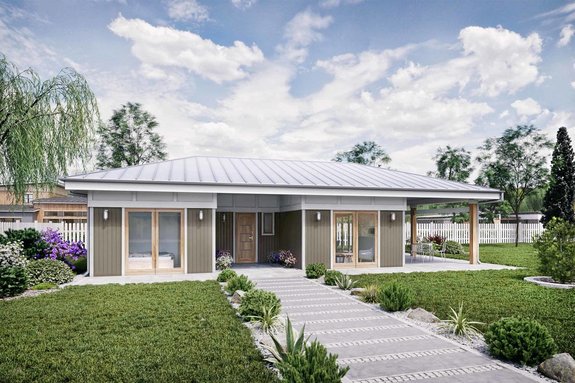 Plan 924-11 presents great indoor-outdoor living with a huge porch.
This 900-square-foot modern design (plan 924-11, above) makes a cool primary home or a really impressive accessory dwelling unit on a larger property. The open living areas lead out to the spacious porch from two sides for excellent indoor-outdoor flow. Need help decorating your small space? Check out these small space decorating ideas from Southern Living.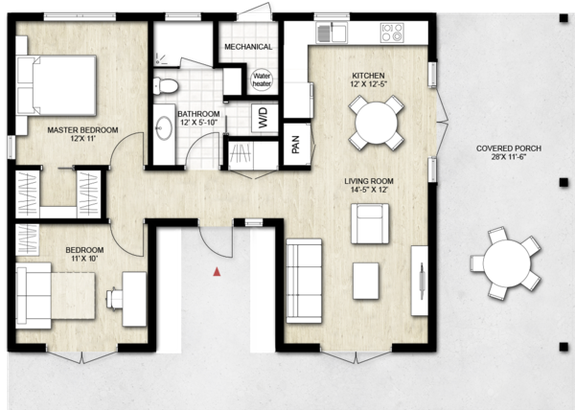 Craftsman Style Home
This house plan would look great in scenic location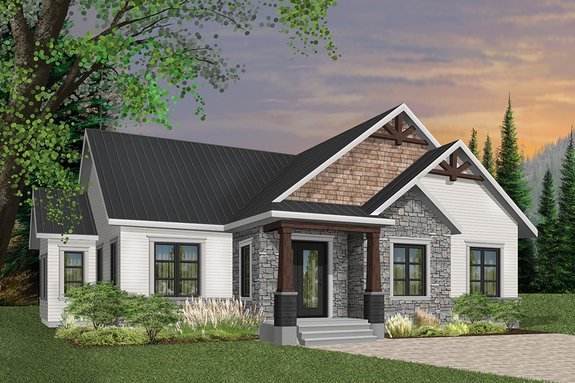 Plan 23-2667 makes the most of every square foot.
This 1,631-square-foot home (plan 23-2667, above) would look great in a scenic location, where the shingle and stone accents can reference the landscape. Inside, the open layout makes the most of every square foot. The master suite boasts a large shower, a spacious walk-in closet, and windows looking out to the backyard.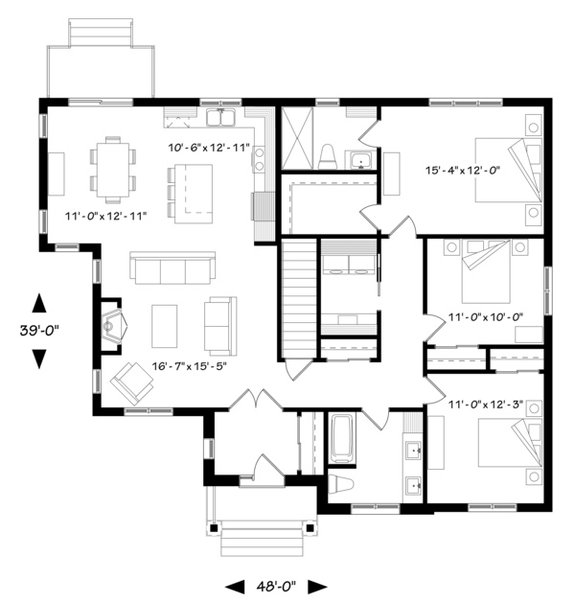 Explore more inexpensive house plans to build here.