By Courtney Pittman
Building a new home can be an exciting, yet complicated, process. Not to fear! Armed with the right information, building your dream home plan could be one of the most rewarding projects you'll ever tackle. With helpful advice on everything from selecting a home plan to your final walk-through, our (free!) beginner's guide will help you end up with your dream house – instead of a headache (no thanks!). Below are some key points to keep in mind during the home building process.
Click here to download our FREE Beginner's Guide.
Why You Should Choose Ready-to-Build Plans
First and foremost, a ready-made house plan saves you time and money. While a custom architect or designer may charge as much as $30,000 (or more!) for a full set of working drawings to design the home of your choice, you can most likely get everything you're dreaming of in a ready-to-build plan for less than $2,000. When working with a ready-made house plan, final cost estimates are more accurate because details, such as generating a materials list, are already taken into account.
Want changes? Our modifications department can customize your plans to better suit your needs. With the expertise of Zonda's design specialists, you can get a full spectrum of design change options.
Cost-to-Build
How much will this home cost to build? That is the million-dollar question (and hopefully the answer isn't a million dollars if that's above your budget!). House construction costs are dependent on where the home is being built, the level of finish (tile, trim, window quality, etc…) and the site. We provide a "cost-to-build" estimate using the same software that many of the insurance companies use.
Once you have a specific plan selected, just click on the "cost-to-build" button to get an estimate for that plan. You'll be asked a few quick questions about your building preferences and location, and then you can check out online. It's easy! You can also place your order over the phone and ask any related questions you may have: 1-800-528-8070.
Purchasing Land
Before anything else, you need to have a piece of land or a lot to build on. This will help you decide how big (or small) of a plan you need to buy. You could always buy a "finished" lot in a plotted subdivision where the developer has already laid the groundwork for building a home. Be sure to check setback requirements and determine the buildable area on the lot (and make sure the buildable area can fit a home so you can justify the cost of the land).
Purchasing Your House Plan
The home building process is filled with decisions, from selecting a builder for your dream home to the materials and appliances that will fill the space. The decision making actually begins earlier in the process – with your home plan. With thousands of home plan designs to choose from you're sure to find just what you're looking for.
Home Building Checklist
• Determine your budget
• Purchase Land for your home
• Select a home plan to build (be sure to plan for your site)
• Check building codes
• Financing
• Find a contractor/builder
• Start the building process
• Final inspection
• Final walk through
• MOVE IN!
TAKE A LOOK AT THESE STYLISH NEW HOME PLAN DESIGNS: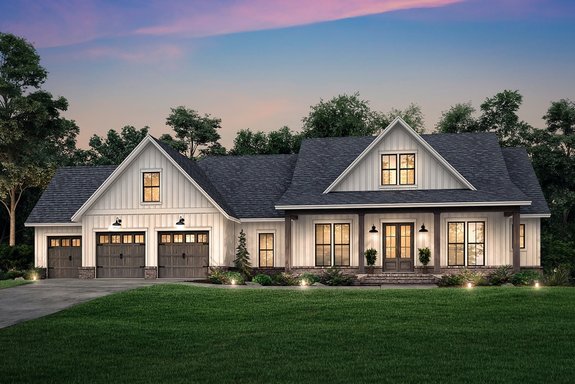 Plan 430-205
With 2,763 square feet, this elegant design provides plenty of space for a family or guests. The master suite occupies the left side of the home and treats you to a huge closet, two vanities, separate tub and shower, and more.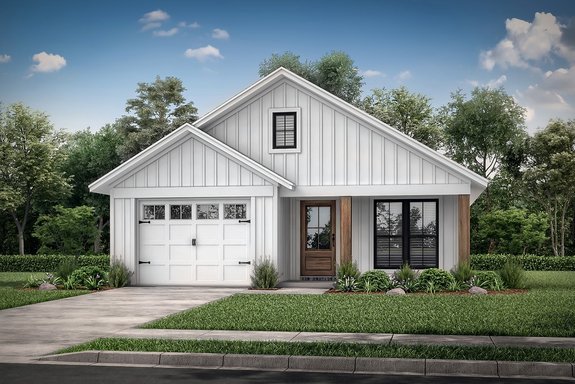 Plan 430-206
This budget-friendly farmhouse plan does quite a bit with 1,292 square feet. The open layout makes it easy to see into the living room from the kitchen, which includes a walk-in pantry. The master suite features a private bathroom.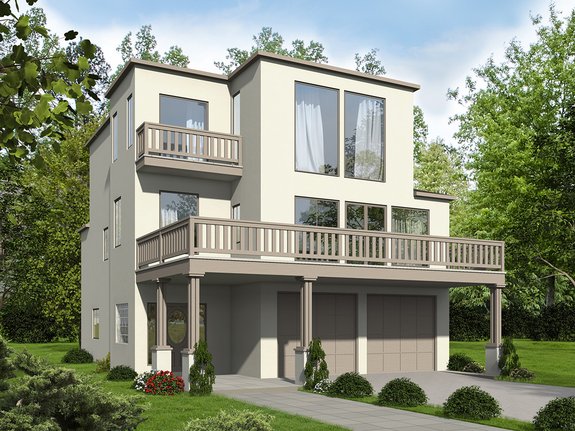 Plan 117-884
The real story here is the luxurious master suite, which takes over the entire second level and treats you to a deluxe bathroom (take a look at that corner tub), a huge walk-in closet, and access to a quiet sitting area. Check out the kitchen.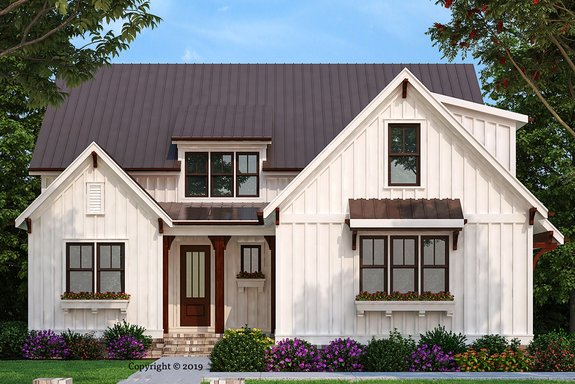 Plan 927-1002
This rustic-meets-modern style home plan design sports an open layout between the main living areas and plenty of outdoor living space. The main-level master suite sits to the right of the floor plan for extra privacy (check out that walk-in closet!). Don't miss the spacious mudroom just off the two-car garage!
Plan 930-504
Ready for holiday parties? This house plan certainly is, with a guest suite upstairs for in-laws and visitors. Meanwhile, you get an ultra-luxurious master suite that showcases a spa-like bathroom.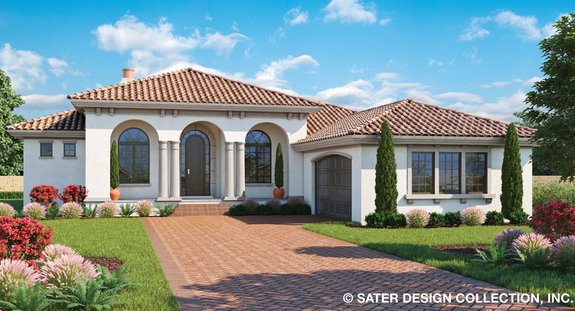 Plan 930-501
Imagine year-round outdoor entertaining on the back veranda of this splendid one-story home! Multiple sets of French doors lead from the living room, dining nook, and even two of the bedrooms (including the luxurious master suite) out to this backyard paradise.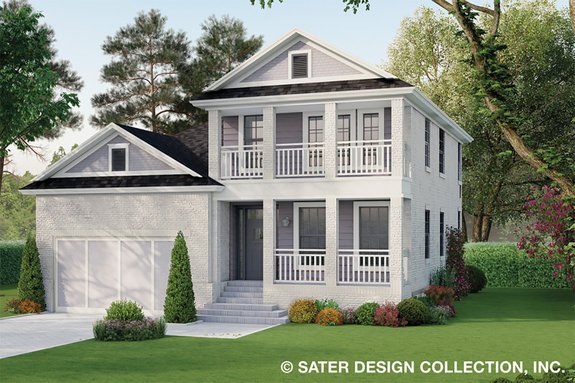 Plan 930-498
Get elegant style on a smallish lot with this compact design. The great room flows into the dining room and kitchen for a relaxed vibe. It's easy to reach the master suite, while three more bedrooms host family and friends upstairs.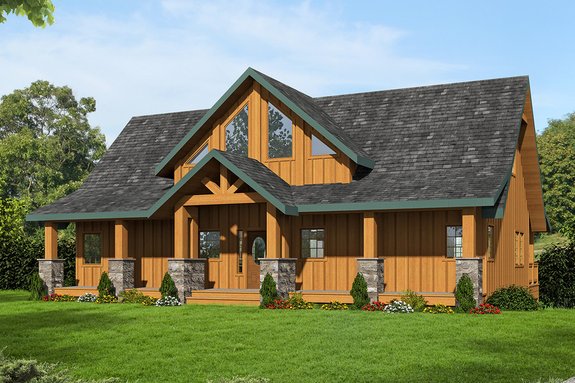 Plan 117-886
Imagine relaxing on a crisp fall weekend at this elegant cabin house plan, either next to the fireplace (check out the wall of windows!) or enjoying a warming meal at the kitchen's snack bar. Later on, enjoy stargazing on the ultra-spacious deck.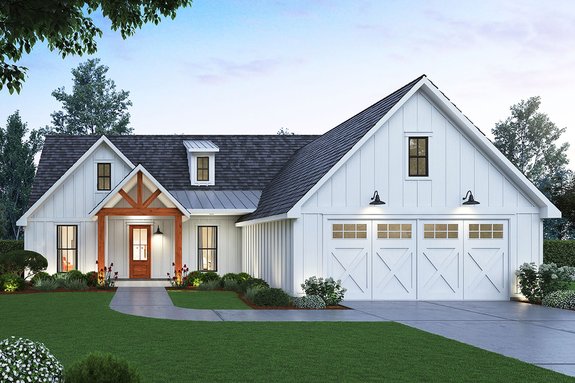 Plan 1074-1
Want a one-story open layout with many thoughtful amenities? Explore this new design. The living room flows over to the island kitchen and out to the spacious back porch. Take a look at the big master closet, too!
Download our beginner's guide (for free!) for more information on the building process – click here to get started.
Click here to browse thousands of home plan designs.