By Boyce Thompson
House plans for narrow lots have come a long way. Fifteen years ago, most house plans were purchased by people who intended to build homes on big lots in rural or exurban locations. The home, in many cases, could be as wide as they wanted. Few regulations in those settings limited lot coverage or setbacks. Impinging on the privacy of neighbors wasn't a major concern. Now narrow house plans are both necessary and common.
Explore narrow house plans here.
One of the biggest changes in recent years has been the rise of narrow-lot house plans. Back in the day you could always find the occasional thin bungalow or Colonial plan. But now a wide variety of narrow plans are available – everything from farmhouses to contemporaries to ranches. The change makes pre-drawn house plans a viable alternative for urban, close-in suburban, and master-planned settings. A plan like the one above, design 901-114 works especially well on a narrow waterfront lot in a coastal location.
The biggest design issue related to narrow house plans is the garage. A one-car garage is going to take up about 11 feet across the front of the house. A two-car garage, obviously, takes up about double that space; it can dominate the façade. In the worst case, the house may look like a couple of garage doors with a tacked-on entry, if you can find it at all. If the plan is done well, however, you may not have to make aesthetic sacrifices.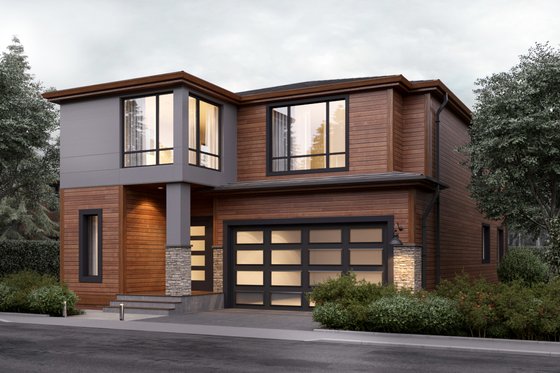 This 34-foot-wide contemporary home uses contemporary garage doors with glass inserts to create a strong overall impression from the street. Yes, the two-car garage takes up more than half the front elevation. But the garage doors look like an integral part of the house, an effect that's achieved by repeating the horizontal window pattern on the garage doors and the entry door. As in most narrow plans, an open first floor with dining, living, and kitchen spaces flowing together economizes on space. The plan fits four bedrooms upstairs by having secondary bedrooms share a hall bath.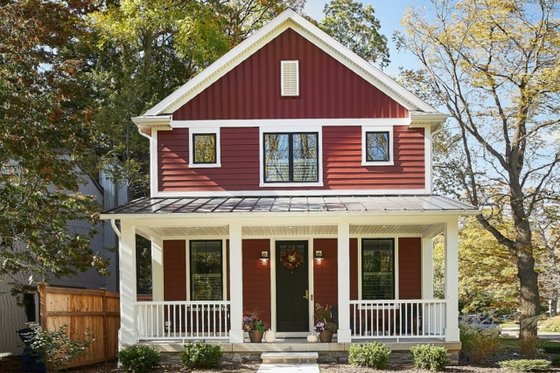 This 24-foot-wide plan packs more than 2,000 square feet and three bedrooms within its tight footprint. The garage is tucked around back, making way for a wide and deep front porch that connects to the street. The plan would be perfect for an urban infill lot in an older neighborhood. You could sit on a porch swing and talk to neighbors as they pass by in the evening. Guests could stay in a first-floor room that doubles as an office.
Privacy is another important issue with narrow plans, since neighboring houses are likely to be close by. You want to make sure neighbors aren't looking right into your bedroom or bath. The best narrow-lot plans anticipate this need by using smaller, strategically placed fenestration on the sides of the house. They may also place stairwells, laundries, and powder rooms in this location since they may not need as much light or privacy. Big banks of windows on the front and back can make up for the lack of daylight. Those are the most likely locations for public rooms anyway.
Narrow plans are strong candidates for passive ventilation, especially ones that are only one room wide. With windows open on both sides, ceiling fans can circulate breezes through the main living space. Bow or bay windows, a common feature on traditional house plans, are another effective technique for passive ventilation.
This 33-foot-wide courtyard plan would be ideally suited for an urban infill location. A deep two-car garage faces the street, along with a privacy fence that hides a front courtyard. Patio doors open from the dining room to the courtyard, making it an ideal party space. The living room in back merges with a covered deck. Merging indoor and outdoor spaces means the house will live much larger than its narrow footprint.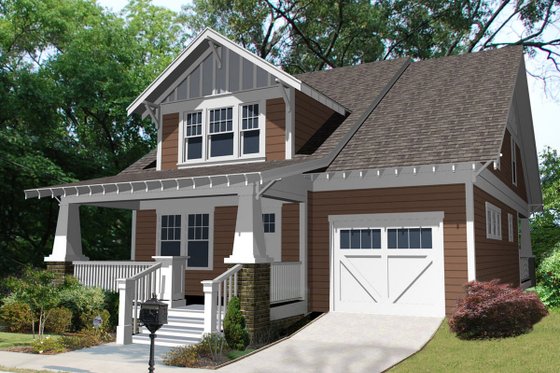 Many traditional plans are, by nature, narrow. Here's a nice 30-foot-wide craftsman bungalow with an attached garage facing front. The garage looks like an integral part of the house, thanks to the strategic application of trim and siding and a window pattern that's found elsewhere on the house. Windows on two sides of the living room and family room obviate the need for air conditioning. Most bedroom windows face the front or back, where privacy isn't as big of a concern.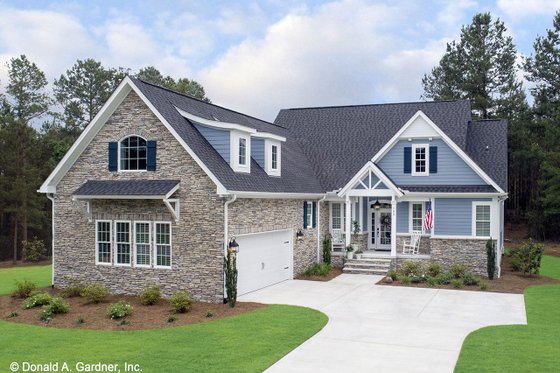 Another way to skin this cat is to do a turn in garage. Here's a 50-foot-wide plan by Don Gardner that manages to squeeze three bedrooms within 1,753 square feet, and all on one floor. A refined composition of stone and horizontal lap siding hides the mass of the two-car garage. Many passers-by may not even notice that a garage rather than living space faces the street. The plan, which would look at home in many master-planned settings, doesn't skimp on creature comforts. The master has a private bath with double-bowl sinks, two closets, a tub, and a separate shower.