There are many reasons to consider building duplex house plans, even if you never thought about it before. Perhaps you need space for in-laws or parents to move in, maybe adult children are looking to have their own space while they save for a home of their own, or perhaps you're considering renting out the other side of the duplex for some extra income - regardless of the reason, duplexes offer home builders a lot of versatility and a considerable amount of options.
If you're not interested in the traditional look of a duplex, but still like the idea of two separate spaces, we have some amazing home plan options for that. We've picked our favorite unique duplex plans that look like single-family homes, so if one catches your eye, give us a call today at 1-800-913-2350!
Cottage Home Duplex Plan
This adorable duplex looks like a country cottage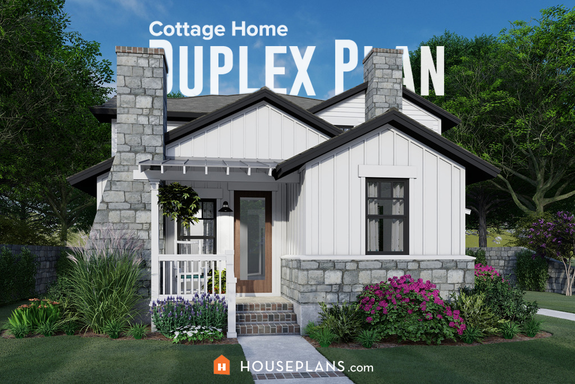 Duplex Plan 120-267 - Front Exterior
If you like the look of a country cottage - but want the flexibility of a duplex - then we have an option for you. This home (plan 120-267, above) features two separate layouts, and totals at 3,038 sq ft of open and seamless living - no matter which unit you prefer to live in. There are impressive master bedrooms and baths with double sinks in each unit. Both sides are two stories and come with their own two-car garages.
In addition to the master bedrooms, there are two additional bedrooms on the second floor complete with walk-in closets, as well as room for a den or an office area (check out these home office ideas from Country Living). This home plan is suitable for a narrow lot as well, which makes it a convenient option for many home builders. See the floor plan below.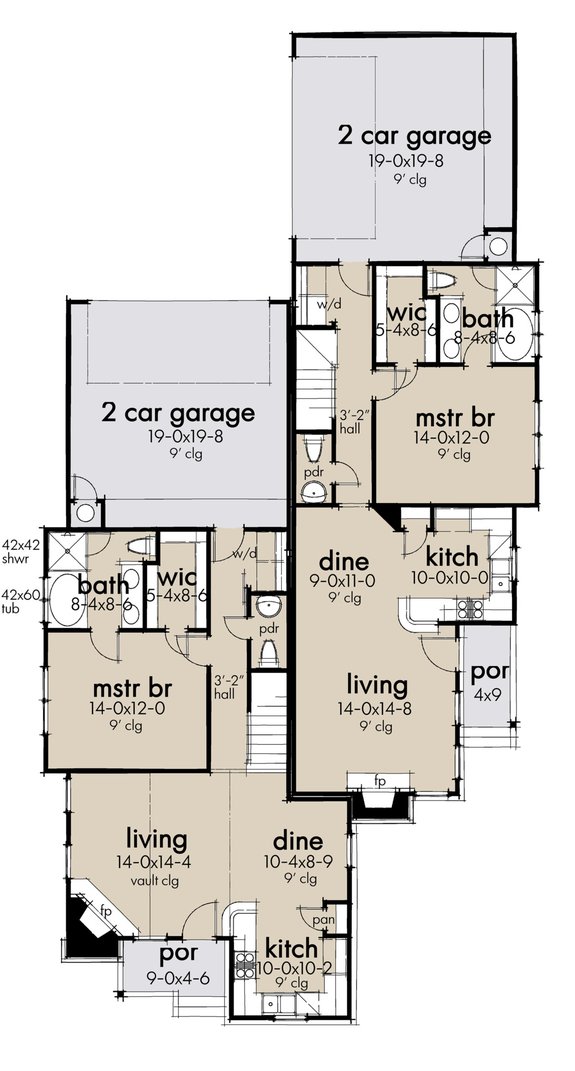 Contemporary Craftsman Duplex
A unique take on the traditional duplex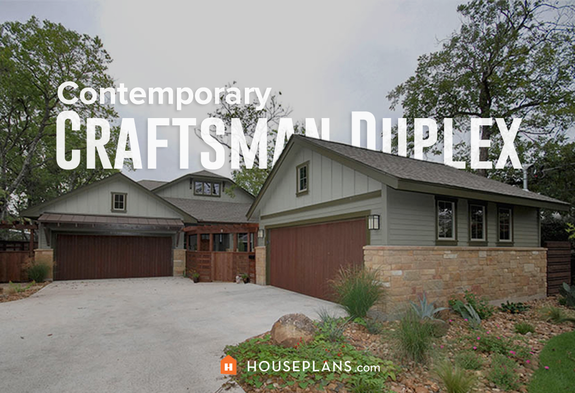 Plan 935-3
If you love the look of Craftsman homes, you are definitely not alone - this style continues to be one of the most popular overall - much like these Craftsman designs seen in this article from Builder Online (Builder Online is owned by Zonda, the parent company of Houseplans.com). Perhaps bungalow house plans and Craftsman designs work well as duplexes because they have such homey, familiar curb appeal that distracts the eye from multiple entrances. Plan 935-3 (pictured above) features 4,081 sq ft of total space as well as three bedrooms in each, and as two and a half baths. There are two separate entrances - that in true Craftsman style - are a little secluded but not too difficult to find.
There are also separate garages for each unit as well as patio space that can be utilized for all kinds of outdoor activities. There's nothing cookie-cutter about this house plan, so if you're up for something a little different, this might just be the ideal duplex for you. See the floor plans below.
Multi-Generational Living in a Contemporary Duplex Plan
The perfect duplex for a large family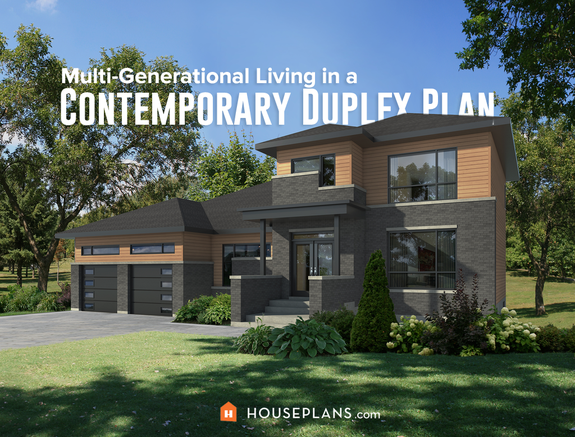 Plan 25-4609
This beautiful contemporary house plan (plan 25-4609) is perfect if you're looking to have parents or in-laws move into your home - but want to provide them with their own space and privacy (for more on in-law suites, read this article from Realtor). The entire unit is clad in stone, brick, and aluminum, giving it a very distinct look. Although the two units share an entrance hallway as well as an entrance to the garage, they are two separate spaces.
The first floor unit comes with a main bedroom, bath, living room, dining room, and kitchen. The main unit has a living room - complete with an open gas fireplace - dining room, powder room, and kitchen on the first floor. The upper floor is 914 sq ft and contains three bedrooms, including a master bedroom and bath with a walk-in closet. This duplex is a nice option for those families who need a little extra space, but still want to be close together.
Single Story Ranch Duplex Living
One story open floor plans make this duplex an ideal choice for anyone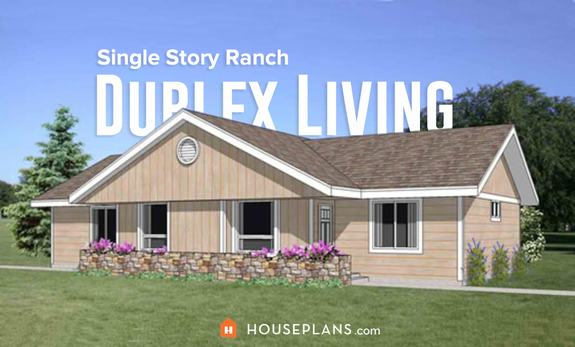 Plan 116-287
Ranch style houses are always a good choice, especially if you either require or just prefer the convenience of one story living. This entire house (plan 116-287, above) is 1,710 sq ft and each unit has its own separate entrance on opposite sides of the home, which contributes to the sense of privacy for both home owners. This duplex features two bedrooms and a full bath in each unit, and each has an expansive living room that seamlessly flows into the kitchen--which has a nook that's perfect for casual dining.
The bedrooms in this ranch duplex also come with ample closet space for all your needs. This house plan also comes with the option to include Active Solar Details, so if this interests you, make sure to include that option in your home as well. See the floor plan below.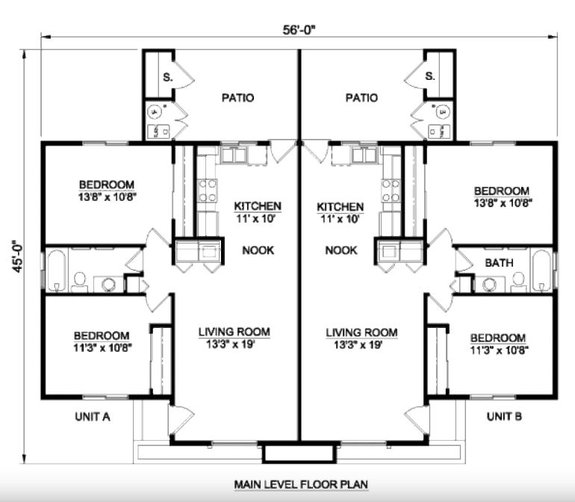 Traditional Craftsman Duplex
A large duplex with Craftsman appeal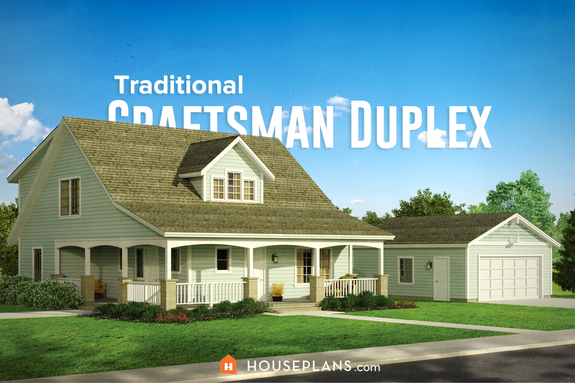 Plan 124-803
This Craftsman house (plan 124-803) looks like a large single-family home, but it actually includes two levels of living. On the first floor, that has 1,267 sq ft, there are three spacious bedrooms, along with two full bathrooms, as well as an open great room that easily flows into the large kitchen. The second unit, which has 1,021 sq ft of space, is on the top floor and has two bedrooms and one complete bath, along with its own kitchen and inviting great room that is a perfect way to entertain.
This duplex also includes a wrap around covered porch, which will provide ample opportunities to enjoy some time outdoors. There are separate entrances as well, making this a great duplex if you're looking for a little more privacy. See the floor plan below.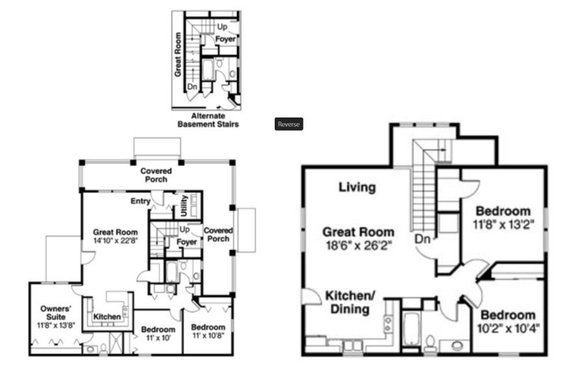 Elevated Contemporary Duplex
A duplex hidden in plain sight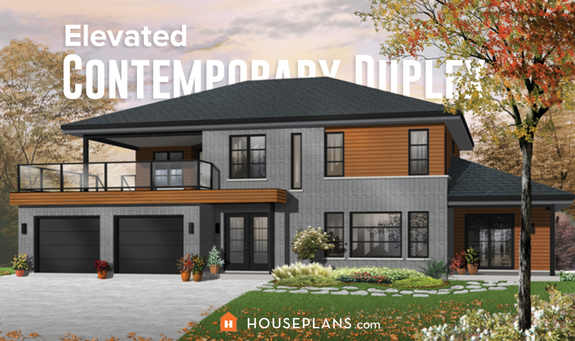 Plan 23-2599
This contemporary home (plan 23-2599, above) doesn't appear to be a duplex at first look, but it most definitely is. The first floor unit is ideal for a relative who wants to live independently from the main unit. It comes complete with a bedroom that has a full bathroom attached to it, a main room, and a kitchen, which is just the right amount of space.
On the main floor, the open layout draws the eye to the kitchen island, which is at the heart of the kitchen and the main living area. There are two bedrooms on the second story as well as a full bathroom. On top of the two car garage is an elevated patio which will offer spectacular views of your surroundings as well as a great place to relax outdoors. Check out the floor plans below.
Contemporary Triplex Plan
Lower, first, or second floor living never looked so stylish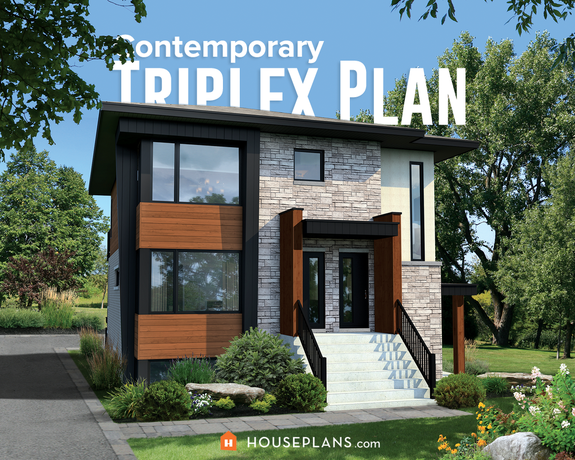 This contemporary triplex (plan 25-4555) appears to be a little closer to the traditional models commonly seen, but it could sure pass for a single-family home at a quick glance. There are three separate entrances, one opening to the lower floor space, one to the main floor space, and the other to the staircase that leads up to the second floor. All three units are designed the same, and come with two bedrooms and one bathroom. They all feature an open layout that allows the living area to flow easily into the kitchen and then the dining area.
All these units have a private balcony or patio in the rear of the building, perfect for outdoor entertaining. See the floor plans below.
Country House that Offers Multiple Living Quarters
There is a lot of space with this house plan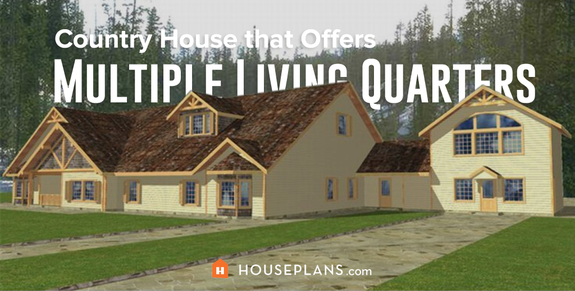 Plan 117-265
If you are looking to build a retreat that can hold a lot of people, then this is the house plan (plan 117-265) for you. This version of a country house has a total of 15 bedrooms and 16 bathrooms which are easily accessible with the one floor house plan. There is a total of 6,619 sq ft which includes a living room, a den/office, a dining area, as well as a walk-in pantry which will be useful to cook up some delicious meals in the large kitchen.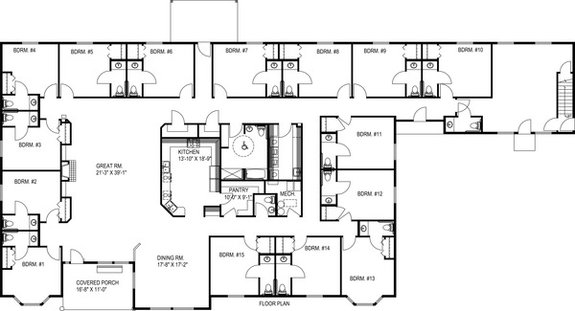 Craftsman Bungalow Duplex
A stylish take on duplex living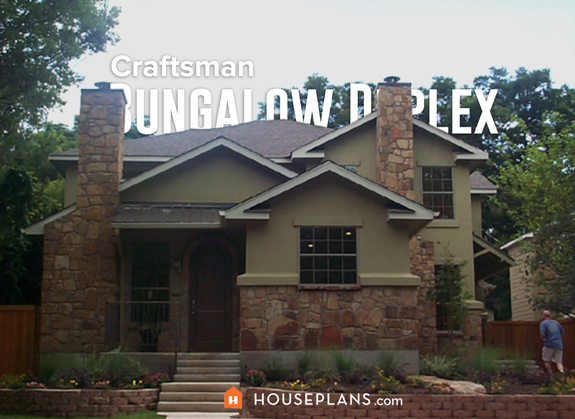 Plan 120-170
This Craftsman home (plan 120-170) appears to be a single-family home when you first glance, but if you look harder, you'll see that there are two separate entrances and this is in fact a duplex. Both units have first and second floors, and come with a master suite, living room, dining room, and open kitchen on the main level. On the second floor, there are two more bedrooms, a jack and jill bathroom, as well as a loft space that could easily be used as a lounge area or as a den.
The Craftsman style definitely gives this duplex some serious curb appeal and its unique design guarantees it is no cookie-cutter house plan.
Duplex living offers tons of versatility, and when you choose from one of these home plans, you don't have to give up the curb appeal of a single-family home.
Browse duplex house plans