By Boyce Thompson
We've probably all felt buyer's remorse. Sometimes we wish we'd spent a little bit more to get the stereo systems of our dreams or a tailored dress that fits perfectly. And sometimes we wish we'd spent a lot less. A five-year commitment to a $450 monthly payment for a German automobile can put a serious crimp in your lifestyle, especially when you later decide a Prius would have been just fine.
Click here to browse our collection of best selling house plans.
Home purchases are a leading cause of buyer's remorse, which isn't surprising considering that they are the biggest purchases that most people make. Designing and building the home of your dreams can be an exhilarating process, one that produces high expectations. Regret can set in when the day-to-day reality of living in the house doesn't mesh with the dream. You may wish that you'd upgraded to more energy-efficient windows. You may realize that a small detail you forgot, like plumbing the basement, was important.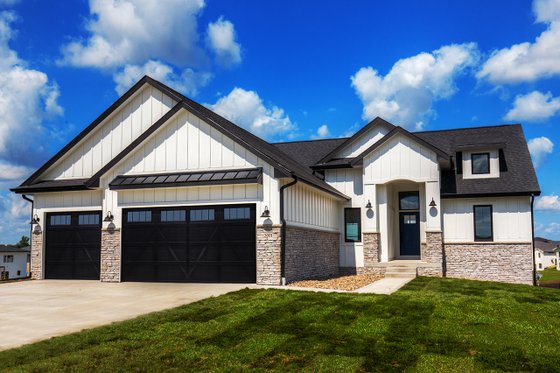 Plan 70-1477
A recent survey by online real estate search engine Trulia found that 51% of homeowners regretted something about the home they bought, or the process of choosing it. Interestingly, fifteen percent wished they'd known more about the neighborhood. Before you buy a lot to build a home, make sure it's where you really want to live -- that your commute won't be too long, the schools are good, and shopping is nearby.
But the most common source of regret is the house itself. More people wished they'd bought a bigger house (33 percent) than a smaller one (9 percent). It pays to spend a couple weekends walking model homes similar in size to the one you want to build. That may give you a better idea of how big your home is going to be. Also, remember that homes feel bigger when important rooms such as the great room and kitchen have strong outdoor views.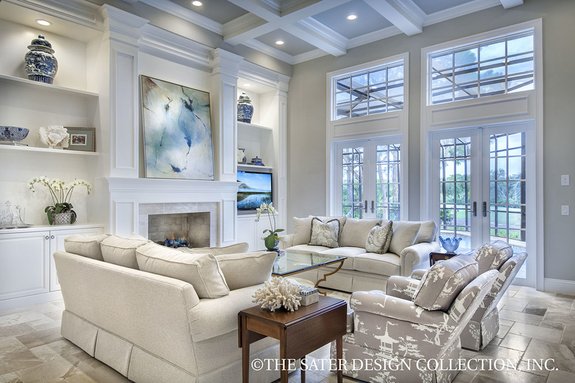 Plan 930-486
Another 26 percent of respondents to the Trulia survey wished that they'd done more, or fewer improvements to the house before moving in. While Trulia surveyed mostly people who bought existing houses, the results dovetail with industry surveys of new-home buyers. Avid Ratings, which surveys new-home buyers, always asks the question, "What would you change about your home?" "The data ranges widely from builder to builder," says CEO Paul Cardis. "But in general, we see comments that indicate people wished they knew all the upgrades that were available. They would have added more features to their home."
The home features that cause the biggest regret are the ones that would be difficult or expensive to change later on. Flooring tops the list. Carpeting floor is often the least expensive option, and it may be the best one for bedrooms and hallways. Upgrading to hardwood, tile, or laminate flooring may not only create a more elegant appearance but save on cleaning later on.
Pay special attention to how your builder plans to put together stairs. If the plan is to carpet the stairs, the builder may run plywood under the carpet. That would make it expensive to upgrade to hardwood stairs later. If you decide to go the solid-wood route from the beginning, consider that stairs are typically stained on site. If you select prefinished hardwood flooring elsewhere, you'll have to make sure the stains match.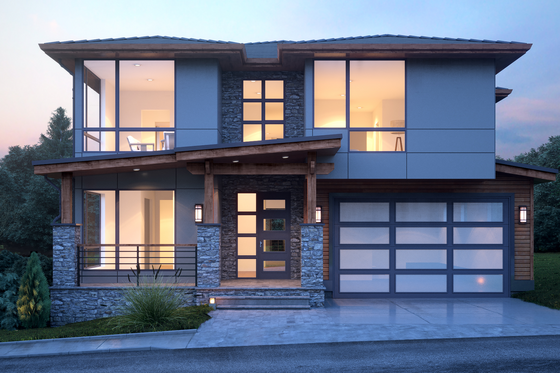 Plan 1066-54
Cabinetry, another item that's difficult and expensive to change later, is another top regret. Don't be misled by surface appearances. Even cheap cabinets may have nice-looking fronts, though they may be veneers rather than solid hardwood, which will perform best for the long run. The box frames that hold cabinets together are the most critical part of the system. If made with thin particleboard rather than plywood, they can wind up sagging and warping. The same goes for drawers.
Fixtures also finish high on Avid's list. Freestanding tubs are a hot item these days. They exude luxury that built-in bathtubs can't match. But they also take up a lot of floor space. They can become a tripping hazard in a tight bathroom. They can become a cause of regret if you don't bathe often. For some people, a walk-in shower may be a better option for the master bathroom, though you need to make sure there's a bathtub somewhere in the house. If you plan to use a lot of glass for an enclosure, make sure you are ready to clean it often.
Recessed lighting is an often-overlooked opportunity. It's an attractive way to make rooms, walls, and objects look better, and it costs much less to install during new construction than after the fact. Recessed lighting is typically used to brighten up high-traffic rooms, like the kitchen or living room. It's also an effective way to accent a fireplace or piece of art. You also see it used to wash a key wall with light, which makes the room appear bigger.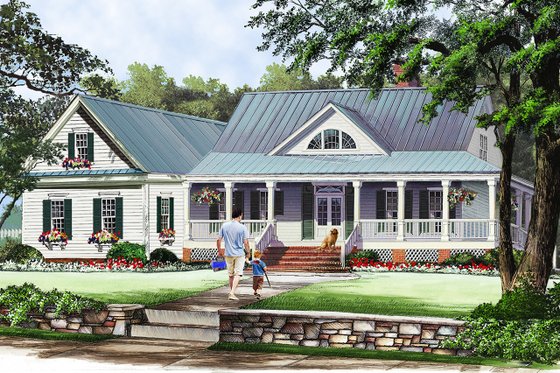 Plan 137-376
Tech wiring is easiest to do during construction. In fact, structured wiring for TVs and computers is cheap enough to add before drywall goes in that you are better erring on the side of bringing it to too many rooms rather than too few. Make sure to bring it to every location where you may want to watch TV or use a computer. Wireless speakers and security systems have made great strides in recent years. But if want the best sound, and arguably the most reliable security, you may want to run wire.
Most builders install just enough insulation to meet code. You may want to spring for upgraded batt insulation or spray foam (especially in the attic) to cut utility bills in the long run. Same goes for windows. Upgrading to windows with a low U-value doesn't cost a lot more, and it may eliminate a common complaint about new homes -- that rooms feel cold or drafty. Also, keep in mind that there are ways to easily soundproof rooms that would be great for a home theater or master bedroom; they affect both the insulation and drywall used to build the room.
A lack of storage space figures prominently on the Avid list. It's important to think about how much storage space you need – now and in the future. Remember that growing families tend to accumulate rather than shed possessions. Identifying adequate storage options is especially important if you plan to build your home on grade, without a basement. Check the house plan to see whether there's enough garage or attic space for storage.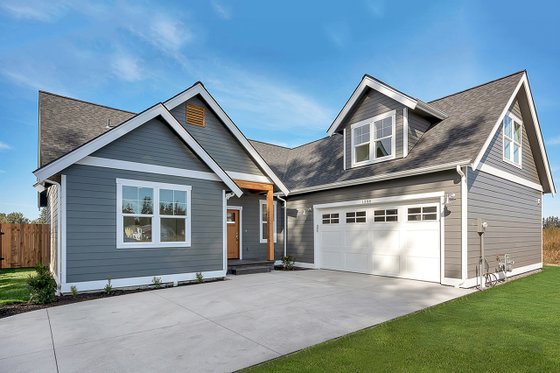 Plan 1070-24
People buying production homes often lament about how long it takes to finish the landscaping around their house. When building a custom home, make sure to coordinate the activities of the builder and landscaper. It's worth having a meeting between the professionals to talk about potential problems and opportunities. There may be a killer view from the great room that should focus on a key planting or fixture. You may want to plant trees along one side of the house to prevent heat gain.
Paint colors finish high on the Avid list. It's hard to imagine how rooms might look sifting through paint chips and using visualization tools in isolation. The best way to see how colors look, alone and together, is to paint big swatches on the wall. That way you can see what they look like at different light levels. You may want to use more durable semigloss paints in the kitchen and bathroom. Flat and matte finishes, on the other hand, are easier to clean. They may be the better in hallways, kids' rooms, and other high-traffic areas.
Browse best selling house plans
Explore new home designs