By Courtney Pittman
If you plan to build your dream home this spring or summer, now is the time to get your plans. With thousands of styles to choose from (farmhouse, Craftsman, modern, ranch, European, traditional, and more) you are sure to find a home plan that fits your needs and lifestyle. Want to customize your home design? Good news! Our in-house plan experts and designers can assist you with all kinds of plan modifications. Whether you want to move a door or window or completely redesign the entire plan, our modifications department is here to help. Questions about the modifications process? Check out our handy modification guide full of tips and tricks to help make the customization process easier. Picking your new home plan design is fun and exciting, customizing it should be too! With valuable advice on the modification process, this article will help you customize the home of your dreams.
Click here to view our modification guide or give us a call at 1-800-913-2350 today – we want to hear from you!
Plan Modifications
What exactly is a modification? A modification is a change in the architectural plan of the house. Depending on the scope of the changes, edits can be made to the existing plan or the plan may need to be redrawn.
Anything on a plan can be modified (changing ceiling height, reducing square footage, changing materials, re-configuring outdoor spaces, etc.). Our modification department can assist you with these edits - just be sure to secure local government approvals and make sure your plan meets local building code requirements.
Modification Costs
Plan modification pricing varies depending on the size of your house and the complexity of the design. Since each plan is different and each modification request is unique, it is hard to give a price without knowing which plan you like and the changes you want to make to it.
We can tell you the average cost of modifications (in addition to the cost of the plan set, which will have to be a modifiable version such as a PDF or CAD file) is between $900 - $1500. If that sounds like a lot, remember that you're essentially receiving a custom house for much less than a designer or architect will typically charge.
How long do modifications take?
Your modification project starts the minute you place your order. The timeline for receiving your modified plans depends on how quickly you respond to your designer and the scope of the changes involved. Quick changes that don't affect other parts of the plan may simply require a brief conversation with a designer and a few hours of design work.
Significant modifications (like redesigning major features or involving multiple floors) may require more back-and-forth with your designer and the new drawings may need a few weeks to be finalized. Timeline estimates will be included with your quote.
Custom Designed House Plans
Did you know you can build your own uniquely designed home with the help of our in-house experts? Our custom home design service provides extraordinary possibilities, affordably. Save thousands of dollars on design fees when you work with us to create a custom home design with a low, fixed price. Use our team of designers to create a custom home plan just for you. Sounds dreamy, right?
Get inspired with these new (and popular) home designs!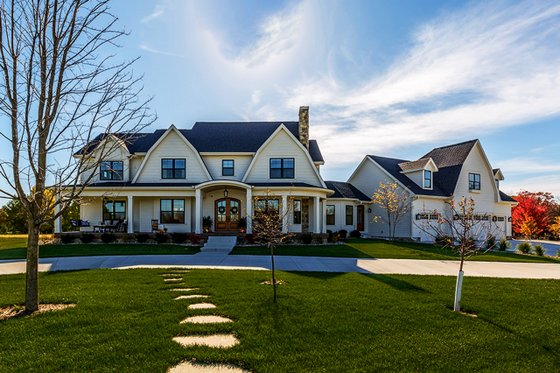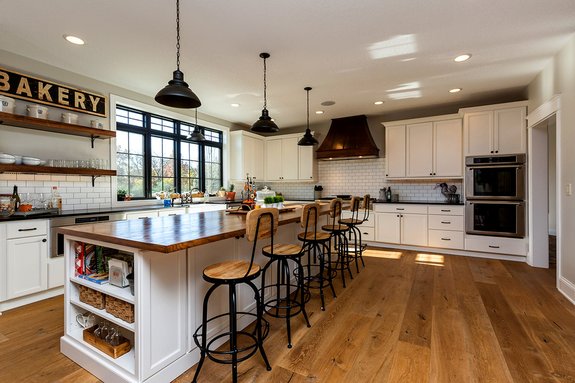 An in-law suite adds impressive versatility to this elegant country home design (plan70-1488). Because it's on the main floor, this spacious suite is easy to reach for guests or live-in relatives (like an elderly parent).
Highlights we love: a two-sided fireplace between the great room and family room, a large island in the kitchen (pictured above), and a spa-like suite for the master suite upstairs. The wraparound front porch contributes huge curb appeal.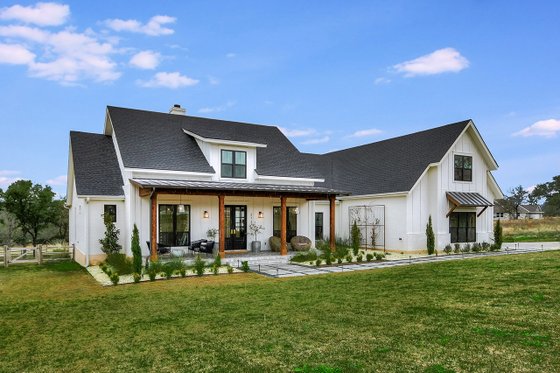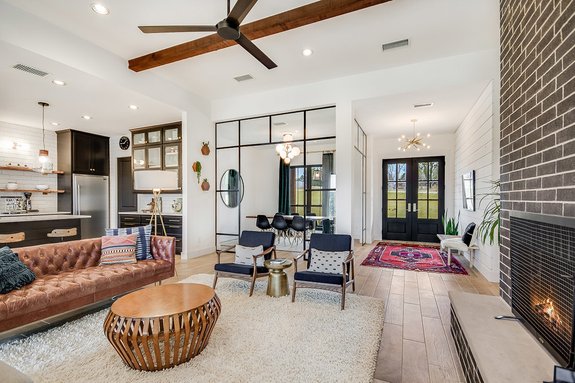 This contemporary version of the classic farmhouse (plan430-156) displays eye-catching curb appeal. A wide porch welcomes visitors inside, where an open layout (pictured above) encourages a relaxed lifestyle.
Serve up snacks at the kitchen island or sit down for an elegant meal in the dining room. A rear porch is the perfect place to entertain guests when the weather is nice. Need storage space? You're in luck. Tons of storage spaces are located throughout the home, with every bedroom boasting a walk-in closet (plus a huge pantry in the kitchen). The master suite's closet opens directly to the laundry room – making it easy to throw in a load. A large bonus suite upstairs can be finished now or later.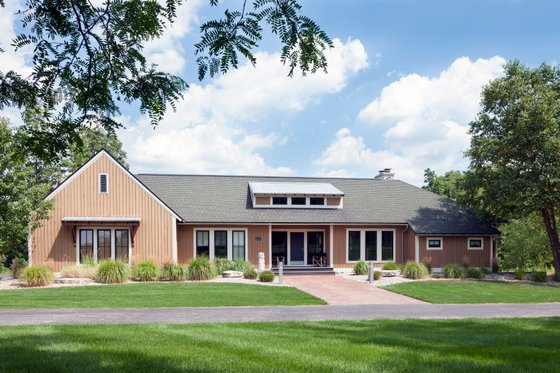 A two-sided fireplace creates a warm ambiance in both the living room and the master suite in this farmhouse style home design (plan901-145). A screened porch invites you to enjoy nature, even during less-than-ideal weather. An easygoing floor plan between the kitchen, dining area, and great room make this plan feel clean and contemporary. The kitchen provides a large island (perfect for entertaining guests), a walk-in pantry, and plenty of counter space.
A handy mudroom just off the three-car garage keeps things clean and organized. The first-floor master suite features an extra-large walk-in closet, dual sinks, soaking tub, and a standing shower.
Upstairs, another family room would make a great media room, while a billiards room provides loads of fun. Three more bedrooms (each with their own bathroom) and generous laundry room reside on this level.
Plan 1066-43 (above) is full of fun amenities. Two master suites (one on each level, both with luxurious private bathrooms) means you have a versatile place to host in-laws, a grown child, or simply special visitors in this modern house plan. Also cool: a den near the front (a good location for a home office), a big island in the kitchen, and a handy workshop in the garage.
Plenty of windows allow homeowners to take in the breathtaking views that the Northwest has to offer, while cool modern styling stands out. A handy laundry/mudroom just off the two-car garage keeps things tidy and organized.
View our modification guide here.
Are you a builder? Sign up for our Builder Advantage Program here.
Questions? Give us a call at 1-800-913-2350 today or contact us here.