By Courtney Pittman
Convenient and smart, open floor plans provide clear, open sight lines from the kitchen to the main living areas – making it easy to host and entertain friends and family. These popular layouts maximize space, provide excellent flow from room to room, and promote a modern sense of relaxation and casual living. It's no wonder why open layouts make up the majority of today's best-selling house plans and home plan designs. But when it comes to decorating an open floor plan, it can be challenging to know where to begin. Without walls, defining spaces can be tricky. Not to fear! We've got you covered. These smart tips will help you design and decorate your open floor plan in no time.
Click here to browse our collection of open floor plans.
Define Your Space with Cool Area Rugs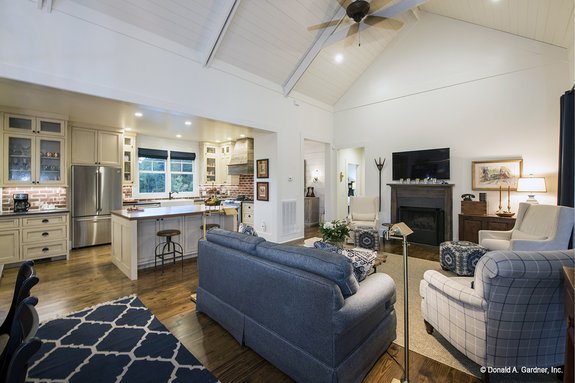 Plan 929-8
Rugs can help define a space when it comes to an open floor plan. Take a look at plan 929-8 above. Notice how rugs define the main living areas and make the space feel warm and cozy. These rugs create boundaries that designate the dining and living room areas – without taking up space.
Consistent Color Scheme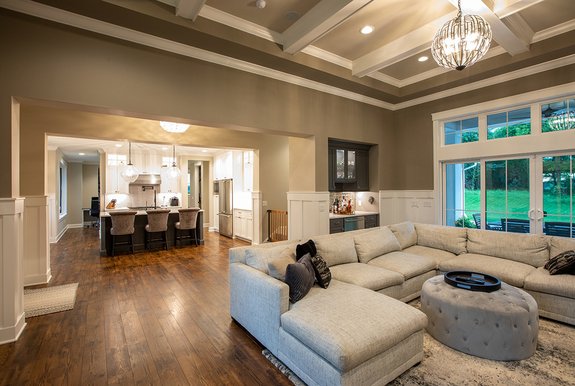 Plan 51-1132
A limited color palette creates a sense of calm and an easygoing flow. Opt for neutral colors when it comes to large pieces of furniture (like sofas and chairs).
Choose a few accent colors that can be repeated in different areas of the open floor plan. Plan 51-1132 (above) balances the open areas with a neutral color scheme.
Thoughtful Lighting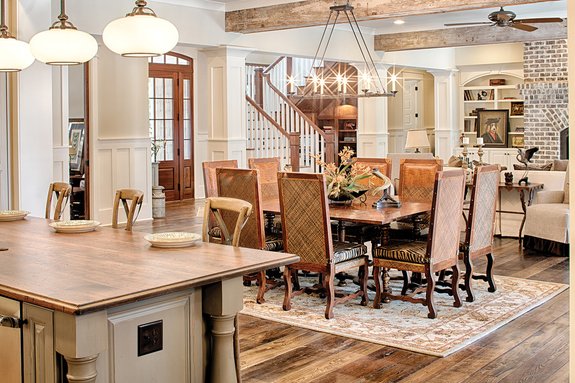 Plan 928-1
Divide your open floor plan discreetly with cool lighting. Be sure to select fixtures that go well together for a consistent look throughout. The ceiling light in plan 928-1 (pictured above) highlights the dining space, while pendants add cool style to the kitchen island.
Create a Smart Flow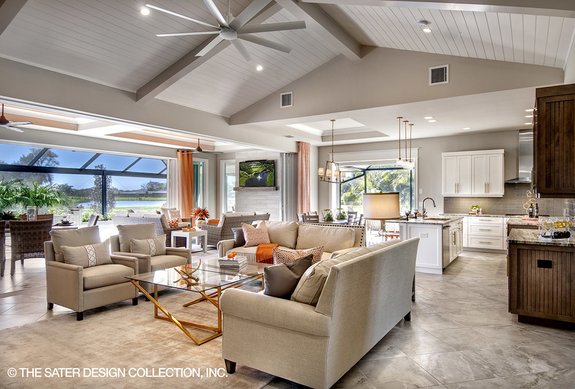 Plan 930-476
When deciding how to arrange furniture in an open floor plan, be sure to create a space that makes moving around effortless and uncomplicated. Plan 930-476 (above) sports a seamless flow from the living room to the kitchen and dining area. Just be sure to allow enough empty space for people to easily move between each area.
Sleek Floors
Plan 430-164
Incorporating the same flooring material throughout your open floor plan will create a seamless flow and makes it easy to decorate the space. Plan 430-164 (pictured above) is a great example of an open layout that boasts a single flooring material between the main living spaces.
Get inspired with these cool open floor plans: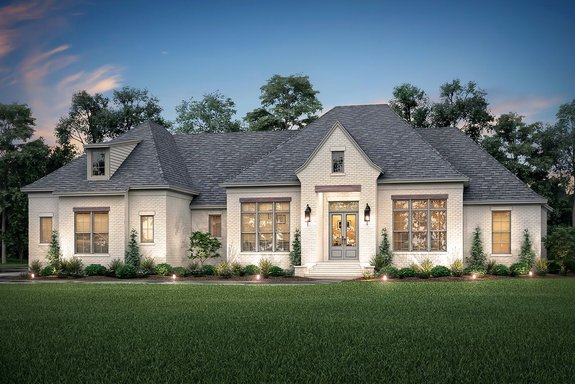 Plan 430-202
Luxurious and amenity-filled, this new plan puts everything on one story (except the versatile bonus suite, which can be finished to give you and your guests more room). Don't miss the master suite's spacious bathroom. See plan 430-202 online.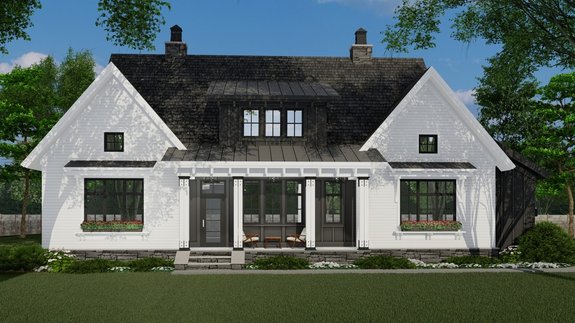 Plan 51-1152
Check out this modern farmhouse's open layout, vaulted ceilings, smart mudroom, two laundry areas, pocket office, and Jack and Jill bath. See plan 51-1152 online.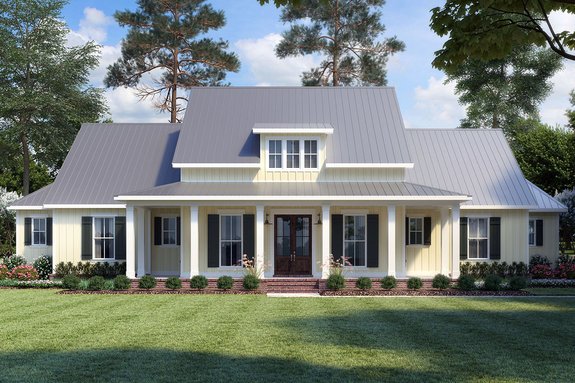 Plan 1074-4
This new modern farmhouse plan features a smart mudroom, open layout, outdoor living, and lots of storage (note the two pantries, master closet, and garage). See plan 1074-4 online.
Plan 1074-1
Want a one-story open layout with many well-thought-out amenities? Explore this new design. The living room flows over to the island kitchen and out to the spacious back porch, which connects to the hallway near the master suite for easy access. Take a look at the big master closet! See plan 1074-1 online.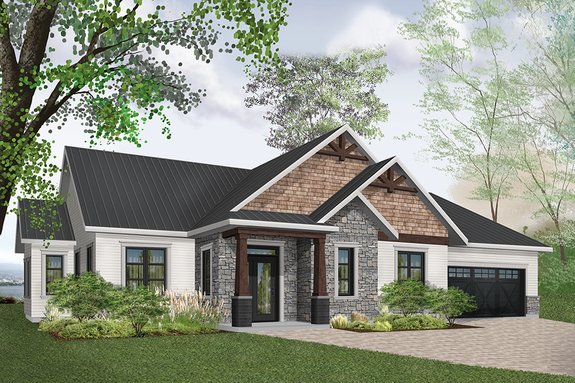 Plan 23-2658
Craftsman details add handsome curb appeal to this 1,859-square-foot plan. The living room flows into the island kitchen and the dining room for a modern feeling. In the master suite, you get a walk-in closet and private bathroom. See plan 23-2658 online.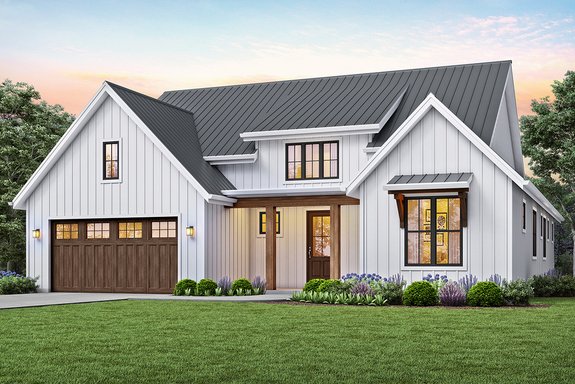 Plan 48-944
This 1,878-square-foot design includes a lot of thoughtful amenities, like an outdoor grilling porch and a spacious five-piece master bathroom. In the kitchen, the wide island will become the favored hangout for family and friends. See plan 48-944 online.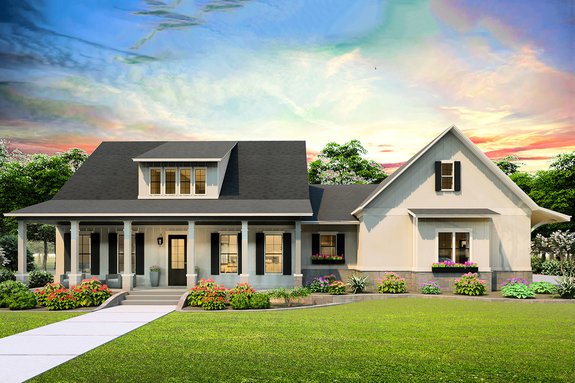 Plan 406-9653
It's doesn't get much more open than this 2,252-square-foot layout, which gives you excellent flow in the gathering rooms. Relax in the great room, the open dining room, or the island kitchen, or head out to the back porch. See plan 406-9653 online.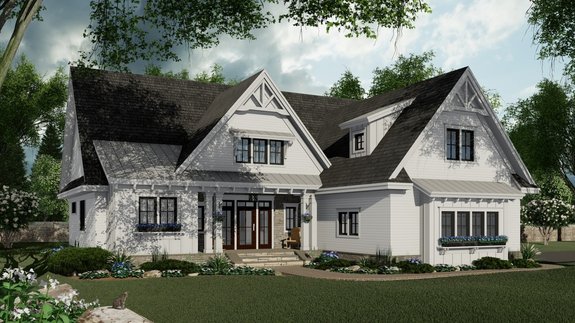 Plan 51-1151
This new design gives you an open layout with 2,046 square feet of living space, plus room to expand upstairs with a bonus space. Want a big kitchen island? This one can seat five people, making it the holiday party zone. See plan 51-1151 online.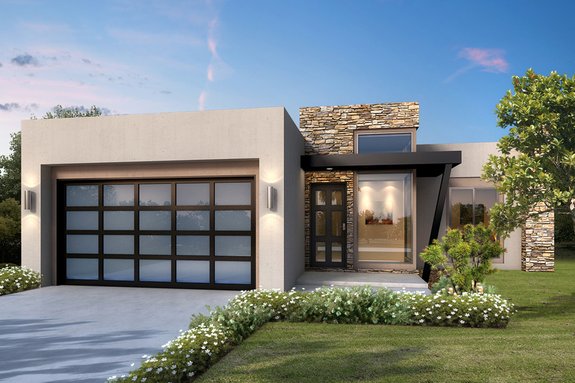 Plan 1073-5
Big style on a realistic budget: this chic home has 1,417 square feet, making it a striking choice for downsizing, starting out, or simply keeping things manageable. The open layout includes two beds and two bathrooms. See plan 1073-5 online.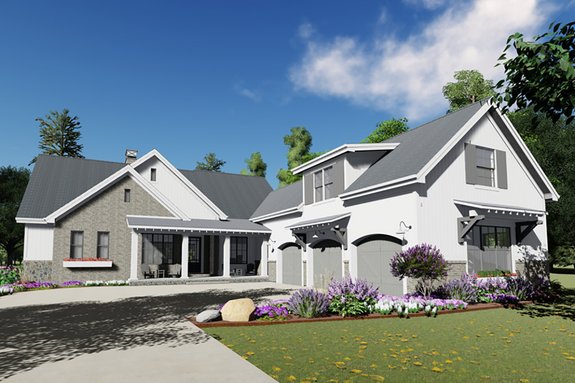 Plan 1069-18
Excellent sight lines in this one-story home give you uninterrupted views from the foyer to the back patio, from the kitchen to the living room, and from the dining area to the backyard. The master suite treats you to a spa-like bathroom. See plan 1069-18 online.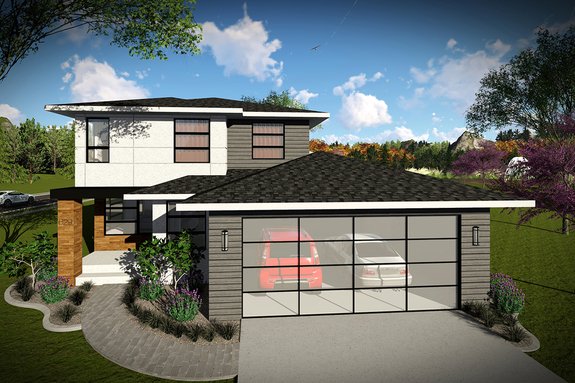 Plan 70-1456
This 1,601-square-foot home plan maximizes a tight budget with a simple open layout that gives you three bedrooms, two-and-a-half baths, and great flow throughout. Lockers on the way in from the garage are a nice touch. See plan 70-1456 online.
Browse open floor plans here.
Questions? We've got answers! Call 1-800-912-2350 today (we want to hear from you!) or contact us here.