You never know when you're going to need a little extra space for extended family--whether they're visiting or planning to move in. That's why extended family house plans that offer flexible rooms are a great option, as they provide home builders the flexibility they need to accommodate any living situation. Even if you don't have family that needs housing in the near future, the extra space will allow house guests a little more privacy while they stay in your home.
We wanted to highlight some of the house plans available that offer these kinds of additions--and would supply the space which is necessary to keep family together under one roof.
Contemporary Accommodation with a Guest House
The private guest area would work well for extended stays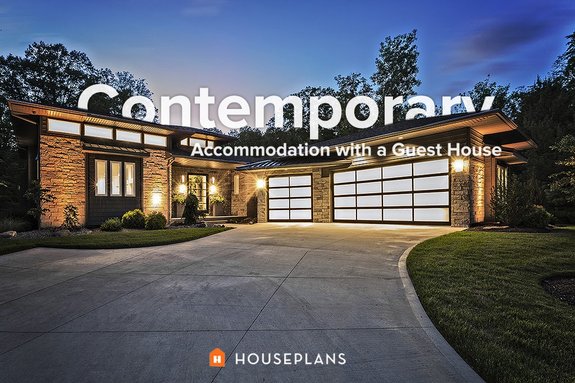 Plan 935-5
This contemporary house (plan 935-5, above) is a great idea for those homeowners looking to provide space for in-laws or parents who want to move in--but still maintain their independence and privacy - much like these in-law suites from Builder Online. The house has a total of four bedrooms, including a master bedroom--with a closet or dressing area as well as a bathroom--two bedrooms on the second level, and the first floor guest bedroom. This bedroom has a nearby bathroom and is located away from the master suite and the great room, dining room, and kitchen. There is room for three cars in the garage if your family member is arriving with their car as well.
The guest wing is private enough to offer a guest or family members the space they need, but also allows them proximity to the main area.
A Country Style Home that Offers Flexible Space
This house is a great way to house multiple generations of family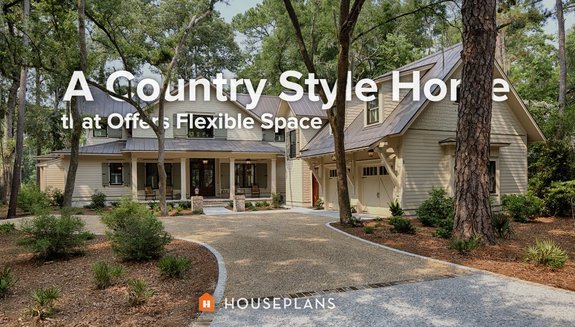 Plan 928-13
There are a lot of ways to customize the space that that plan 928-13 (pictured above) offers, and if your needs include a guest suite, it can accommodate for that as well. This house has 3,043 sq ft of living space (not including the bonus space). With the guest suite option included, it boasts four bedrooms. The master suite is on the first floor and includes two master closets and a spacious master bath. This bedroom also offers access to the screened patio for outdoor dining and entertainment.
The guest suite sits on top of the two-car garage, and offers family members or guests their own bathroom, kitchen, and living room in addition to the bedroom. This suite would be a nice option for families who need some extra space for parents or grown children returning home from college.
Craftsman Home with Lots of Additional Space
There are many uses for all the space this home offers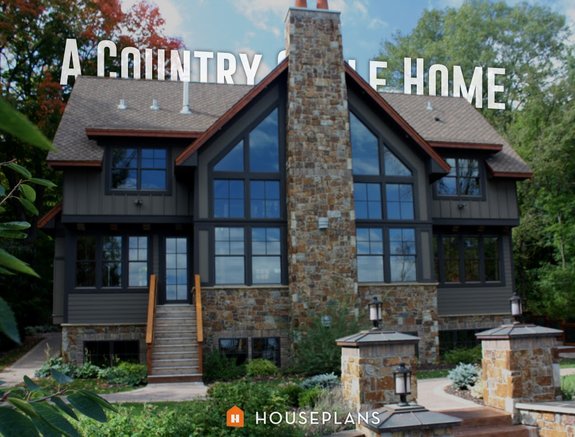 Plan 51-574
The curb appeal of this home (plan 51-574, above) is unmistakable, but beyond its attractive structural elements, it also offers the space of five bedrooms if your situation requires it. The home opens on the main level to the foyer and the great room, with the dining room and kitchen on one side, and the media room, bathroom, and space for a wet bar to the other side.
On the second floor, there is the master suite and two additional bedrooms that flank the open space of the great room and entryway below. If you're interested in going for the guest suite addition, this can be added to the second floor of the garage. Two additional bedrooms, a bathroom, living room, and kitchen complete the private space for family members to live.
Three Story Contemporary with Lower-Level Apartment
This lower-level apartment is perfect for additional family members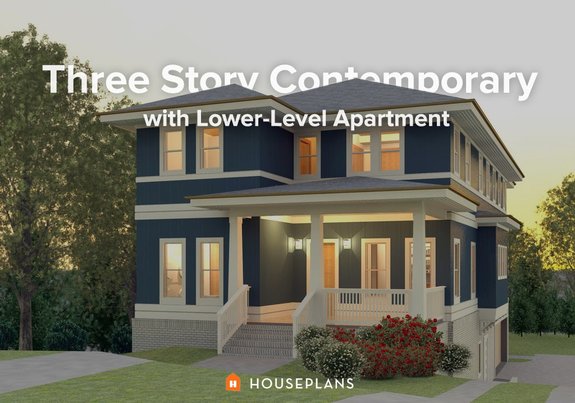 Plan 926-4
This home (plan 926-4, above) offers more than a guest suite to those homeowners looking for additional space--it offers a lower-level apartment complete with private entrance. The main entrance leads into the foyer and past the dining room on the way to the kitchen and the spacious living area. The master suite is also on the main level, which includes a bedroom, bathroom, office space, and dressing area.
The upper area has the space for four additional bedrooms, and two Jack-and-Jill bathrooms (for layout ideas, check out these Jack-and-Jill bathrooms from HGTV). There's another room on the second story that can be used as a study or game room, and opens out into the second-floor deck.
The lower level offers the privacy of apartment living, complete with a bathroom and living room, making it a great option for long stays from friends or family.
Multi-Level Living Offers Space for More
Additional bedrooms and bathrooms offer a lot of space in this Prairie style home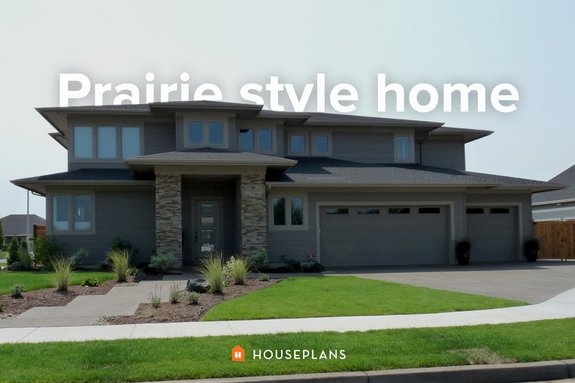 Plan 124-969
Plan 124-969 (pictured above) has a lot to offer those homeowners looking for additional living space. On the first floor there is the great room, dining room, and kitchen, as well as a covered patio. Additionally there is a bathroom and den that has access to another patio--and the three-car garage is also a nice feature.
On the second floor there is the owner's suite which includes a bedroom, walk-in closet, and a bathroom complete with a walk-in shower and a soaking tub. As you move further down the hall, you'll find three additional bedrooms as well as another bathroom. These bedrooms offer a lot of additional space should you need to have a family member stay with you.
This Country Style House Can Offer a Separate Living Space
Lower level space is perfect for in-laws or parents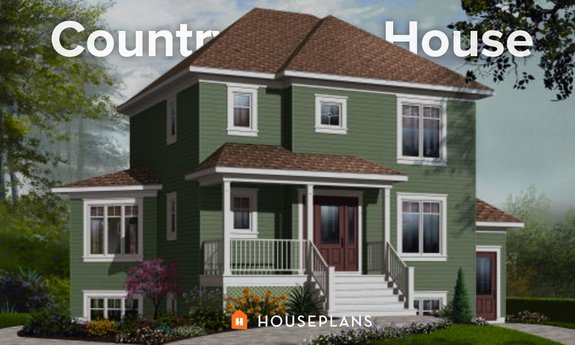 Plan 23-2192
This house (plan 23-2192, above) was designed to include extra space for family members such as parents or in-laws who might want to move in a little closer to their children and grandchildren. The main level consists of a den/family room that has access to the open kitchen and the great room. The dining space is also included under this open layout, and there is access to a deck off of the kitchen as well. The second floor provides three spacious bedrooms as well as a shared bathroom.
The lower level is a separate living space that comes with a bedroom, bathroom, living room, dinette, as well as a kitchen. It offers plenty of private living space and can be accessed through an additional entrance as well.
This Country House Plan Provides the Space You Need
A guest apartment is perfect for additional family members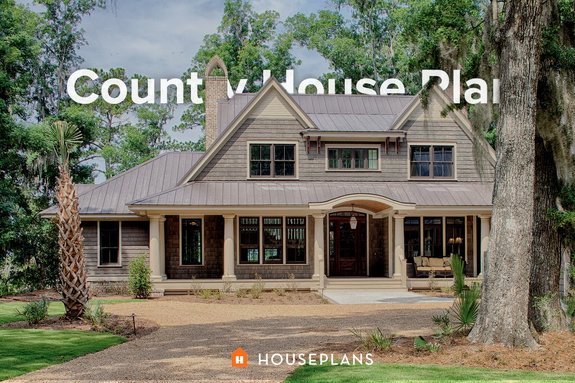 Plan 928-12
This house plan (plan 928-12, above) has plenty of extra room for family members, with 5,274 sq ft of living space. The ground floor allows a lot of natural light in the living room, dining room, and kitchen via three sets of French doors that open out into the back patio. The master suite is also on the first level, and includes access to the patio, a personal sitting room, spa-like master bathroom, and a dressing room (read this article from Freshome for more master bedroom ideas).
The second floor has three additional bedroom suites, and the lower level can be built to include an additional bedroom if the space is required. It can also hold a billiards or game room as well as a home theater.
An additional private guest suite can be designed above the three car garage, which can be built to have an elevator included as well.
There are a lot of options available when it comes to creating additional space for extended family members. Many of these plans can be customized to fit your specific needs, so call to speak with a Houseplans representative at 1-800-913-2350.