By Courtney Pittman
Building your dream house plan is a big and exciting process. Houseplans.com customer Barbara J. is currently building her modern farmhouse plan (plan 120-257) in Georgia and decided to share her experience (so far) with us. Scroll down to read her interview and see photos of her building process below.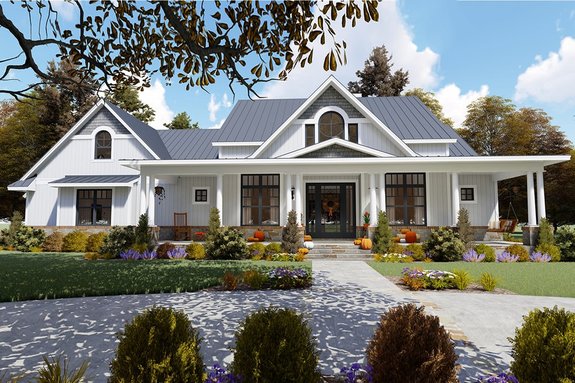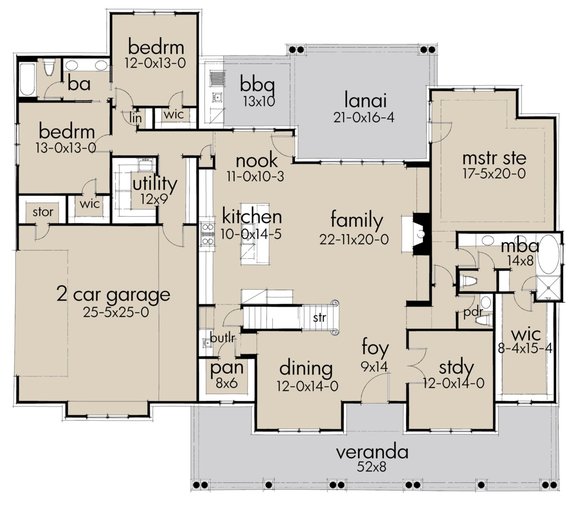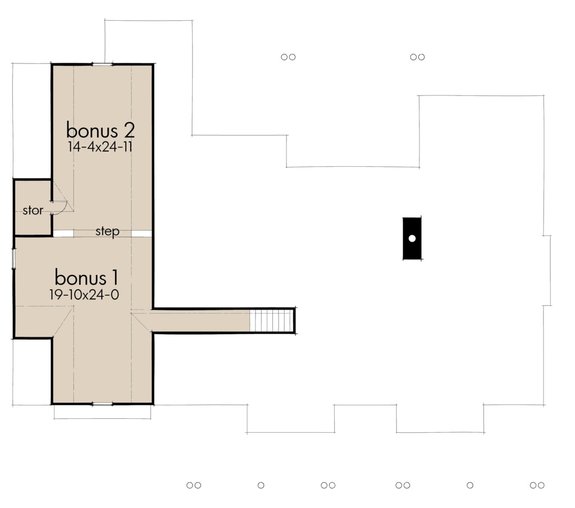 The rendering and floor plans (above) for modern farmhouse plan 120-257 that Barbara L. is building in Georgia.
What made you decide to build your own home?
We thought we could get everything we wanted in our last home by building it ourselves.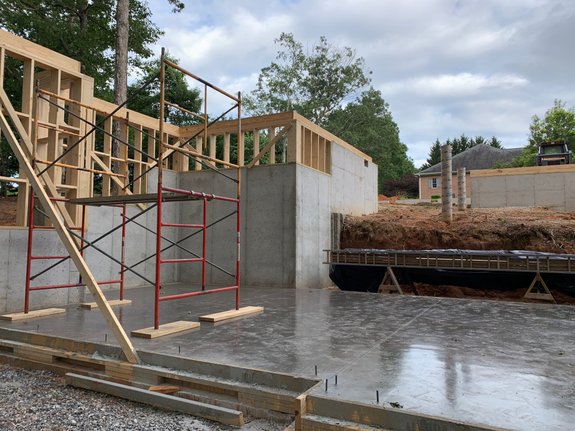 The process begins!
How did you find your house plan?
I searched the internet and looked through hundreds of house plans, we even wandered into sub-divisions looking but when I found this plan I knew it was the one I wanted to live in!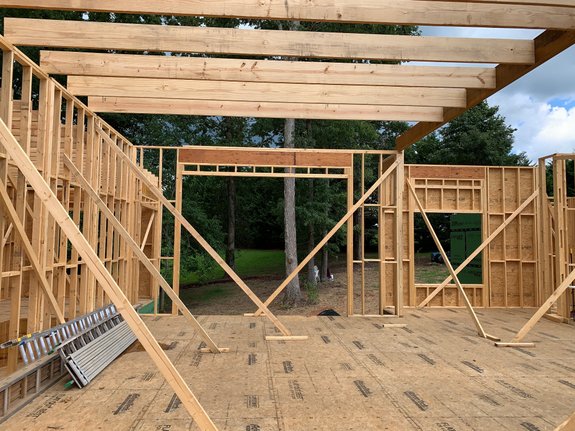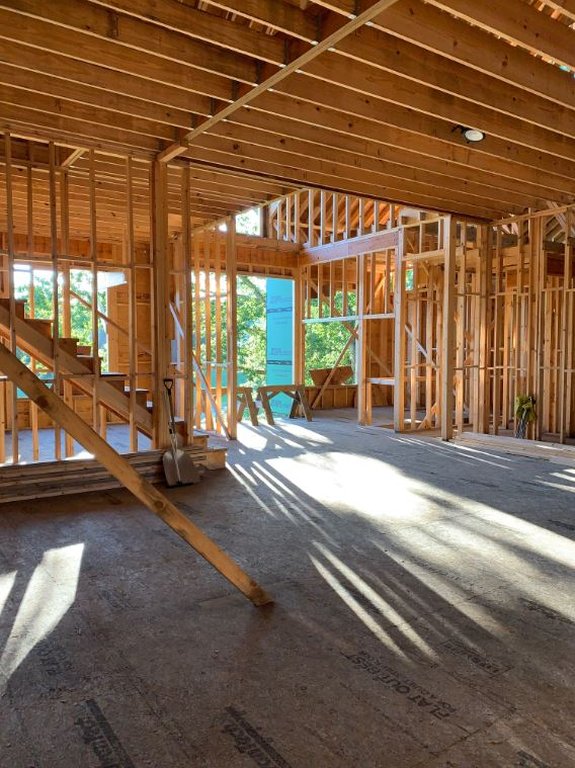 Did you find your lot/land first or your house plan first?
Yes, funny thing about the land. I looked for months for a piece of property suitable to build. I kept driving into this same sub-division but none of the land for sale was appealing for this house plan. One afternoon I went into Rosewood and saw this land adjacent to a home and when I looked it up online it was purchased by the original owner (2 lots together) but I really loved the land.
A month or so went by and I drove back into Rosewood hoping and praying I would see something and make a decision. A realtor was putting the "For sale" sign on the piece of land I loved. It was meant to be! I offered her list price and she accepted. By the way, the owner is 94 years old and the reason she decided to sell the property is that her lawnmower died and she did not want to buy a new one. She is still currently mowing her own grass!
Check out these master bedroom decor ideas from Good Housekeeping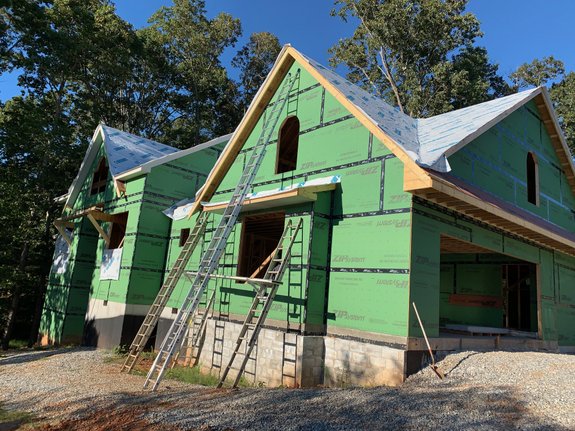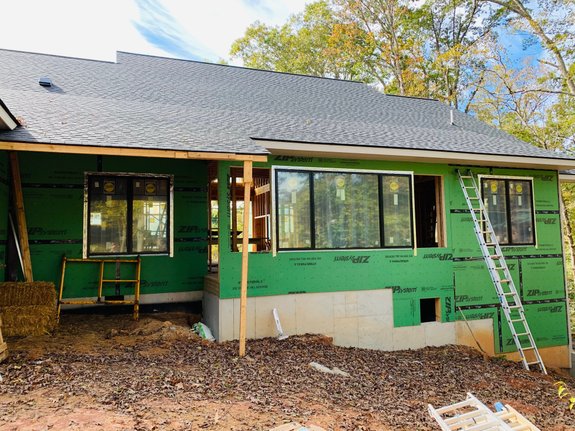 Who is your builder?
One of the best builders around. John Nichols Construction. His crew has become my family.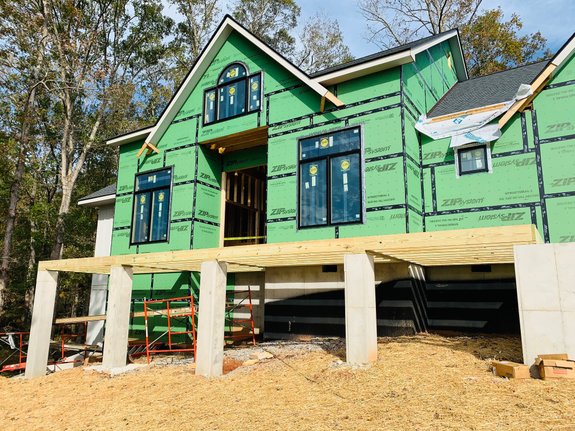 What is your building timeline?
Hopefully from the time it started in May I should be in by January 31st or right around there.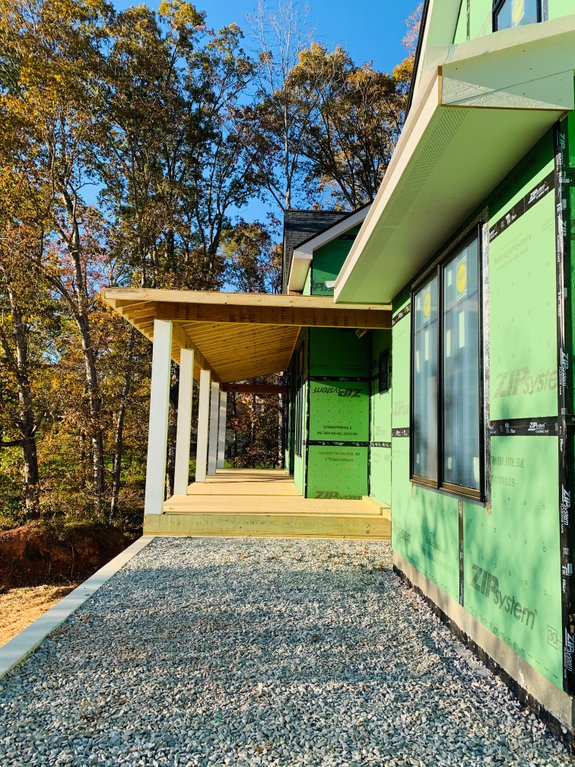 Do you think your home will be finished in time?
Our area has had a lot of rain and hurricanes so we have had many delays but I am praying to be in by then.
Learn about protecting your home from hurricanes in this article from Builder Online
Did you make any plan modifications? If so, what were they?
Yes we did. It seems as you go along with plans in hand opportunities arise. We opened up the ceiling in the great room, exposing the huge window in the front peak. We have closed in one of the bonus rooms and made a third guest bedroom and lots of extra storage in the attic space. We are extending the kitchen island to 11 feet from 8.9'. I have added on a 19' sunroom leaving it open to the great room.
I purchased all casement windows instead of what plan called for. Of course because of the lay of the land we had to have a small basement in 1/3 of the home. But the BIGGEST change was I totally flipped the home. My master is now on the left side of the home [when facing it] and guest rooms, [while the] garage and bonus rooms are on the right side. I just love it!
[Editor's note: the Houseplans modification department can help you make all kinds of changes to most plans.]
What are you learning from this experience?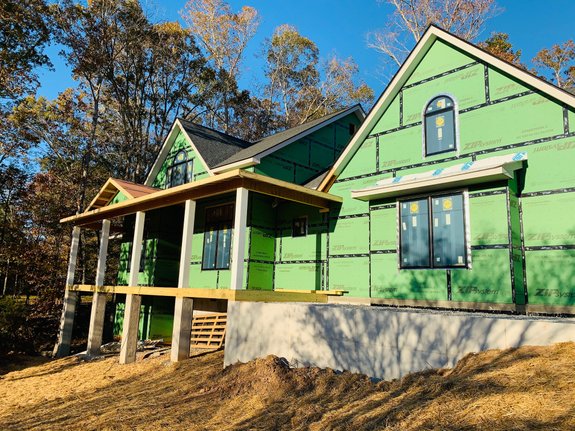 Always be prepared for change. Sometimes it is a good thing, sometimes it is a rare opportunity to make changes you have seen, but mostly I have learned patience. My builder is one of the most patient, caring individuals and we discuss everything before it is actually done.
After finding the plans for this home and the land, my husband who is an architect lost his life to a stroke and passed away December 14, 2019 so it is all bittersweet and quite a challenge for a single woman but strong women build great homes. (All photos courtesy of Barbara L.)