By Courtney Pittman
Whether you're looking to build a budget-friendly starter home, an elegant vacation home, wish to create a cute guest house, or simply don't require much square footage, our collection of tiny house plans and micro cottage floor plans is definitely worth exploring. Tiny house plans and micro cottage floor plans feature less than 1,000 square feet of heated living space and are rapidly growing in popularity as homeowners look for ways to declutter or downsize. With a smaller footprint, these home designs are easier to maintain and more economical to run than typical family homes. The styles range widely from rustic cabins and cottages (perfect for weekend getaways) to chic modern home designs. Organization is key in tiny house plans, so look for designs with open layouts, multi-use spaces, and well-placed storage. We've rounded up our favorite tiny house blueprints and micro cottage floor plans that are full of modern amenities and charm.
Click here to browse our collection of tiny house plans and micro cottage floor plans.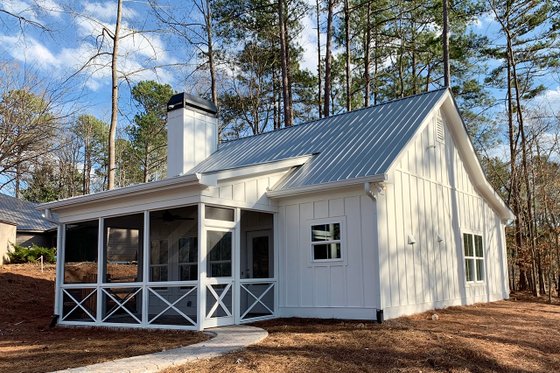 Smart design choices make this 793 square foot design live large. From vaulted ceilings (in both the open living area and the primary bedroom) to a flexible guest bedroom, plan 437-98 (above) is all about convenience.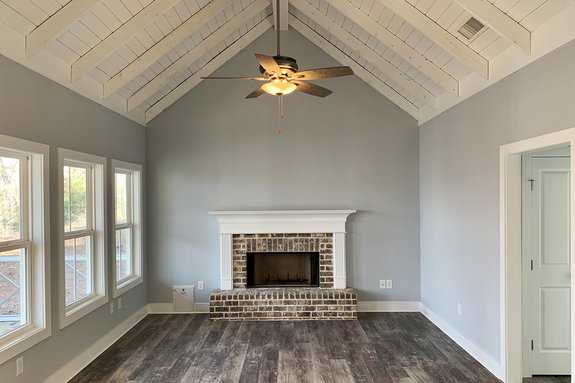 Warm up next to the cozy fireplace in living room (pictured above) with friends and family. A screened porch adds more living space to this micro cottage floor plan.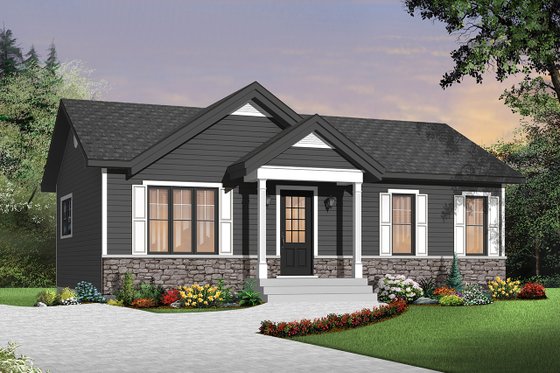 Warm, easygoing, laid-back, and charming characterize plan 23-2653 (pictured above). With an open layout between the living room, kitchen, and dining room, this floor plan feels bright and breezy. Two bedrooms and a bath reside to the right of the floor plan away for extra privacy.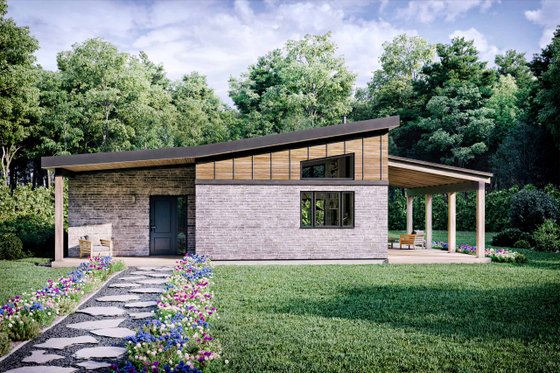 Plan 924-3 (above) is a modern design that makes the most of its small footprint. Plenty of outdoor living spaces deliver a relaxed attitude and make outdoor entertaining a breeze. Bring on the porch hangs! Inside, a spacious kitchen and great room open to one another for a seamless flow.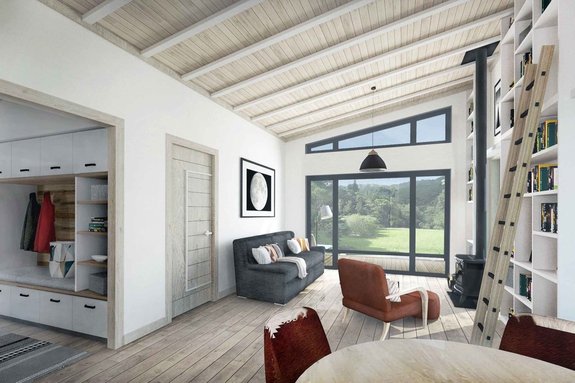 The main living area features high ceilings, which allow the space to feel open and airy. Organization is made easy with built-ins in the living room (pictured above). Tucked away to the left of the floor plan, the master suite enjoys privacy and opens to the patio.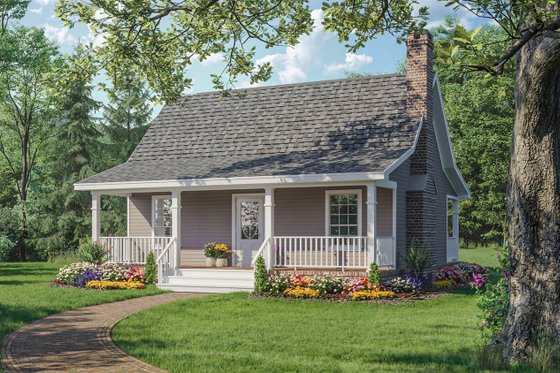 This cabin (plan21-108) does quite a lot with just 600 square feet, making it a smart choice for a tight budget. The open living room invites you to get cozy next to the fireplace or wander over to the kitchen's snack bar. The bedroom features private access to the bathroom, plus a door to a covered screened porch. Hey, there's a bonus room!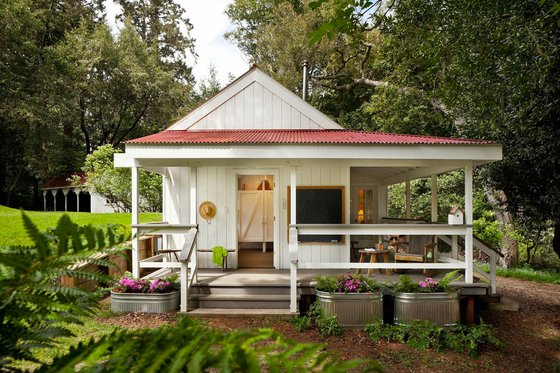 Whimsical and charming, this micro cottage floor plan (plan889-3) features a welcoming front porch and comfortable amenities. A covered wraparound porch provides shade and yields a handy spot for breaks on long work days. With a vaulted bedroom (above) off the porch at the back of the plan, this design could work well as an in-law suite or granny unit, backyard cottage, or guest house.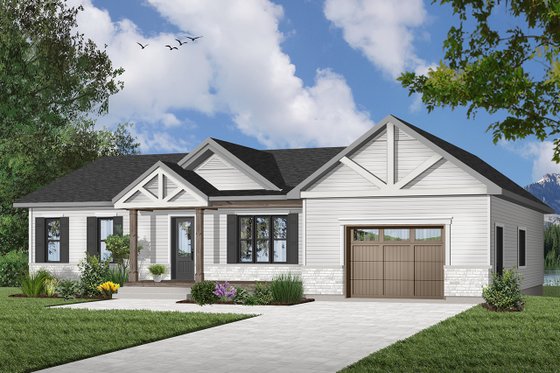 Here's a plan (plan23-2653) that combines the comfort of a bungalow and the convenience of a contemporary floor plan. The heart of this home is the island kitchen, living, and dining spaces. All opening to one another, these rooms are perfect for livability and seamless entertaining. Two bedrooms and a bathroom reside to the left of the floor plan.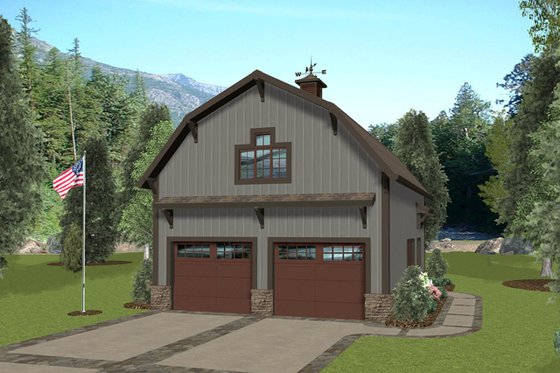 With an alluring one-bedroom apartment, this efficient barn-inspired home design (plan56-703) would make a superb rental property or guest house. Not only can it house two vehicles, but it also includes ample storage under the stairs on the lower level.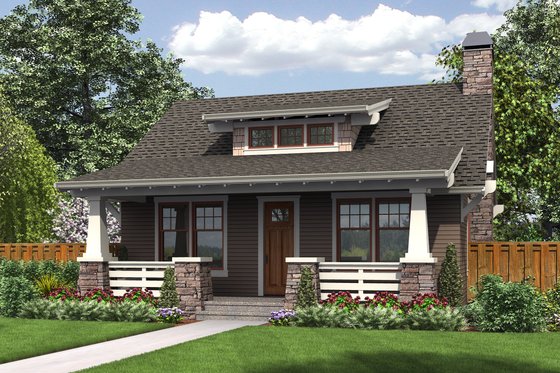 Here's a warm and welcoming bungalow house plan design (plan48-666) that makes the most of 960 square feet. Homeowners will love the open interior spaces that make this home design feel bigger than it actually is. A built-in guest bed and shelves maximize space and storage options. Front and rear porches lend plenty of outdoor space and extended living.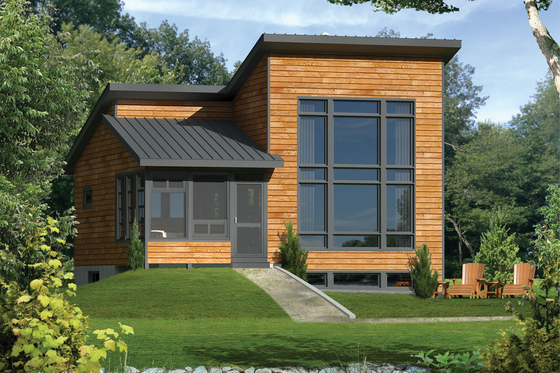 The wood exterior cladding and screened porch give this modern micro cottage floor plan (plan25-4524) a rustic touch. Inside, a cathedral ceiling in all the rooms allows this home to feel larger than it actually is. Other highlights we love: the bathroom with space available for a washer and dryer, the island kitchen, a living room and open dining area with a panoramic view, and the two-sided fireplace in the bedroom.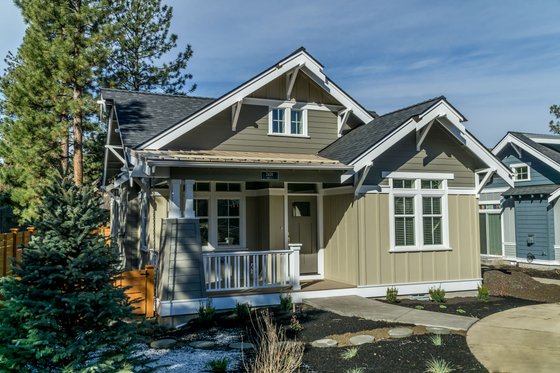 Plan 895-54 features an open floor plan that combines the living and dining areas – both warmed by a fireplace. The kitchen offers loads of counter space for easy meal prep, while storage options help owners stay organized.
Just off the garage, a mudroom/laundry space keeps things clean and tidy. The master suite is located at the front of the home, while a second bedroom (with a bath) resides at the rear of the floor plan and could be used as a home office or guest suite.
This adorable cottage house design (plan895-91) is both compact and spacious at just 824 square feet. A simple front porch greets guests, while adding more outdoor living, dining (just add cute table and chairs), and entertaining space. Inside, an easygoing layout allows the interior to feel breezy, bright, and larger than it actually is.
Browse tiny house plans
Explore micro cottage floor plans
Look at garage apartments