By Courtney Pittman
With multiple units of living space, duplex and triplex house floor plans offer many benefits for homeowners. These designs are great for housing elderly relatives, extended family members, or an adult child that's home from college. Looking to make some extra income? You could rent out one (or two) of the units to a tenant (or make it a cool short-term rental unit) to help pay your mortgage. Check out some of our favorite duplex and triplex house floor plans below.
Click here to browse our collection of duplex and triplex house floor plans.
Modern Farmhouse Plan
This duplex floor plan boasts country charm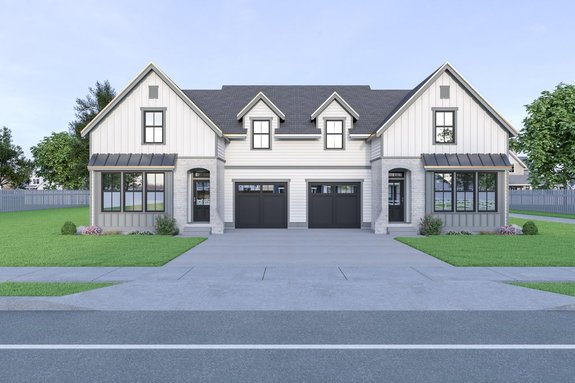 Plan 1070-96
What a beauty! This handsome duplex design features modern farmhouse style (like board-and-batten siding and a metal roof) and an efficient use of space. The island kitchen conveniently opens to the dining area and the living room, making the first level feel bright and airy. Upstairs, you'll find the master suite, two more bedrooms, and a bathroom. Relax and breathe in the fresh fall air on the covered rear patio.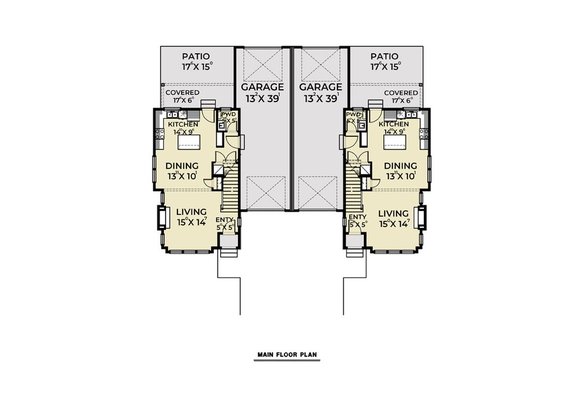 Simple Craftsman Design
An open floor plan delivers modern charm to this duplex house plan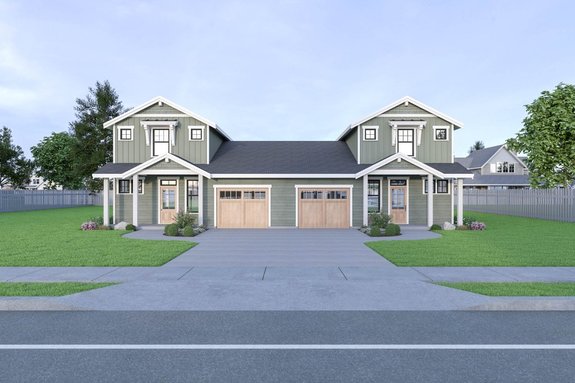 Plan 1070-95
Simple, yet contemporary, this Craftsman duplex house plan gives you an open layout on the first floor. Upstairs, two bedrooms share a bathroom, while the master suite resides on the main level. Check out the sweet outdoor living space at the back of the home.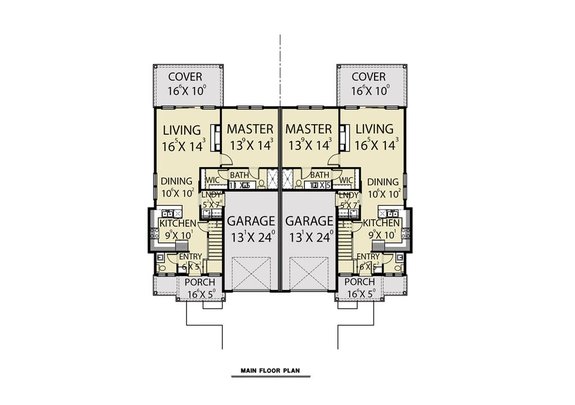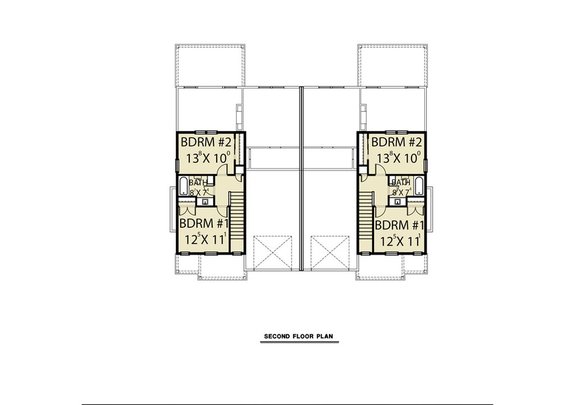 Relaxed Triplex Floor Plan
Watch the leaves fall on the covered back porch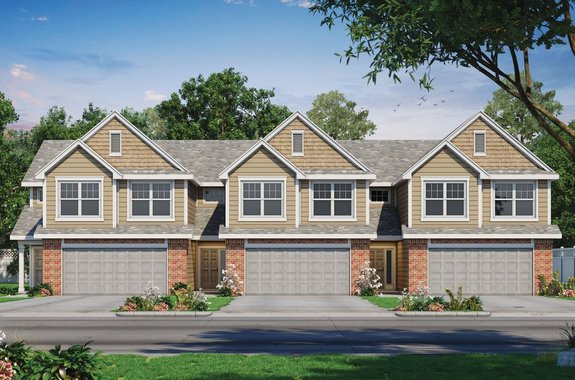 Plan 20-2356
Here's a triplex floor plan that features three bedrooms in each unit and a relaxed two-story layout. An open floor plan between the kitchen, dining area, and family room creates a casual vibe. Work from home? Check out the handy pocket office next to the stairs. Located on the second floor, the owner's suite enjoys a walk-in closet, two sinks, a soaking tub, and a modern shower. Two more bedrooms (each with a walk-in closet) also reside on this level.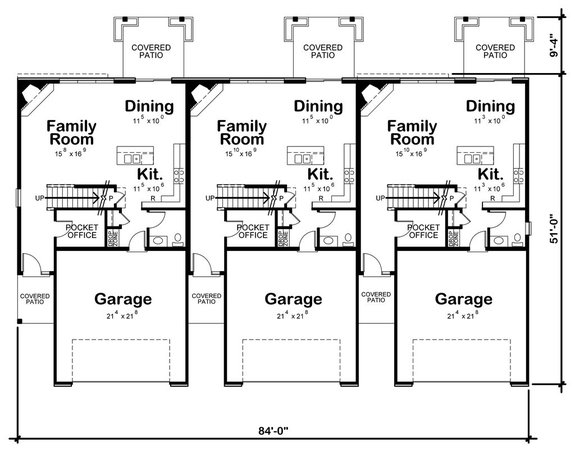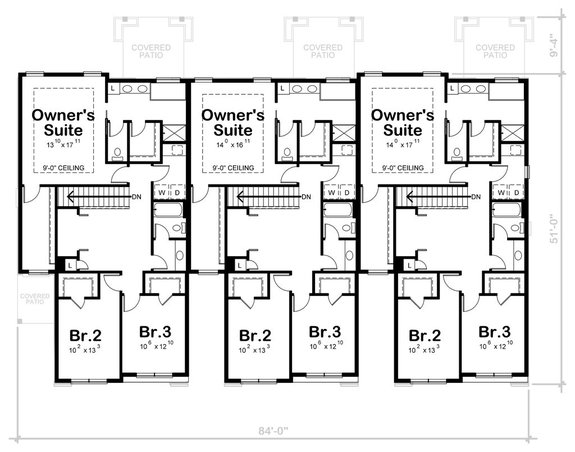 Modern Duplex Floor Plan
The den could be used as a home office in this design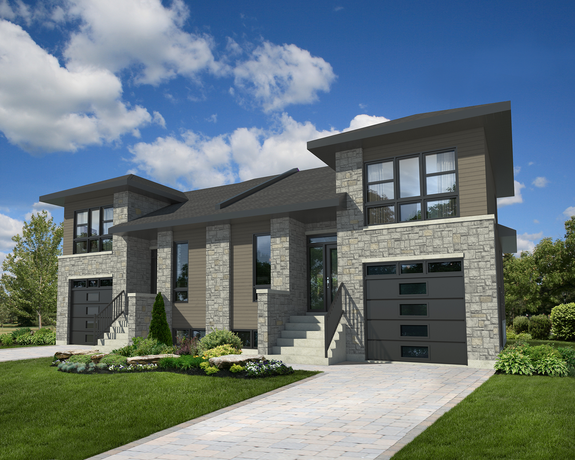 Plan 25-4611
This duplex floor plan, shows off modern curb appeal with a stunning stone and wood exterior. Inside, both units feel spacious and open with easy flow between the main living areas. The basement features 700-square-feet of living space and includes two bedrooms, a bathroom (with a bathtub and a shower), and a den that could be used as home office if needed.
Located above the garage, the second level includes one bedroom with a large walk-in closet, and a bathroom with a shower.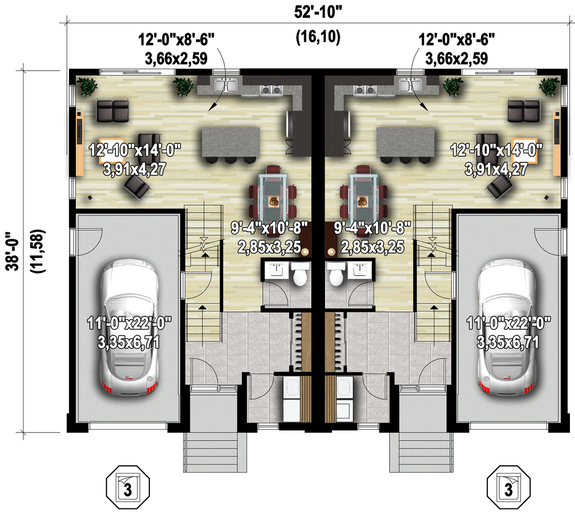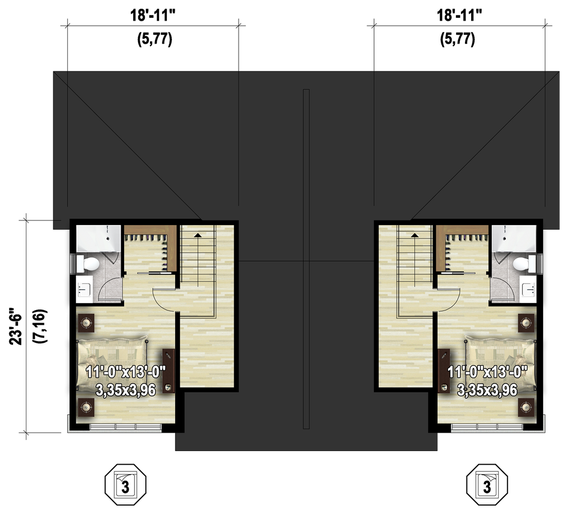 Three-Story Triplex House Plan
Relax on the rear porch after a long day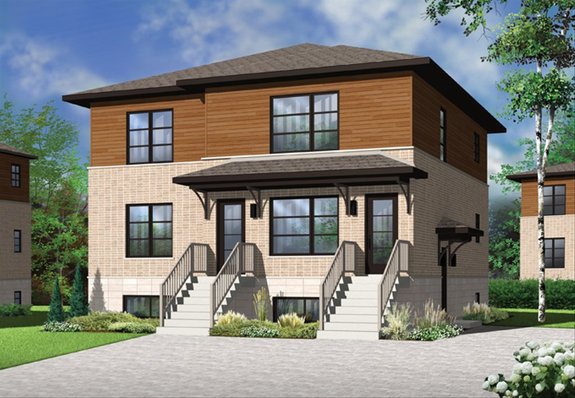 Plan 23-2595
A spacious living room leads to an island kitchen in each unit of this three-story triplex house plan. You'll also find two bedrooms and a bathroom in this design. Nice weather? Step out to the rear porch (just off the kitchen) for a breath of fresh air.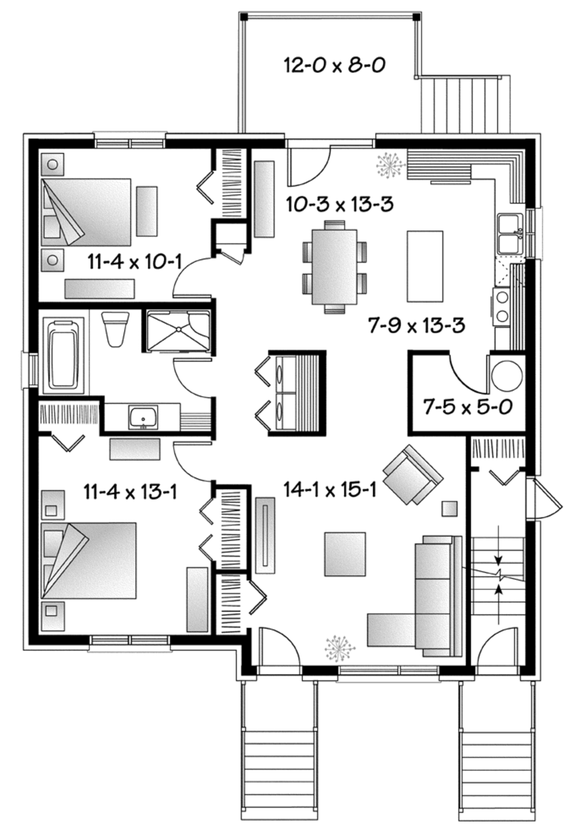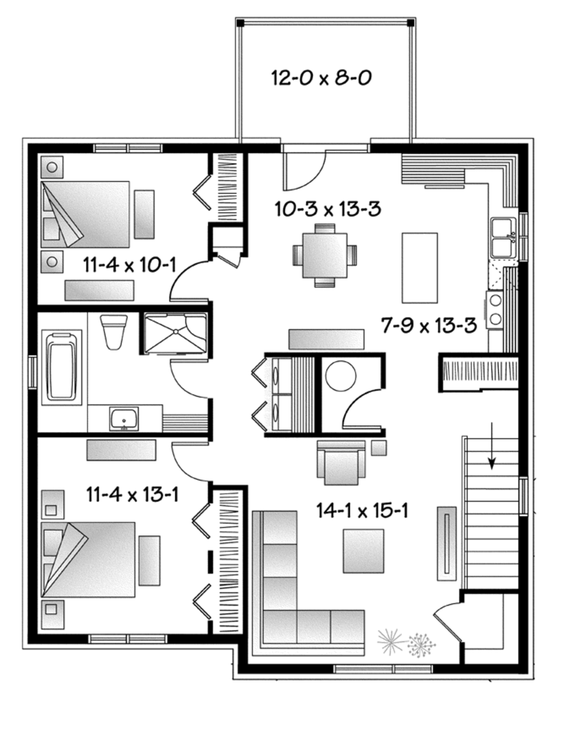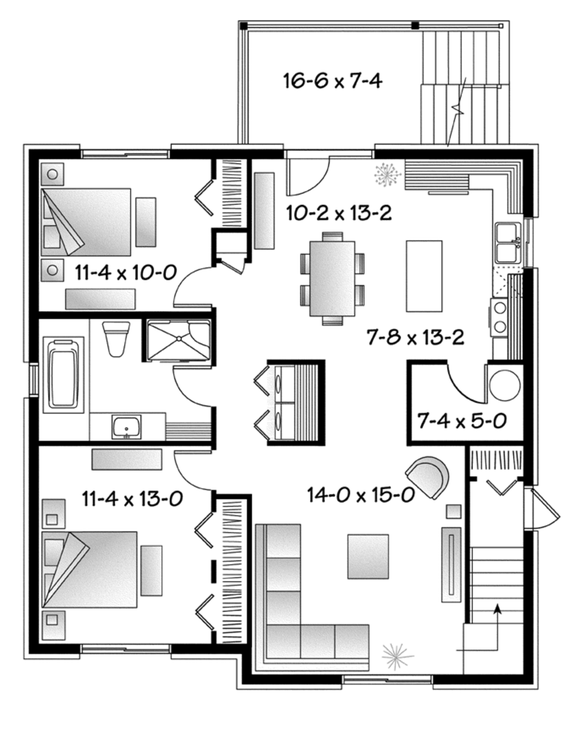 Modern Two-Story Duplex Design
Enjoy plenty of living space with this floor plan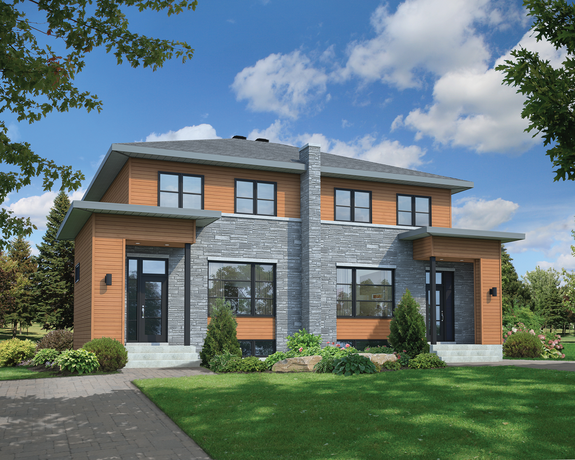 Plan 25-4516
This modern semi-detached two-story duplex floor plan delivers ample living space. In each unit, the main level features a sunken entrance, a powder room, a living room (with a gas fireplace), a dining room, and a kitchen with a long eating bar that can sit up to three people. Upstairs, you'll find a bathroom with a large shower and separate bathtub, as well as three bedrooms (including a master suite with a large walk-in closet) in each unit.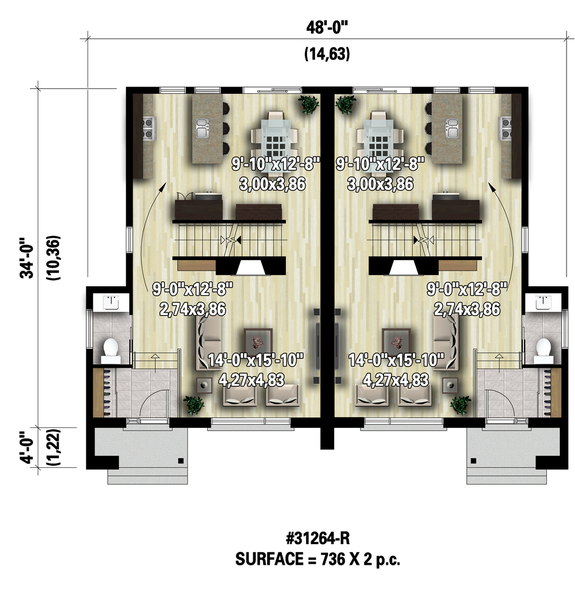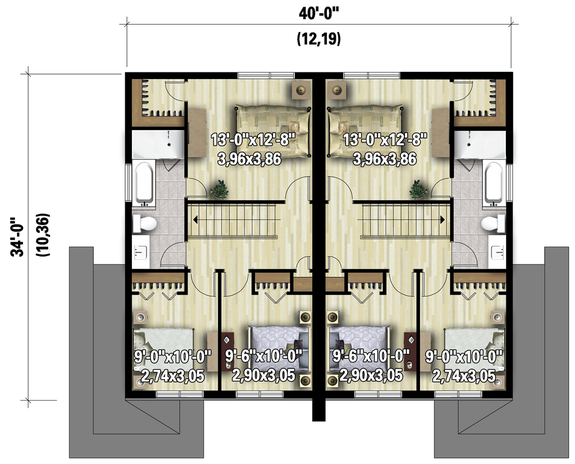 Simple Triplex Floor Plan
Explore the simple layouts in each unit of this triplex design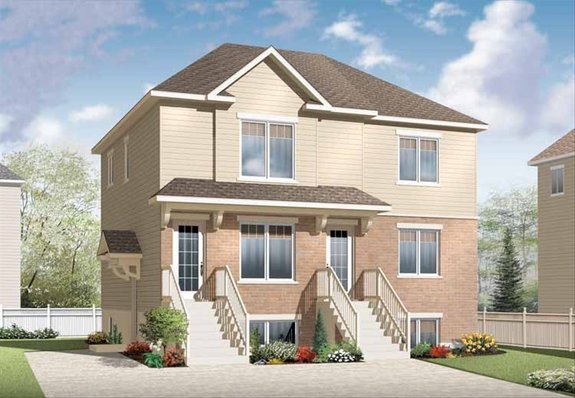 Plan 23-2560
Who needs much more than a great room and a big kitchen? This triplex house plan keeps it super simple in each unit with an easygoing layout between the main living areas. Two bedrooms and a bathroom reside on the right side of the floor plan.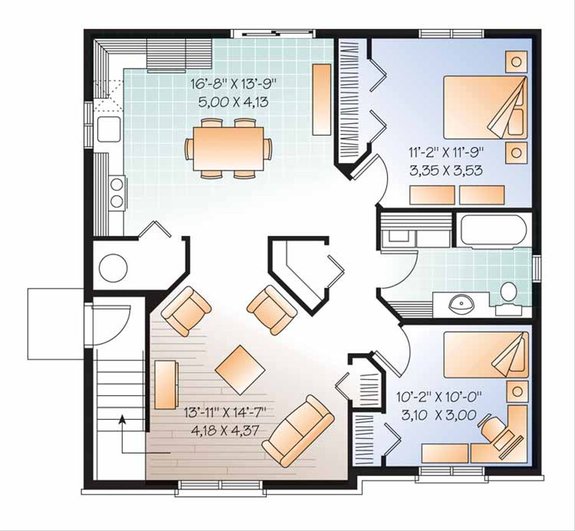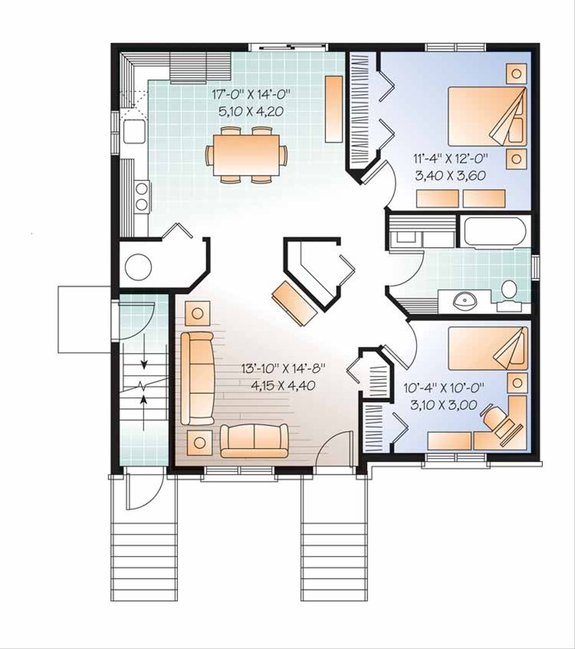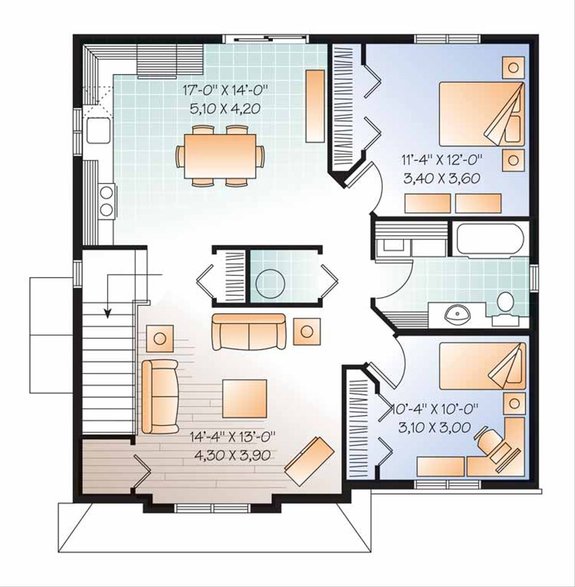 Craftsman Style Duplex Design
Covered porches make fall outdoor living easy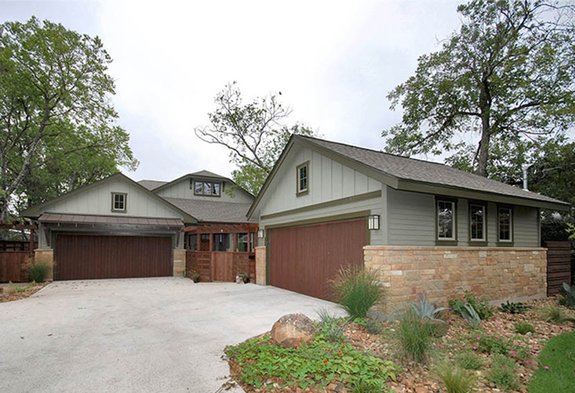 Plan 935-3
Although it looks more like a single family home, this Craftsman house plan offers two distinctive and unique floor plans. Both units feature easygoing flow throughout the main living spaces. Located on the first level, the master suite gives you dual sinks, a soaking tub, and a walk-in shower. Upstairs, you'll find two additional bedrooms and a bathroom. One of the units features a small nook on the second level that could be used as a home office.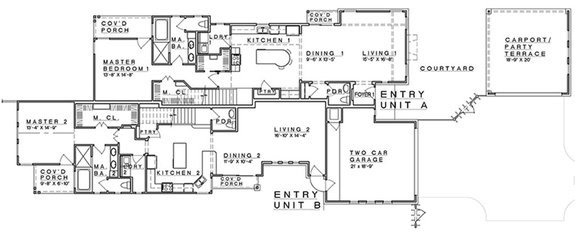 Contemporary Duplex Design
Enjoy crisp fall air on the cool roof deck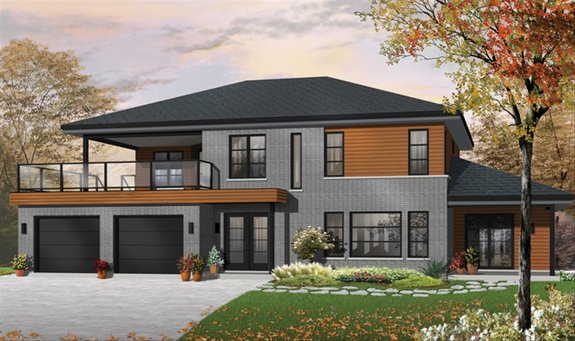 Plan 23-2599
You'd never guess from its sleek elevation that this contemporary home is actually a duplex. The lower level offers a one-bedroom apartment that's well-suited for a young adult or an elderly relative who wants to live independently.
Upstairs, the larger unit showcases an open layout that puts the island kitchen at the center of activity, with a snack bar that seats up to four. Two bedrooms share a full hall bath that boasts a large shower and a separate tub. Relax outside on the upper-level deck.